EdTech Connect is a new, free model for college and university staff and faculty to collaborate on technology use.
How do higher education decision makers find the right solution when technology evolves at light speed? We usually start with our networks. The size and strength of a professional network are functions of our experience both in our role and in our industry. To equalize our network disparity, we have relied on organizations like EDUCAUSE, the Higher Education User Group (HEUG), the Benchmarking Institute, and industry consulting firms for technology guidance. It's a model we've relied on for a long time, and it's dependent on the institution to report usage and procurement data. Ultimately, institutional leadership controls access to and participation in these communities.
Technology adoption moves fast now, and higher education is lagging behind the private sector when it comes to innovation. Many established and emerging tech companies are addressing the questions we need answers to, such as the following: Where do we start to leverage artificial intelligence to enhance the student experience? How can we optimize and deliver content for mobile devices? Faculty are being pushed to become more aware of and engaged with emerging technology. Companies have figured out how to market directly to faculty with .EDU pricing and free trials, and not every technology purchase is reported through the campus central IT procurement process. Higher education technology administrators can't report what they don't know.
Annual college technology reports are useful, but because obtaining real-time data is now possible, it's expected. How many CIOs have heard this: "So many of our faculty are already using it. Maybe we should get a site license." This problem can be solved with a more democratic approach to knowledge sharing around technology. The question then becomes, "Who has access to this information, and how can we democratize the information-sharing process?" Resources that help us do our jobs better benefit college and university communities, staff professional development, and student learning.
In many facets of our personal lives, we have become accustomed to optimal user experiences. This is especially true for students. Algorithms built into services like Netflix, Amazon, and Spotify are changing our expectations, and those expectations are leaking into our professional experiences, resulting in frustration.
How EdTech Connect Began: An Origin Story
I started EdTech Connect because I was frustrated with not being able to find what I needed when I needed it. After spending more than two decades in higher education technology leadership, I wanted to make it easier for other higher education professionals to find the most relevant and proven technology solutions.
I was asked to help find a new cloud workflow solution for my university. I had led or been involved in many software selection and implementation teams, but finding a clear short list for this new solution was difficult, even after reaching out to my twenty-three-member campus network, various higher education email lists, established community groups, and Slack channels. I couldn't find proven solutions that aligned with our requirements. There were many products and recommendations but no real way to gather and analyze the anecdotal data. I wanted a ranking system or way to see how or to what extent the solutions were being used. So, I reached out to a handful of higher education colleagues across the country, and together we built EdTech Connect. Our goal was to democratize the higher education technology conversation.
How Real-Time Access to Information Facilitates More Efficient, More Informed Decision-Making
EdTech Connect allows higher education faculty and staff to list, rate, and classify the software they use on their campuses. EdTech Connect combines these lists with demographic data about the faculty or staff member's institution from the US Department of Education for a near real-time tech profile of that school. The website can be accessed for free with a verified college or university email address and allows anyone who works in higher education to find and collaborate with peers based on the software or skills they have in common. The website is being used to answer questions like these: What technologies are similar colleges and universities selecting for their chatbot? What mobile frameworks are large institutions using to connect an evolving hybrid campus?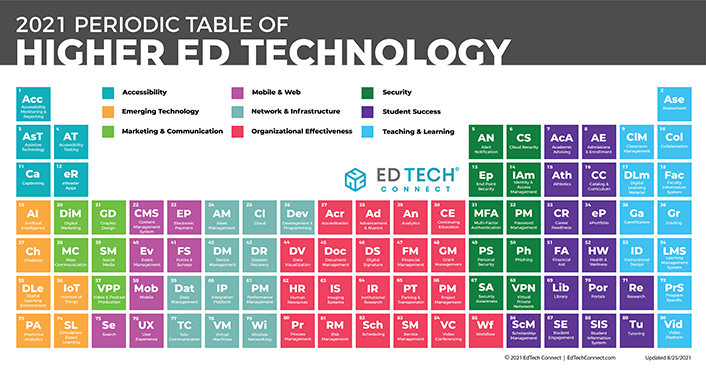 The EdTech Connect website launched in November 2020 with 179 software listings submitted by twenty higher education beta testers and has organically grown to submissions from 463 higher education experts from 337 colleges and universities in North America. More than 700 solutions have been added by higher education professionals.
Some of the largest edtech companies have core competencies that are becoming nebulous because they claim to do everything. The EdTech Connect Periodic Table of Higher Ed Technology was created to classify the edtech space from a user's perspective and identify those core competencies (see figure 1). With the unique prominence of categories like accessibility and emerging technology, the companies committed to higher education are rising to the top.
How Gamification Incentivizes Contributions
It's not easy to get people to submit software reviews. Software review websites often offer gift card incentives as payment for writing reviews. EdTech Connect has a different model because it is focused exclusively on higher education, and only verified higher education professionals can provide reviews. Although EdTech Connect members can choose to remain anonymous, they usually don't. Instead of offering payment for reviews, we grant our members full access to the data and award them digital badges that they can display next to their profiles (see figure 2).

Members can earn a power user badge for submitting software listings and reviews, an influencer badge for sharing links on social media or professional websites, or a developer badge for contributing to the design, the code base, or the architecture of the website.
How Staff and Faculty Are Using EdTech Connect
All types of higher education professionals—including IT leaders like CIOs, student services directors, web and mobile services directors, business analysts, and accessibility coordinators—are finding unique ways to use EdTech Connect. Some executive leaders have even chosen to use EdTech Connect to conduct their own campus software inventories. Furthermore, many EdTech Connect members are connecting with the expert community to find peers who are using the same tech stack or who have similar skills to help troubleshoot an issue or integration.
For example, Jamilyn Richardson, a faculty member at Grand Canyon University, has helped music teachers across the country discover solutions to teach music remotely.
Rebecca McKay, senior director of systems for the university system in Arizona, has found it useful to see how her school and other large schools are using EdTech Connect. "It helps large universities like ASU, NAU, or UArizona stay connected both nationally and within our large multi-location campuses," says McKay. "We want to offer consistent service with our regional campuses, so students have a seamless experience."
Jeff Saville, a career services director at Fort Lewis College who has added several career readiness solutions to his profile, says, "It's great to be able to learn where higher ed is headed and what's working for our peer institutions. I can find WordPress developers or even solutions that help students nail a video interview."
Why Service Providers Are Instrumental
As higher education institutions race to the cloud, colleges and universities are outsourcing more services like web development accessibility consulting and deep technical support. In addition to curating the edtech software space, EdTech Connect recognizes higher education technology service providers. From course development to accessibility consultation and web design, these companies stay current with leading technologies to provide support for open-source software and popular commercial products.
What Comes Next?
Higher education professionals need to become more educated about what technology resources and products are available, not just for the enterprise but for recruitment, retention, faculty and staff professional development, and improved student learning outcomes. The COVID-19 pandemic has accelerated our expectations around what is possible in higher education, and sometimes it is difficult to know what to look for and what questions to ask. As we create our new classrooms, what elements of virtual teaching, learning, and services will your campus embrace? Where will you go to discover what's on the horizon for edtech? Let's work together to create a place that we can all use to help each other make decisions around higher education technology.
---
Jeff Dillon is the Founder of EdTech Connect.