Hybrid learning has evolved from a model that enabled the continuity of education amid the closing of campuses to one that is reshaping operating models at higher education institutions.
We're excited to announce the completion of a new paper, "Flattening the Multimodal Learning Curve: A Faculty Playbook," which aims to equip faculty with effective strategies, practices, and tools to navigate the pedagogical paradigm shift accelerated by COVID-19. The paper addresses the key challenges, digital divides, skill gaps, and socio-economic disparities facing faculty at higher education institutions. It was produced by the Economist Intelligence Unit (EIU) as a follow up to research released in December, "Bridging the Digital Divide to Engage Students in Higher Education," which sought to better understand the impacts of the current dynamics on higher education institutions, staff, faculty, and students. The original study reported that at least a third of educators expect that remote and hybrid learning are likely to be a future operating model for many higher education institutions alongside on-campus programs. Additionally, the paper shared advice from education experts suggesting that instructors should go beyond simply delivering lectures online, and should instead create more opportunities for active learning and engagement.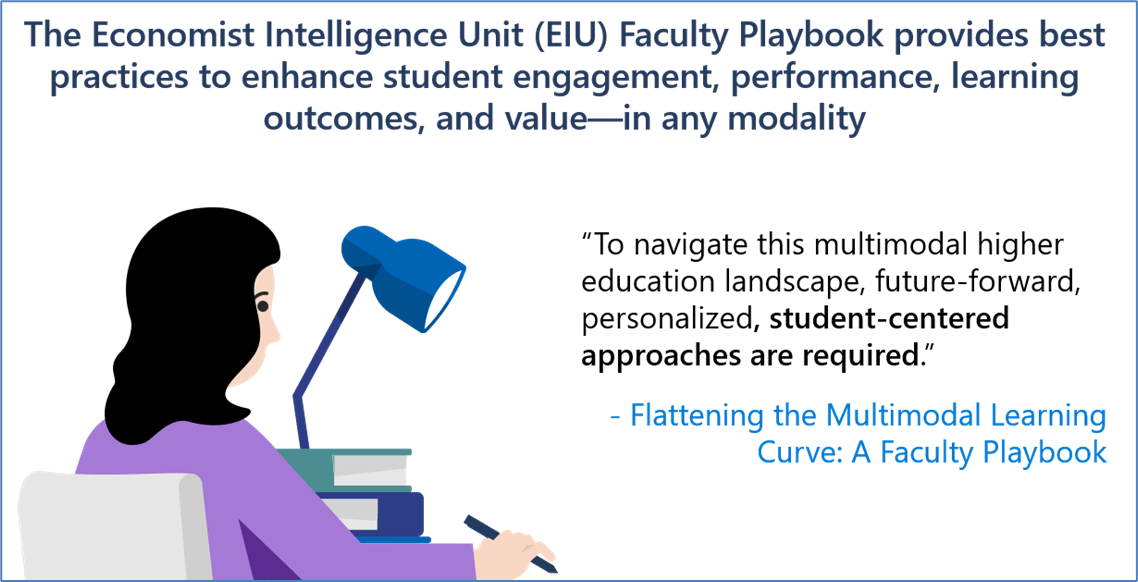 The study advances the concept that hybrid learning has evolved from simply enabling continuity of education amid the closing of campuses, to reshaping future operating models. The current student population has the highest tech expectations ever—nearly one-third of students said that flexible learning and interactive methods are the most effective ways to boost their engagement—and they require engaging, dynamic interaction with subject material whether they are attending classes in-person or virtually. So, institutions' success will be defined by the extent to which institutions provide an optimal environment for learning, and to which faculty instructors understand and respond to the changing, diverse needs of students in the new higher education paradigm.Footnote1
"The worst possible outcome of COVID-19 is that we go back to the old system."
—John Hattie, professor and director of the Melbourne Education Research Institute. @MicrosoftEdu

In essence, the EIU research shows that the future of higher education is migrating away from a fixed location and toward a more flexible, personalized, and collaborative experience. The role of faculty is expanding as well, going from being "sages on the stage" who lecture to groups of students, to being leaders of and participants in vibrant educational communities. As institutions introduce updated remote and hybrid pedagogies, integrated platforms and tools such as virtual and augmented reality, artificial intelligence, predictive analytics, and hyper-personalization tools will be key in empowering the transition. Additionally, institutions will need to invest in technology infrastructure and faculty skills training to survive and thrive.
To deliver valuable learning experiences in hybrid and remote formats, the research indicates that faculty professors will need to build upon pedagogical methods that boost engagement, outcomes, and value, as well as forge online connections and create communities of learners. These methods may include presenting programs in a hybrid synchronous and asynchronous format, increasing interactivity and allowing students to have greater flexibility over when they learn—which the EIU survey shows that students favor. All of these models are supported and enhanced by features in Microsoft Teams such as Together Mode, Recording, and Education Insights, and with powerful predictive analytics, intelligence tools, chatbots and success portals in PowerApps and Dynamics 365.
"Our best online instructors . . . build community and demonstrate caring for their students with . . . frequent interactions, responding to questions quickly, getting to know students personally, taking time during and between classes to check in." —Christopher C. Morphew, Dean, John Hopkins School of Education @MicrosoftEdu

Focusing on enhancing technology tools and improving faculty skills with them is just one part of the equation; along with investments in these areas, the study shows that institutions should provide the optimal environment for faculty and students to engage with one another. This environment should include an empathetic, supportive community of educators, partnerships with outside stakeholders such as tech companies, governments and service providers, and facilitation of culture-building, social-emotional learning, and interaction among students.Footnote2

Empower your higher education faculty and professors by enabling and implementing the tools and IT environment recommended by the EIU study: Download the Digital Transformation Path infographic and the Microsoft Education Deployment Guide, and read the EIU study. For additional information and tips, view these instructional webinars: Class Teams Automation, Digital Learning with Microsoft Education - Day 1, Digital Learning with Microsoft Education, Day 1 - IT Pro, and Digital Learning with Microsoft Education, Day 2 - IT Pro.
Notes
Marianne Bray, Flattening the Multimodal Learning Curve: A Faculty Playbook, research report, (London, UK: The Economist Intelligence Unit, March 2021).

Jump back to footnote 1 in the text.
---
Stephen Saslow is Senior Audience Marketing Manager, Education Marketing, at Microsoft.