The adoption of new technology and the digital transformation over the past year and a half have enabled colleges and universities to move toward a contactless campus.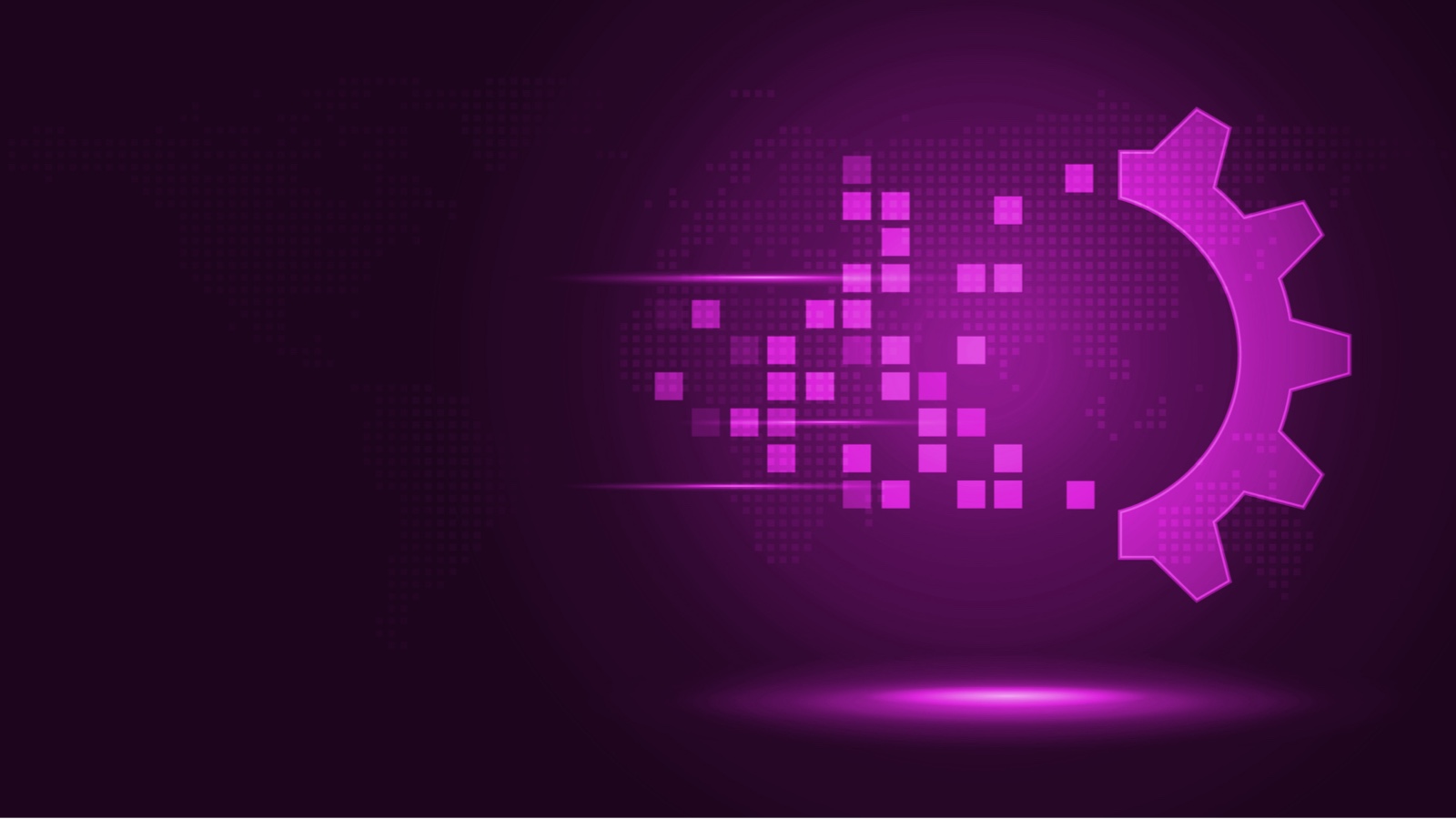 Universities and colleges everywhere have been modernizing their campus technology to keep up with the digital transformation occurring in classrooms, across campus services, and beyond. In many cases, the work already done in this space laid the foundation for the tremendous flexibility and creativity we've seen over the past year and a half in response to the COVID-19 pandemic. From remote learning to student services to campus commerce and credentials, no aspect of the campus experience remained unaffected. The result has been the most rapid adoption of new technology this industry has ever seen and has taken digital transformation in the higher ed space to a new level.
The technology now in place has enabled institutions to move toward a contactless campus, meaning that—as much as possible—interactions across campus are done without person-to-person contact. According to recent research, consumers are trending this way as well: 59 percent now prefer contactless payments, up from 52 percent before the pandemic.Footnote1
Additionally, students have indicated that they want, and are comfortable with using, mobile apps and payment methods. In a recent student study conducted by TouchNet, the most important features of an app were managing payments (69 percent), getting refunds (68 percent), and using a virtual ID (64 percent).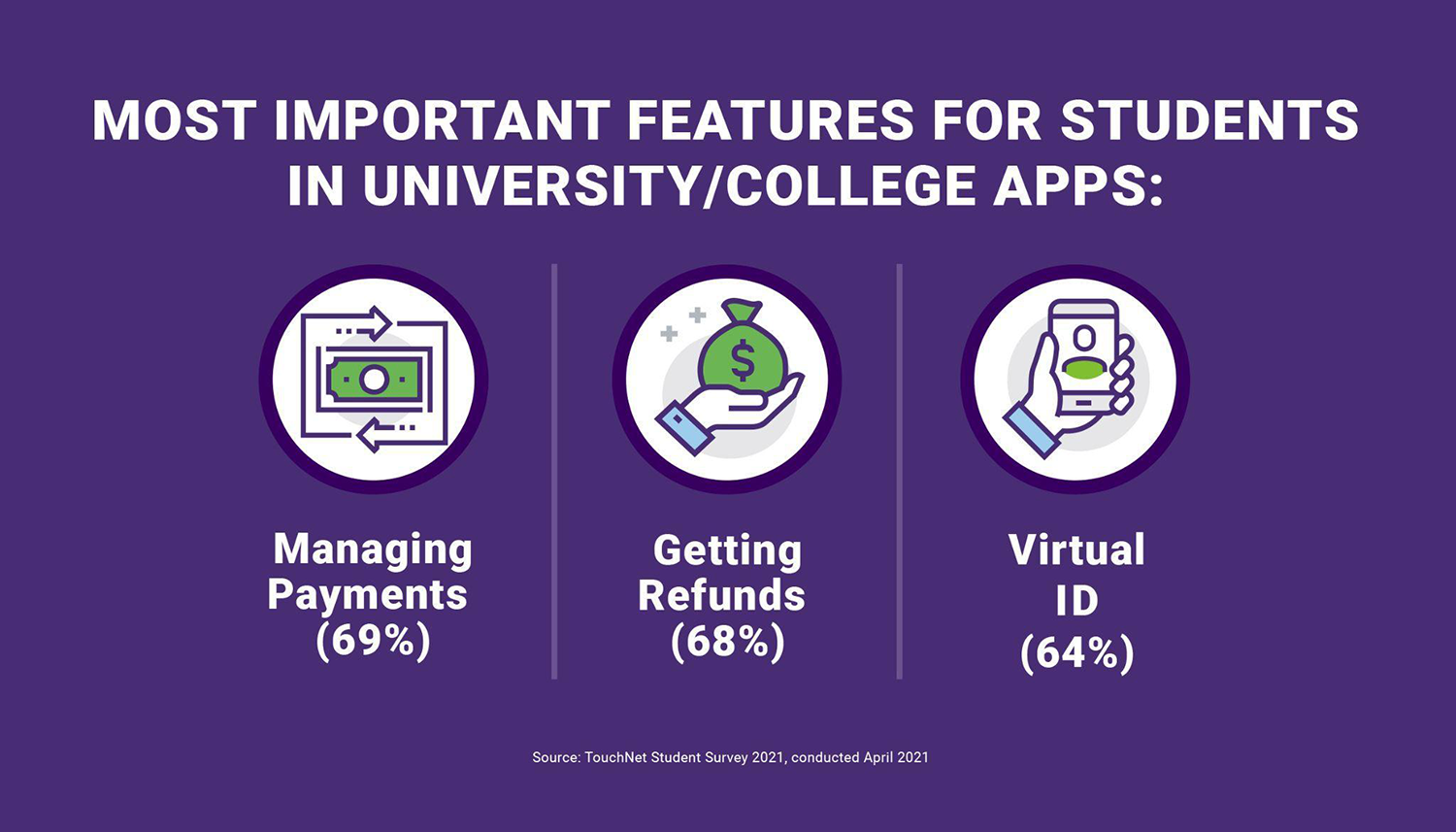 Creating a Contactless Campus
The goal of creating a contactless campus is to develop an environment in which technology helps promote health, safety, and security without sacrificing the social nature of higher education. People still crave in-person interactions, and one way to create a safer environment is to maximize contactless in-person transactions.
Step 1: Enable NFC Technologies. Near Field Communication (NFC) is a communications technology that enables frictionless or contactless transactions including payments, access, and more. The technology has existed for over a decade, but recent trends in consumer behavior further accelerated by the pandemic have brought it to the forefront. It makes the tap-to-pay or tap-to-access feature available with physical cards and mobile devices.
Step 2: Embrace Mobile. With NFC in place, colleges and universities can transition everything from campus-wide payments, building access, and campus IDs to mobile devices. Today's students expect the portability and on-demand aspects of mobile apps, and these solutions are inherently more secure thanks to tokenization, the process that substitutes unique, randomly generated numbers for real account numbers.
Step 3: Move to Cloud-Based Administration. The flexibility of web-based systems lends itself to remote administration. This allows institutions to manage campus shutdowns, issue student refunds, help students access on-campus dining, manage events, and more.
Whether your institution is completely reopening campus or is moving forward with a hybrid solution of online and in-person classes, a cloud-based solution can help you provide great student experiences, data security and PCI (payment card industry) compliance, and above all a secure and safe environment in which students can focus on learning.
A Platform Approach to Success
Much of the current digital transformation is focused on creating a contactless campus, but digital transformation requires more than that to truly maximize institutional leaders' ability to complete their mission of educating and graduating students. With the rapid technological upgrades occurring on campuses, it's abundantly clear that a stopgap isn't going to fix some of the issues we're seeing.
Campuses remain largely siloed. Historically, many departments and campus offices end up managing their specific needs on their own without being integrated with campus systems. This can cause fragmented data and create risk exposure, putting them out of compliance while also creating information silos that make guiding and helping students a challenging and scattered process. Rather, campuses should implement solutions that allow administrators to view the "whole student," moving staff from a transactional role to more of an advising role.
To do so, campuses and their technology partners need to adopt a platform approach, which builds an ecosystem of fully integrated, cloud-based software. By adopting a platform that can be used across campus by every department, administrators can reduce silos and support better student outcomes. A platform approach to technology focuses on four pillars that are vital to a healthy campus: experience, connections, security and compliance, and insights.
Experience
First, the experience for students and administrators should be considered at every step of the way. Our expectations as humans have dramatically shifted from where we were two years ago. Mobile-first is now the expectation, not the exception.
Students expect the same experience on campus as they have in the world at large. They expect the technology on campus to be seamless. They want to be able to complete everything they need to do from a single place—primarily, their mobile phones. Not unlike students, administrators also crave a smooth experience with their on-campus technology. The systems should be easy to use, add value, save time, and be able to be managed remotely.
A huge component of creating an excellent campus experience is minimizing the number of items that each person needs to complete in their everyday routine. Using single sign-on for online portals and services and using the campus ID for all campus transactions are just a couple examples. For this to be possible, all campus connections need to be in one integrated platform.
Connections
The campus ecosystem is vast and specialized. Basically a self-contained city, a campus provides nearly every product or service that is available in the broader economy but specializes these products and services to students, faculty, and staff. Because of this, the sheer number of technical systems on campus can be overwhelming.
With a platform approach, connections are front and center to delivering a premier campus experience for students, faculty, staff, and visitors. While no single solution natively handles every single aspect on campus, a well-structured platform should seamlessly integrate with every connection point on campus. From student information systems to payments and credentials and more, all campus services should be connected and should be centered on the student.
Security and Compliance
Taking advantage of the connectivity of a platform approach ensures security and compliance in multiple ways. With fewer integrations, the risk of a security breach is lowered. From a credentialing perspective, access and physical security are managed at an institutional level, making the opening or shutting down of campus areas during an emergency more efficient.
From a payments and data perspective, having one platform that secures all transactions alleviates the huge resource strain that PCI compliance can bring if an institution has to manage this activity across multiple systems.
Insights
The experience, connections, and security and compliance aspects all add up to more visibility of the "whole student." Campus ecosystems are a treasure trove of data from various interactions (e.g., payments, access, dining). And while precautions must be taken to ensure that data is responsibly maintained and secured, there are opportunities to use data to uncover insights and trends that can aid both students and administrators. With a unified platform, data reporting is easier to maintain.
And last but not least, models of student engagement can be created. Administrators can build personas that demonstrate how successful students develop healthy habits, learn key steps in financial literacy, and obtain life lessons. This can assist in creating action plans to help bolster student outcomes among at-risk populations.
The Evolving Role of IT Departments
One thing is clear: embracing new technologies is a game-changer for higher education. And the IT department plays a vital role in the digital transformation on campus. IT leaders and staff consult, advise, and educate people across campus on how to maximize technology as well as ensure security and compliance.
IT leaders and staff work with teams to reduce redundant systems and create repeatable automated processes. By doing so, they spend less time troubleshooting and maintaining mundane systems and more time on strategic decision-making. All of this allows administrators to feel confident in their work and enables them to do more with the technology they have. A platform approach empowers IT leaders to create a smoother, more flexible, and easier-to-navigate campus experience.
Note
Jackie Lorch, "The Growth of Contactless Payments During the COVID-19 Pandemic," Dynata (website), accessed September 15, 2021.

Jump back to footnote 1 in the text.
---
Adam McDonald is President of TouchNet.