Encouraging communities of practice may help higher education institutions democratize their digital transformation efforts. Working in a community of practice scales transformative work by diffusing learning across an institution.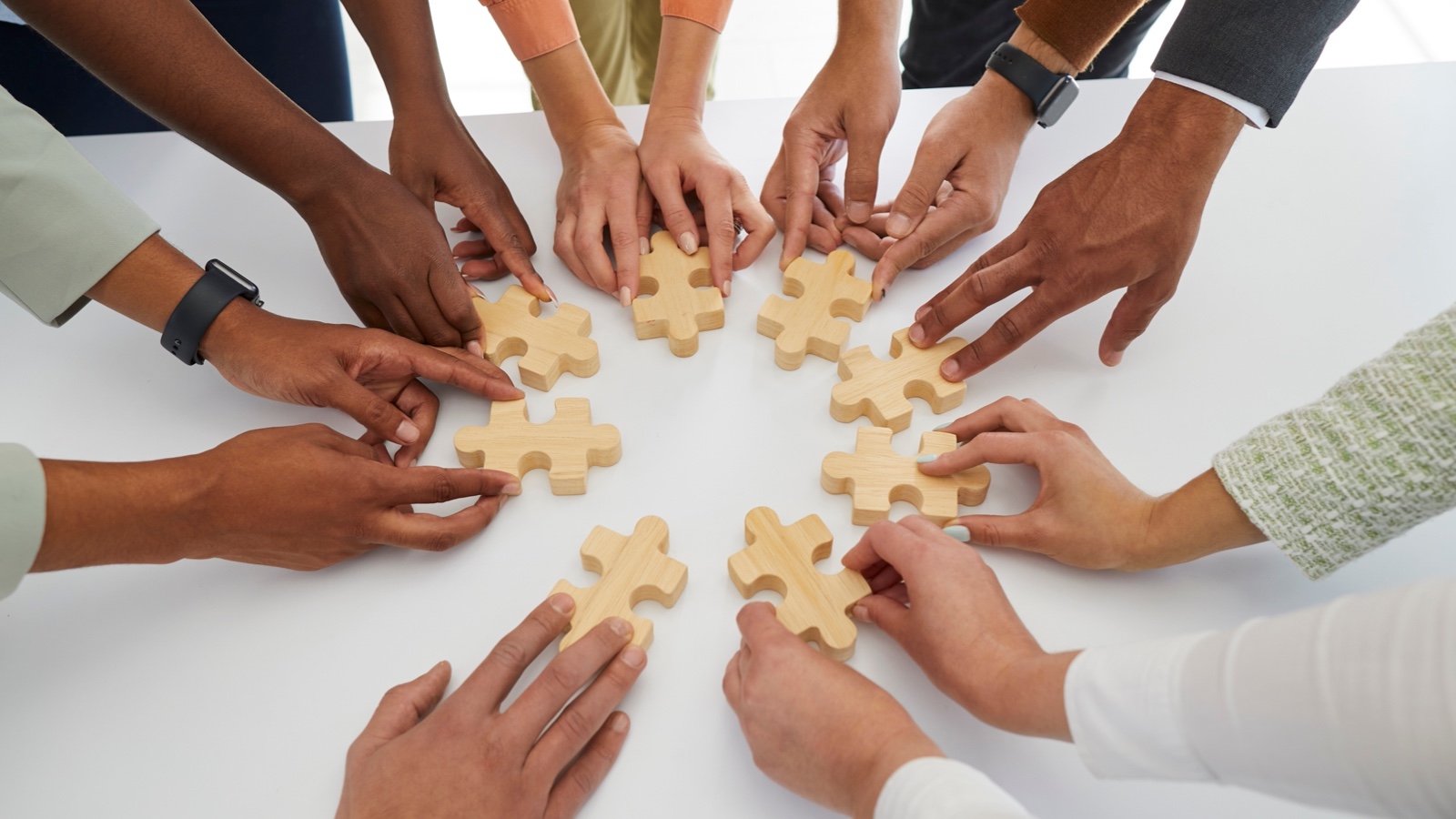 In 2019, EDUCAUSE surveyed higher education IT leaders about digital transformation (Dx) efforts at their institutions. Eighty-three percent of the respondents said that their institution was either engaging in, developing, or exploring a digital transformation initiative.Footnote1 Marco Iansiti, a professor at the Harvard Business School, and Satya Nadella, the chairman and CEO at Microsoft, more recently argued that digital transformation efforts need to be democratized in order to be successful.Footnote2 Encouraging communities of practice may help higher education institutions democratize their digital transformation efforts.
Leveraging ecosystems may be one possible way to help scale the impact needed for a digital transformation and inspire passion while minimizing the fears associated with change and progress.Footnote3 Ecosystems are composed of networks (informal and formal groups of individuals) and links between individuals in different networks. One type of network is a community of practice (CoP).
The work of a higher education institution and its many constituents is mainly an abstraction. No one individual can know what everyone else in the institution knows and does, how they contribute to the institutional mission, and what they value and prioritize. By connecting the many talented people across a college or university, CoPs can disrupt the rigidity that silos can inadvertently create. When questions and expertise are shared across departments, novel solutions and ideas can surface that subject matter experts might have overlooked. Working in a CoP empowers people to develop a sense of personal responsibility, creates a sense of belonging, supports behavioral change through peer accountability, and scales transformative work by diffusing learning across an institution.
Structural Characteristic of CoPs
Based on a literature review and interviews with twenty-one key stakeholders, we (the authors of this article) define CoPs as groups of people who share a concern, curiosity, or passion for a complex, seemingly intractable strategic question and want to explore it with other open-minded colleagues.Footnote4 CoPs do not gather to assemble a set of recommendations; they come together to engage in the deep practice of learning.
Successful CoPs share several structural characteristics. First, CoPs organize around learning about a specific problem or challenge with the goal of sharing that knowledge with the broader community. As part of this process, CoPs extend their reach to others with relevant data and perspectives. Second, learning must be reciprocal; it cannot benefit only one person or department. The knowledge acquired by the CoP can be applied to a shared purpose. Lastly, the CoP gains knowledge by leveraging the shared experiential learning of its members. CoPs can often clarify systemic challenges while enumerating actionable steps to address those challenges. Learning together can unlock deep insights and lead to new ways of framing and solving challenges.
While a CoP can be a seedbed for developing networks within an ecosystem, not all networks are CoPs. As displayed in table 1, some of these groups are informally organized, operating as communities of interest, whereas others are more formally organized, operating as centers of excellence, working groups, or temporary teams.
Table 1. Distinguishing CoPs from other Collaborative Networks
Network
Participation
Objective
Benefits
Leadership

Community of Practice (CoP)

Self-selecting

To learn collectively about a specific problem or challenge

Knowledge sharing, social and professional networking, leadership development

A CoP has distributed,
shared
leadership; however, a facilitator
is helpful.

Organizational Community of Practice (OCoP)

Self-selecting

To learn about an organizational problem by doing

Increased individual effectiveness via more empowerment, interdependence, knowledge sharing, decreased feelings of uncertainty/ambiguity due to change

A facilitator
is essential.

Community of Interest Group

Self-selecting

To find social support by exploring a shared interest

Explores issues of importance to the group

Leadership is generally not defined.

Center of Excellence

Generally directed by management with formal rules of engagement

To recommend best practices or operational policies

Defines consistent practices across the organization

Leadership
roles have
authority
over the
group.

Working Group / Teams

Assigned by the organization

To solve a specific problem or complete a specific task

Coordinates effort to achieve project goals

Defined
project management roles/
responsibilities
Attributes of Healthy versus Constrained CoPs
Given the many approaches to and definitions of CoPs, it is important for higher education institutions to fully explore the role of a given CoP and delineate the characteristics of a healthy CoP versus a constrained CoP (or other networking group). Understanding the differences can shed light on what is needed to give existing and new CoPs the best chance at longevity and success. As an institutional tool, CoPs can be quite effective; however, certain environmental, leadership, and psychosocial dynamics can make or break the momentum of a CoP. For example, those who are not likely to seek out learning opportunities may be less likely to consider joining one. Many individuals may be hesitant to start a CoP because they work in a siloed environment and are unaware of other efforts across the college or university. Others may not know how to start or join a CoP or what communication technology is preferred by other internal stakeholders (IT security professionals, for example) or is best suited for the group. Additionally, some managers may believe that the scope of the CoP exceeds its mandate and detracts staff members from their daily work.Footnote5 Stated simply, a successful CoP is not possible without the express permission of those senior to the CoP group members or the senior leadership of the organization itself. Table 2 contains a preliminary set of characteristics that differentiate healthy CoPs from constrained CoPs (based on our literature review and interviews).Footnote6
Table 2. Characteristics of Healthy versus Constrained CoPs.
Characteristics of Healthy CoPs
Characteristics of Constrained CoPs

Participants come from multiple departments.
The leading subject matter experts at the organization are not in attendance. They are brought in as guest speakers.
The participants leave their titles and authority at the door.
The CoP has at least one facilitator.
CoP members have shared responsibility; learning is community focused.
Resource rich (time and budget)
The focus is on sharing knowledge and learning through practice.
Participation is encouraged, not mandated.
Participants self-select based on a shared interest.
Leadership support acts as an enabler of solutions.
Facilitators are skilled, trained, and impartial.
CoP is not tied to the institutional hierarchy.
The physical environment fosters collaboration.
The CoP is organized around learning.

CoP has a formal structure and mandated participation.
Individual and/or competing management priorities disrupt thinking.
CoP has a lack of leadership support.
CoP has a lack of resources and/or time constraints.
CoP has no purpose/problem.
A risk of social exclusion or inequity within the CoP is inherent due to implicit interpersonal discrimination (e.g., old boys' club).
Participation in the CoP is not recognized or linked to performance evaluations and promotion opportunities.
The CoP has a fixed agenda.
Those outside the CoP are impatient for the work of the CoP to be completed.
The Value of CoPs
During our interviews, senior leaders reported that institutional change associated with a digital transformation creates ambiguity and uncertainty among faculty, middle managers, and staff. Uncertainty can be unpleasant for some employees and negatively impact their work and initiatives. Some employees may even actively avoid situations (heads down and focused on the work), while others may find ways to impose more structure on a situation by fortifying silos, leading by command and control, etc. Such coping mechanisms often reinforce the status quo rather than facilitate serious change.
We believe that CoPs can foster greater empowerment and equip individuals with strategies to help them cope with digital transformation. Indeed, empowerment can be a byproduct of engaging, learning alongside others, and developing shared insights. Empowerment (like joy) is the visible manifestation of trust. Good leaders understand the power of delegating decision-making, but great leaders relentlessly permit their employees to fail, discover, and learn. They recognize that groups that learn together come to trust one another. Trust creates community.
As such, participating in a CoP can help people develop their leadership skills. Members of CoPs who are trusted to develop their thinking with their colleagues often cultivate skills and confidence faster in the CoP than they do in their day jobs. The practical impact of unleashed learners on institutions can be considerable. CoPs can maximize institutional resource sharing and problem-solving by fostering strong connections among practitioners, developing relationships that build trust and establish a mutual obligation toward shared learning and knowledge acquisition, and creating a common vernacular and context that can be shared with existing and future community members.
Examples of CoPs
We identified several shining examples of CoPs to help us understand which CoP characteristics higher education should seek to emulate. The HAIL Storm group offers a glimpse of how CoPs might help higher education prepare for future change. The HAIL Storm group is "a network for higher ed leaders who have demonstrated an awareness of and commitment to experimentation for transformational change as a response to the uncertainty in the broader education ecosystem."Footnote7
Southern New Hampshire University (SNHU) currently has several CoPs that are facilitated by Tif Vancil, the director of communication and collaboration services. In explaining the benefits of CoPs at SNHU, she said, "At Southern New Hampshire University, communities of practice have been instrumental in aligning groups across the university in many different disciplines. CoPs are powerful because they shorten learning curves, reduce time to value, and, if done right, establish working relationships that would be unlikely in their absence."Footnote8
Exemplary CoPs also exist outside of higher education. At the World Bank, for example, a CoP refers to "an informal group of practitioners that shares knowledge on common development projects while at the same time, pursuing joint solutions."Footnote9 World Bank CoPs make important contributions to the organization through a more informed dialogue with decision makers. This leads to improved development outcomes. In addition to the regular dialogue with the bank's management team, CoPs also help members develop skills and knowledge by initiating learning opportunities, promoting professional development, solving common problems, and addressing questions that members encounter during their daily work.
Although some CoPs, such as The HAIL Storm, engage leaders, many do not. Indeed, when faculty, staff, and individual contributors decide to informally cross the boundaries of their established verticals to share and collaborate with others within or outside their institutions as part of a CoP, the result can be powerful. Unfortunately, such grassroots communities can be difficult to stand up and maintain due to a lack of resources and management support.
Criteria that Support CoPs in Democratizing Digital Transformation
Ultimately, we believe CoPs can democratize digital transformation and increase institutional performance by supporting a learning culture that promotes interdependence, shared knowledge, empowerment, and readiness for change. This belief is grounded in four supporting ideas.
Cultural Conditions
Certain cultural conditions must exist in order for CoPs to democratize digital transformation and increase institutional performance. Establishing core values and competencies that are aligned with a strong mission can establish a good foundational culture across an institution. As a college or university brings on new partners and initiatives, focusing on these values and competencies will help to establish CoPs as another tool for an institution to leverage. Emphasizing a learning culture can help managers understand how empowering their staff to join discussions on various topics at the college or university, regardless of their role or standing, fosters shared learning on projects and initiatives. The tech industry does an excellent job of fostering a workplace learning culture. For example, Google employees dedicate 20 percent of their time to side projects, and Microsoft Garage offers a dedicated space for employees to engage in experimental projects that are not specifically tied to their roles.Footnote10
Leadership Support
A transformative leadership philosophy based on interoperability and interdependence is integral to the success of CoPs. The very existence of a CoP must be supported by senior leadership. Leadership must be comfortable with faculty and staff at all levels participating in knowledge sharing, learning, and problem solving. When appropriate, leadership should be ready to provide political cover and additional resources (space, time, etc.) for communities that are wrestling with complex challenges. The amount of time and energy a CoP requires must be protected by senior leadership, and the level of ambiguity and confusion a CoP often endures must be understood. Mid-level managers who supervise CoP participants must also be supported so that their concerns (if the CoPs do not appear to be making progress quickly enough, for example) do not give way to pressuring the participants to return to their other operational duties.
Technology
CoPs need a platform to flourish in face-to-face, hybrid, and online models. While initial experiments with CoPs may utilize technology that is already in place (e.g., business communications platforms, messaging tools, etc.), exploring more immersive technology may be necessary to meet future needs.
Ownership
As CoPs become standard practice, ownership within some part of the institution is crucial for understanding when a CoP is an appropriate solution. Continued training and support from whatever organizational unit "owns" the CoPs will be necessary to maintain momentum and drive engagement. In addition, the institution will need to formally dedicate time and resources to the establishment, implementation, and sustainability of CoPs.
Recommendations for Cultivating CoPs at Your Institution
Following are three recommendations for cultivating CoPs that help democratize digital transformation initiatives at your institution.
Facilitation. Our research suggests that CoPs need facilitators so that they can be successfully implemented and thrive in an institutional setting. For example, an individual who was part of a CoP at Northeastern University told us this: "The value of having a facilitator who was able to listen and think of different trends coming out of the conversation and not getting into the weeds, staying above that, was really helpful. The facilitator was so important. . . . [The facilitator was] a critical gatekeeper. . . . She became a master translator to accelerate conversation . . . [and] kept things moving. "Another interviewee said, "There is clear evidence that the CoPs that have full- or part-time facilitation . . . are much more likely to succeed than those that rely entirely on self-organization, and/or where there are no clearly defined roles or responsibilities." Jordan Suhr, who ran the CoPs at LRNG, said, "Great facilitators are vital to a thriving CoP. These are people who are good at bringing work streams and other collaborators into your CoP form, like a knot that spawns new branches."
Playbook. An institution needs to have a sound understanding of best practices to implement CoPs that increase institutional effectiveness. Typically, there is no central knowledge repository, guidelines, or platform that employees can utilize to create and sustain CoPs.
Training and Communication. An institution needs a training program and communication plan to equip faculty and staff with the know-how to stand up and implement CoPs across an institution. Current staff and management need training and communication on the benefits of CoPs.
Conclusion
CoPs leverage communities in powerful ways. They can help advance digital transformation by supporting a learning culture that promotes interdependence, shared knowledge, empowerment, and readiness for change. However, it is important to keep in mind that not all CoPs are the same, and the characteristics of a healthy CoP can sometimes pose a challenge to hierarchical organizations with a transactional leadership style. The effectiveness and sustainability of any CoP depends on key cultural conditions, leadership support, access to communication technology, and formal ownership of operations and logistics by a service unit at the institution.
Notes
D. Christopher Brooks and Mark McCormack, Driving Digital Transformation in Higher Education, research report (Louisville, CO: ECAR, June 2020); Susan Grajek and The 2019–2020 EDUCAUSE IT Issues Panel, "How Colleges and Universities Are Driving to Digital Transformation Today," EDUCAUSE Review, January 27, 2020.

Jump back to footnote 1 in the text.

Marco Iansiti and Satya Nadella, "Democratizing Transformation," Harvard Business Review 100, no. 3 (May-June 2022): 43–49.

Jump back to footnote 2 in the text.

John Hagel, "On the Edge of a New Decade," Edge Perspectives (blog), John Hagel (website), January 1, 2020.

Jump back to footnote 3 in the text.

A literature review conducted in 2019 using the search terms "community of practice" and "organizational performance" yielded 4,728 peer-reviewed publications. Interviews were conducted with sixteen stakeholders at Southern New Hampshire University and five external experts using a semi-structured interview protocol. They were conducted between October 2019 and April 2020 as part of a leadership training course completed by the authors. An earlier version of this paper was part of the final deliverable to the SNHU board of trustees.

Jump back to footnote 4 in the text.

A number of managers expressed this sentiment during our stakeholder interviews.

Jump back to footnote 5 in the text.

Luis Gonçalves, "Communities of Practice Success Stories: How World-Class Companies Run Their CoPs," Learning Organization (blog), Adapt Methodology, April 3, 2021; Liz Elting, "How to Navigate a Boys' Club Culture," Forbes, July 27, 2018; Linda Babcock, Maria P. Recalde, and Lise Vesterlund, "Why Women Volunteer for Tasks that Don't Lead to Promotions," Harvard Business Review, July 16, 2018.

Jump back to footnote 6 in the text.

Higher Ed Innovation, The HAIL Storm Group (website), 2022.

Jump back to footnote 7 in the text.

Tif Vancil, LinkedIn message to Faby Gagne, June 7, 2022.

Jump back to footnote 8 in the text.

Gonçalves, "Communities of Practice Success Stories," April 3, 2021. The World Bank is an international financial institution with 189 member countries. It provides loans and grants to the governments of low- and middle-income countries looking to fund their capital projects.

Jump back to footnote 9 in the text.

Adam Robinson, "Want to Boost Your Bottom Line? Encourage Your Employees to Work on Side Projects," Inc., March 12, 2018; "The Garage Is a Program that Drives a Culture of Innovation," Microsoft (website), accessed June 6, 2022.

Jump back to footnote 10 in the text.
---
Faby Gagne is a Strategic Advisor at DXtera Institute.
Anthony Siciliano is Associate Vice President, Academic Programs at SNHU Global Campus.
Jennifer Harris is the Executive Director, Information Science and Emerging Technology at Southern New Hampshire University.
Christine Souza is the Senior Director of Financial Systems at Southern New Hampshire University.
Mandy Miller is the Associate Vice President of Digital Marketing at Southern New Hampshire University.