Mark Brown, the executive director at the Student Freedom Initiative, sat down with Roslyn Clark Artis, the president of Benedict College, to discuss some of the challenges that Historically Black Colleges and Universities (HBCUs) face and the persistent value of the HBCU experience and education.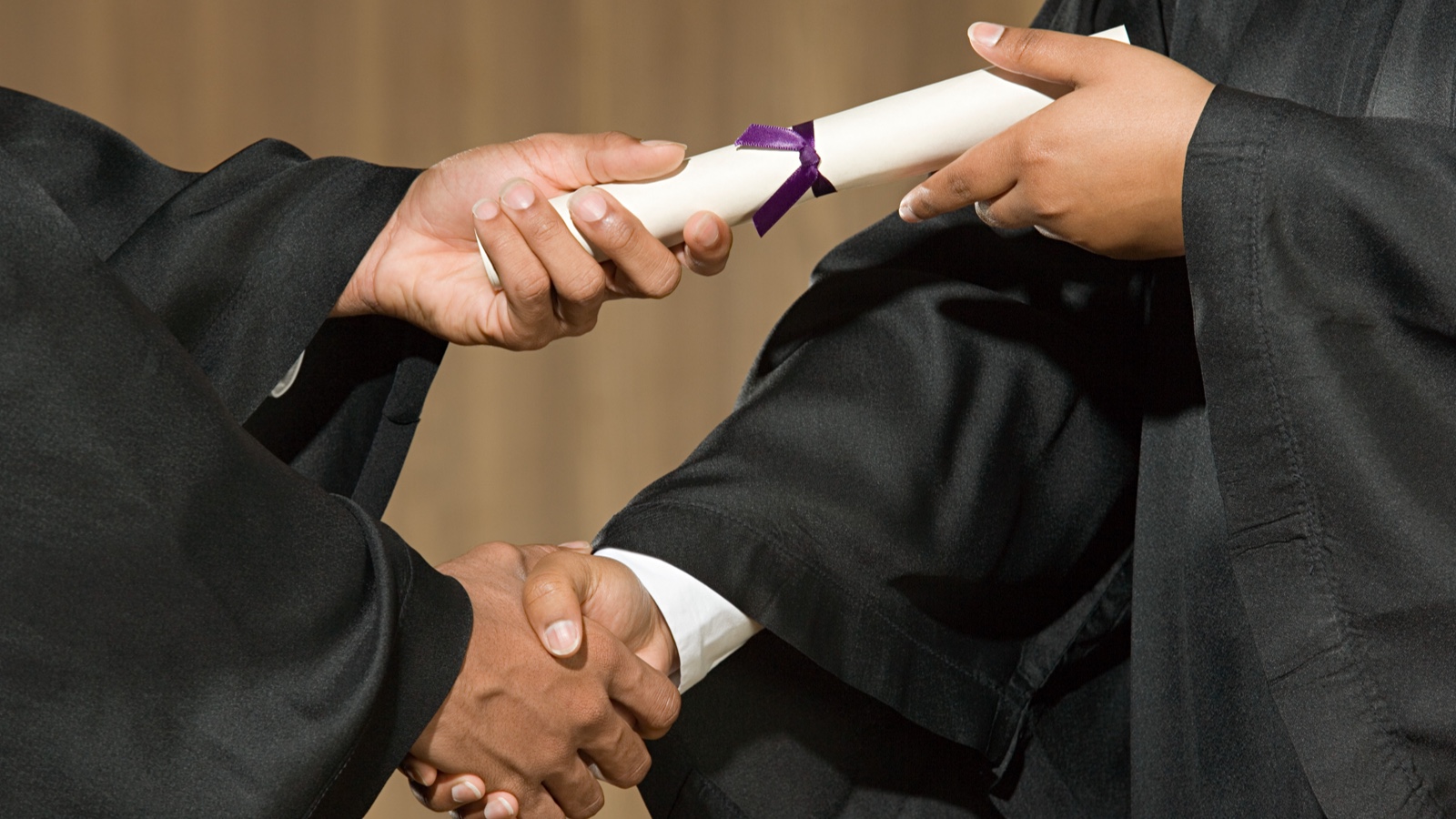 While some Historically Black Colleges and Universities (HBCUs) were formed before the Civil War, most were chartered after the Second Morrill Act of 1890, which said that for every land-grant university a state founded for White students, one must also be founded for Black students.
Today, more than 300,000 students attend HBCUs. And even though these institutions represent only three percent of colleges in the country, they produce 40 percent of Black engineers, 40 percent of Black U.S. Congress members, 50 percent of Black lawyers, and more than 50 percent of Black physicians in the United States.Footnote1
Statistics like these underscore the value of an HBCU education to the very fabric of this nation. However, the rising cost to attain an HBCU education provides another layer of obstacles for students who already have the odds stacked against them.
Robert F. Smith, the donor behind the Morehouse gift of 2019, which reduced the student loan debt of the entire graduating class to $0, founded the Student Freedom Initiative (SFI) in 2021 to address the wealth gap in America through the lens of higher education, identifying HBCUs as the initial benefactor of the organization.
HBCU institutions that partner with the SFI collaborate with the organization to reduce student debt in real time by providing financial aid alternatives, delivering additional services that support student persistence to graduation, and increasing student opportunities for meaningful employment after they graduate.
As the executive director at the SFI, I recently sat down with Roslyn Clark Artis, the president of Benedict College, an SFI partner institution, to discuss the economic issues and financial disparities facing HBCU students and the persistent value of the HBCU experience and education.
Mark A. Brown: First, on behalf of SFI, I want to thank you for your historic leadership of Benedict College. At SFI, we are keenly aware of the role and value of HBCUs in the American higher education landscape. Still, we are also mindful of the many challenges, especially financial ones, that HBCU students face. What are the most significant financial challenges affecting Benedict College students today?
Roslyn Clark Artis: Well, 84 percent of Benedict students are Pell dependent; i.e., these students could not attend college "but for" the Pell Grant. Students who are eligible for full Pell have little to no family capacity or support. The Pell Grant covers less than 40 percent of the total cost of attendance for a Benedict student, thereby creating a tremendous dependence on student loans and part-time or full-time employment.
Brown: SFI programs are designed with the full financial implications of attending college in mind. According to our data, after the Pell Grant, Federal Work-Study Program, and the first unsecured Federal Student loan, students can still have as much as $14,000 in college costs. Are there hidden costs of attending college that students often don't consider or account for?
Clark Artis: Yes, many costs are often overlooked, such as tuition payment plans for expenses that are not covered by financial aid, learning materials (laptops and other technology), textbooks (which prompted Benedict to shift to OER in 2020), professional attire, and transportation. These are reasonable college costs that, when left unresourced, can limit a student's college experience and even prohibit a student from persisting to graduation.
Brown: Our data suggest that these additional costs are, as you said, met with one or more student loans. We are also aware that 63 percent of HBCU students utilize parent PLUS loans. The debt from these loans is held for twice as long as the debt from similar student loans held by White Americans. How have increasing levels of student debt directly impacted HBCU students?
Clark Artis: The natural consequences occur after the time our students leave campus. The impacts range from adverse credit consequences, high debt-to-income ratio, and, ultimately, the inability to purchase a home due to debt-to-income ratio. These are the scenarios that lead to renting rather than owning a home. The lack of property equity and the limited ability to save or invest contribute to the wealth gap that continues to plague the nation.
Brown: The wealth gap you mentioned is why SFI created the Income Contingent Alternative (ICA). In our view, parents do not need the additional burden of college debt when they could very well be approaching a significant purchase such as homeownership. The ICA is modeled to give students the flexibility to continue their undergraduate studies without entering the parent PLUS loan debt trap and options to attend graduate school without needing to pay back the debt immediately.
We know that Benedict College is also involved with various forms of institutional aid to reduce the dependency on student loans. Can you share the steps Benedict College is taking to increase college affordability for its students?
Clark Artis: Benedict is student-focused and very aware of the financial circumstances for many of our students. To that end, we reduced tuition by 26 percent. We also encouraged a savings culture by providing access to open educational resources (OER). OER includes textbook lesson plans, online quizzes and assessments, and other materials to assist students.
We support a policy of having no markup on a meal plan. This is unique, as most colleges and universities "mark up" the meal plan and thereby generate a modest profit for the institution. Benedict College does not. The student is charged precisely what the foodservice provider charges.
Brown: That is great for the students, but what impact does this have on the institution's bottom line? The main challenge for HBCUs is funding, which contributes to the rest of the issues that HBCUs face. Does increasing higher education affordability have any unintended consequences for Benedict's growth trajectory?
Clark Artis: Benedict's financial model is largely dependent on tuition and fees. Reducing tuition and expenses resulted in significant decreases in revenue. Additionally, the gap between the value of the Pell Grant and the total cost of education is often funded by institutional aid, further reducing income. The need to provide high-cost wraparound services, computers, and other student support mechanisms often invert the financial model of the institution. Stated more simply, our students overwhelmingly have high need and low wealth.
Brown: You mentioned the need for wraparound services, and SFI agrees with you. SFI programs, such as InternX, which matches students to paid internships at Fortune 500 companies and other employers, and the Handling Everyday Life Problems for Students (HELPS) program, which provides grants to help students with unexpected bills, are all wraparound services. How do we solve the reality that an unexpected expense or financial emergency can derail a student's semester or entire education plan? Are there short-term and long-term solutions?
Clark Artis: We appreciate and very much support the HELPS Program but realize that thus far, the program only extends to the first nine schools that joined SFI. We would like to see that program expanded to include our college.
In the meantime, we are meeting students' needs through emergency aid programs such as Project Success, the Higher Education Emergency Relief Fund (HEERF), and private gifts to the college. We must have a strong pulse on students' needs, which requires us to establish strong relationships with them—reiterating the institutional commitment to support them, especially in challenging times. Our Student Success Team provides round-the-clock support (including weekends and holidays) by monitoring student inquiries and offering solution-driven responses.
Brown: The emergency support from the Student Success Team at Benedict seems to be a high-touch area, seemingly unrelated to academics, requiring significant effort from your staff. Is there an academic benefit as well? In other words, how do financial emergencies or disparities affect students' grades and their ability to focus on their education?
Clark Artis: Academic preparation is a barrier that mainly affects low-income minority students. Students who are academically underprepared with little to no access to financial resources are often forced to work outside of school to make ends meet (and provide for their families, in many cases). The need to work off campus takes students away from classes, office hours, tutorials, and other academic support services, which directly affects their ability to focus and perform well in their courses. Unforeseen financial emergencies (e.g., car repairs, medical expenses, childcare, bereavement) often shift students' focus away from academics to anxiety and stress over how to overcome immediate challenges. Generally, students are faced with multiple challenges at once, which makes it especially difficult to "keep up" and stay on top of their responsibilities.
Brown: You mentioned students working outside of school to make ends meet. SFI supports a policy to allow all HBCUs to participate in the Federal Work-Study Experimental Site initiative. If extended to all HBCUs, the purpose would be to enable students to earn more money than is allowed under traditional federal work-study jobs. We also believe that working in their field of choice is more beneficial to students than working in conventional federal work-study jobs. Do you have any statistics on what percentage of your student body ends up working part time while enrolled?
Clark Artis: Earning more in a job related to one's desired profession would be a welcome improvement to the Federal Work-Study program. According to the Benedict College Office of Financial Aid, 18 percent of Benedict College students received Work-Study assignments for the 2021–2022 academic year. Additionally, during the 2019–2020 academic year, which was defined by the COVID-19 pandemic, the number of students who requested online coursework so that they could continue to work and support their families suggests that as many as 50 percent of current students are employed at least part time.
Brown: SFI offers income-contingent agreements to students in STEM majors during their junior and senior years. Much of this offer is based on the market demand for STEM-related jobs and the projected earning power potential of these talented students. We also want the industry to recognize the significant talent at our HBCUs. In your opinion, how will the availability of the Student Freedom Agreement (SFA) help STEM majors at Benedict?
Clark Artis: The SFA will help cover students' remaining cost of attendance or gap amount after aid is applied. This funding source addresses a challenge that Benedict continues to battle, as many of our students set up payment plans that they cannot afford to clear for the semester. Defaulting on a payment plan has the potential to bury a student financially, forcing them to drop out. The SFA supplies a low-risk alternative to support student progress and degree attainment.
Brown: Our approach to STEM is only as good as our ability to attract students to STEM career fields. Given your substantial experience in higher education, what are your thoughts on the ability to attract low-wealth, first generation students to STEM career fields? Will the SFA help in this regard?
Clark Artis: Indeed, the SFA, along with the other companion wraparound support services (InternX, emergency aid, etc.), will draw students to STEM majors; however, the data show that low-wealth, first-generation STEM students who hail from underperforming high schools struggle with core competencies in math and science. Therefore, HBCUs must continue to stack support in these disciplines to address critical knowledge gaps. STEM students at HBCUs do not lack ability. Instead, they have been denied access to resources.
Brown: The proposal to cancel all student debt is a heated debate topic Inside the Beltway. You have a front-seat view of this issue as you deal with students looking for a means to finance their education. What is your opinion on the cancellation of student loan debt?
Clark Artis: According to the Roosevelt Institute, canceling up to $50,000 of student loan debt per borrower would at once increase the wealth of Black Americans by 40 percent.Footnote2 This projection is consistent with institutional data that confirm "financial limitations" as the number-one reason students leave college before graduation. For many students, financial insecurity can result in them stopping out for reasons as insignificant as a flat tire or unexpected medical expenses.
Brown: SFI agrees with your assessment of the potential benefit of student loan debt cancellation. However, we also believe students need affordable options if the necessary legislation is not achieved. In your opinion, can the SFA, which supplies up to $40,000 in aid per student, have a similar impact on the futures of Black students?
Clark Artis: The SFA agreement will relieve significant pressure on current expenses, including tuition, fees, room, and board, thereby decreasing time to degree and ensuring that students earn the academic credentials they seek. College graduates have significantly greater earning ability, which increases the likelihood of "on-time" loan repayment.
Brown: You mentioned on-time loan repayment. SFI constantly reviews graduation rates, cohort default rates, average grade point average, and other data relevant to school performance. We've learned the importance of providing context for this data when analyzing HBCUs. Can you elaborate on some of the data available on the performance of HBCUs?
Clark Artis: Institutions that educate low-wealth, first-generation students focus tremendous resources on student development, academic and social support, and a full array of wraparound services. Often, this comes at the expense of infrastructure investments and other cosmetic measures of "quality." The condition of the physical infrastructure is not a proxy for academic quality. On the contrary, fully supported students tend to perform at higher levels. Further, it should be noted that graduate study outcomes for graduates of HBCUs, regardless of institution type, are above national norms.
Brown: What else should readers know about Benedict College and its efforts to address college affordability and financial disparities among its students?
Clark Artis: Benedict College is fully committed to affordability and the financial well-being of its students and graduates. The college has developed a comprehensive strategy around financial literacy, including but not limited to financial literacy education (embedded in coursework at every level), co-curricular activities (investment clubs, entrepreneurship support, etc.), loan counseling and credit management (through the Educational Credit Management Corporation [ECMC], for example), and scholarships.
Charting the Future for HBCUs
HBCUs face a lot of challenges, such as declining enrollment numbers, financial difficulties, and loss of accreditation. While these challenges can make the future look dim, there is also some hope. Much of that hope comes from excellent leaders like Roslyn Clark Artis. SFI will continue to support HBCUs as they open their doors to students from more diverse backgrounds and increase their cultural diversity. As an organization, the goal of SFI is to supply more funding and more opportunities for HBCUs so that the world can see, and benefit from, the excellent graduates these institutions produce.
Notes
Thurgood Marshall College Fund, "Thurgood Marshall College Fund, UNCF, and Partnership for Education Advancement Announce Historic Collaboration to Serve and Improve Socioeconomic Outcomes for Black Communities Impact-Oriented Coalition Formed to Drive Tangible and Long-Term Progress," March 16, 2022.

Jump back to footnote 1 in the text.

Raphaël Charron-Chenier, Louise Seamster, Tom Shapiro, Laura Sullivan, Student Debt Forgiveness Options: Implications for Policy and Racial Equity, research report, (New York, NY: Roosevelt Institute, August, 2020).

Jump back to footnote 2 in the text.
---
Mark A. Brown is the Executive Director at the Student Freedom Initiative.
Roslyn Clark Artis is the President of Benedict College.