The pandemic created a unique opportunity for educators to rethink their approach to online learning and explore how this educational environment can expand access while increasing and building on diversity.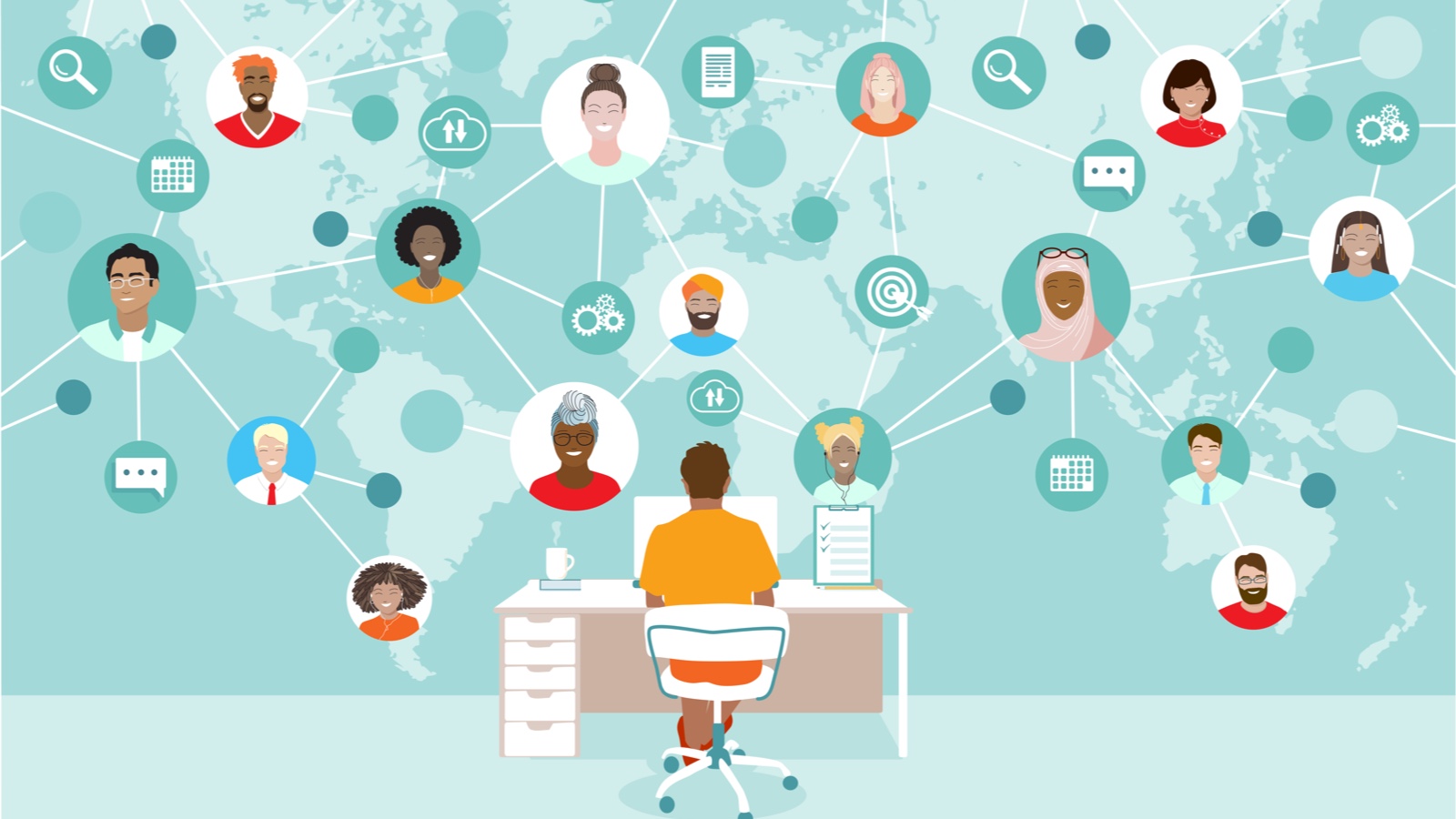 Over the course of my career, I've spent a lifetime in airplanes, rental cars, and hotels, all to attend in-person meetings that often lasted only a couple of hours. Why do we carry our whole bodies and spend all this money to travel to other cities when what clients want is our brains? In education, too, what opportunities have we missed by focusing so intently on in-person instruction? The shift to online education during the pandemic has demonstrated that if we question some of our assumptions, we can create new rituals and approaches that will continue to evolve and persist long beyond the pandemic. In some important ways, online interactions can bebetterthan in-person ones. We can overcome categorization and biases of appearance and concentrate on the humanity in one another. We can enhance the intensity of human interaction, diversity, and quality of collaboration and quality of work.
Challenges for Online Students
I have been working at Parsons, The New School since 2011. I come from consulting, and I design and teach courses aimed at project-based learning. I mostly mentor students in their final-year capstone courses that connect them to their professional endeavors after their studies. In 2017, I started designing and teaching online studio courses as well. One of the programs in which I teach is a Master's of Science in Strategic Design and Management. Since it was launched in 2012, the program has been offered both in person and online.
For the online student cohorts, the greatest challenge has long been a sense of disconnection, given that they are separated from campus life and activities. The move to online education during the pandemic has been one of the greatest experiments ever conducted. It was initially met with reluctance and fatigue, but once we moved beyond the attempts to replicate what we do in real life, it brought to light important innovations.
New Approaches, New Dynamics
In design studios, students develop projects based on a modular framework with guidelines for orientation and individual interpretations, as well as specific project consultations. In "Design Research" and "Design Strategy," our work is mostly visual—we communicate with data maps, infographics, observation videos, communication models, graphs, tables, and matrices that visualize quantitative information and qualitative insights.
Students from different cultures often seem to try to adapt to Western standards when they are on campus, rather than celebrating their unique perspectives and contributing with those in an unfiltered way. During the pandemic, however, when most students were in their home countries, they seemed to be more comfortable as their authentic selves, working on projects that related to their local environments. Online students generally researched the same kinds of topics typically chosen by on-campus students—systemic interventions in food, fashion, healthcare, social innovation, and education—but in this new context, students researched food distribution challenges due to the pandemic in their hometown in China, for example, or the struggles with online education their peers have at educational institutions in India. Teaching online can not only make education available to more people around the globe but also open a space where students can share "a piece of themselves," where different perspectives can interact, where we can learn from each other and our local environments and opportunities. This creates an enormous opportunity for equity and inclusion.
At some point I asked my students to do their project work in their native language and translate only the summary contents and key insights. I am able to understand their graphs, even if the contents are in Mandarin, Hindi, Bengali or Swahili. This opened a door for students to conduct their research and development projects with more enthusiasm, and they took new pride in their work. It felt as though they acquired new freedom and confidence. Each of these projects illustrated unique aspects of the culture in which it was created. The work in different languages generated interest and curiosity in the class; some students changed, opened up, and dared to be themselves. When students shared their work with other students and groups in the class, their presentations not only generated curiosity and energy to push their own work further but also created new collaborations and support systems among the students. It dismantled categorizations and biases of what we assume about how different cultures do certain things. We learned that even if desires, needs, and challenges are similar, people approach and solve them in different ways.
With the shift to online education for all students, we created a new sense of belonging, community, and culture in the classroom—in some cases with even stronger focus on the subject matter and increasing the intensity of our interactions. We cut out constraints, categorizations, and biases while concentrating on our faces, voices, and work, and we extended the reach of geographical, cultural, and social access. Collaboration with and integration of local people, groups, and organizations increased, and our networks expanded. Students in evolving economies felt less conditioned by Western economic cultures and standards, and they enriched the virtual classroom with their local perspectives. Fall 2020 produced the most international and original project work accumulated in one classroom I have ever experienced.
Building Structures for Support and Collaboration
Leeway requires framework. To lead and orchestrate an online class is more work than an in-person course, but it can be very focused and efficient. I expect a weekly progress update on the project work and links to the relating files via e-mail. I can review this first and come prepared to the synchronous consultations. This approach has another side effect: students reflect on their work, and by writing down a short summary of what happened during the week, they structure their work and evaluate their own progress. With this simple request I could shorten the meeting times by being much more concentrated and specific when we actually discuss the work together.
Besides the consultations with me, the collaboration among students and their learning from each other are notably stronger when working online. The work is shared with the whole class in class folders that have subfolders with the work on the modules. In each folder, students can see the work of their peers and the other projects; they also know that their work is being seen. They can look through all the work whenever they have time, not only when joining desk crits and presentations in the classroom.
I started to do peer reviews during each module. These reviews focus not on critique—what students like and what should be improved—but on contributions of knowledge and experiences, ideas and suggestions for further developments, and related readings and contacts. This asynchronous collaboration proved to be highly effective, and those who received a very complete review were motivated to work on an equally rich review for the other projects.
When students and instructors are working synchronously, the scheduled project consultations should be open meeting rooms—other students can join those sessions even if their project is not the one being discussed. Sometimes we learn more when we hear feedback on someone else's project and think about how that critique and guidance would apply to ourselves and our work.
We started to schedule all consultations in specific weekly time frames because all students wanted to attend all project consultations. I do lead those project consultations but leave space for all the students in the room to comment. This enriched the efficiency and quality of each project development because all contributed. It created new dynamics and turned into a learning environment that is nurtured by all. We have a heterogeneous student body—different backgrounds, nationalities, and cultures—and we made use of this diversity like never before.
As the author of a capstone studio course for the MS in Strategic Design and Management, I finally created the online contents that we use for the asynchronous material in our online courses. To facilitate consistency across sections, I aimed to create a modular structure with basic guidelines as reference for instructors and students—a skeleton for others to add on the muscles. Instead of lectures for the modules, I made only introductions and invited peers and alumni who are working in strategic design positions to create those lectures with their own experiences and perspectives. Those lectures had various levels and facets, and seasoned professionals agreed to participate—the effort and time consisted only of a planning meeting and the recording of the interview or lecture itself. Many alumni contributed with real, hands-on experiences from their advancing careers. Some of my peers agreed to give live talks during the semester. This work turned into a dynamic platform that can evolve in the coming years in the fast-evolving discipline of strategic design. It became a modular online course platform that provides space for guest lecturers from literally any place in the world. The platform and its contributions can grow, evolve, and change—they are alive.
The DEI Benefits of Online Learning
Moving from understanding, solidarity, and advocacy to action—developing a to-do list to make change happen—benefits diversity, equity, and inclusion (DEI). Online collaboration and education are just a part of this. We can increase access and, with that, increase diversity. In the fields of design research, strategy development, and change processes, diversity is a prerequisite for innovation. We can better tackle the complexity of the challenges we are facing if we work in a heterogenous, collaborative environment. Extending the reach to create diverse student populations is in everyone's interest, and online collaboration and education help accomplish this.
While many complain about the online format and the missing human interaction, I have to say that we increased intensity and intimacy when working together online. Our appearances were neutral, and we focused on our faces, hands, and voices. My sense is that after we built trust, my students tended to be more themselves and more outspoken than when we were physically in the classroom. Before this pandemic, I was always surprised when I met my online students in person at the end of the course at finals or graduation. They were taller, bigger, smaller than I would have thought—the body language did not always match the person I had gotten to know so very well online.
A simple structure for the synchronous meetings—such as the project consultations, all-class lectures, and all-class Q&A or job search focus groups—created a rhythm and rituals that became part of our lives. The repeated weekly rhythm gave structure to our work and also to our lives in this difficult period of time.
Looking Past the Pandemic
Even though I miss travelling after a year with the pandemic, this great online experiment is a dream come true. We can extend our reach, creating networks through student work all around the world. We can bring cultural content to light, overcome biases, and actually build on diversity. We can design new, dynamic learning platforms for our course offerings and dramatically increase access to education.
I am not waiting for the end of the pandemic to finally start really doing my job again—I have had an extremely productive year, and I want to continue to work online. I hope that all this is a new beginning and not soon to be over with once we get the pandemic under control.
---
Christian Schneider is Associate Professor Strategic Management and Design, Parsons School of Design, The New School. He is an executive mentor, former Project Leader at IDEO Europe, and Designer at the Studio De Lucchi in Milan.