A college professor and a high school senior asked college-bound seniors who were finishing high school under quarantine in the spring of 2020 what they want if their first semester of college begins online.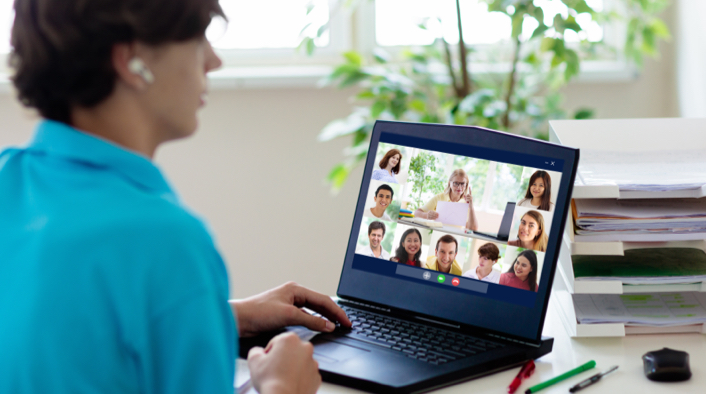 With many college and university leaders still unclear about academic and residential opportunities for the fall semester, we started to wonder about the students who would be starting their first year at these higher education institutions. After having to shift to online learning to finish their high school education, what are their concerns about beginning their next step as online-only or, perhaps, hybrid students? To find out, we asked. Nearly 150 college-bound high school seniors shared their thoughts by responding to multiple-choice questions and adding more than 500 comments.1
These graduating seniors reported on what their high school teachers did and didn't do well and on what they as students did and didn't do well during the spring. As incoming college/university first-year students, they outlined what they hope their professors will do this fall and how they hope to become effective online students.
The Short Answer
The bottom line from these survey respondents is that a fall online experience needs to be better than spring. High school seniors had negative experiences with the rapid shift to remote teaching in the spring. They didn't fully blame their teachers; they recognized that their teachers had not planned or been trained to go online. And many acknowledged that their own anxiety and isolation made them frequently unmotivated and disengaged.
If their college has to start online, these incoming first-year students have a strong sense of what they want. They expect that faculty teaching in the fall will now be prepared to teach online, and they expect to get their money's worth for tuition paid. They want good teaching, which they describe as live, engaging instruction with a sense of classroom community. The students recognize that college is about more than books; they also want social and academic connections with classmates and professors. Partially reflecting their ad hoc spring semester and their own isolated learning environments, these students want their professors to provide structure, guidance, and flexibility. Finally, they acknowledge that they don't know what good college-level learning is or what good online learning is, so they certainly don't know what good college-level online learning should be.
Some students stated that they won't begin their higher education if it is online-only. But a few are optimistic about the quality of the unusual format. Overall, the students agreed that they don't just want credentials—they want relationships and experiences.
High School Teachers' Performance
We asked: "Under the emergency shift online, what did your high school teachers do well, and what could they have done better?
The raw data is mostly discouraging (see table 1). Only 36 percent of the students surveyed thought their teachers were engaging or used an effective teaching style. (Note: The survey did not ask the students whether their teachers were engaging before the shift to online.) Whereas 59 percent thought their reading and video assignments were useful, only 34 percent thought their assessments were worthwhile. The highest rating came for the use of technology: 62 percent of the students thought their teachers used technology well, including the software to communicate and share assignments.
Table 1. Teachers' Performance
| | | |
| --- | --- | --- |
| | What did your teachers do well? (Check all that apply.) | What could your teachers have done better? (Check all that apply.) |
| Technology | 62% | 28% |
| Effective Assignments | 59% | 36% |
| Teaching Style & Engagement | 36% | 60% |
| Useful Assessments | 34% | 45% |
Given the chance to elaborate, students emphasized workload and engagement. One-third of the comments noted that the workload sharply increased, mostly with busywork. This increased students' frustration and decreased their motivation. For example: "The amount of homework and pointless busywork got overwhelming." "My friends and I were struggling a lot to cope with the virus / loss of our senior year; the intense workload only made things worse." "I hated it all so much because of the constant drone of meaningless worksheets. Or maybe it was the depression, I don't know anymore." Students' motivation seemed to be lowered by both their anxiety and the unengaging schoolwork, though we can't know the relative importance of each.
A key complaint involved teachers who went all-asynchronous—that is, they did not provide any live-video classes, live-video office hours, or outreach to students. Forty percent of students' comments were critical of their teachers' levels of engagement and effectiveness in communicating. Students received material but felt they had to teach themselves. In particular, math was a subject that the students frequently referred to as needing live instruction.
The news was not all bad. More than one-fourth of the comments were positive about the work and workload, engagement and communications, and teachers' ability to motivate students. Some students were satisfied with the amount and types of communications coming from their teachers and especially appreciated a clear schedule of assignments.
Overall, the students appreciated teachers who were available for questions, were flexible, and seemed concerned about students' well-being: "I liked how teachers were available so that I could ask my questions and voice concerns with the assignments." Some students were glad for the opportunity to learn time-management skills, since week-ahead assignments allowed students to work whenever they wanted, rather than every day. Meanwhile, students wanted a Goldilocks balance of live-video instruction and teacher engagement—not too much but not too little—and that perfect balance varied by student.
High School Seniors' Performance
We asked: "Under the emergency shift online, what did you do well, and what could you have done better?"
Students were critical of themselves (see table 2). On engagement and commitment, fewer than 20 percent of the seniors gave themselves top scores ("I did this very well"), despite very sufficient technology access and abilities (76 percent). Another 40–46 percent said they did "Fairly well," while 30–31 percent said they did "Just ok." Between 6 to 11 percent judged their engagement and commitment to be "Little or none."
Table 2. Students' Performance
| | | | | |
| --- | --- | --- | --- | --- |
| | I did this very well. | I did this fairly well. | I was just OK. | I did little or none. |
| Engagement (attend online classes, pay attention, participate) | 19% | 40% | 30% | 11% |
| Commitment (amount of effort given to the work) | 18% | 46% | 31% | 6% |
| Collaborate (with friends and classmates on schoolwork) | 24% | 31% | 22% | 23% |
| Technology (had access to and knowledge to use well) | 76% | 19% | 5% | 0% |
Note: Totals may not equal 100% due to rounding.
In their extended comments, students were even more critical. Over 70 percent of the comments identified their low motivation, engagement, and/or quality of work. The most frequent sentiment was that a student did the minimum amount of work necessary. One student memorably articulated it as, "I did enuff, bruh."
Some students noticed that their efforts were significant in the beginning but declined over time. When schools shifted to "Pass/Fail," eliminated exams, or made other commitments to safeguard grades, students said their effort sank.
In addition to getting tired of unengaging teaching methods, students couldn't always convert their new work-at-home environments into effective learning ecosystems. Already admitted to a college or university, students suffered from the usual symptoms of senioritis. A few students mentioned that they struggled with time management or recognized that there were more opportunities for cheating.
On the other hand, one-fourth of the students' comments included positive evaluations of their own efforts. Half of these noted that they made deliberate efforts to work hard for a "big finish" to their high school careers, maintaining or even raising their level of effort. Some made specific attempts to engage with their teachers or classmates because they recognized their need for interaction. A few commented on being glad to have the opportunity to learn the time-management and independent-learning skills they will need in higher education.
Challenges Ahead
We asked: "If your college/university starts online, what will be your biggest challenges as an incoming first-year student?" Anxieties about the challenges of heading into the first semester of college online generated the most comments from students. They are especially concerned about making connections, meeting academic challenges, and having a productive at-home learning environment.
The most common concern that students expressed was about making connections with their new classmates and professors; they worry about missing out on the "college experience." Their emphasis was not on parties but on the opportunities to meet and learn from a wide range of classmates. More broadly, students noted the loss of opportunities to mature: "I won't be able to experience what it's like to be an independent young man or woman."
Worries about connections were also related to a second set of concerns: academic challenges. Students want a shared-learning experience with their classmates, relying on each other and their instructors. Students are nervous that they won't know where to turn for things like tutoring and support for learning disabilities. They are worried about the workload and the difficulty of new content. These concerns were often expressed as not unique to online learning but exacerbated by it. This apprehension may be heightened by students' experiences in their last months of high school online. As noted above, many reported that in the spring of their senior year online, workloads increased while the actual teaching and learning decreased. Students also identified that in their emergency shift to online in the spring, they didn't learn what high-quality online teaching and learning really is. After spending months as unmotivated students with unprepared teachers in unproductive Zoom-based video classes, how, they asked, do they transform into excellent online learners?
Finally, a third concern students raised was about their study space and habits. Will they be able to manage college-level work without an ideal learning environment? Will they be able to develop good time-management skills, to re-engage and ramp-up after a disconnected spring and idle summer, and to summon the motivation to begin their higher education under such disappointing circumstances?
Students did not use the words adaptability, resiliency, or self-sufficiency, but some of the phrasing in their comments—"teach myself," "set my own schedule," "be my own advocate"—suggested they were already developing these essential skills.
How Faculty Can Help
We asked: "What are some of the things you definitely want—or don't want—your professors to do?" Students identified three areas: structure (and flexibility), the right amount of meaningful work, and engagement.
In reaction to the unplanned, ad hoc shift to online instruction in the spring, students frequently used the term structure. Some good news for faculty is that they already provide two of the most common requests: a syllabus and rubrics. No students used those exact words, but many asked for detailed descriptions of what readings and assignments were due, and when, to be provided well in advance: "a comprehensive, instructional guide" with "notifications, requirements, and due dates for my work." Many students combined that need for structure with a call for flexibility. Perhaps unrealistically, they expect faculty to always be prepared but also to understand that students will not be. "I hope they will be considerate of the fact that learning online is harder and getting work done in a home setting is hard as well."
In a number of ways, students frequently asked for the same thing: good teaching. Students want not only a modest amount of work but also meaningful work. They asked for "online seminars instead of just simply receiving the notes and being told to understand them by myself." They want instruction to be delivered individually and in small groups, they want it to be engaging and useful, and they want it to be supported with notes and recorded videos.
Finally, some students articulated that they don't really know what good online learning is but that they suspect it resembles real-time engagement. By a ratio of eight-to-one, students prefer at least some live-video teaching and gathering over a recorded-lectures format. This doesn't mean sage-on-the-virtual-stage. They want small-group online activities so that they can "meet" and work with some of their classmates. They want online office hours so that they can build relationships with their professors and ask about specific topics. In sum, they want to be taught what higher ed learning should be—whether it's online, face-to-face, or some combination as needed.
How Students Can Help Themselves
We asked: "What are some things you think you can do to give yourself the best chance to succeed?" Students' advice to themselves was short, direct, and clear, echoing themes noted above: commitment, time management, connections, and a conducive work environment.
Sixty percent of students' comments discussed the need to study, to focus, and to remain motivated and committed: "really show up to everything and put in full effort to everything"; "take it all seriously"; "always do my work"; "focus and do it." More than one-third emphasized time management and a steady routine: "have a schedule, stay organized, get a planner." One-fourth of the comments recognized the need to make connections with faculty and other students. Some of these remarks bring ideas together: "I can create group chats with my peers so we can remind each other about due dates and ask each other questions." Lastly, around one-fifth of the comments from students highlighted their need for a better work environment. One student noted: "I should not do class from bed, and I should get dressed every morning."
What's Next?
For academic and lifestyle reasons that are easy to understand, many incoming first-year students don't want to start their higher education experience online. After months of experiencing shutdowns and quarantines, looking forward to an adventure, and putting money into a significant financial investment, students hope for an in-person campus learning environment.
But that may not be possible. If not, our survey reveals what many first-year college/university students want from online or hybrid experiences. They are hoping for as-close-as-possible to the usual experience. They want high-quality instruction from engaged faculty with whom they can build relationships. They need these faculty to offer structure and flexibility and to show them how to succeed in college and online. Students know this will require real commitment on their part, along with improving time-management skills and constructing better learning environments. And students want to meet and know and work with their classmates. All of this, of course, is critical for any first-year student—but much more so for those moving to campus only virtually.
Note
Respondents came from 17 states, mostly from the suburbs of New York City, San Francisco, and Washington, DC. Two-thirds plan to go to college more than one hour from their homes. For intended majors, 44 percent plan STEM majors, 34 percent business or social science, and 14 percent arts and humanities, with the remainder undecided. ↩
---
James M. Quirk teaches in the School of Public Affairs at American University in Washington, DC.
James P. Quirk is a Class of 2020 graduate of Bethesda–Chevy Chase High School in Maryland and will be an engineering major at Loyola University Maryland in Baltimore.