EDUCAUSE community members offer teaching and learning perspectives on the 2020 Top 10 IT Issues.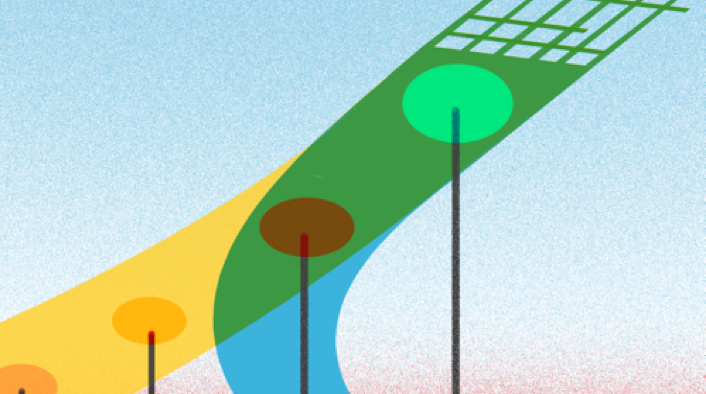 From a teaching and learning perspective on the 2020 Top 10 IT Issues, integration is the key theme. This theme consists of multiple layers: technology integration, certainly, but also integrations of cross-organizational collaboration, leadership, learning ecosystems, and learner and instructor success. For 2020, integration emerges as the single most important avenue leading to overall institutional academic success and also as the critical prerequisite for institutional transformation.
Three community members talked about the 2020 Top 10 IT Issues most relevant to the teaching and learning community.
Rob Gibson
Director, Learning Technologies, Emporia State University
Linda Jorn
Associate Vice Provost for Learning Technologies and DoIT Director of Academic Technology, University of Wisconsin Madison
Phil Ventimiglia
Chief Innovation Officer, Georgia State University
Digital Integrations (Issue #4)
Since 2014, EDUCAUSE has been working with the academic community on the idea of the next generation digital learning environment (NGDLE) or ecosystem. The integration of educational platforms, applications, resources, and data by means of open standards lies at the core of this concept. Such an architecture remains the key technological foundation for teaching and learning success. Technical integration, in turn, provides the basis for achieving architectural agility and for designing an interconnected user experience for learners and instructors alike. This entails, as Linda Jorn notes, "knitting together enrollment, course selection, teaching and learning, assessment, and advising tools into a student-centered ecosystem that makes the student life cycle—the learning journey—a delightful student experience."
Such ecosystems also present new challenges. Rob Gibson points out that the constant influx of teaching and learning applications that enable the learning environment to support disparate modes of learning can provide the institution with a "competitive advantage." But this also means that the IT organization can no longer control what technology learners and instructors use. So, Rob asks: "How do we balance the need for technologies that are used in the conduct of teaching and learning with the security risk they may present? Clearly, strategies must be developed that balance these two interests."
The integration of a digital learning environment means not just connecting applications but also enabling the flow of learning data. An ecosystem of integrated applications generates a good deal of detailed learning data, which of course connects to Top 10 Issue #2: Privacy. Gibson warns: "This so-called 'big data' is at once promising and concerning." Lurking within the issue of privacy is also that of equity. Gibson refers to an "uneasiness" that can result "from student data . . . being captured and repurposed in ways that are not always transparent—or equitable." These issues of privacy and equity are of such magnitude that they call for an institutional approach coordinated through governance and policies.
Finally, the technical challenges posed by building a standards-based digital learning environment may not be as formidable as the culture adjustments it will require. Addressing Digital Integrations, Susan Grajek and the 2019–2020 EDUCAUSE IT Issues Panel explicitly identify the "most challenging aspect" of such integrations as "the need for the institution and the ecosystem to advance from an ethos of independence to one of interdependence."1 This will be the case on both the academic and the administrative sides of the higher education institution.
The Integrative CIO (Issue #10)
The findings about The Integrative CIO also pertain to the chief academic technology officer (CATO). The academic side of some institutions also have officers with titles such as chief innovation officer or chief learning innovation officer. No matter the title or specific focus, all of these positions must work across the college or university with disparate campus groups in order to reach strategic academic goals.
First is the task of developing the campus digital learning ecosystem. According to Phil Ventimiglia: "Technologies such as chatbots, CRM, AI, and adaptive learning are a few of the critical items that we are integrating into a new student-centric platform and that higher education can leverage to facilitate student-centric learning and help students progress across the student life cycle." This kind of complex orchestration clearly requires an integrative and collaborative approach from the outset. As Jorn puts it: "In order to design a student-centric and services ecosystem, an 'Integrative CIO' as well as an 'Integrative CATO' must have a daily partnership mindset." Gibson adds: "The CIO's 'role at the table' has evolved to be one that is less about the mechanics of the IT organization and more about how IT can serve as a strategic partner in helping the institution execute its mission." The same can be said for CATOs and learning innovation officers: a crucial job skill is leadership and consensus-building to hold together key campus coalitions and partnerships.
Student-Centric Higher Education (Issue #5) and Improved Enrollment (Issue #7)
The transformative currents within higher education are perhaps most conspicuous in the area of student success. What is most powerfully transformative is the 360-degree perspective on the student experience. While focused on the vital concerns about retention and completion, over the past several years this has expanded to include all aspects of the student experience, especially well-being, equity, and inclusion. This perspective recognizes the importance of students' learning experiences not only for enabling degree completion but also for outfitting learners for their careers. Ventimiglia notes that his institution, Georgia State, "has been on a journey to embed digital literacy skills into the core curriculum, and experiential learning opportunities provide a path for deepening . . . skillsets." He cites, for example, two Georgia State programs: Digital Learners to Leaders (DLL) and Experiential Project-based and Interdisciplinary Curriculum (EPIC).
The broadening of the definition of student success to include all dimensions of the learner experience is also reflected by Issue #7: Improved Enrollment. Moving beyond the mechanics of shuttling learners from course to course and enabling matriculation, the concept of enrollment has expanded to embrace the full lifetime of students' involvement with their institutions, from prospect to alum, as well as the need for "setting the stage" for their entry into the workforce.
Echoing the overall theme of integration, these expanded enrollment practices can contribute to a transformed student experience. Gibson sums up this point: "The goal for all institutions is improved enrollment, improved retention, and personalized learning experiences." The EDUCAUSE Learning Initiative (ELI) 7 Things You Should Know About Enrollment Management noted: "Today's enrollment managers are responsible for a complex spectrum of services that extend across the student life cycle." Using campus strategic priorities as the target, expanded enrollment practices enable "institutions to connect activities in student recruitment and marketing, admissions and enrollment, financial aid and scholarship administration, course registration, institutional planning and analytics, and student life and leadership."2
Vital to the future of improved enrollment practices are the standards coming into focus for the comprehensive learner record (CLR) and the practices they enable. The CLR augments the traditional transcript by recording and verifying learning across a student's full campus experience, including co-curricular activities and competencies. Pioneering work is already under way at institutions such as Johns Hopkins University, the University of Central Oklahoma, Elon University, and Loma Linda University.
Summary
The efforts described above (as well as many other initiatives) have the potential for transformative impact that will enable higher education to navigate its 21st-century challenges and opportunities. Jorn summarizes the importance of this integration: "In the IT world we have many 'chiefs'—CIO, CATO, CISO. It is time for CIOs to have a Chief Usability Officer at their leadership table to ensure a user-centered design approach to all technology systems." User-centered design may be the acme of technology design. The goal of a user-centered learning environment calls for integrated—perhaps even transformed—technology, workforce, and cultural components.
Additional Resources on the EDUCAUSE Top 10 IT Issues Website:
An interactive graphic depicting year-to-year trends
A video summary of the Top 10 IT Issues
Recommended readings and EDUCAUSE resources for each of the issues
More subject-matter-specific viewpoints on the Top 10 IT issues
The Top 10 IT Issues presentation at the EDUCAUSE 2019 Annual Conference
Notes
Susan Grajek and the 2019–2020 EDUCAUSE IT Issues Panel, "Top 10 IT Issues, 2020: The Drive to Digital Transformation Begins," EDUCAUSE Review Special Report, January 27, 2020. ↩
ELI, 7 Things You Should Know About Enrollment Management (Louisville, CO: EDUCAUSE, 2019). ↩
---
Malcolm Brown is Director of Learning Initiatives for EDUCAUSE.