Giving students a list of tips for online learning helped them better prepare for and succeed in their courses.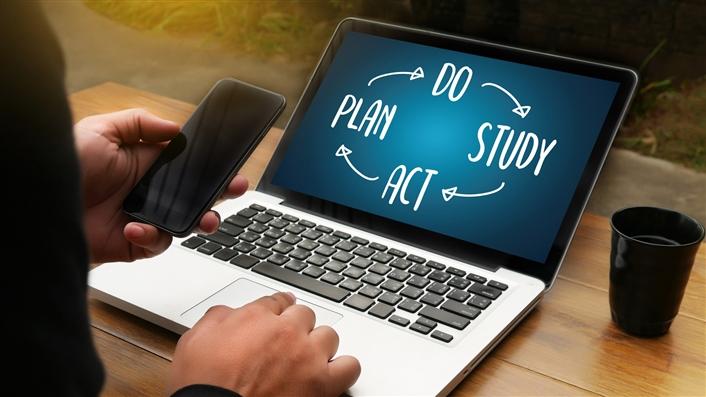 In 2013, Plymouth State University (PSU) formed an Online Reflective Practice Group to explore how higher education faculty might better cultivate student success in online course environments. Our group consists of instructors in New Hampshire who primarily teach online courses, teach some online courses, or want to transition to online teaching environments.
In our early virtual meetings, which were held monthly, we shared practices and experiences. Soon, however, we found a common theme emerging: Our students, most of whom were 25 or older and thus considered adult learners,1 were seemingly unprepared for online learning. To better support each other and meet our students' learning needs, we decided to further investigate what "adult learner" actually means and what knowledge, skills, and attitudes would help all students meet the learning requirements of online courses.
Discovery and Exploration
Our Online Reflective Practice Group is diverse and dynamic, with seven highly experienced members who range from adjunct instructors to full-time faculty members. To address the challenges we identified regarding student preparedness for online courses, we first sought to better understand our learners and the skills they need to succeed.
We reviewed our demographic data and found that the primary commonality among our students was that most were 25 years of age or older. To ensure that the standard characteristics of adult learners fit the students enrolled in our courses, we conducted an exhaustive literature review and refined the definition according to key characteristics and needs. Although some of these characteristics and needs apply to all learners, they are particularly common among adult learners, who comprise 75 percent of online students.2
Adult Learner Characteristics and Needs
Although we each conducted research on our own, we reviewed the research together to ensure consistent perceptions across the group. We then identified and agreed on the following adult learner characteristics3 :
They view information as immediately applicable, rather than as something they will use in the future.
They have responsibilities (such as family) and complex situations (such as transportation and/or childcare issues) and choose classes to fit with these obligations.
They enter learning voluntarily, although it is sometimes required for a job.
They are highly motivated, task-oriented, and self-reliant.
They want to both use and be acknowledged for what they already know.
They prefer learning that is relevant to their immediate work or circumstances.
They sometimes have physical or cognitive limitations; for instance, some might have an inability to quickly process new information.
They have a learning history and need support to use the new learner-center paradigm.
In addition to these typical characteristics, we also found a set of needs that are common among adult learners4 :
They need clear links between what they are learning and how it applies to their lives, and they prefer learning that focuses on relevant, real-life issues.
They need to know what they are going to learn, how they will learn it, and why it matters.
They need learning that they can test empirically as they go along, rather learning that is only theoretical.
They need to learn in a climate that is collaborative, respectful, mutual, and informal and that allows time for discussing ideas and interacting socially.
They need to self-reflect on the learning process and be supported in learning that transforms their views and their ability to be productive in the workplace.
Finally, among the characteristics and needs of adult learners that are generally true of all learners are that they have specific, preferred learning models that require an individualized approach; must be actively involved in the learning process; and need instructors to provide scaffolding and act as facilitators.
Key Skills for Online Success
We used our investigation of adult learners to inform our research on all learners in the online environment. As our research shows, online learners must have (or quickly learn) various skills to help them succeed. Table 1 offers an overview of these skills, which include strong reading and writing skills, information literacy, digital skills, collaboration and group-work skills, time management, and self-direction.
Table 1. Key skills, knowledge, and attitudes for online learning success5
| Type of Skill | Description |
| --- | --- |
| Reading and writing skills | Use strong communication skills, including the ability to read textbooks; read written directions; write and communicate through online forums clearly and concisely, using proper grammar and spelling |
| Basic computer skills | Execute basic functions, including compose, edit, upload/download, and screen shot; view videos; use live chat; use a keyboard and mouse; understand basic computer terminology and common acronyms |
| Information literacy | Identify and evaluate credible sources, think critically, use the institution's online library |
| Netiquette | Use full sentences, avoid sarcasm and emoticons |
| Time commitment and management | Set consistent and specific times to be online each week; log in at least three or four times a week; read the syllabus; preview the course; read all course materials and resources; record assignment dates on a calendar (and set reminders); avoid waiting until the last minute, as technical issues can arise and lead to missed deadlines |
| Collaboration | Learn online platforms and applications; use effective communication skills (be present, be involved, share the workload); know and respect group dynamics (time zones, work schedules); create a schedule with deadlines; assign group roles; get to know each other as people; use proper tools, including high-speed internet, web cam, microphone, Microsoft Word, PowerPoint, and Adobe (PDF files) |
| Personal traits and environment | Be self-motivated, independent, active, a self-starter, curious (ask questions), persistent, motivated, and self-disciplined; set realistic course expectations; ensure a quiet work space free from distractions (such as a cell phone or video games) and with good lighting and comfortable furniture (ergonomic) |
Understanding Students in the Online Context
We talk with many online instructors, and they are often surprised by the poor quality of student work and the apparent sense of entitlement among online learners. This concern, coupled with increased pressure on instructors to improve retention and course completion rates, has led to significant frustration — as well as an unclear path to success for students, instructors, and administrators alike.
Why Students Take Online Courses
Given that many students have little to no experience with online courses, we wondered what was driving them to sign up for these classes rather than simply continue with face-to-face courses. In the research, students cited several reasons for taking an online class:
It fit their schedule.
They viewed it as an easy way to get units, in part because of marketing hype about online course "flexibility."
The course was only offered online.
All of these reasons are understandable, but none indicate that the students were viewing the course as seriously as they should. These reasons also indicate unrealistic expectations of online courses, particularly in relation to course rigor (or perceived lack thereof).
Why Students Don't Succeed in Online Courses
Studies show that online course pass rates are lower than those for face-to-face classes.6 Although the research itself does not indicate a specific reason for the differing pass rates, industry experts suggest that online programs have less-rigorous admission standards. Further, experts also suggest that students are rarely prepared for the responsibility of managing their own learning. In our own data collection, we noticed that even students who were successful in face-to-face courses did not always succeed in the online environment.
Our Solution: Start-Up Support
Because we cannot immediately change administrative structures or our students, we decided to target our own practices, focusing on how we prepare students for the online course experience. Coauthor Elizabeth Reed drafted a "Course Start-Up Message" (see sidebar) listing key tips and practices for student success. We each used that message as a foundation for our own messages, which we posted to our online classrooms.
The Course Start-Up Message
Students,
Online courses can be just as rich and rewarding as face-to-face courses, but it takes a little more work on everyone's part. The information in this post contains key elements that are important for your success in this class.
Begin building relationships right away. Please make sure you read my introduction and post one of your own so that we can get to know each other. As others join the conversation, please read their introductions, too.
Have clear expectations. Online courses are convenient because we have flexibility about when to do the assignments, but they take just as much (and often more) time than a face-to-face course. The national consensus is that a three-credit course should take 6–9 hours of your time each week.
Students who set aside several short sessions throughout the week, at consistent times and days, have the most success in online courses. Brain research tells us that "all-nighters" and long cramming sessions are the least effective ways to learn and retain new information.
Because online courses require a written presence and participation, it is important to not only read and compose your responses early in the week, but to also leave time to edit and proofread your posts and assignments. It is recommended that you add major assignments to your calendar and work ahead on them a little each week, rather than try to knock them out all at once.
Read the syllabus and all course resource documents (rubrics, major assignment descriptions, and so on).
Ask questions. In an online course, the instructor can't see your confusion or frustration. If you are having a problem or any confusion, speak up sooner rather than later. Do not wait until the assignment is due to ask for clarification.
Make sure you have the books and resources you need.
Save all work (for online and face-to-face courses) on a flash drive; that way if your computer goes down you still have all your files and can work on a different computer.
Download and save course resources you want to use often. Download reading assignments posted in the course shell, especially if you will be traveling or have unreliable internet — that way you can always do the reading.
Read all announcements (News Forum posts) in the course. These are messages from the instructor. They will often have notices of changes, hints, or preview upcoming assignments.
Check your college email. This is the way the college (and instructor) will communicate with you.
Use the course question and answer forum. This forum allows you to get answers from the instructor and colleagues about general course topics.
I will pass along other hints as we go, but if you have any challenges, please ask… I am happy to help! It is my goal to make this the best course you have ever taken.
In short: Be prepared. Be organized. Be proactive.
Because students often ignore announcement and news forums, we made the message a forum discussion topic and required that all students read it, reflect on it, and respond to questions about the information by posting in the forum. As prompts, we asked students which tip they found most surprising and how they planned to manage their own time in the class. Then, at the end of the class, we posted a forum that asked students whether they applied the time-management strategy and, if so, how it worked for them.
Researcher 1: Danielle Philipson
I used the Start-Up Message strategy in several business and instructional design courses. Student reactions to the message's tips/strategies included surprise that an online course required as much time and effort as a face-to-face course, if not more. In response to the question Which tip was most helpful?, 60 percent of respondents cited "planning time in chunks" and "setting aside designated work times." Some students (10 percent) said they were surprised by the suggestion to save and backup all work, and another 10 percent said that reaching out to the instructor with questions was something they hadn't done before. One student summarized the impact of the Start-Up Message and related discussions as follows:
I have taken a lot of online classes and wish an introduction similar to this one had been done. It would have saved me a lot of frustration and struggles. I now follow these tips and set aside time each week to complete my work and always ask the professor if I need help.
At the end of the course, I asked students to comment on which strategies worked and what advice they would give students taking the class next term. Every student repeated something from the first tips and strategy discussion — with some admitting that they didn't follow the tips despite their best intentions and that they wished that they had. Statistically, compared to previous terms, I saw a 10 percent decline in the number of students who either didn't finish or failed the course.
Researcher 2: Elizabeth Reed
I used the strategy in an education course with seven students. With the exception of one student who had an unexpected family situation, all students met the posted deadlines for all assignments. The students' forum posts were substantive, and they exceeded the minimum number of posts each week. Students showed an unexpected level of course content mastery and began using the discussion questions as a way to help each other learn. To me, the most important part of this strategy was that it seemed to send a message of personal responsibility and accountability, which empowered the students to engage in and take control of their own learning.
At the end of the term, I asked students to review the time-management strategy they chose at the start of the course and to explain whether it worked; all seven students said that their chosen strategy worked and that they planned to continue using it future courses. When the next term started, two of the course's students were in another class I teach; both clearly used the strategy they chose in the previous term. They also set a high bar for the other students by contributing early, robust posts in the forums.
Researcher 3: Julie Moser
I used the strategy in my winter 2017 undergraduate course, "Teaching and Learning in Adulthood," which had 14 students. My goal was to explore how an early message and forum activity could inspire faculty insight and help students take charge of their own learning online. I posted the tips/best practices message in the Week 1 optional forum, then asked students to share the information and a few strategies for how they would tackle the requirements. All 14 students participated in this optional activity.
The forum responses helped me easily understand which students were new to online learning and might not fully grasp how to succeed with it; it also helped me identify the aspects of online learning that students might find difficult. Time management appeared to be a common theme. Many students didn't adequately understand the time requirements of online courses, and several students said they "had to learn it the hard way" when they first began taking online courses.
Halfway through the 12-week course, I posted a follow-up survey to check in with students and see how their strategies were working. I also hoped to inspire them to renew their commitment to their learning. Many students celebrated strategies that had been working well for them, along with actions they would continue to take in the future. Some students confessed they had not stayed true to their original learning plan and were experiencing a negative impact as a result. The check-in served as a way to re-engage students with their own self-directed learning goals.
When I asked during the last week of class what advice students had for the course's future online learners, all but one student suggested they read ahead and create a learning schedule for the semester to stay on track.
Summary of Initial Findings
Our initial results show that students underestimate the amount of time that online courses require. This is somewhat linked to messaging about online course flexibility, but it is also symptomatic of the fact that online learning is new and many of the people coaching these students have no experience in an online format.
Providing a specific, detailed post about the requirements for success — and openly discussing those requirements with students — is a great start. In our experiences, students benefitted from having to demonstrate that they had considered the material relative to their own studies by explaining what surprised them and how they would manage their time given the tips/best practices message. Students enjoyed posting their thoughts and experiences, as well as sharing methods with one another, which set the stage for a collaborative learning environment.
An Invitation
Although our initial findings were exciting and motivating, we recognize the need to continue data collection to demonstrate that the change can be replicated and did not result from a random cause variation. To help quickly increase student success in online learning on a broader scale, we invite you to tailor our Start-Up Message to your own courses and collect data to help advance our project. If you would like to participate, please take the following four steps.
First, tailor the Start-Up Message to your own voice. Second, during the first week of your course, create a separate discussion forum, post the message, and ask students to review it and create a post that answers two questions:
Which tip most surprised you?
How will you apply that tip in this course?
Third, during the course's final week, create a separate discussion forum and ask students to review their Week 1 post and create a new post that answers the following questions:
Which tip did you identify as most surprising during the first week?
What was your plan for applying it?
Did you apply it throughout the term?
Did your plan work?
Finally, send your findings to Danielle Philipson ([email protected]). We look forward to hearing about your experiences and collaborating on a broader scale to increase student learning and success online.
Notes
---
Julie Moser is a senior lecturer at Granite State College, where she oversees faculty development.
Danielle M. Philipson is an adjunct faculty member at five universities, including Plymouth State University.
Elizabeth (Beth) Reed teaches online courses as an adjunct faculty member at four New Hampshire colleges.