Key Takeaways
In rethinking medical education, an interdisciplinary team at Harvard Medical School designed a new fundamentals curriculum for online health care learning.

HMX Fundamentals takes advantage of how people learn and an array of online tools to provide an immersive online program for students just beginning their studies in health care.

Courses integrate clinical applications, opportunities for active learning, and biomedical visualizations that help make concepts more intuitive and memorable.

Students from the pilot at one HMX partner institution increased scores by an average of 55 percent from pre-course to post-course quizzes, with similar trends for groups at other schools.
As the medical profession continues to evolve — and as high demand continues for medical professionals — we at Harvard Medical School asked ourselves, how might we rethink medical education? How could we better engage medically inclined students and young professionals? How can we foster critical thinking and help health care providers and patients understand the science relevant to medical care?
The online program HMX Fundamentals is our answer to these questions.
An interdisciplinary team of Harvard Medical School educators and creative professionals — each an expert in his or her own field — thought through just what a highly impactful introduction to medicine should look like. Going into the project, which began in mid-2014, we understood that the greatest impact would only come if we designed the HMX curriculum to take full advantage of what is known about how people learn, supported by a wide array of online tools, to achieve the most immersive online program possible.1
In this case study, I will focus on three unique aspects of the program: integrated clinical applications, opportunities for active learning throughout the courses, and biomedical visualizations that help make concepts more intuitive and memorable.
Program Overview
HMX Fundamentals courses focus on foundational principles in the four subjects we currently cover — Immunology, Physiology, Genetics, and Biochemistry — designed for learners just beginning their health care studies. Harvard Medical School students take the courses the summer before their first year as preparation for the rigorous curriculum and revisit the material during their first year as part of a "flipped classroom" model for related class sessions; some second-year students use the material as a review prior to taking the USMLE Step 1 ("board") exam. Several other schools (both domestic and international) also offer the courses during the spring and summer as pre-matriculation preparation or as material used during the course of study. And, a cohort of high school students from around the nation have taken the Immunology and Physiology courses. In summer 2017 we are opening the program to learners who would not otherwise have access through institutional programs.
Instead of a lecture-based face-to-face format, HMX Fundamentals courses combine narrated videos, interactive modules, and state-of-the-art biomedical visualizations to create a learning experience that helps students build an understanding of foundational principles vital to success in health care careers. Courses also include assessment questions throughout (with a final exam at the end), notetaking guides for each lesson, and online discussion forums facilitated by moderators from Harvard Medical School with expertise in the subjects covered.
The notetaking guides (PDFs) help students take notes on all aspects of each lesson (key terms, videos, mechanisms, etc.). Students can fill them out electronically or print them out and complete them by hand. Both students and faculty have provided excellent feedback on the notetaking guides. Figure 1 shows an example.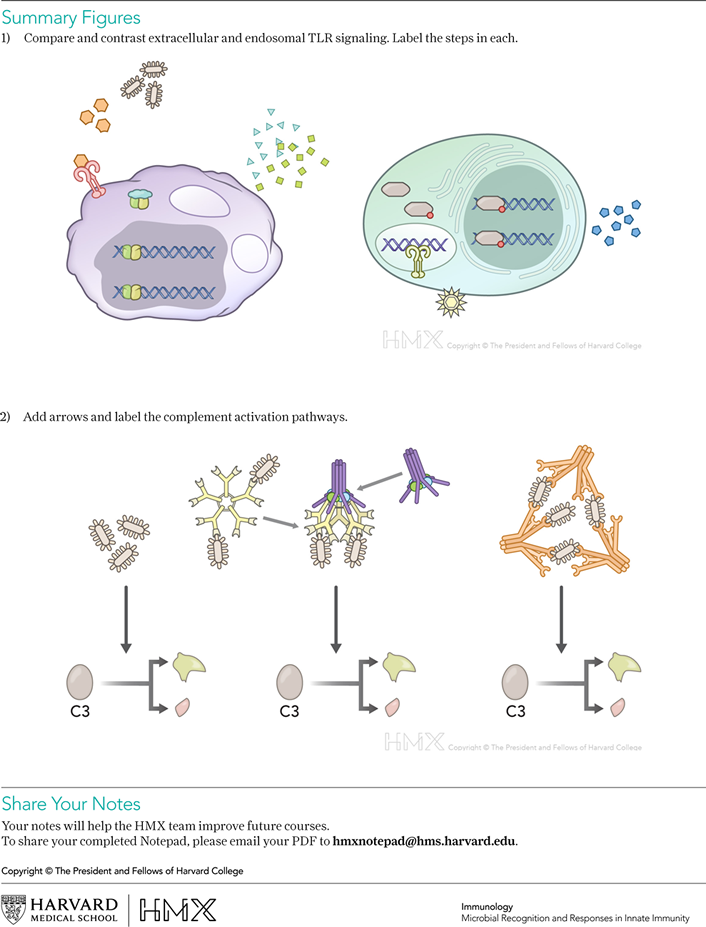 Clinical Applications
A key feature of every HMX Fundamentals course is the connection of concepts to real-world clinical applications. Traditionally, medical education offers limited, if any, opportunities for students to experience clinical settings and truly understand the relevance of what they're learning until one or more years into a program. HMX Fundamentals aims to tie learning to real clinical applications whenever possible, as early as possible. We are able to bring principles to life through interactions captured in hospitals or other clinical settings with real patients. For example, seeing the ideas of partial pressure and oxygen transport come into play with a patient on a ventilator in the intensive care unit provides a link between fundamental science and bedside experience that is not soon forgotten. At the same time, seeing the respect and care with which the doctors featured in a diverse set of clinical cases interact with their patients forms a lasting impression. Everything is online, so these experiences include multi-part videos, with everything from patient history and physical exam to discussions of the pathophysiological basis of the findings, and discussion of the diagnosis and treatment. Segments typically last around 5 minutes; various types of assessments occur between each of the segments. Clinical cases are integrated into overall lessons as well.
As Kitae Park, a New York Medical College student and HMX Fundamentals participant, said:
"What was unique about the HMX program was that in each of the cases, they brought into the big picture... some kind of actual patient that you could in a way relate to and sympathize with. For example, when we were learning about the production of nucleic acids and the example of the patient with gout, it really made me feel like I want to learn this so I can treat patients like that in the future. It really motivated me to absorb the material better."
Nick Brown, who took HMX Fundamentals as an incoming student at Florida Atlantic University College of Medicine, recalled: "I did like that they had a clinical correlate with everything, so that I knew why I should be learning this. It made it a lot easier to remember everything."
Active Learning
Each HMX Fundamentals course features a high degree of active learning. The large number and variety of assessment questions throughout the courses enhance students' learning and allow them to monitor their own understanding and progress at a fine-grained level. Taking advantage of principles from learning science, having students actively retrieve and apply what they're learning deepens and reinforces their knowledge. With extensive embedding of assessments — for example, there are over 320 questions in HMX Immunology alone — learners constantly engage with the material and make connections, leading to lasting learning.
Briah Barksdale, a Glen Burnie, Maryland high school student who took HMX Fundamentals, related:
"I liked the quizzes after every lesson, because it made sure that you correctly understood what was being taught. If you didn't, and you got a question wrong, there would be an explanation of why you got it wrong. And if you still didn't understand that, there were always people there that you could message that could help you."
For Barksdale's group, peers and advanced Harvard Medical School students provided help as needed through the Ask a Question forums.
Biomedical Visualizations
The clarity of HMX Fundamentals courses is due in part to visualizations — animations as well as illustrations — integrated into the material in every course. Working in conjunction with content experts, a team of medical illustrators and animators creates visuals that help students understand complex mechanisms underlying the inner workings of the body in health and disease and form mental models that can be applied to problems that the students haven't encountered. For example, early in the HMX Immunology course, students experience a scenario in which a chance meeting on the subway leads to a fantastic voyage of sorts by viral particles entering a person's respiratory tract. As the virus enters the body and triggers an immune response, students viewing the scenario begin to form an understanding of how the body reacts to foreign invaders and defends against disease. Some of the same images are incorporated into notetaking guides in the Immunology course that help students further enhance their learning through recall and elaboration.
In another example, early in the HMX Genetics course, students are exposed to an extensive animated scenario explaining inheritance and how a family tree (a "pedigree") can be used to help determine whether a patient's breast cancer is an isolated occurrence or runs in her family. What would be highly challenging to convey in words alone comes alive in a multi-part sequence, reinforced with interleaved assessment questions. See figure 2.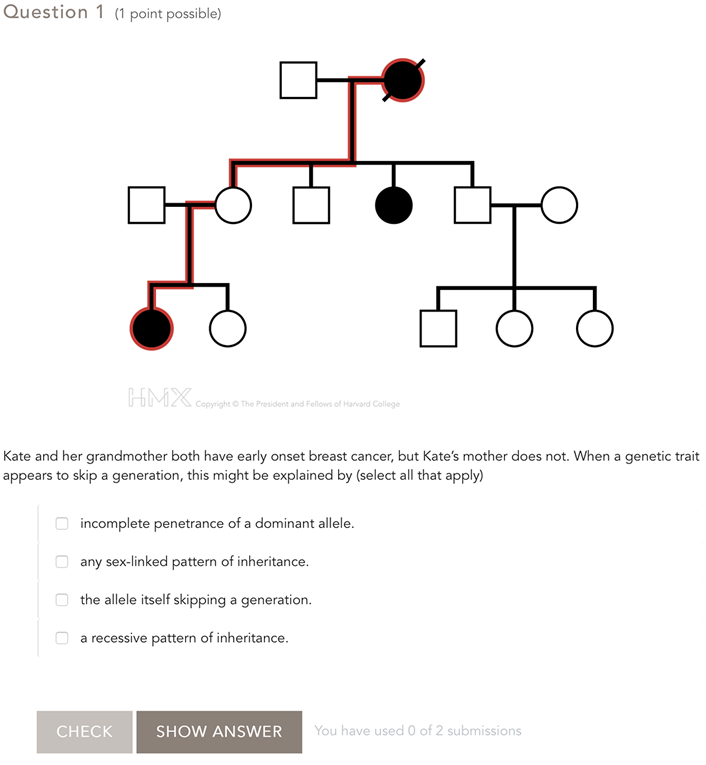 Initial Results
HMX Fundamentals is still accepting applications for its inaugural summer courses, but we've already seen encouraging results from students participating in the program's pilot courses. Students from one HMX partner institution increased scores by an average of 55 percent from pre-course to post-course quizzes, with similar trends for groups at other schools. Regardless of their prior level of knowledge, students end the courses at similarly high levels of knowledge.
Whether a student is a recent college graduate, a motivated high school student, or an established professional considering a mid-career change, we've designed the HMX Fundamentals program to offer depth and rigor. The courses give future health care professionals a jumpstart on their career paths and promote their success in taking the next steps in their education for a life in health care.
Note
The online learning system used is our own system, based on a customized version of the Open edX software. The tools are part of that platform, or integrated via LTI or as Xblocks (specific to the Open edX environment). All classes are fully online, and faculty/mentor/tutor support was provided via discussion forums (oriented toward content questions) that were staffed by advanced Harvard Medical School (HMS) students or by faculty and advanced students at partner institutions. We have also run experiments with synchronous (live) online events with HMS faculty members interacting with students.
---
Michael Parker, MD, is associate dean for Online Learning, faculty director of HMX Fundamentals, and assistant professor of Medicine at Harvard Medical School.