Key Takeaways
Microlearning refers to any pedagogy that encourages learning in short segments, and it can be supported through many platforms, including social media.

The research goal was to investigate the tools and best pedagogical practices for effectively creating and delivering microlearning, with results reported in this article.

These short bursts of learning seem to come naturally to students when well-constructed assignments connected to course learning goals are created using social media platforms, with care taken for their privacy on these channels.

Microlearning also takes place in a powerful way outside of the classroom through clubs, colleges, peer-to-peer engagements, experiential learning, and university-managed social media channels and can provide both formal and informal collaboration opportunities.
Informal microlearning occurs on multiple levels every day. With the significant integration of smartphone technology and the influence of social media, students have become accustomed to gathering and consuming information in bursts.
Microlearning refers to any pedagogy that encourages learning in short segments, and it can be supported through many platforms. This article focuses on social media platforms for their ability to facilitate connected learning and peer interaction. Faculty members in many universities incorporate microlearning in their classes because it engages students with the subject matter and results in deep learning, encouraging them to connect the subject matter with their everyday lives and the world around them. This improves knowledge retention.
From a technology perspective, supporting social media platforms in the university environment is an easy decision for IT providers:
These social environments are free to use.
Most students (and faculty) actively use these tools for social means, so support and training are minimal due to their popularity and familiarity.
Social media tools shape and lead the industry in platform independence and mobile-first experience design.
As externally hosted and managed platforms, these environments do not require IT teams to perform maintenance.
The tools often come with their own means of integration or embedding into courses.
On the other hand, studies conducted in the adoption of social media have cited concerns for faculty and student privacy as an important barrier for faculty adoption of social media in the classroom.1 Though faculty and students will need reminders on the importance of maintaining the privacy of those who seek it, many social media platforms also support users who would like to maintain their privacy. Some platforms even assume that an individual might be participating and creating content under various user profiles and personas. We will provide tips for maintaining privacy and meeting faculty obligations under FERPA later.
Researching Microlearning
Microlearning in general has three aims: to reduce the quantity of information by organizing it into bite-size pieces, to restructure the overall process of learning and the environment in which students learn, and to motivate students to personalize their learning routines.2
Our research goal was to investigate the tools and best pedagogical practices for effectively creating and delivering microlearning. On our team, Information Technology Services - Academic Technology Services, we have a group of student staff involved in our Students Influencing Technology in Teaching (S.I.T.E) [http://www.ats.neu.edu/incubator/site/] program. The S.I.T.E. students have helped guide our microlearning research and provided social media expertise and student/user experience.
This article explores the use of social media to facilitate microlearning, first by defining microlearning based on our experiences and research. Then we will walk through the process of facilitating microlearning through social media. The article will discuss pedagogical and technological guidelines for microlearning, including a social media tool matrix to provide context around the different platforms and how they support different pedagogical goals. We will also share Northeastern faculty use cases, thoughts on microlearning, and proposed next steps to continue our research to measure the effectiveness of microlearning that uses social media.
Defining Social Microlearning
This article focuses on social microlearning, which we define as short, focused bursts of learning that take place frequently in a digital social environment and are connected to an overall, more expansive learning goal.
Social microlearning has several parts: methodology, technology, and the object created and interacted with. An important distinction must be made between using social media technology and applying microlearning methodology to social media. Simply using social media tools without devising assignments that support microlearning would contradict the methodology. Content must be both succinct and delivered in the right place for microlearning to occur effectively.
Regardless of whether microlearning is social, the "micro" in microlearning refers to the length of the engagement with the learning activity or learning object.3 If microlearning involves a microlearning object — a content item designed to provide direct instruction or promote analysis or reflection — those objects can usually be consumed quickly, in a brief sitting, to support engagement in a burst.
The research provides no clear guidelines regarding ideal consumption time or length of a microlearning object or activity. However, we've found some guiding questions helpful when determining whether the microlearning learning object is "micro" enough to support the learning burst while still being effective as a learning activity:
Will the learner engage with the microlearning object or activity for less than 15 minutes?
Does the object or activity support a learning goal or contribute to part of a learning goal?
Will the object or activity expand on or provide practice/repetition to support a learning goal?
Will the object or activity help the learner assess their understanding of a course concept or learning goal?
Considering Microlearning's Benefits
Before we walk through the process of creating social microlearning objects and delivery methods, let's look at the benefits of microlearning. Microlearning using social media tools
provides opportunities to deepen retention of information,
creates learning communities, and
increases student engagement.
When considering how we learn and retain information, it's important to consider cognitive load — Information flowing into our working memory.4 Based on the cognitive load theory, the working memory can become overloaded with information and halt or slow down the process of moving information into long-term memory.5 By chunking information and providing frequent microlearning opportunities, learning has the potential to decrease the cognitive load and increase long-term memory of the concept or topic.
While the term microlearning seems modern, and social media platforms are modern inventions, educators might recognize a similar concept in the Whole-Part-Whole Learning Model.6 The Whole-Part-Whole Learning Model supports contextualized learning by first introducing the entire scope of a concept. Next, to make the finer details clearer, the information is broken down into parts, and additional instruction and practice opportunities are offered, often iteratively. Finally, the instruction pulls back to present the larger picture of the concept, with its constituent parts, providing context and allowing the student to reflect on how those parts support the concept as a whole.
Microlearning could prove to be an asset during the middle or closing stages of this model. During the middle "parts" stage, small content items or activities of short duration support smaller parts of the concept and allow students to formulate a micro-perspective on what is being taught while maintaining engagement and focusing attention on smaller chunks to be mastered in succession.7 The closing stage would also provide an opportunity for assessment of retention or reflection on the whole. Carefully crafted microlearning activities that ask students to produce social media content may also be used to ensure that they can apply the knowledge they have gained and draw conclusions about content matter or materials.
Social microlearning provides students with an opportunity to learn from peers, practice communicating about their knowledge, and create learning communities. Ilona Buchem and Henrike Hamelmann discussed the benefits of microlearning using social software, explaining that social tools naturally lend themselves to "short and flexible formats or rapid delivery of content, but also social interactions based on that content."8 This informal social interaction around content is an essential component of online social communities.
A great deal of research around attention span has occurred in the digital age. We have found that most research is inconclusive, and any answers provided in one resource about the exact time frame during which students focus most effectively are contradicted in others. However, researchers agree that educators can best help students stay focused by providing more engagement and ways to maintain interest with content.9 Providing microlearning opportunities in small segments can increase focus and student engagement with the microlearning object or activity.
The rest of this article focuses on ways to construct social microlearning activities and objects that contribute to the benefits described above. Questions remain for us to research, which we plan to do in a study to be conducted later this year at Northeastern. They include determining whether microlearning can be shown to be effective in various contexts and for various competencies. We also intend to better document student perceptions of social microlearning.
Creating Microlearning Objects
While this article focuses on social microlearning occurring on social media platforms, the advice we offer can be adapted to many content delivery and creation formats, social or individual, as long as the platform supports short-form and multimedia content creation. On the other hand, the mobile-first interfaces of social media platforms encourage learning and engagement anywhere and anytime. We found that social media tools specifically lend themselves to microlearning because they meet the learners where they already are. In addition, social media provides a personalized learning and social environment for learners, controlled and expanded by the learner.
When creating microlearning content and activities, we've found it helpful to consider four factors:
Purpose
Content area
Delivery
Integration with learning objectives
Purpose refers to what the instructor is trying to accomplish with the activity or assignment. Any time a microlearning activity is considered, the pedagogical purpose needs to be examined and content and tool selection made based on that. The content could be curated or created by the instructor, or the assignment could be for students to create the content to reflect on the content area and provide microlearning opportunities to other students. The purpose should support and feed into a learning goal and/or objective. Purposes we have seen include:
Assigning homework or facilitating instructor-student or student-student exchanges that help refine ideas about homework
Providing opportunities for students to practice applying concepts in repetition throughout the day or week
Sending examples that illustrate concepts so that students can begin to generalize based on a series of several examples (or asking students to send examples)
Facilitating action learning activities that ask students to document an action and reflect on the results either as a group or individually
Creating a shared "bulletin board" to document problems for problem-based learning or brainstorm components of potential solutions
Assessing learning of smaller concepts or the ability to succinctly synthesize
Many pedagogical purposes would be suited to using microlearning pedagogies, as long as learning activities within a small or large project can be broken down into smaller content chunks.
Content or content area is the subject, in the form of "very small units, narrow topics, [or] rather simplex issues…" of the microlearning object. Content is meant to engage the student by focusing only on key material in "small, well-planned, bite-sized chunks of units or activities."10 As a result of creating and administering bits of content using microlearning technology, a professor can effectively teach the most relevant information while simultaneously avoiding student boredom and burnout. Microlearning has evolved in part due to the decreasing human attention span, and also in response to ever-changing learning environments and processes. Some content areas will be communicated more effectively by microlearning technologies than others.
An example of microlearning content would be a short clip of a chemical reaction in progress. The clip would only last 5–15 seconds, ensuring that the students observe and absorb all of the content and can easily review the clip while considering what they know about the underlying chemical process. Another example is online flash-card software, where students can quickly learn and later review key information.
Microlearning content could be created using any number of tools. In addition to self-created content, many tools support the remixing and curation of content items created by others. A few tools you could use to create or curate microlearning objects appear in table 1.
Table 1. Tools for object curation and creation
| Tool or Resource | Object | Curate | Create |
| --- | --- | --- | --- |
| Piktochart | Infographic | X | X |
| Storyline | Interactive module | | X |
| Canva | Image and infographic | | X |
| Wevideo | Video | | X |
| TedEd | Video lessons | X | X |
| Snapchat | Video, images | | X |
| YouTube | Video | X | X |
| Instagram | Images | X | X |
| Twitter | Text, images, videos, links | X | X |
Delivery refers to the platforms that allow you to post content to your students and them to post created content back to you and/or the class. Each of the platform tools we explored can be used to create content such as annotated or edited video, images, links, and text. Some also allow you to deliver content created through other tools and sources to your network. They usually provide some mechanism for filtering and searching content, such as tagging or including searchable hashtags in your post. Some common ones we've seen used for microlearning follow (see table 2):
Instagram
Snapchat
Twitter
Facebook
Table 2. Common social media platforms and microlearning content types they support
Instagram

Snapchat

Twitter

Facebook

Image or video (60 seconds max); text annotations; tags; hashtags; good searchability

Complexity: Medium

Image or video (10 seconds max); drawn annotations; emoji; limited text use

Complexity: High

Images; videos (recorded or live streamed); links; up to 140 characters of text; hashtags; good searchability

Complexity: Easy

Images; videos; links; short or long text; tagging/mentions; applications

Complexity: Easy to medium, depending on use
New tools pop up all the time, and the right tool for your purpose will depend on the purpose and content requirements.
Integration with learning objectives is key. Social microlearning objects and activities need to be integrated with learning objectives for the course or lesson. In order to feel comfortable in this medium, which they might not have encountered in the course context before, students will need to understand how they will be evaluated and how these activities support larger learning objectives.
A significant part of what makes microlearning so effective is the interactive aspect that allows learners to practice their skills and apply new knowledge. Professors may also use microlearning to administer small quizzes, review content, and conduct other short assignments to evaluate their students.
The infographic in figure 1 shows the key takeaways of microlearning with social media.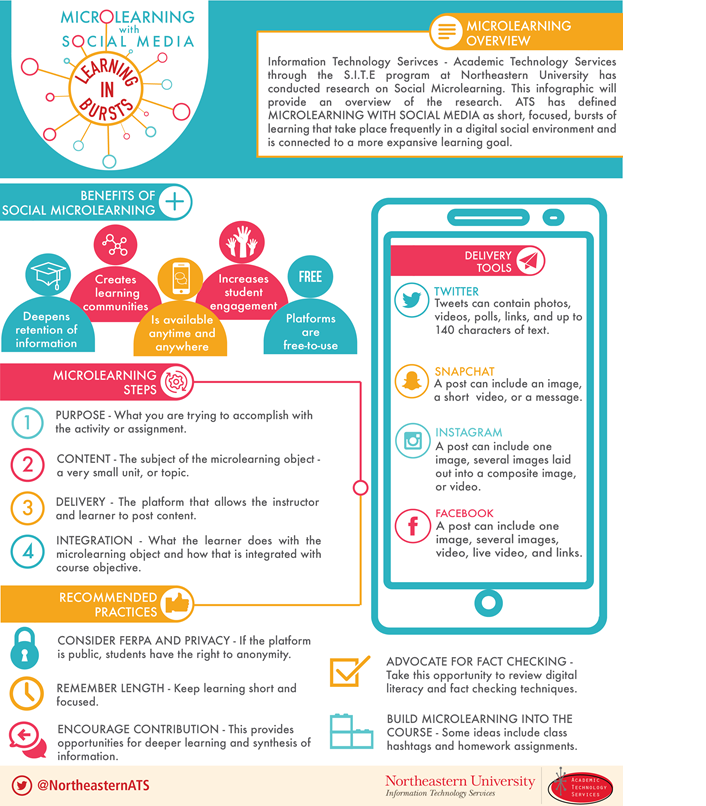 Figure 1. Microlearning with social media; download infographic PDF
Microlearning at Northeastern University
Probably similar to all colleges, here at Northeastern University, microlearning takes place in a variety of ways both within the goals of the class as well as the university life experience. Faculty, students, and even staff create, deliver, and engage with microlearning informally and formally everyday using social media platforms as the delivery tool. The microlearning content is part of the bigger goal and overall mission of the university or course, and the specific tool chosen and assignment devised complements the purpose. Next we provide an explanation of how various social media tools are used at Northeastern, along with a discussion of those tools in context.
Snapchat
Snapchat supports images and video in 10-second increments. You can send posts directly to a student or to several people. Posts sent directly will disappear after the recipient watches them once, so this might work in gamification if you're trying to make content time-limited. However, you cannot create a distinct group and distribute a post to that group on an ongoing basis. You must choose each recipient separately if you'd like the snapchat to expire after first viewing, so such distribution tends to be on an ad-hoc basis.
Another way to use Snapchat uses the My Story feature. You can add individual video or image clips to My Story throughout the day, and those clips can be watched in order any number of times for 24 hours. This is feature allows your students to see a "day in the life" as it unfolds. You can choose who can see your Story, but you cannot create distinct groups for reuse.
Figure 2 shows a snapchat created by the Northeastern Marketing and Communications division to show a day in the life of a research associate working out of Geneva. This type of use supports the missions of creating a global mindset and helps students reflect on their own paths.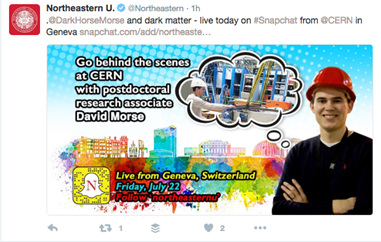 Figure 2. Snapchat of a day in the life of a Geneva-based research associate
Snapchat Privacy Considerations: You cannot log in to multiple Snapchat accounts on a phone at the same time, so while you can maintain anonymity in general if you'd like, you will not easily be able to maintain a school account and a personal account without logging out and in a lot (the same goes for students, who are less likely to see your posts if they're not already logged in to the account you're posting on). If you are going to use Snapchat, you should plan on asking students to provide their Snapchat account names so that you can add them to your friends list.
It's tedious to choose the individuals who can see My Story or any individual post, though you can change the distribution list as much as you want (which means you might accidentally leave someone out). You might want to dedicate your Snapchat account to communicating with students and not use it for personal reasons.
It's also best to clarify with your students that you would prefer that you not be on their friend list for distribution to avoid them accidentally sharing something with you they didn't intend. They can use the "custom" setting for My Story distribution to remove you from the distribution list. You could also choose not look at incoming messages. Anything students post to My Story will expire in 24 hours anyway, and you can let students know that they should not send you messages through Snapchat.
Snapchat Assignment Ideas: Instructors who teach languages can take advantage of the single viewing allowed by sending a short video recording that students may listen to once and then reply with a translation or response. Their responses will only be available for you to view once, so it's best if this is a low-stakes or extra credit activity.
Students can document a day in the life of learning and experiencing subject matter by taking photos or videos and posting them to My Story. For example, students in a French course can take pictures of things and label them in French, or record themselves speaking French throughout the day and post to My Story. An assignment like this would allow students on a field trip to explore independently and stay connected to the course community and to learning goals. Other students and the teacher could then review the stories in the evening. Note that all posts will disappear after 24 hours, so instructors should set a time at which students can begin creating story content and an ending time on the same day so that the instructor can view the content.
Twitter
Twitter is a mature and flexible social media platform most famous for its 140-character limit on posts, which encourages succinctness. You can post images and videos or links to other web content. Tweets are visible to anyone in the world. There is no privacy on Twitter other than the sheer amount of data someone would have to sort through to find an individual's content. When you follow someone, you will see their tweets in your feed. Even if you don't follow a student or a student doesn't follow you, you can choose a hashtag (a keyword preceded by a pound sign #) to make the conversation searchable and easy to follow. Mentions, which occur when one user addresses another with an @ in front of his or her name, alert the individual that someone has commented to them.
Tweets can be seen and retweeted (copied and reposted either with or without comment) by anyone, and Twitter was one of the first mainstream social media platforms from which arose the concept of "virality," the ability for a message or content item to spread quickly. Its search features and the predominance of text on Twitter make it more familiar for individuals who do not have much experience with social media. Its openness makes it a prime platform to support students as they join a wider conversation about a topic with people globally, which may include professionals and academics.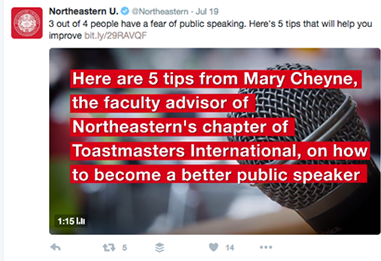 Figure 3. Northeastern tweet with video
Because of its flexibility, Northeastern uses Twitter in a variety of ways, both in the classroom and by departments that aim to spread knowledge outside of the classroom. Figure 3 shows an example tweet including a video resource. These tweets plus video provide quick tips for the development of soft skills to help students prepare for co-ops or internships and their subsequent careers.
Twitter also provides an opportunity for a professional network to provide links to articles and research happening around the university (figure 4). This use expands knowledge and gets students interested in new things.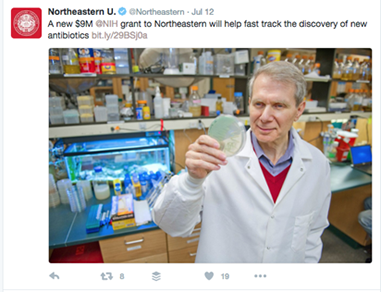 Figure 4. Research grant news from Northeastern
Twitter Privacy Considerations: Individuals may choose to be anonymous on Twitter (given names are not required), though it requires a few extra steps to prevent others from finding your account by phone number or email address and from seeing your location if that matters to you. Twitter and all social media platforms track your IP address, so there is no true anonymity online. You can make as many Twitter accounts as you wish, and you can log in on mobile phones and computer browsers. Many faculty use their course number as the hashtag for students to tweet with and follow; this is fine as long as students understand that they can remain anonymous and do not need to indicate that they personally are associated with a specific course.
There are many benefits for students having one Twitter account through which they follow their personal and professional interests, but the persona that students adopt and maintain on Twitter is worth discussing. Many people choose to maintain separate professional and personal accounts to facilitate more authentic interactions in each of the channels. In this case, third-party tools such as HootSuite or Tweetdeck can help people post from multiple accounts and maintain different channels of communication.
Twitter Assignment Examples: Faculty can ask students to post to the classroom Twitter stream either before they enter class or right before they leave as a way to stimulate conversation about course content or continue the conversation after class. Twitter allows for the juxtaposition of text and image or audio/video, so faculty interested in the interplay of images and text can easily facilitate conversations using this platform.
The ease with which a student can create and manage multiple accounts makes Twitter a good medium for a student to adopt a specific persona such as a prominent person in history, literature, or politics and tweet about various topics through the lens of that persona.
Faculty may use Twitter as a classroom backchannel or chat room where students can post questions or comments without raising a hand or interrupting the flow of ideas. Some students feel more comfortable posting via text, and faculty can incorporate ideas with impact into the classroom discussion.
Instagram
Instagram resembles Twitter in capabilities except that it is primarily a visual medium. Instagram supports images and 3–60 second videos along with text descriptions. Images can be arranged into composite layouts to provide a variety of images on a theme or an indication of progression through time. Hashtags, mentions, and tags of people can be used in the text for easy searchability and stimulating conversation. Commenting on images is threaded in Instagram, whereas Twitter commenting follows the timeline, sometimes making it difficult to trace threads of conversation.
A faculty member can gather Instagram accounts of students and start a direct message chain to everyone in the group. From then on, the group can respond to the direct message and use this group as a discussion board. For example, Northeastern faculty member John Wihbey asked students to observe people around the city and choose one to profile, posting a picture along with a short summary of what made the story worth sharing (figure 5). Instagram provided an appropriate platform to juxtapose an image and a conversation about that image. Hashtags allowed the student to provide further searchability to pull others into the conversation.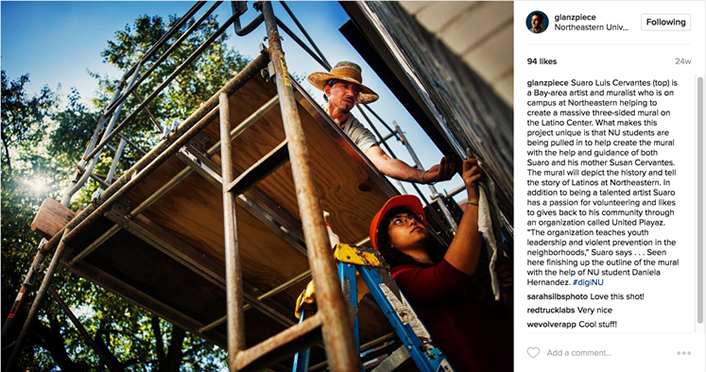 Figure 5. Community profile with comment and conversation
Instagram Privacy Considerations: You can either make all posts public or all posts private. If you make them public, students can see you without you following them, which approves them to see your posts, but they would need to search for your account. If you make posts private, you will need to follow students in order for them to see your posts. You can maintain separate accounts for personal and professional purposes, but it would be most convenient to use one via a phone and one via a browser to prevent having to log in and log out often.
Instagram Assignment Examples: To explore the concept of "weathering" in the environment, faculty can ask students to post images that show evidence of weathering. One student might post a rock smoothed by a stream over time; another might post patterns created by water on the edge of a riverbed. Looking at the feed helps students see more examples than they could think of themselves. Seeing these images close up shows the effects of weathering clearly and allows students to discuss the forces in play via comments.
Using a scavenger hunt approach, students would go on an asynchronous field trip and take pictures of themselves (or if privacy is a concern, their shoes) at specific places. For a more complex assignment, ask students to take pictures that show a location in a new light or from a different perspective and discuss that perspective or the location in the context of their studies.
To review information taught, an instructor could post a photo or video about a concept already studied, and the students would discuss that concept briefly to review the key points.
Facebook
Facebook is widely used by a wide cross-section of the population. It supports text, image, audio, commenting, and even apps. It is very flexible in some ways and rigid in others. Conversations are threaded and even allow replies to replies. Posts can be media-rich or text-based, and content is easily searchable. Groups are supported well and groups may be public (anyone can see) private (only invited members can see the posts) or even secret (only invited members can see the posts or that the group exists). Facebook uses data for commercial reasons and provides data to affiliates (though privacy settings may be adjusted and some data is anonymized), so some people object to Facebook as a social media platform.
Northeastern University maintains a Facebook page for marketing purposes, while other groups use Facebook pages to connect groups within the community. The Northeastern University College of Engineering, the Alumni Association, Hillel, and the Writing Center have Facebook groups, for example, as shown in figure 6.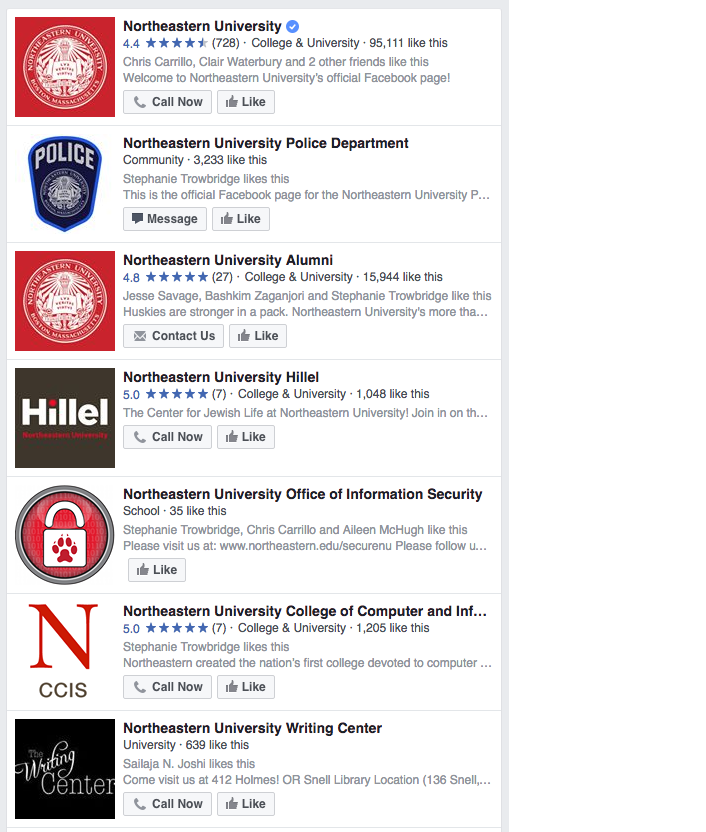 Figure 6. A few Northeastern University Facebook accounts
Northeastern University's College of Engineering posts videos and news about student work, and alumni of the program post job ads for Northeastern students in the college (figure 7).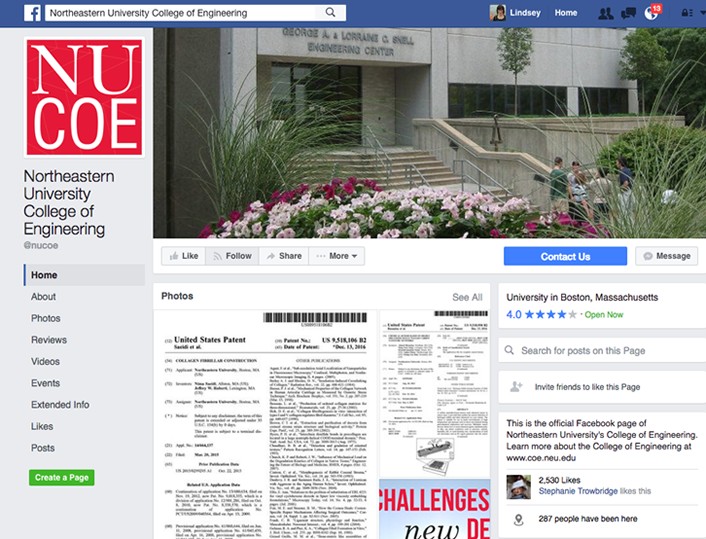 Figure 7. The Facebook page of Northeastern University's College of Engineering
Facebook Privacy Considerations: Facebook allows faculty to create a group that is hidden from the world and visible only to the students invited. In this respect, privacy concerns should theoretically be mitigated. However, Facebook does not allow users to create accounts using pseudonyms (in some cases, this policy has caused distress for members of communities for whom "real name" is a complex issue).
In addition, while a user can adjust privacy settings to prevent their profile from being found by people who are not friends or friends of friends, privacy settings in Facebook are notoriously difficult to stay on top of because they change frequently. Combined with Facebook's history of sharing data, we do not consider Facebook a good tool for activities that students cannot opt out of. Before determining whether it would work in a particular instance, we encourage faculty to engage students in a conversation about using Facebook before adding it to the classroom. Students should have the ability to respond anonymously to indicate whether they would feel excluded from conversations should they choose to opt out.
Facebook Assignment Examples: Instructors could use Facebook instead of other discussion board tools. As a commercial entity with 1.79 billion monthly users, Facebook offers discussion features that are robust and supportive of conversation in ways that the discussion boards that come with learning management systems are not.
Facebook supports video (even 3-D video), images, and text, so any assignment that asks students to upload and discuss images or media would be well-supported by this platform.
Social Microlearning at Northeastern Case Studies
To demonstrate social microlearning, we collected information about two courses: Digital Storytelling and Social Media, and Introduction to Marketing.
Digital Storytelling and Social Media, Professor John Wihbey
Professor John Wihbey on his use of microlearning using social media
In John Wihbey's Digital Storytelling and Social Media course, students have multiple opportunities to create/curate, deliver, and engage in microlearning. Some are informal and have no grade associated; others are assignments. Wihbey explains the microlearning social media assignment:
"In my course Digital Storytelling and Social Media, which is an upper-level undergraduate class in Northeastern's School of Journalism, students were asked to create a 'social graphic' — a data visualization or infographic that was optimized for social viewing on mobile or desktop versions of the Twitter platform. They were also asked to promote and share this content with our class and others on Twitter, using the hashtag #digiNU. This required students to select an appropriate news topic and to conceptualize visual information that could help inform the public. Students used any of a variety of web applications to create the visualization/graphic. They were given the following materials as background and to help stimulate ideas and provide suggestions for tools: (1) NPR explainer of best practices; (2) Menu of suggested creative tools. This assignment facilitated the wider course goal of students being able to produce professional-quality graphics and think about engaging communities — production and engagement."
Student Aneri Pattani fulfilled her assignment with "MBTA fare hike proposal would hurt monthly pass users more than those who pay single fares #digiNU" (figure 8).11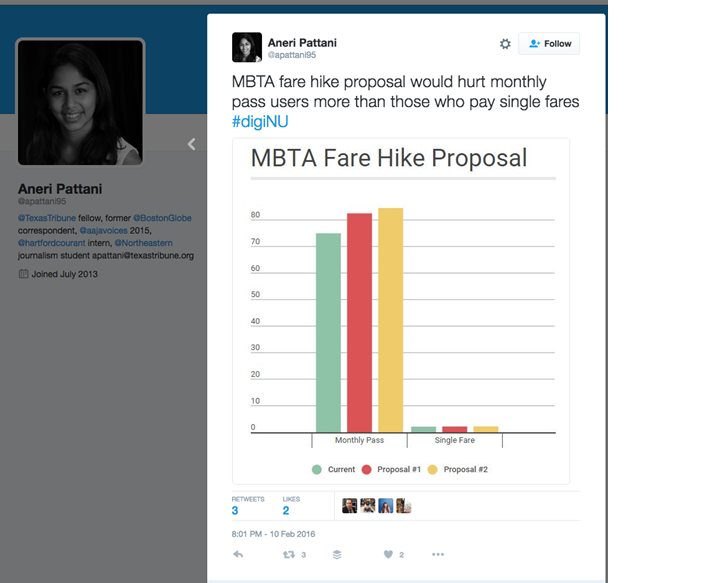 Figure 8. Student Pattani's submission for the social graphic assignment
Pattani shared her thoughts on the social infographic assignment:
"The day that Professor Wihbey gave us this assignment, I was planning to attend a meeting in Roxbury in which MBTA officials and community residents were to discuss the proposed fare hike. While I was at the meeting, I realized how deeply the community cared about this issue. The proposal was not only news from a financial and economic sense, but also from the sense that it affected people's day-to-day lives. It was an issue that would do well on social. So when I came home from the meeting, I took the most important and basic information about the fare hike and turned it into a social graphic. That graphic was soon picked up by the Huntington News and used alongside an article the newspaper was running about the fare hikes. The graphic also generated interest on Twitter and Facebook. I was shocked to see how much people seemed to engage with the topic because of this graphic. It taught me the importance of visualizing data and practicing journalism not just through words, but through many different mediums. Telling a story on social media is more than having a click-bait Buzzfeed title or a funny GIF. Even data on a hard news story can attract attention if it's presented in a visual and compelling manner."
As this example demonstrates, social microlearning objects support timely communication: Pattani's infographic was cited in the Huntington Times the next day (figure 9).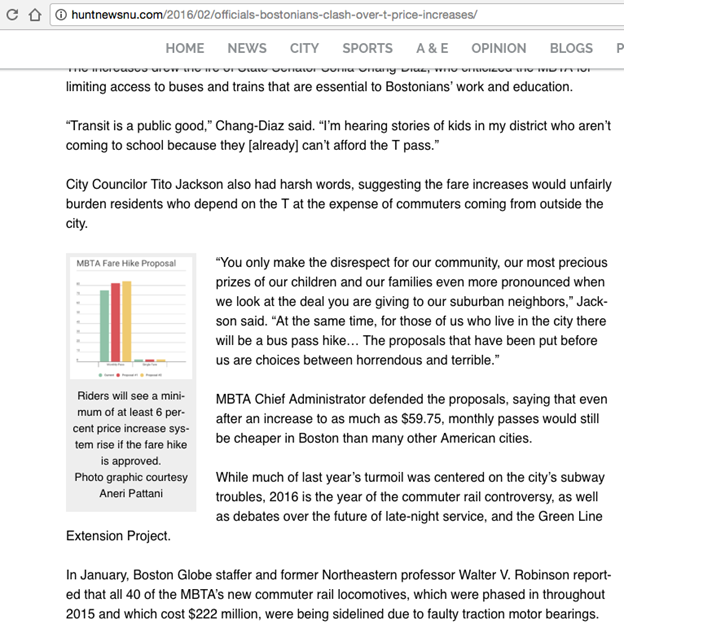 Figure 9. "Officials, Bostonians Clash Over T Price Increases," Huntington News12
When reflecting on the assignment and microlearning, Wihbey observed:
"I believe that discrete social media-related assignments, or Microlearning, that challenge students on a number levels — intellectual and analytical, information design and public engagement — are tremendously valuable. They force students to think about distilling what is important and at the same time considering how content may best travel through social networks. I incorporated numerous assignments that asked students to do something specific on social media platforms, whether it be content creation or information gathering toward stories. Microlearning has a lot of value in terms of facilitating learning and bringing the classroom out into the wider world."
Professor John Wihbey explains the microlearning social media assignment
Introduction to Marketing, Professor Paul Fombelle
Professor Paul Fombelle uses Facebook, Twitter, and Instagram to connect with students and create informal and formal microlearning opportunities. Fombelle has a course hashtag #funbelle, which his students created and use throughout the semester to share articles, resources, and more. They may not know it, but the students themselves are creating and engaging with microlearning. Professor Fombelle will also periodically have students post to social media. Here's his description of how this looks:
"I use social media largely for relationship building. I use Facebook, Twitter, and Instagram to connect to my students, although Facebook is dying quick. I occasionally do in-class assignments where they are tasked to find marketing examples that connect to the day's lesson and then tweet them to me. We then bring them up on the big screen. They are also able to send marketing examples to me outside of class that tie to class lessons."
Figure 10 shows a collection of students' posts fulfilling the assignment to share on social media some marketing examples that connect to the day's lessons.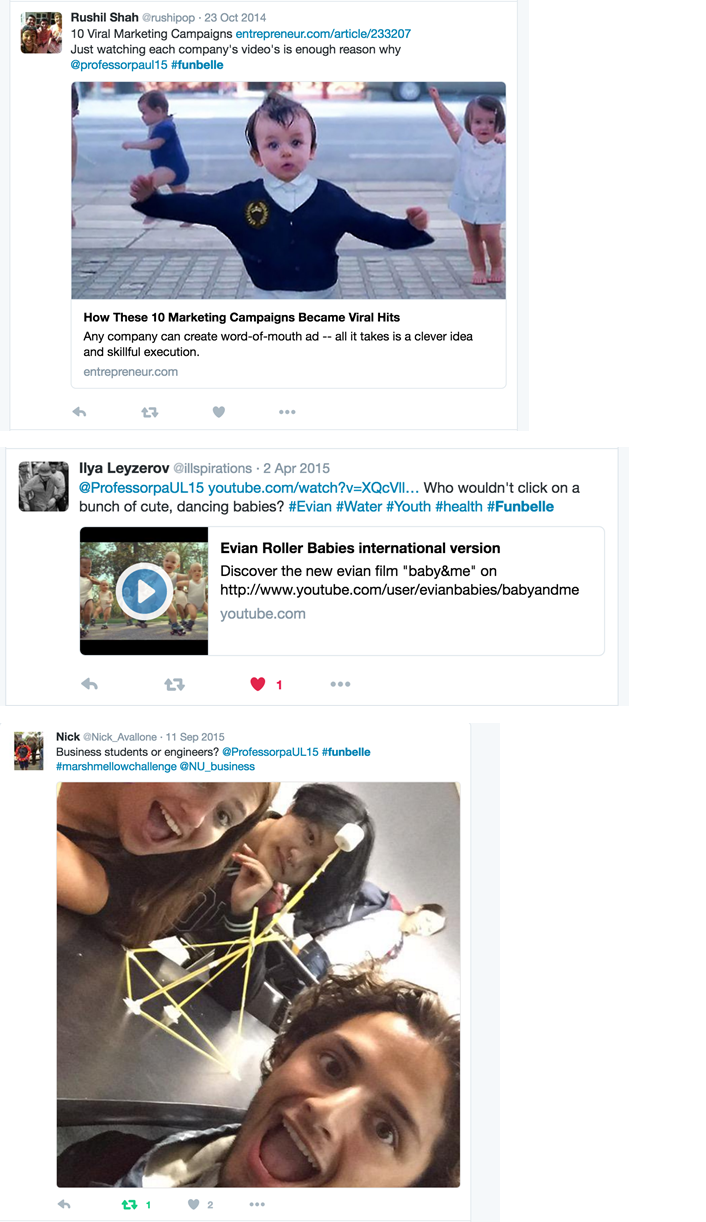 Figure 10. Student posts of marketing examples
Closing Recommendations
When thinking about using Social Media as a delivery platform for Microlearning we recommend considering the following elements:
Consider FERPA and privacy: FERPA prevents universities from providing specifics about students, such as identity or course enrollment, to people outside of the course without student consent. To comply with FERPA, instructors should allow students to create an anonymous account even if they encourage them to use a personal or professional account to build their personal brand. Grades may also not be provided to anyone other than the student, so should not be posted to social media. Remember that in many university settings, any channel of communication that you open with students is subject to review or legal discovery should a problem arise with that student, so faculty will be best protected if they create accounts used only for professional reasons. Outside of legal requirements, students might not want to share personal information with teachers, other students, or other people on the web, and faculty might not want to know what students do in their private lives.
Remember length: Microlearning uses short, focused learning experiences, as a part of a learning goal.
Encourage contribution: Encouraging contributions (in the form of comments, a post using topic or course hashtag, or repost) on the social environment gives students the opportunity to synthesize information and use higher order thinking skills.
Build microlearning into the course: We've seen faculty build microlearning into their courses in both informal and formal ways. A few ideas that have been successful include using course or topic hashtags, requiring weekly posts focusing on course topics to social media as part of participation, and creating a microlearning assignment as part of the course.
Advocate for fact checking: Microlearning on social platforms provides an opportunity to discuss digital literacy and review fact-checking techniques. Students should understand their responsibilities in creating ethical communications and consider the impact of amplifying misleading information.
Status and Future Research
Through research and working with faculty, we learned that microlearning takes place in a surprising number of Northeastern courses. These short bursts of learning seem to come naturally to students when well-constructed assignments are created using social media platforms. We have also learned microlearning takes place in a powerful way outside of the classroom through clubs, colleges, peer-to-peer engagements, and university-managed social media channels. These interactions are generally optional, ungraded, and evidently enjoyable.
Now that we have an understanding around social microlearning, we want to measure its effectiveness for the classroom and how students and faculty perceive it. We are working with faculty and learning scientists at Northeastern to design and implement a study during the fall 2017 semester to look at a few different use cases and gather both qualitative and quantitative data.
In this new study, we will focus on student engagement and overall effectiveness of social microlearning. We will look for trends that indicate whether specific topics or competencies better suit this type of pedagogy or whether disciplines that have been slower to adopt such pedagogies might also benefit from it. We will also focus on the benefits that students gain from engaging with peers through social media platforms. When that study is complete, findings will be shared with the EDUCAUSE community.
Acknowledgments
We wish to acknowledge the significant research contributions of the Northeastern S.I.T.E. Team (Students Influencing Technology in Education): Lauren McCafferty, Ana Luiza Cunha, and Charlotte Lenes. We also offer special thanks to Rehan Khan, chief information officer of Northeastern University, for guidance and support.
Notes
Jeff Seaman and Hester Tinti-Kane, Social Media for Teaching and Learning, Pearson and Babson Survey Research Group, 2013.
Ibid.
Peter A. Bruck, Luvai Motivwalla, and Florian Foerster, "Mobile Learning with Micro-content: A Framework and Evaluation," AIS Electronic Journal, June 20, 2012: 527–43.
Nicholas Carr, "Author Nicholas Carr: The Web Shatters Focus, Rewires Brains," Wired.com, May 24, 2010.
John Sweller, Paul L. Ayres, and Slava Kalyuga, Cognitive Load Theory (New York: Springer, 2011).
Richard A. Swanson and Bryan D. Law, "Whole-Part-Whole Learning Model," Performance Improvement Quarterly, Vol. 6, No. 1 (1993): 43–53; doi:10.1111/j.1937-8327.1993.tb00572.x.
Tom Spiglanin, "Microlearning: Fab or Fad?" [http://tom.spiglanin.com/2015/03/microlearning-fab-or-fad/] Workplace Learning: An Insider's Perspective, March 18, 2015.
Ilona Buchem and Henrike Hamelmann, "Microlearning: A Strategy for Ongoing Professional Development," Elearning Papers, Vol. 21 (September 2010): 1–15.
Karen Wilson and James H. Korn, "Attention during Lectures: Beyond Ten Minutes," Teaching of Psychology, Vol. 34, No. 2 (2007): 85–89; doi:10.1177/009862830703400202.
Ravi Pratap Singh, "17 Awesome Resources on Micro-Learning," ELearning Industry RSS, May 11, 2014.
Aneri Pattani (aneripattani), "MBTA fare hike proposal would hurt monthly pass users more than those who pay single fares #digiNU," tweet February 10, 2016, 11:01 p.m.
Patrick Burgard, "Officials, Bostonians Clash over T Price Increase," Huntington News, February 11, 2016.
---
Stephanie Trowbridge is director of Academic Technology Services, Northeastern University.
Clair Waterbury is academic instructional technologist , Northeastern University.
Lindsey Sudbury is senior academic instructional technologist, Northeastern University.