Key Takeaways
First in a series on exploring competency-based education technology, this article begins with the process of forming exploratory work committees.

The North Carolina Competency-Based Education Incubator team proposed initial approaches and design standards for the key design elements needed in building the first competency-based associate's degree pathway in North Carolina.

The process included comparing products and later releasing a request for proposals to find a digital learning environment to support the planned CBE program.
This article is the first in a series chronicling our exploration of competency-based education (CBE) technology — where we have been and where we want to go. The goal of this series is to offer some ideas, examples, and (possibly) warnings for administrators and educators exploring CBE. Since we are still in the middle of developing our first CBE program (which will pilot in fall 2017), we are writing this piece not yet knowing what lies down the road. We intend to provide an example of a way forward by describing our own experience at Central Piedmont Community College. We hope this will provide some beneficial ideas for other campuses. We also hope to hear from some of you who have been there, are walking alongside us, or are ready to embark on journeys of your own.
Context
In 2014, administrators at Central Piedmont Community College (CPCC) in Charlotte, North Carolina, began talks with members of the North Carolina State Board of Community Colleges and North Carolina Community College System (NCCCS) leadership about starting a CBE program. Together they researched successful pioneers of CBE degree models such as Western Governors University, the Kentucky Community and Technical College System, the University of Wisconsin, and Southern New Hampshire University's College for America. They engaged institutions, educational technology providers, and national thought partners in deep discussions. These explorations revealed the complexity of building a CBE program from the ground up. The consensus was to adopt a collaborative approach that afforded the freedom to co-invent solutions to challenges that could not be adequately resolved in isolation (e.g., rigor of learning assessments, innovative business processes and systems, financial models).
These findings were disseminated at meetings across the state, generating great interest and raising important questions about CBE. Many community college presidents expressed a desire to continue research and experimentation while exploring the challenges this innovative model would pose to North Carolina institutions and the NCCCS.
The Incubator
Bolstered by the interest and support of the Presidents' Association, CPCC and the NCCCS jointly developed and released a request for interest to identify three to five leader colleges committed to developing a strategic work plan, policy framework, and business plan for implementation of CBE in North Carolina. Nearly a year after our initial forays, Forsyth Technical Community College in Winston-Salem, Stanly Community College in Albemarle, and Wake Technical Community College in Raleigh were selected to join CPCC and the system office in this project, and the North Carolina Competency-Based Education Incubator (Incubator) was formed.
More than anything, the Incubator provided institutions with a platform for pooling CBE research, discussing potential solutions to design challenges, and establishing the key design elements that would define a CBE model for all 58 community colleges in the North Carolina system. This document described the conceptual consensus for the design of the project. Each Incubator college was represented by a multidisciplinary team of around 15 members consisting of academic leadership and faculty, as well as staff from business and finance, information technology, advising, financial aid, and the registrar's office. This approach was intended to ensure the development of integrated solutions reflecting multiple perspectives.
The full Incubator team first convened at a two-day workshop in September 2015, after several virtual meetings and trainings focused on disseminating CBE research. At this meeting, with technical assistance and guidance from Public Agenda staff and CBE experts from Kentucky and Tennessee, Incubator participants reached consensus on over 20 approaches and standards for key design elements. Some of the more strategic approaches include the following:
Mapped Approach: The Incubator schools agreed to adopt a term-based, course-mapped approach for the initial pilot model, embedding CBE as an experiment within existing administrative structures. The pilot would be structured to support a future transition to a less traditional model free from the limitations of the credit-hour system.
Modality and Target Population: The Incubator recommended adoption of a blended learning model targeting low-income, adult learners who have some college experience and seek an industry-recognized credential. Blended learning is a place-based, technology-enabled modality that leverages existing lab resources and student support systems. This mode is often employed with adult learners such as those in the target population because it maximizes flexibility without sacrificing support infrastructure. The plan is to start small — tens of students.
Degree in Information Technology: The Incubator agreed to build two associate's degree tracks within Information Technology — programming and networking. This program was part of a statewide curriculum improvement project to increase workforce alignment and emphasize stacked and embedded industry-recognized credentials.
Shared Policies and Practices: Despite variations in institutional student supports and learner demographics, Incubator colleges and the NCCCS also agreed to establish centralized, standardized policies and practices for competency frameworks, course sequencing, assessments, an Integrated Planning and Advising Services (IPAS) approach, and a standardized suite of IT platforms and systems.
These decisions were compiled into a strategic document that continues to guide development of the first competency-based associate's degree pathway in the state.
Our Digital Learning Environments
In early 2016, charged with hatching the ideas presented by the Incubator, equipped with an infusion of funds thanks to the NCCCS and stuck with a longer name (The North Carolina Competency-Based Education Project), IT service leaders and staff from each college formed a committee to explore the technology needed to run a CBE program. The committee of 15 administrators from across the four partner colleges and state system office debated the role of technology in CBE and how emerging tools could help shape the design of a CBE classroom or online learning space. This group was known as the committee for the Information Technology Improvement Project (ITIP). After nearly two months of circular discussion, we decided to begin by coming to agreement on key concepts and common terms for technology.
Lesson learned: Whether or not your CBE project includes external partners, start by developing a common framework for your discussions. It's hard to get anything done when you can't agree if adaptive and conditionally released are the same thing, or if either is synonymous with CBE.
Building on an existing project at CPCC for identifying the elements of a digital learning environment (DLE), which was itself influenced by the EDUCAUSE publication The Next Generation Digital Learning Environment: A Report on Research,1 the committee reached consensus on a DLE concept and a shared lexicon: the "Digital Learning Environment Operational Definitions," or DLEOD (whose pronunciation never fails to earn a chuckle). We then started to think about the best way to categorize all of the terms in the DLEOD into a conceptual framework.
We synthesized the many different components into seven domains:
Administrative system (enterprise resource planning, or ERP)
Learning management system (LMS)
Digital learning tools
Digital learning resources
Student support and care
Student advisement
Fabric
The last domain is the only one with a metaphorical name and refers to those various tools that are woven into all other domains, such as unified communication, information security, and accessibility compliance. Figure 1 shows the model pulling these elements together.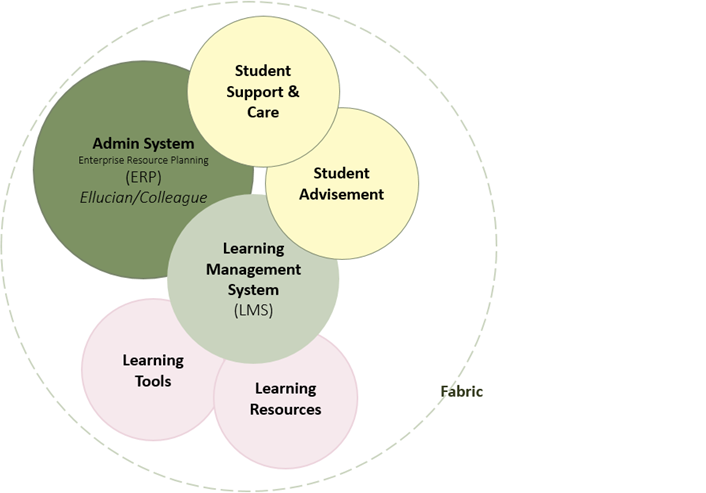 Now that we all spoke the same language, CPCC surveyed North Carolina CBE partners to determine what tools were already in production. We found some common ground in administrative systems and learning management systems, and wide variation across faculty-controlled tools, with each college boasting dozens of different learning tools and learning resources. We worried that we could not come to consensus on common tools, and so turned our focus to the aspects of the DLE that could not be changed and that might provide structure for a more unified approach to CBE technology adoption. By August 2016, the committee reached three key decisions:
We would all use the state-mandated ERP, Ellucian's Colleague.
Each college would use the same LMS in order to better facilitate faculty collaboration and exchange of ideas.
Each college could choose their own systems for the remaining domains, provided their selections met certain standards spelled out in domain-specific playbooks.
These decisions allowed colleges to have greater flexibility to use what best fit them; in many cases, they chose software they had already been using.
Surveying the Technology Landscape
Having made some initial decisions, the ITIP got down to the business of thinking about what a CBE program needed out of an LMS: Does CBE require a new kind of LMS? Could a traditional LMS work? Having done some research and discussed our ideas with technical assistants, we arrived at a few "must have" features for a "CBE LMS" that most traditional LMS systems lacked:
Capacity to map competencies from the LMS back to the ERP
Ability to tag assessments and digital learning resources with a competency
Dashboard for monitoring student progress toward mastery of a competency
This seemed a good start, yet the team felt we still had more to learn. In what became known as the "Vendor Parade," we undertook a comprehensive effort to expand our understanding of both CBE and the prominent players in the digital CBE space. We began by developing a 45-point survey for vendors that explored their take on CBE, their history with the model, and their thoughts on the best way to leverage technology for CBE. After nearly a month, we had a 100 percent response rate, and many of the responses quite comprehensive. On the basis of survey responses and the recommendations of technical assistants, we invited six firms to provide virtual demonstrations of their products. Our goal in choosing who to invite for the parade was not necessarily based on what we thought were the best or most mature platforms, but those we saw as taking a different approach and who might expand our thinking around what was possible. Both IT representatives and faculty attended these demos and openly questioned vendors on not only features and function, but more importantly on the logic behind their approach to CBE.
The Vendor Parade was an invaluable experience for us, helping us refine our vision for CBE and clarify the state of CBE technology.
Lesson learned: If you are interested in hosting your own Vendor Parade, be sure to prepare a stock response for vendors asking about current or future request for proposals. And be transparent with your colleagues and with vendors about why you are holding a Vendor Parade!
The team presented the findings from this in-depth review at a full cross-college convening in September 2016. With the review finally complete, the team members from instruction and IT had the information necessary for drafting a request for proposals (RFP).
The RFP
A task force with members from both the ITIP team and Curriculum teams was formed to draft an RFP, review all proposals, invite top choices for demonstrations, and make a final decision. The first step in this process was to construct and distribute a survey to the RFP team using the data from the Vendor Parade. This helped provide a starting point for drafting the RFP by identifying the must-have versus nice-to-have attributes for a CBE DLE. In addition to the features mentioned above were:
This process took place over the summer and early fall of 2016. The Vendor Parade process also helped our group understand that there could be multiple approaches to solve the need for a DLE for CBE. One option is to select a single tool that includes the important elements of a traditional LMS and provides competency mapping, tagging, and dashboarding. Another option is to use a traditional LMS not built for CBE, and integrate it with a competency management tool that may lack some of the functions of an LMS. Eventually, we decided to accept either option, and the RFP was written in a way that welcomed responses for either type of solution. As of this writing, the RFP has been released, and we are looking forward to the responses.
The process to build the NC-CBE group; form different teams for IT, curriculum, student services, and business processes; and prepare for the RFP took a long time, longer than expected. However, we feel this investment in time was worth it, as it included an intensive study of the current field of IT to support CBE. We feel that our RFP is written in a way that will emphasize to vendors the important elements for the DLE we envision while maintaining a flexibility that will allow us room to weigh options. We look forward now to opening the bids, making a selection, and getting started — and that's the focus of the next article.
Note
Malcolm Brown, Joanne Dehoney, and Nancy Millichap, The Next Generation Digital Learning Environment: A Report on Research, EDUCAUSE, April 27, 2015.
---
Gary Ritter, EdD, is executive director of Learning Technology Services, Central Piedmont Community College .
Sylvia Cini is director of Special Projects, Central Piedmont Community College.