Higher education is one of our economy's most collaborative and open sectors. Higher education leaders share information, best practices, opinions, and solutions generously with one another and partner willingly and often. Although much of that collaboration has occurred among peers, many corporations have become effective partners instead of simply vendors by collaborating with colleges and universities to co-create solutions that optimize value for both sides.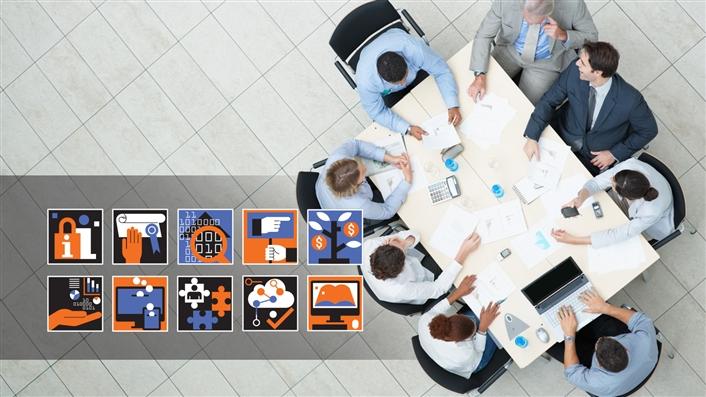 EDUCAUSE supports such higher order relationships by working with corporate leaders who "get it" — those who love and value higher education and are committed to long-term, mutually beneficial relationships with their customers and with our sector at large. The EDUCAUSE Corporate Member Advisory Committee (CMAC) focuses on bringing corporate leaders together to actively explore and develop an improved relationship between higher education IT and its vendor community.
Four members of the CMAC provided their perspectives and advice on the Top 10 IT Issues of 2017, including:
Cole Clark, Executive Director, Higher Education Client Relations, Deloitte
Renee Patton, US Public Sector Director of Education, Cisco Systems, Inc.
Jared Stein, VP Research & Education, Instructure
Kim Thanos, CEO, Lumen Learning
The Questions and Answers
EDUCAUSE posed the following questions to the four contributors, whose answers follow. (See the end of the article for a list of the TOP 10 IT Issues and their definitions.)
How do you react to the Top 10 IT Issues? Are these issues synonymous with what you are experiencing in industry?
"I believe the Top 10 issues reflect the needs of many higher ed institutions," said Jared Stein of Instructure. He sees a clear urgency and tension between many of these issues: "Not only must higher education become more affordable, it must become a better experience, focusing on student success, outcomes, and completion, for which there is no easy fix." At the same time, sustainable staffing is critical to support quality teaching and advising, he noted. "We depend on data and analytics, which rely on digital learning technology and must be secure — but that still requires top-notch staff to capture and act on the data."
According to Renee Patton of Cisco, these issues are synonymous, with an overarching theme of the digitization of education. She explained that Cisco is working with their customers to create a digital overlay on top of their traditional physical campuses while ensuring that the overlay is safe, secure, robust, and reliable. Users should be able to derive meaningful value from the data and analytics being produced in the digital environment. With the risks of security breaches higher than ever, coupled with new Internet of Things (IoT) points-of-entry and the increased mobility of information, all Cisco customers put cybersecurity at the top of their list of concerns, just as the Top 10 survey respondents have.
Deloitte's Cole Clark agreed that cybersecurity and cyber governance issues face every institution, and he sees many of them struggle to educate key decision makers on risks outside of IT. He also believes that academic enterprise-wide approaches to student success and completion that have technology as a foundational element are now taking hold.
Kim Thanos sees the Top 10 issues as broadly framing Lumen Learning's work and experience. She observes urgency among institutions to use technology to create new models for teaching and learning that increase success, are more data driven (and validated with data), and much more affordable. "In many ways the focus on the digital transformation of learning is not a single issue," she noted, "but both a risk and a tremendous opportunity that encompass many of the other issues."
Which of the Top 10 IT Issues do you think will have the most impact in higher education in 2017 regardless of their ranking in the survey? Why?
Stein believes strategic leadership is critical to each institution's continuous improvement and self-transformation. "Institutions need leaders to articulate the tough challenges and identify creative solutions," he noted, "even when these threaten the status quo. Using these solutions, they can then inspire and motivate change, whether in technology, support, or teaching."
Clark pointed to the importance of strategic leadership and next-generation IT together. "Infrastructure in many institutions (core business and "front-office" applications) are aging," he noted, and he sees a constant struggle to develop cogent business plans and models for modernizing this infrastructure and directly connecting these investments to the health and growth of the academy. He believes this situation highlights the need for leadership and a strategic position for IT at the cabinet level within the institution.
"I would group higher education affordability with sustainable funding," said Patton. "Higher education leaders will have to find new, innovative ways of meeting their mission and delivering quality learning experiences to their students without compromising their brand," she continued. At the same time, they'll have to save time and money. Every technology purchase requires a concrete return on investment (ROI), whether serving more students online, creating more sustainable physical environments, or safeguarding student data and research information. Importantly, she sees higher education affordability as intrinsic to most if not all the other issues.
Are the Top 10 IT Issues best solved with technology solutions? Which technologies might best address the top-ranked issues?
"Technology is a critical enabler to helping colleges and universities solve these issues," asserted Patton. New security technologies and comprehensive security policies will help institutions figure out what to do before, during, and after a cyberattack. She believes adoption of high-quality video and collaboration technologies — part of the transition to digital learning — can improve student success and completion. These technologies can also help increase the scale of courses and attract and retain the best professors regardless of their location, pointed out Patton. By not considering next-generation technologies, she warned, higher education risks being left behind in the massive shift to digital affecting all industries today. These emerging new technologies, which help differentiate institutions, can also deliver answers to many of the Top 10 challenges.
"Of course none of us would want to tether learning to only digital experiences," said Thanos, "but any time we want to use large-scale data to improve learning, success, or decision making, we need technology." Meeting these goals in a learning environment can be complex because ideally the technology should be both powerful and invisible. "I think the technical innovations that allow students to engage more deeply in their learning experiences and to connect authentically with peers and faculty members are exciting — but still very early in adequately progressing the transformation of digital learning, or in demonstrating substantive gains in student success and completion.
Stein observed that technology is no replacement for creative, committed people, but can amplify their power to make change. "These Top 10 issues each require both technology and people," he said. "To that end, we must raise our expectations for and measures of technology so that technology is in fact a tool that maximizes our ability to do good, not shelfware."
"My view is that the challenges are mostly people/process related," explained Clark. "The technologies (in general) exist to enable transformation and change." However, he noted, a significant reluctance to invest in or enable dramatic transformation persists because of a lack of leadership or a governance structure that inhibits innovation.
Which of the Top 10 IT Issues could be enabled with non-technical support, including organizational, policy, and process improvements? How might they complement technical solutions?
Clark believes that most of the Top 10 issues could be enabled with nontechnical support. "As an example, most of the challenges faced in the cybersecurity realm in higher education are people/process related," he explained. "Yes, technologies are needed to underpin any cyberinfrastructure plan, but the biggest challenges are in the governance area."
Cisco considers it critical to choose the right partners, ones who have not only technology and technology expertise but also understand organizational and cultural change, finance and business process management within educational organizations, and new teaching and learning approaches. "Student success and completion relies mostly on the nontechnical influences of the faculty, administrators, and constituents throughout a student's journey," Patton said. "The shift to using new video and collaboration technologies on this journey is critical," she noted, "but faculty won't adopt these technologies unless they're easy to use, and unless they receive the support they need to effectively use the technologies for teaching and learning."
"Recent surveys of higher ed have shown a large percentage of faculty are generally reluctant to leverage technology in meaningful ways for learning," noted Stein, "let alone facilitate access by teaching online." Online and face-to-face are different modes with different affordances, he explained, and thus "we should be wary of direct comparisons — yet such comparisons tend to show no advantage to face-to-face in terms of student outcomes. If we believe digital teaching and learning can support student success now or in the future, we need to help every faculty member find ways to incorporate technology into teaching and learning in ways that support their teaching philosophies and are backed by educational research."
While the list explicitly calls out the need for strategic leadership, said Thanos, it is an important lens through which to view all the issues. "Leaders are being asked to simultaneously address a daunting array of issues — data effectiveness and security, improved results, cost efficiencies, and transformation," she explained. "I can't imagine true success in more than one or two of these areas without strong strategic leadership and the ability to align technology expertise with the contributions and expertise of constituents across the institution."
How could industry coordinate with higher education institutions to solve some of the issues in the Top 10? Which problems are most amenable to this type of partnership?
"In my experience, industry and institutions partner best when they are solving problems where organizations are working towards common goals, but some component of the solution is not clearly known," observed Thanos. Institutions have a deep view into their specific needs, whereas industry partners have an opportunity to work across many institutions to develop and implement solutions in a range of different contexts. In this Top 10 issues list, she noted, it seems that making significant strides in student success, creating the next-generation IT enterprise, and facilitating the digital transformation of learning benefit from the kinds of collaborative, rapid cycles of learning that can occur in strong institution-industry partnerships.
Patton explained that Cisco already coordinates with colleges and universities on a regular basis, specifically in many of the Top 10 issues, offering strategic planning expertise and managed services approaches. Among them are business architecture planning services, vision workshops, and a range of additional services to help institutions plan and execute against their vision and strategy. Many of these services address the Top 10 challenges, she concluded.
Across the broad spectrum of industries that participate in EDUCAUSE, probably all of them could include industry partners in some kind of collaboration, said Clark. "From a Deloitte perspective, Information security, Student success and completion, Data-informed decision making, and Next-gen enterprise IT would be the most closely related to competencies within the firm." Other consulting firms might offer services that better fit different issues among the Top 10; any institution looking into an industry collaboration should first ensure a good match of capabilities with their needs.
Stein recommends that higher education institutions and industry vendors create opportunities to engage with leaders on each side to share and discuss big issues like these Top 10. "Often industry or vendor conversations with higher education clients focus on the specific technology provided outside of the context of larger goals," he warned. "These are important, but we need to also rise above the tools we use in the way we use them today, to consider the larger challenges not as a customer relations conversation or a sales opportunity, but as an authentic dialogue focused on realistic, achievable collaboration." He noted that EDUCAUSE seems uniquely positioned to encourage and facilitate these conversations, whether in groups or one organization to another.
What other trends do you see coming in higher ed that you are already addressing in industry? What advice do you have on how higher education can prepare for them?
"One of the most exciting trends we see is the convergence of multiple technologies into a single unified platform," said Patton. "Our customers are asking for a completely integrated digital environment to improve learning and help them better manage their campuses." Cisco is actively working on another trend she sees — virtual and augmented reality. Her question: How can higher education create better, more realistic virtual environments for students to engage and truly immerse themselves in knowledge and deeper understanding? She explained that Cisco is educating higher education institutions on what it will take to deliver these new environments, scale the services, and keep them secure.
Clark sees the consolidation of applications that support the academic enterprise into a smaller number of more comprehensive solutions, provided as a service, that enable many of the modern capabilities found in today's computing "appliances." Many people refer to this trend under the broad umbrella of "cloud," but he thinks this definition misses some of the real value that these services hold for higher education: enabling much greater self-service; modernizing the constituent experience to mirror what is available from many commercial entities with which students and faculty regularly engage; and so on.
One trend that seems to be emerging in community colleges as will as universities, Stein observed, is a desire to streamline student outcomes assessment for all programs, not just competency-based programs. Institutional processes that need to measure student outcomes for reporting purposes could then rely on direct assessment of all students' learning as they are being taught, he explained, rather than a sample of students' learning at the end of the course. "This could not only enhance the legitimacy of institutional outcomes reporting by representing an entirety of student learning data aligned to outcomes, but could also deliver efficiencies to both faculty and programs," he noted. "Further, it could provide insight into each student's progress against course, program, and institutional outcomes in ways that can connect their immediate experience to their long-term personal goals and ambitions." Stein warned that institutions face challenges in realizing this vision and should focus both on rethinking legacy systems and processes, and ensuring that faculty are equipped to begin assessing outcomes as a natural component of their teaching.
"For many years the technology of teaching and learning focused on learning management system implementations and transitions," noted Thanos. "As the LMS market and implementations have matured, it is exciting to see a new wave of innovation in teaching and learning. Many institutions are thinking about the role of digital delivery in a way that is far more nuanced than the course format." She sees an exciting awareness and discussion of learning science, learning (and learner) analytics, and proving the efficacy of new learning technologies. Open pedagogies are also demonstrating opportunities for students' academic activities outside the classroom to yield useful and even powerful work products far beyond the required curriculum. "At some point we looked up from the drudgery of simply creating and working with the technology, and exciting things started to happen," Thanos explained. "This exploration might take us in any number of directions. Do we begin to demand immersive, virtual-reality learning environments? Do we expand learning dialogues beyond existing boundaries to connect diverse learners, creating commonalities where today we see differences and divisions?" She suggested that we live in an era where "proceeding with great caution might in fact be the path of greatest risk, preventing us from creating the change that moves us beyond today's issues to tomorrow's solutions and possibilities."
Concluding Thoughts
Because they work with numerous diverse campuses, corporate thought leaders can look across higher education and, very often, across multiple industries in their broad customer base to discern aggregate challenges and emerging solutions. The corporate perspective on the EDUCAUSE Top 10 IT Issues reinforces many of the themes in the article "Top 10 IT Issues, 2017: Foundations for Student Success" and offers additional thoughts for IT leaders to reflect on and learn from.
Top 10 IT Issues, 2017
Information security: Developing a holistic, agile approach to reducing institutional exposure to information security threats
Student success and completion: Effectively applying data and predictive analytics to improve student success and completion
Data-informed decision making: Ensuring that business intelligence, reporting, and analytics are relevant, convenient, and used by administrators, faculty, and students
Strategic leadership: Repositioning or reinforcing the role of IT leadership as a strategic partner with institutional leadership
Sustainable funding: Developing IT funding models that sustain core services, support innovation, and facilitate growth
Data management and governance: Improving the management of institutional data through data standards, integration, protection, and governance
Higher education affordability: Prioritizing IT investments and resources in the context of increasing demand and limited resources
Sustainable staffing: Ensuring adequate staffing capacity and staff retention as budgets shrink or remain flat and as external competition grows
Next-gen enterprise IT: Developing and implementing enterprise IT applications, architectures, and sourcing strategies to achieve agility, scalability, cost-effectiveness, and effective analytics
Digital transformation of learning: Collaborating with faculty and academic leadership to apply technology to teaching and learning in ways that reflect innovations in pedagogy and the institutional mission
---
Susan Grajek is vice president of Communities and Research, EDUCAUSE.
© 2017 Susan Grajek, Cole Clark, Renee Patton, Jared Stein, and Kimberlee Thanos. The text of this article is licensed under Creative Commons BY-NC-ND 4.0.