Unmanned aircraft systems offer numerous possibilities in the academic environment, from creating programs aimed at UAS design and construction to finding ways to use them in traditional research across academic disciplines.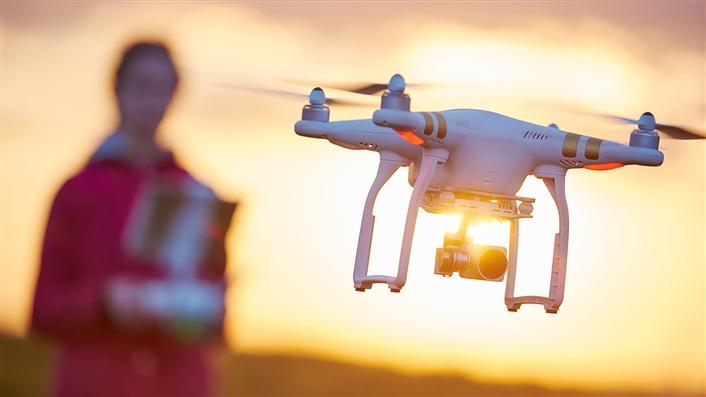 Unmanned aircraft systems (UASs), also known as drones, offer numerous benefits and vast potential in the academic community both for developing new programs of study and for augmenting research in existing fields. However, the realization of these benefits has proved challenging, as the rapidly increasing interest has outpaced the existing regulatory framework. It has also presented institutions with new challenges in terms of accommodating and managing UAS use on campuses.
As the vice president for IT at the University of Georgia, my interest in drones has so far been as a pilot and amateur photographer. At the University of Georgia we are working to provide support for UAS use in teaching and research. Here, I discuss my experiences and offer an overview of possibilities in higher education and the regulations and issues involved in UAS use.
UAS Research and Deployment
At institutions of higher education, UAS use falls into two broad categories: the design and development of UAS aircraft and infrastructure, and the use of UASs in general academic instruction and research.
UAS Design and Development
According to the FAA's Aerospace Forecast Report Fiscal Years 2016 to 2036, interest in drones is rapidly expanding; commercial sales alone are expected to nearly triple in the next four years, from 2.5 million units in 2016 to 7 million in 2020. To support the industry's growth and the forecasts for drone-related job opportunities,1 institutions are offering an increasing number of academic degree and certificate programs aimed at offering hands-on experience in designing and developing UAS aircraft and infrastructure.
A UAS consists of three key components:
The aircraft platform, which might be purchased off-the-shelf and then customized, or designed and built entirely in-house.
A flight control system, which includes guidance systems that stabilize the aircraft in flight.
Flight software, which allows a pilot to command and control the aircraft.
Many universities have set up specific departments or labs within departments dedicated to training students in the design and development of UAS infrastructure. For example, the University of Minnesota's Uninhabited Aerial Vehicle (UAV) Laboratories focuses on researching, developing, and supporting low-cost, open-source UAS systems. Full information about how to design and develop its UAS flight control system, software, ground station, and aircraft simulation are freely available through the UAV website.
Kansas State Polytechnic University was one of the nation's first programs to get FAA approval for UAS flight training, operating a UAS program through its Applied Aviation Research Center. The program takes a hands-on approach to training, "giving students the necessary skills to safely operate and manage a diverse fleet of unmanned aircraft both proprietary and commercially available." Among its current research projects is to evaluate the ASTM standards on the airworthiness of small UAS (sUAS) aircraft. Funded by an FAA research grant, the project will study the quality and safety guidelines for building UASs, including the command and control link communications between the aircraft and ground crew.
At UGA, our primary work is in two areas: the use of UAS aircraft in instruction and research across our agriculture, science, engineering, and communications fields; and in our artificial intelligence research center, which is working to design the guidance systems that control these aircraft.
As Ahmad Khazaee and Kevin Lynch pointed out in their 2015 EDUCAUSE Review article, "Evaluating Drones for Higher Education," learning how to build UASs offers students huge benefits from a STEM perspective, but the possibilities for how this technology can transform research and teaching are even more exciting.2
Academic Research and UASs
Use of UASs in existing research domains is increasing and wide ranging — from studying storms to filming football practices to tracking wildlife migration. Following is a sampling of key academic disciplines benefiting from UAS uses, along with example projects in each area.
Agriculture. UAS devices have enormous potential for helping farmers and other agricultural engineers survey crops, deliver pesticide, locate insect problems, and so on. With a UAS, you can literally map out or survey acres of crops in a matter of minutes.
At Idaho State University (ISU), researchers use high-tech, drone-mounted cameras to detect diseased and stressed potato plants. The research team, led by Donna Delparte, assistant professor of geosciences at ISU, is also planning to use the spectral signature of plants — detected during greenhouse testing using advanced sensors — to develop algorithms that can automate this disease detection, allowing the quick removal of sick plants from the field.3
Human health. Satellite imagery has long been used in disease analysis and prevention, including to track the movement of potential host animals. UASs allow this type of tracking at a much lower cost and a far finer grain. For example, researchers at the University of Pittsburg, Johns Hopkins University, and Grenada's St. George University are working with Microsoft to develop Project Premonition, a system that will use drone-enabled mosquito traps for early prediction of infectious disease outbreaks, with the goal of facilitating intervention and preventing global health disasters.
Emergency response. UASs offer emergency response teams quick visual and audio access to disaster zones at a low cost and relatively low risk. Texas A&M University's Center for Robot-Assisted Search and Rescue (CRASAR) regularly assists authorities in flood disaster areas, sending out UASs to validate flood inundation models and conduct hydrological forensics. Based on this work, CRASAR director Robin Murphy has developed a preliminary list of lessons learned and issues to consider, including the choice of UASs for this type of fieldwork.
Art. From photography and videography to visual and performance arts, the use of UASs is expanding what's possible creatively in the academy and beyond. As an instructor in the University of Colorado, Boulder's Department of Critical Media Practices, Hunter Ewen specializes in ways of visualizing sound. He was recently awarded a grant to study the use of UASs to collect sound; as part of this research, he will work with students to design and test low-interference recording rigs with the ultimate goal of creating original sound-art using drone-captured recordings.4
Rules and Regulations
The sampling above offers only a glimpse at what's possible in terms of drones advancing research and practice in higher education. Currently, however, the regulatory hurdles challenge rather than facilitate many institutions' ability to pursue these possibilities.
Undoubtedly, UAS regulation is complex. The United States has the busiest airspace in the world, and it's the FAA's job to manage it — a job that's gotten vastly more complex as drones join the aviation mix. For their part, higher education institutions are grappling not only with FAA rules but also with setting up committees and contact people to ensure compliance, along with discussing institutional policies regarding the safety and privacy issues that arise as drones begin to populate campus airspace.
FAA Regulations
The FAA divides drone users and regulations into two categories: hobbyists and commercial operators. Hobbyist requirements are basic: the craft must be less than 55 pounds, registered with (though not approved by) the FAA, and flown away from crowded public areas and at least five miles from airports.
Currently, however, higher education institutions are treated as commercial operators and must receive Special Airworthiness Certification or apply for a less grueling but still cumbersome Section 333 exemption from the FAA to use drones for academic and research projects. A Certificate of Authorization (COA), which is an airspace permission to fly in regulated airspace, is also required. As of June 2016, more than 17,500 exemption requests were posted, but not yet processed, on the FAA website. Also posted was a notice of delays in processing due to volume. New rules going into effect in late 2016, known as Part 107 of the Federal Aviation Regulations, will provide an additional route to certification for flying UASs commercially.
Based on my experience and reports from others, the process of applying for and finally securing a Section 333 exemption typically takes at least six months. Although everyone can use a blanket COA issued for flying in Class E airspace, flying in Class B, C, or D airspace requires a special COA that can take up to another six months to obtain.
Before any commercial flights, under the blanket COA you must file an activity plan with your FAA local flight district office that details your planned activities. Finally, within 24 hours of the flight, you must file a "notice to airmen (NOTAM)" in the air traffic system that basically says, "on this date and time, drone flights are going to be in this area at this altitude." This ensures automatic notification of any pilots in that area.
Needless to say, even with the Section 333 exemption, the bar facing researchers and educators remains high. That such FAA regulations must be streamlined to encourage rather than obstruct research is commonly agreed upon by all parties, but how to do it is another question. One proposal currently under consideration is the bipartisan Higher Education UAS Modernization Act (S. 2626), introduced in March 2016 by Senators Gary Peters (D-MI) and Jerry Moran (R-KS). The proposal would let higher education institutions operate drones for research or educational purposes assuming basic safety and administrative requirements are met.
UAS Modernization Act
If passed, the Higher Education UAS Modernization Act would let students and educators at colleges and universities operate unmanned aircraft systems (UASs) without FAA approval if they meet the following five requirements:
The institution adopts a UAS policy and designates a UAS contact person to review and approve all educational and research UAS flights.
An experienced operator in command supervises all such flights to ensure safety.
All flights must be identifiable and no more than 400 feet high; give right of way to full scale aircraft; and operate above sites that are a sufficient distance from populated areas. Further, flights must not create a hazard, harm people or property, or survey or otherwise create a nuisance on private property.
If a UAS is involved in an accident that injures a person or property, the accident must be reported to the FAA within 10 days.
If a UAS is to be flown within five miles of a major airport or two miles of any other airport or heliport, the UAS operator in command must first obtain permission from air traffic control (or the airport manager of smaller airports and heliports).
Many institutions support the Higher Education UAS Modernization Act, including the Association of American Universities, Association of Public and Land-grant Universities, Duke University, Harvard University, Indiana University, Michigan State University, Michigan Technological University, Pennsylvania State University, Princeton University, South Dakota State University, University of Kansas, and University of Michigan.
In addition to several major research universities, the bill has the support of both the Association of American Universities (AAU) and the Association of Public and Land-grant Universities (APLU), who noted that it is "critical to the work of colleges and universities that seek to safely conduct a wide range of research and educational activities involving sUAS."
Also, the FAA recently loosened the rules for students completing coursework, in essence offering them the hobbyist exemption: stay under 400 feet and, if you're operating within five miles of an airport with a tower, get the tower's permission for your flight. However, these rules do not apply to instructors, who must obtain a section 333 exemption before flying.
Institutional Policy
As the FAA grapples with the responsibilities of public airspace, higher education institutions must identify and manage their own end of UAS operations, ensuring that they meet FAA requirements as well as addressing privacy and safety issues that might arise as UAS use increases on campus.
Many institutions are also exploring UAS-related safety issues. In February 2016, the University of Michigan placed a temporary ban on the use of UASs on or above its Ann Arbor campus and established an Institutional Autonomous Systems Committee (IASC) to develop and implement policies and procedures to ensure safe use of the devices on campus. The university is also building a netted outdoor facility that will serve as a campus testing area for drone research and educational uses. Completion of the facility is expected this year. These actions come in the wake of safety concerns, including possible interference with the continual helicopter traffic to and from the university's medical center. In 2015, an unauthorized drone landed on the medical center's helipad.
IT Support and Opportunities
As UAS use on higher ed campuses increases, IT departments — which are typically charged with managing infrastructure — need to be prepared. At a minimum, most users will ask for access to the institution's wireless network. On some campuses, academic departments might request that IT provide drones and support testing and repair of the devices. With on-campus use still so limited, though, it's hard to know how faculty will respond to the potential uses of the devices for their research and field work. Hazardous environments offer the best use of a UAS to avoid harm to students and researchers, such as flying over a lava flow and sending back live video. How quickly faculty adopt the UAS option remains to be seen.
With so much uncertainty about how higher ed will deploy UAS technology and the phenomenal growth in private (and proposed commercial) use, IT departments should keep a close eye on their likely role in dealing with drones in academia. IT will also need to consider the degree of their involvement, from drafting policy to encouraging and supporting faculty use in research and student work. The answer will differ from one campus to another, but ignoring drones isn't a reasonable option for forward-looking IT departments. The key will be taking advantage of the potential and helping UAS technology work to your institution's benefit.
Notes
---
Tim Chester is vice president for Information Technology at the University of Georgia.