One of the most difficult challenges to succeeding with IT in higher education is developing a shared understanding between institutional leadership and IT leaders about how technology can advance the institutional mission. Technology underpins many operational, academic, and research activities and offers numerous opportunities to promote student success. But when institutional decisions are made without input from IT and then taken to IT leaders to be implemented, technology is often cast as a roadblock. When CIOs raise important questions about feasibility, resources, support, security, and other concerns, they can be perceived as "The Department of No."
In many cases, the frustration and finger pointing that result from unrealistic expectations can be avoided when institutional and IT leaders work from a common understanding about the possibilities and the limits of technology. But how do you develop that understanding? The EDUCAUSE Top 10 IT Issues Panel took up this question at their recent quarterly meeting and provided valuable insights from their experiences as CIOs and other IT leaders at a broad range of institutions.
The View from Here
Probably the most common refrain in discussions about how IT can be — and be seen as — a strategic partner to the institution's senior leadership is to serve on the president's cabinet. And for good reason. EDUCAUSE data indicate that CIOs who are members of the cabinet are more likely to engage in discussions about institutional decisions and help shape administrative and academic directions (see figure 1).1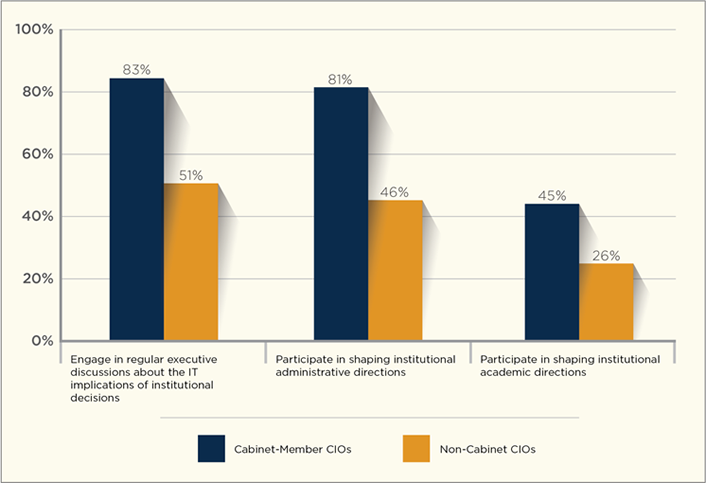 These findings are unsurprising. Strategic institutional discussions and decisions take place at the level of the president and the cabinet, and participating in those meetings ensures that the IT voice is included. Moreover, cabinet-member CIOs spend less time managing IT operations and services and more time planning and innovating with business units, academic units, and governance bodies.2 For IT in higher education, the reporting line does matter.
On the other hand, only about half (49 percent) of CIOs are members of the president's cabinet. What of the other half? Are they consigned to professional ineffectiveness?
Playing the Cards You Have
Although IT Issues panelists agreed that being a member of the president's cabinet does confer an advantage for CIOs, they were quick to point out that cabinet membership is not a deal breaker. IT leaders can (and should) take advantage of other avenues of influence:
IT leaders can use their boss or another cabinet member as a surrogate to authoritatively represent technology or invite the IT leader to cabinet meetings to participate in technology-related discussions.
Outreach to faculty, students, and other members of the campus community through blog and social media posts can go a long way toward cultivating an institutional culture that recognizes the value of IT.
Sometimes another body, such as a provost's council, is an equally or more important venue for the voice of IT. Multiple communication paths may be needed to create common institutional understanding — especially at complex institutions — to reflect distributed decision making and funding processes.
One panelist cautioned that getting one's wish to be on the cabinet might bring unexpected complications, such as changes to how IT is funded. And, of course, the leadership dynamic differs from one institution to another, so being prescriptive about reporting lines overshadows the nuance needed to succeed. Ultimately, the org chart is less important than making sure that technology is a part of strategic discussions and decisions. Many IT leaders who are not part of the president's cabinet are highly influential, and a key ingredient to having that clout is being able to see beyond IT.
Two-Way Learning
The most effective IT leaders solve institutional problems, not simply IT problems. They understand higher education, both in terms of the mission (teaching and learning) and the means (the organization and operation of the institution). Particularly for CIOs with backgrounds in areas outside higher education, developing this understanding can be a nontrivial undertaking, but the ability to get beyond the technology and become knowledgeable about the business of higher education can be invaluable. This benefit extends to IT staff at all levels, prompting several panelists to recommend "Higher Ed 101" for IT departments. At the same time, productive conversations require common language and understanding on both sides. An "IT 101" program could be worthwhile for presidents as well as senior institutional leaders from academic, financial, and other non-IT areas. Promoting this two-way learning between IT and other institutional leaders will contribute to a climate in which constructive dialogue can take place.
Bridging the Gap
Developing the right relationships and a shared understanding between IT and institutional leaders is an important part of maximizing the benefits that technology can bring to a college or university. To promote that understanding, follow these tips:

Notes
Jacqueline Bichsel, Today's Higher Education IT Workforce, research report (Louisville, CO: ECAR, January 2014).
Ibid.
---
Gregory Dobbin is senior editor, Publishing Services, EDUCAUSE.