IT is simultaneously more challenging, relevant, and exciting than ever; leading IT requires unique characteristics and capabilities. But what qualities make for a successful IT leader in this environment?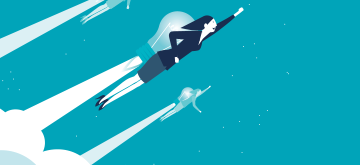 [This article is based on the EDUCAUSE-Jisc working group's full report, "Technology in Higher Education: Defining the Strategic Leader," published in March 2015. —Ed.]
The higher education IT enterprise has become complex. No longer simply responsible for provisioning IT infrastructure and services, the IT department increasingly helps re-envision business and service models, all in a context of cost and accountability pressures. IT is simultaneously more challenging, relevant, and exciting than ever; leading IT requires unique characteristics and capabilities. But what qualities make for a successful IT leader in this environment? What traits are required to be a strategic player for IT on campus? What are the most significant gaps in required knowledge, skills, and abilities? How do we prepare the next generation to lead?
In 2014, EDUCAUSE, the association of IT leaders in higher education in the United States, and Jisc, the national organization supporting the use of digital technologies for higher education and research in the United Kingdom, came together to address a common concern — that insufficient attention is paid to understanding the skills required by technology leaders in higher education, both now and in the future. The two organizations convened a working group of 10 U.K. and U.S. IT leaders to address this issue, and this article outlines their findings. It provides the higher education IT community with a model to guide IT professionals at all stages of their careers and to position technology as a central part of advancing the core mission of the academic institution.
Working Group Members
Tom Andriola, Vice President and CIO, University of California, Office of the President
Mark Askren, Chief Information Officer, University of Nebraska–Lincoln
Eileen Brandreth, Director of University IT, Cardiff University
Nigel Cunningham, Deputy Director Finance and Information Services, University of Ulster
Kathryn F. Gates, Chief Information Officer, University of Mississippi
Aline Hayes, Director of ICT, Sheffield City Council
Joannne M. Kossuth, Vice President for Operations and CIO, Franklin W. Olin College of Engineering
Thad Lurie, Chief Operating Officer, EDUCAUSE
Paul Saunders, Chief Technology Officer, University of Dundee
Chris Wanley, Chief Information Officer, Aston University
In approaching this topic, the working group asked themselves, "How do we put together something that is meaningful and practical for a relatively diverse audience?" Although the group came to consensus about the traits needed for a successful IT leader, they agreed that the challenge lay in sharing those traits in a way that explains how they work together, how they are used, and, more importantly, how to help people interested in moving into IT leadership. The following model describes the many roles an IT leader plays and provides guidance about how to use the model — for individuals, institutions, and teams.
Recurring Themes
A number of issues reappeared time and again during the course of the working group's discussions. Together they paint a picture of the changing environment in which higher education IT leaders find themselves.
The Changing Role of IT
Information technology serves as the foundation for the business of the institution, supports new advances and approaches to teaching and learning, and provides new capabilities in research. IT is so woven into the fabric of the university that its presence is often not fully recognized. Not only do students come to campus with expectations about how the university will support the technology they bring with them and rely on, they also expect higher education to interact with that technology through services and integration in classrooms and beyond.
In this environment, the IT leader can transition from a service role to a strategic role: instead of simply providing technology, the IT leader can help determine future directions and provide understanding on how technology can best support both the business and academic sides of the institution. IT leaders should cultivate a perspective that emphasizes the information rather than the technology part of "information technology." Key to this transformation is a change not only in how IT leaders see themselves but also in how others regard them and in the expectations placed on the IT leader. In today's world, an IT leader must build relationships and collaborate across the institution to create a work environment that values IT employees and their role in helping the university achieve its goals.
The Fragmenting CIO Position
The shifting technology landscape has created a plethora of job titles for essentially the same role. For example, job titles such as CIO, chief technology officer, chief digital officer, IT director, and head of IT are increasingly common and often used interchangeably. To avoid confusion, this report uses the term "IT leader" to refer to the highest-ranking position that deals with IT in an organization. Whatever the job title, IT leaders often must respond to strategies created by others, and in such circumstances it is much harder for IT to reach its full potential. When IT leaders are not included in strategic discussions, the institution misses an opportunity to benefit from the knowledge of the role technology can play.
The Perception of IT in Higher Education
As IT has become an essential, expected element of the university, it risks being perceived purely as an operational unit. This perception — often shaped by IT's role in the development, provision, and support of hardware and software — can erect a significant barrier to the IT leader's moving toward a role as a strategic partner. The way the IT leader is perceived and the role the leader plays fall on a continuum, of course, and your position along this scale will vary depending on your institution's development and needs. Nevertheless, underlying technological shifts in personal, professional, and academic life provide a variety of opportunities for IT leaders to reshape the image of IT and their own role within the institution. Some advice:
Campaign for a seat at the top table: Clearly demonstrate how IT touches and provides value to many aspects of the institution. Executive peers often have an incomplete understanding of IT and technological issues, and the IT leader needs to paint a compelling picture of the value IT brings.
Speak their language: A perception often exists that IT leaders are technologists only. Don't start by talking about the technology — start by talking about the business value.
Coach executive-level staff: No matter how well they mentor IT staff, if IT leaders aren't coaching non-IT campus leaders, they will face significant barriers to success.
Build credibility: Deliver on the promises you make, and colleagues will trust you. Talk the talk and walk the walk.

Thad Lurie, COO, EDUCAUSE
"I'd always had an inkling that CIOs understand the organization's business from a holistic point of view. I was given a chance to put that to the test through the process of becoming a CAE [Certified Association Executive]. I attended a three-day "boot camp" program, during which we spent time covering and discussing each of the 14 domains of expertise that would be required to pass the exam. The program was attended by many other types of executives, representing membership services, conferences, policy — all across the board. The interesting part was seeing exactly how the knowledge of a technology executive translated; we deal with almost all aspects of the business on a daily basis and cannot afford to limit our vision to a single silo. Many executives from other domains had deep expertise in one or two areas but surprisingly limited facility in a number of other topics. I finished the program feeling confident of two things: successful technology executives understand the business, and understanding the business is necessary to being a successful technology executive."
Transitioning from an Operational to a Strategic Focus
As IT leaders move into higher levels of the organization, one of the most significant new challenges is that they spend less time on purely operational matters and more time working on strategic activities. It is important to prepare potential IT leaders to make the leap from managing the day-to-day running of IT services to managing strategic relationships. In the change from being a manager to becoming an IT leader, the focus shifts to showing relevance, building relationships, asking pertinent questions, and bridging the conversation to how technology can play a role in addressing institutional issues. This move away from operational duties, however, is situational. In smaller organizations, IT leaders will be more closely involved in operational aspects; in larger organizations, they may not deal with any operational details. It depends on the context of the organization.
The Importance of a Technical Background
The working group was divided on the importance of an IT leader's having a technical background. Proponents argued that it's difficult to lead IT if you don't understand what IT does and how it can benefit the organization. IT leaders without a technology background may find it challenging to assess and evaluate complex technology issues. IT leaders must understand the business of higher education, both academically and administratively, but they also need to understand the technology. The buck always stops with the IT leader on technology decisions.
The counterargument was that IT is so broad and diverse that it isn't possible to understand all of it in detail. No one can master all the technical issues, so the priority for IT leaders is to develop a strong team with the necessary technical competencies. Because of the trend toward obtaining services from external sources (e.g., cloud providers), today's IT leader often focuses on the interplay of people, processes, and technologies. The value for the IT leader is to understand IT's strategic potential, build an effective team of specialists, and know how to get the best out of that team. A nontechnical background can often better prepare individuals to be IT leaders because the role now is more about relationships, planning, and budgeting than the technology. Individuals with a business-oriented background tend to find leadership and communication skills easier to grasp than their more technical peers.
Overall, the group agreed that the most important characteristics for an IT leader are an appreciation of technology's value, the ability to ask the right questions, an understanding of how IT can provide a strategic advantage, and the ability to listen and to understand what is heard.

Paul Saunders, CTO, University of Dundee
"I had accepted a promotion within my organization and was moving to our Corporate IT Shared Services group. I was moving from being a big fish in a small pond to a somewhat bigger fish in a really big pond. The stakes were higher, the scope was much larger, and the level of politics was frightening. The president of the division that I was moving from took me out to dinner for some guidance before I left.
"'What is the biggest challenge you have ahead of you?' he asked over dinner.
"I thought for a moment and then replied, 'We have some really old SUN equipment that needs to be replaced and….'
"'No, no, no,' he retorted. 'You are thinking like a techie. You are not a techie anymore. How many people are in your new team?'
"'About 30.'
"'You have one job and one job only,' he said, 'and that is to make those 30 people want to do what you need them to do. You can beat people in the short term but it isn't sustainable. You need to inspire them. You need to motivate them. You need to lead them.'"
A Model for IT Leadership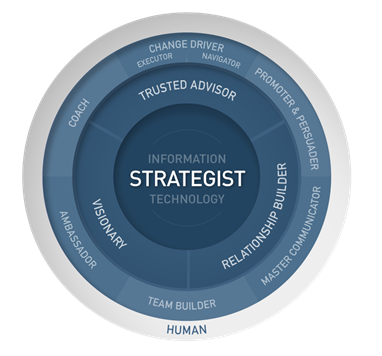 Figure 1. A model for IT leadership
The working group identified 10 key roles for IT leaders. Figure 1 shows the roles and how they interconnect and influence each other.
At the core of the model is the role of the strategist. To be an effective strategist, the IT leader must understand the organization and provide both information systems and technology leadership that bring to life transformation across the organization.
The inner ring represents three primary roles that successful IT leaders assume. These roles are interdependent, take time to develop, and are perhaps the most difficult to achieve.
Trusted advisor
Relationship builder
Visionary
The outer ring identifies six discrete roles that an IT leader will play. Whereas a successful IT leader typically plays the primary roles consistently and simultaneously, the discrete roles might only be needed at specific times. Many of these roles stem from and relate to the primary roles.
Change driver
Promoter and persuader
Master communicator
Team builder
Ambassador
Coach
Finally, on the outside is the anchor role of human. The IT leader should be authentic and accessible and maintain a work/life balance.
Strategist
Because IT leaders manage critical services across the organization, they are in a unique position to reimagine operations, innovate, and influence future developments. As an effective strategist, the IT leader needs a strong understanding of the organization's short- and long-term goals and of how to align IT to overarching institutional objectives. Working strategically can also mean selling an idea to the organization, building momentum and creating an opportunity for pilot programs, or working with colleagues to find budgetary support for an idea. The role of strategist includes three aspects:
Understanding the organization: A strategic understanding of the organizational context (internal and external) informs the IT solutions proposed. The strategist understands the organization's operating model, structure, and power bases and has a "read" on executive-level targets and priorities.
Providing information systems and technology leadership: The IT leader can act as a translator to show how technology creates possibilities and how it can be used to make long-term choices that support institutional strategic objectives.
Bringing transformation to life: IT can effect organizational, widespread change, transforming the way an institution operates.
Trusted Advisor
Trust is a key characteristic of leadership. A trusted advisor establishes credibility by listening, providing feedback, and building a solid track record of following up a vision with effective delivery and execution. An IT leader who builds trust among colleagues builds value for IT and inspires confidence that technology can play a part in driving transformation across the organization. Trust enables an IT leader to provide value to the organization through judgment and wisdom. Becoming a trusted advisor is difficult but essential; it requires character, stature, and time.

Eileen Brandreth, Director of University IT, Cardiff University
"In my early career it was clear to me that my role was to specify and develop technology to 'fix' business problems. I assumed that as I took on management and then leadership roles, the problems would increase in scale and complexity, but that I would be well placed, using my carefully selected teams of IT developers to find innovative technical solutions to match them. It wasn't until some years later while working as a CIO for a very large insurance company, faced with a critical need to reduce their month-end closure period in a complex and outsourced legacy situation, that something very simple but powerful dawned on me. The answer to the problem was not to fix the technology: They simply needed to approach the thinking behind their existing process in a different way. With trepidation I suggested this and was absolutely amazed when, after the board took a few seconds to consider what the woman from IT was saying, they universally embraced the idea and, less than one month later, had achieved the impossible."
Relationship Builder
In conjunction with the trusted advisor role, a large part of an IT leader's job is building relationships. Any executive-level position will be political, and fostering key relationships and developing personal contacts is crucial for success. The IT leader needs to work with a wide range of stakeholders, both within and outside the institution, and building relationships is essential for current projects and long-term influence.
Visionary
The visionary is a thought leader for the institution and a catalyst for innovation. In this role, IT leaders scan the horizon for emerging trends and themes and use their perceptiveness and good judgment to identify priorities and develop new ideas. IT leaders create a clear vision by combining knowledge of current and future technology solutions with an understanding of the business and academic dimensions of the institution. They have a clear vision of how to steer the ship and stay the course in the long term.

Mark Askren, CIO, University of Nebraska–Lincoln
"Our institution has very publicly stated that we will move from 'good' to 'great.' IT has to be able to deliver targeted innovation that allows us to scale up because our IT resources in some areas are barely 'good' compared to those of many peers. Developing a vision that we will be an active part of the larger community within collaboration organizations such as EDUCAUSE and Internet2 was a first step. In order to be at those tables, we needed to move past our culture of heads-down self-reliance and accept that we will be more successful if we partner with organizations that are more successful than we've been to this point.
"Collaboration and the increased use of cloud and other third-party services come with a price: decreased local control. But controlling local commodity services that don't provide strategic differentiation is not where we need to spend our time and energy. So we are several years into a strategy where we focus on best practices and look to scale up and drive costs out of core commodity IT services. Reallocating resources from 'run' to 'grow' and 'transform' is our only solution in the near- to midterm. This type of broader collaboration with extended horizons is straightforward but not easy. We are making progress, but it requires constant communication and reinforcement so that we don't slip back into our old ways."
Change Driver
As a change driver, the IT leader overcomes barriers using courage and resilience to deliver the desired organizational transformation. The two aspects of change driver are navigator and executor. The navigator builds trust and credibility by navigating people, process, and technology through the transformation. The executor sees the change through, providing guidance and encouragement to colleagues at every stage until all stakeholders are satisfied and the project is delivered. This can be particularly valuable at the end stages of a project when IT staff might have doubts about the value of the project. This is where executors play a crucial role, helping people at all levels and providing additional navigation to gain full acceptance.

Joanne M. Kossuth, Vice President for Operations and CIO, Franklin W. Olin College of Engineering
"I was assigned additional operational duties at my organization, as I had been there through its start-up. In the course of reviewing the actual work that now had to be completed and the resources to complete the work, it became clear that reorganization was needed to meet the current requirements of the institution. Working with human resources, we planned and executed staff moves and provided IT packages to the staff. The staff, in general, responded very professionally. The challenge was in allowing the entire community to move forward after the events. I never truly understood 'open door' until that time. Despite planned meetings with departments to explain the moves and to calm concerns regarding future moves, the community still wanted more. I ended up having an open door for two months to meet with anyone who wanted to talk. This may seem like a long time, but, in the end, anyone who had something to say was heard and had an opportunity to come to individual terms with the reorganization. The change was not easy, and communication was key."
Promoter and Persuader
Once an idea is formed, the IT leader works to influence a wide variety of stakeholders and convince them that the solution, process, or technology is correct. By winning over stakeholders and gaining their support at the outset, the IT leader removes barriers to success and enables the IT team to deliver the solution. The IT leader employs different methods to successfully promote an idea to stakeholders: The process of persuasion takes time and involves playing the long game, whereas the process of promotion can be more immediate and appeals to hearts and minds.

Tom Andriola, Vice President and CIO, University of California
"After a series of acquisitions, we had a lot of duplication and redundancy in our organization, both functional and IT. The board was very disappointed in our senior management for not pushing harder to achieve the synergies that were promised in the case to make the acquisitions. With that organizational sense of urgency, I seized the opportunity to propose the program I knew we needed to run to eliminate the duplication, bring the organization to standardize on common processes, and achieve the cost savings we needed to remain competitive. The proposal itself was pretty straightforward, as I had been a part of similar initiatives with other organizations. However, now as a senior executive, I needed to be the one selling the idea, using my credibility to create the faith that we could execute such a complex initiative and influencing multiple executive levels to support it. This was not done overnight and certainly required every ounce of not only my will but also my political skills to bring this initiative into enough of a consensus that we could get things moving."
Master Communicator
IT leaders must be able to translate the benefits of an IT solution, process, or technology for a nontechnical audience and adapt messages accordingly. As a translator, the IT leader communicates not only about the technology but about its value. As a master communicator, the IT leader must tell a story, share a vision, and influence and persuade stakeholders. IT leaders should encourage positive communication for the IT department's work by managing their portfolio of projects and sharing it to remind constituents of IT's value.
Team Builder
Achieving results requires a high-performing team and strong coalitions across the institution. As a team builder, the IT leader inspires people from across the organization to work together toward a common goal. This role is built on the tenet that working together produces more and better results than working individually. As such, the team builder works to support what is best for the organization as a whole, which might not always be best for the IT department or popular with the IT team. Through building coalitions outside IT, the team builder also acts as a connector, bringing together academic and service colleagues with related needs to find shared solutions and economies of scale.

Kathy Gates, CIO, University of Mississippi
"An early experience in this area came many years ago when I was the student color-guard captain for the marching band at Louisiana State University. I quickly realized that this role was not about my individual performance but rather about getting group members to aspire to excellence and to, quite literally, move together. The principles are the same in IT organizations.
"Technology today is far too complicated for one person to know it all. We must establish high-performing teams where technical employees are trusted and valued. Some of my most ingrained beliefs about being a good leader have come from being in subordinate positions where I experienced frustration with the leadership style. Lessons learned in the trenches include giving credit where credit is due, freely sharing information that is needed to perform one's job, creating a collaborative decision-making process, and being fair. The most powerful lessons have come from working with and for a handful of professionals who were truly extraordinary in terms of their vision and intelligence, as well as their ability to inspire confidence. They never wore their credentials on their sleeves but rather were humble and always had a good sense of humor, making the workplace fun. They knew how to build great teams and empower people to do their jobs, which is critical for a successful CIO."
Ambassador
As an ambassador, the IT leader promotes a positive image of IT across the organization and facilitates mutual understanding between IT and the business and academic dimensions of the institution. The ambassador is aware of political sensitivities and maintains a broad and even-handed view. By developing and maintaining relationships, the ambassador forms alliances within the organization to support decisions. Ambassadors also represent IT staff and the IT profession overall, acting as advocates for technical employees, making sure reward structures are competitive, and drawing attention to results to ensure that IT staff are valued by the organization.
Coach
The IT leader coaches other leaders, stakeholders, and IT teams so that everyone is aware of the benefits of technology and is prepared to exploit that potential for the benefit of the organization. Coaches use their expertise to facilitate the actions of others. A coach doesn't just give advice or even serve to educate or influence, but brings out existing creative thinking and courage to act. As such, the coach also identifies opportunities for the person or team being coached to step into a situation to reach a stretch goal and widen their network. In addition, a coach helps enable self-reflection in a nonjudgmental way.

Nigel Cunningham, Deputy Director of Finance and Information Services, University of Ulster
"I always try to understand the organizational rather than technical problems in the university. Doing so requires existing knowledge of the business and comes through contacts and relationships with individuals and groups who have direct insight into particular areas of concern inside and outside the university. My aim is to understand the origin, dynamics, and possible resolution of problems as fully as possible. At senior levels, I find that issues are often complex and interrelated. I use strategies and approaches to encapsulate these problems in a holistic way. Some of these I picked up through formal courses, while others come through experience. Through formal and informal contacts I acquire an appreciation of the views of the key stakeholders concerning the problem(s) and how best to go about resolving them through the application of IT. Many issues may not be amenable to a technical solution, and I often must warn against inappropriate use of technology — the 'silver-bullet mentality.' The transfer of IT knowledge to the senior management team requires me to coach them through the information systems strategy process. Some senior executives are still uncomfortable with the digital era."
Using the Model
Individuals, teams, and institutions can use this model to assess their own capabilities, identify new talent, and chart a path for the future. The model can be used for professional development, assessment, planning, and more.
Individuals
Consider rating yourself on the model's various elements. What experiences or examples demonstrate your competence in a particular area? What new opportunities would help you grow in specific areas? Both aspiring and current IT leaders can use the model to assess their own skills profile, identify gaps for development, and ensure they get the breadth of experience to help them make the step up. The model can serve as a reference guide in one-to-one coaching, and IT leaders can use it as a roadmap to the roles and skills that may be necessary for specific projects.
Teams
It may not be possible for any one individual to possess every skill represented in the model; however, are the critical competencies present among your team members? The model might be used as a skills-assessment tool across a team or department, or to help create a team profile, identifying strengths and weaknesses of the institution's IT service.

Chris Wanley, CIO, Aston University
"The model brings together all the different strands of IT that need to be in place for IT to align with the organization's strategy and meet its needs. Early in my career I saw a number of projects that were unsuccessful because business requirements were agreed before involving IT, and different parts of IT and its suppliers weren't aligned and working together. I remember trying to change this and asked those questions, and I was fortunate to have a director who encouraged those questions and who led a discussion on this at the steering board. At the time it was scary, but with this model, those earlier failures could have been avoided."
Institutions
At the institutional level, the model can be used as a tool to help IT leaders coach institutional leadership on using IT or as an aid to spot and bring on new talent. It can serve as a reference guide to create job descriptions for IT leadership positions, and it can contribute to a fuller understanding of the role IT and the IT leader can play in helping an institution achieve its strategic objectives. Finally, the model can act as a tool for curriculum design when creating academic programs for future IT leaders.
Building the Profession
One of the working group's top concerns was to provide guidance for those interested in moving into an IT leadership position. People often don't have a clear idea of the skill sets they already have or the ones they may need in the future. There are no right or easy paths, and the road to leadership may not be a direct one. If, after reading about the various roles an IT leader plays, you remain (or are newly) interested in pursuing this position, the recommendations below outline some key steps.

Aline Hayes, Director of ICT, Sheffield City Council
"I'd been a middle manager for a few years, and there was a reorganization that resulted in a promotion and much wider scope of work. I was now a senior manager and in a role that hadn't existed before. There was no map or guide to tell me how to do this, and my line manager had his own very significant responsibilities. I found that there was massive lack of clarity in almost everything. All our processes needed some kind of overhaul, and we were doing some things for the first time. The amount of ambiguity and uncertainty were massive.
"At my six-month review I reflected on this and described it as like being set adrift in a large body of water (I can't swim). I had to learn to trust the water's buoyancy not to let me down and to act despite some initial trepidation. In time I came to see the ambiguity as a positive, in terms of enabling a space for creativity. If there was no map, I could draw my own!
"Making the step up still seems to be one of the biggest challenges for staff, and it isn't something they can read up on or attend a lecture about — they have to experience it. Some never get past the fear, and it paralyzes them. The ambiguity only increases the higher you go, so it can't be avoided."
Understand the Position
It might be difficult to fully understand what the IT leader does unless you occupy that role. By working to understand the position, you can better determine whether you are ready to take that leap. Remember that the institutional context and leadership profile for each institution are significant factors — an institution with limited IT staff and budget might need a leader focused on building teams and understanding technology, while an institution with a large IT department will perhaps need a leader with a stronger strategic focus. Needs change over time — someone who might fail at one institution could be a huge success in another because she brings what is needed at the right time. Most importantly, becoming an IT leader is not something to rush. Let yourself come to this role when you've reached the maturity, confidence, and qualifications needed.
Understand the Barriers
Barriers can be personal or professional. Barriers such as limited vertical growth in one's current position can be remedied by looking at lateral moves or positions outside your immediate domain to build needed skills, relationships, and insights. You might need to move to a different institution to develop your career — a decision that not everyone is willing to make. Know your own interests and limitations; for instance, if you are interested primarily in the technical aspects of the job, don't pursue a leadership position focused on strategy. Barriers can be overcome, but without taking a close look at what barriers might stand in your way, you won't know how to do so.
Build a Career Strategy
Both current and aspiring IT leaders often lack a career development strategy that can support their aspirations. You must make your own path, and it's important to remember that you can't do it all at once. IT leaders — even seasoned leaders — will need to develop many (if not all) traits and skills throughout their careers. The right tools will vary based on what needs to be developed and the stage in one's career. Although training can play a role, perhaps the most effective way to build many of these capabilities is through mentoring. In some cases, mentoring relationships last many years, but most people have multiple mentors who serve different purposes at different points in their career.
Conclusion
Two major changes have helped in defining the strategic IT leader of today and tomorrow. The first is specific to higher education: There has been an evolution in the business of higher education, with institutions needing to adopt new models to stay competitive and focus on outcomes, cost-effectiveness, and responsiveness. The second has been experienced at all levels in society: the pervasive nature and rapid development of technology. Within a higher education context, technology's expanded presence impacts all areas of an institution. The IT leader occupies a unique position at the center of massive change, making this role both a challenging one and one that will continue to evolve in the coming years. The profession must be ready for both the changes and the opportunities.
Perhaps the greatest opportunity is for the IT leader to demonstrate the value of technology. Technology advances the institutional mission and the business of higher education. Regardless of the size or maturity of your IT organization, we think the concepts discussed here will be relevant and useful. As your IT organization moves to become a significant campus player, understanding the role of the IT leader will increase your institutional impact and enable your organization to truly lead.