A new MOOC initiative from the University of Wisconsin–Madison ties the topics to communities in the state of Wisconsin and gives residents an opportunity to meet in person.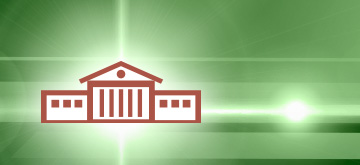 Sarah C. Mangelsdorf, Provost and Vice Chancellor for Academic Affairs; Jeffrey S. Russell, Vice Provost for Lifelong Learning and Dean, Division of Continuing Studies; Linda A. Jorn, Associate Vice Provost of Learning Technologies and Division of Information Technology (DoIT) Director of Academic Technology; and Joshua H. Morrill, Evaluator, University of Wisconsin–Madison.
Imagine a massive open online course (MOOC) that doesn't feel so massive; one that's intimately tied to a region, with opportunities for meaningful face-to-face encounters in community settings. The University of Wisconsin–Madison will offer six such courses in its latest round of massive open online courses for 2015–16. One course will invite those interested in climate change to attend discussions throughout Wisconsin, thanks to partnerships with 21 public libraries. Another course, focused on hunting and conservation, features an event with hunters and chefs in the southern Wisconsin city of Baraboo.
UW–Madison began its experiment with massive open online courses in 2013. Hosted on Coursera, the four courses in our first phase reached about 135,000 learners from 141 countries and all 50 states.1 Despite reservations about MOOCs in academic circles,2 university leaders believe these courses have a part to play in our future, tying them to a larger push for institutional change called Educational Innovation: an attempt to prepare students and communities for the 21st century. In launching a second phase of MOOCs, we're thinking more carefully about our audiences so we can use the platform to engage with people in both Wisconsin and the world.
Our phase-one MOOCs focused on topics of general interest, such as human evolution and financial markets. For phase two, however, the topics are more strongly associated with the state of Wisconsin. Five of the six new MOOCs have an environmental theme, acknowledging that Wisconsin—home of "A Sand County Almanac" author Aldo Leopold and Earth Day founder Gaylord Nelson—is a cradle of the conservation movement.3 Continuing this legacy, our faculty and staff will offer courses on such topics as Leopold's Land Ethic and changing climate in the Great Lakes region.
Through MOOCs, we will invite citizens from around the globe to engage in discussions on some of the most important issues of our time. But even more important, we will extend this invitation to people in Baraboo, for example (see below), along with other state residents. In this way, we can offer a UW–Madison experience to Wisconsin citizens who might not otherwise feel connected to the university.
Knowing Our Audience
UW–Madison's phase-one MOOCs gave faculty members a chance to explore new ways of teaching, research, and outreach, supported by a project team that could provide strategic planning, online course development, and evaluation. This initial offering consisted of four courses: "Video Games and Learning," "Markets with Frictions," "Human Evolution: Past and Future," and "Globalizing Higher Education and Research for the 'Knowledge Economy.'"
The MOOCs were faculty-centered, following a traditional classroom model. Instructors shared their expertise with an audience of learners—albeit widely scattered learners who, rather than raising their hands in a classroom, watched instructional videos, engaged in activities relevant to their day-to-day lives, and typed their questions in discussion forums.
We approached phase one as an experiment in which we could learn by doing. We hoped to:
Develop standards for a quality MOOC
Document the needs of faculty, learners, and support staff
Evaluate the learning-platform requirements
The experiment succeeded from the institution's standpoint. We learned how to design MOOCs and serve a more diverse audience. The participating faculty explored new ways of teaching and expressed satisfaction with the results.
More significantly, we learned about the people who signed up for our MOOCS. We conducted a pre-MOOC survey, a mid-MOOC survey, and a post-MOOC survey that collected perceptual, attitudinal, and demographic information. The surveys [https://apir.wisc.edu/collaborations.htm] showed that phase-one MOOC participants fell into three overlapping motivational segments.
General interest: people who wanted to find out what a MOOC was like, were interested in a topic, and sought a connection with like-minded participants.
Career: people who wanted to prepare for a job or enhance existing job skills.
Educational: students and teachers who were interested in a MOOC's content for their own research and classes.
Participants could have multiple motivations (see table 1). Nearly all participants fell into the General Interest category, but the Career and Educational categories were more mutually exclusive.
Table 1. UW–Madison MOOCs: Frequency Breakdown of Motivational Segments
| Course | General Interest | Career | Educational |
| --- | --- | --- | --- |
| Videogames and Learning | 801 | 411 | 169 |
| Markets with Friction | 353 | 142 | 187 |
| Human Evolution | 1,998 | 136 | 531 |
| Globalizing Higher Education | 330 | 93 | 269 |
| Total | 3,482 | 782 | 1,156 |
After evaluating the data, we drew these conclusions:
Who Signs Up? We learned what kinds of participants we can attract with little more than the promotion provided by Coursera. They are the highly educated, older people who are strongly represented in MOOCs nationwide.4 The average age was 34, and 74 percent had at least a bachelor's degree.
Who Didn't Show Up? Wisconsin residents accounted for only 1.2 percent of participants, and Wisconsin was ninth in the ranking of MOOC participants by state. For an institution that prides itself on connecting with people in the state, these figures seemed low.
What Is the Ideal Length for a Course? For all but one of the MOOCs, more than half of survey respondents expressed an interest in a shorter course. Data indicate an uptick in dropouts at weeks four and five.
What Makes a Course Meaningful? Surveys suggested that participants got more out of a MOOC if it tied in with a local or individual concern. In "Human Evolution: Past and Future," for example, students liked the fact that Professor John Hawks had them measure their own feet, along with taking impressions of their own teeth with a mouthful of gum—a way to personally involve them in discussions of evolution.
What Is the Best Predictor of Behavior? Individual motivations for taking a MOOC predicted everything from whether participants stayed with a course to whether they would pay for one. In "Video Games and Learning," career-focused participants were more likely to drop out; they were also more likely to express a desire for interaction with students and instructors. In "Human Evolution: Past and Future," the general-interest participants were less likely to want to take the course for credit.
These lessons from the phase-one MOOCs shaped our approach to phase two. The six new courses will:
Be no longer than four weeks
Get a stronger promotional push from UW–Madison
Reach out to Wisconsin citizens and communities
Take into account the varying motivations for participating in a MOOC
We determined that the best way to handle these varying motivations is for faculty to identify the audience for a MOOC right from the start. Rather than teaching to a vaguely defined group of global learners, they designed their courses for a more well-defined group that would be highly likely to benefit from it.
To address the relatively low interest in UW–Madison MOOCs among Wisconsin residents, we decided to focus phase two on the state we serve as a land-grant university. While keeping the courses accessible to 100,000-plus people around the world, we also seek to intensely engage with 5,000-plus people in Wisconsin.
A Community of Learners
Our phase-two MOOCs are less about courses than about community. The idea is to create learning experiences around Wisconsin—experiences that may occur outside the online space.5
Aldo Leopold
Most of these new MOOCs reflect Wisconsin's ongoing dedication to sustainability.6 For example, "The Land Ethic Reclaimed: Perceptive Hunting, Aldo Leopold, and Conservation" explores the history of wildlife management, an approach to conservation Leopold pioneered as a UW–Madison professor in the 1930s. "Changing Weather and Climate in the Great Lakes Region" will use data from the Wisconsin Initiative on Climate Change Impacts to demonstrate how climate change affects our part of the country. "Forests and Humans" emphasizes the importance of the world's forest biomes, making connections between the Midwest and such far-flung places as Madagascar and Quito.
To complement the online learning community, the university hopes to build "physical learning communities" around these courses, aimed at specific audiences. To do so, we are pursuing partnerships with statewide institutions to plan events related to the topics. "Shakespeare in Community" will connect learners with the Shakespearean troupe American Players Theatre in the southwestern Wisconsin town of Spring Green. For "Changing Weather and Climate in the Great Lakes Region," local community members will facilitate meetings at Wisconsin libraries, with help from the library association WiLS.
Course explanation for "The Land Ethic Reclaimed"
In conjunction with "The Land Ethic Reclaimed," a two-day Baraboo event that brings together hunters and chefs is co-sponsored by the Wisconsin Department of Natural Resources and the Aldo Leopold Foundation, a state conservation group. It features a hunt that pairs beginners with experienced hunters; workshops on using retriever dogs and learning outdoor survival skills; a demonstration of safe butchering; and a feast of venison and pheasant prepared by chefs. An independent bookstore will be on hand to sell cookbooks on locally sourced dishes, and several activities will be designed for families. UW–Madison faculty will also speak, placing the event in the context of conservation.
John Motoviloff, who works in the Hunter Recruitment and Retention Program at the Wisconsin Department of Natural Resources, will lead both the pheasant hunt and a wild-foods cooking seminar at the Baraboo event. He observed:
"Folks attending the event will likely be what we call in hunter recruitment and retention circles 'adult onset hunters.' These folks probably did not grow up with hunting as part of their family tradition, but they've found themselves drawn to it through their concern for sustainable food harvest. They are reinventing Aldo Leopold's Land Ethic and helping to reinvigorate the hunting community. If you had to pick one figure in Wisconsin who brings together these twin passions—profound concern for the environment and a love of hunting and wild things—Leopold is it. He is a bridge builder between public and private conservation worlds, between hunters and environmentalists. That the MOOC event takes place against the backdrop of the Leopold Farm and Shack in Baraboo—with the Leopold Foundation as a partner—is just perfect."
Stef Morrill, director of WiLS, appreciates the chance to bring relevant programming to statewide libraries via "Changing Weather and Climate in the Great Lakes Region":
"By not only focusing on information about climate change, but also by applying it to local concerns and providing ideas for personal action, this MOOC will give residents in the state and beyond the opportunity to have a better understanding of the topic and how they can personally effect change. The discussion sessions at the public libraries give another layer of personalization to this MOOC. Participants will be able to discuss this important topic with others in their community, identifying actions that can be taken by individuals and organizations in the community."
Cultivating Relationships
Course explanation for "Changing Weather and Climate"
Other universities have had success with meet-ups connected to their MOOCs, such as the University of Pennsylvania and its popular "Modern & Contemporary American Poetry."7 The new part of UW–Madison's approach, however, is combining MOOCs with this kind of targeted statewide engagement.
Though the six MOOCs in phase two are all designed and scheduled, the related events have yet to take shape for the last four courses. We're planning them as we go, based on the target audiences defined by the faculty and our outreach team. Once we have a bead on the audience, we will work to find the best external and campus partners for the events. By leveraging the expertise of these partners, we'll learn what types of activities will best appeal to a given community in the state.
Creating face-to-face experiences around MOOCs involves cultivating relationships—in other words, going out to find an audience instead of waiting for an audience to come to us. Given that we've redefined our primary audience as state residents, we've taken more ownership of the marketing in phase two, rather than ceding it to Coursera. That meant building our own MOOCs website[http://moocs.wisc.edu/contact-us/] to help connect Wisconsinites with our courses. The website makes it clearer that these courses originate at UW-Madison rather than at a globally oriented educational technology company. Indeed, for phase one, surveys showed that nearly 50 percent of participants attributed the MOOCs in whole or in part to Coursera.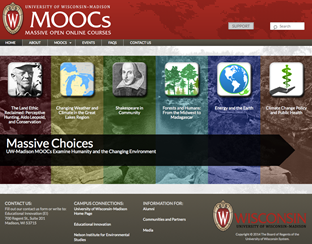 Where does this regional focus leave our worldwide audience? There are many interesting possibilities for bringing them into the conversation. As Howard Rheingold points out, "Millions of people on every continent…participate in the computer-mediated social groups known as virtual communities, and this population is growing fast."8 In the communities that form around our MOOCs, perhaps participants from Spain will make a virtual appearance during a meeting on climate change in the northern Wisconsin city of Rhinelander. Perhaps they will plan their own meeting at a Spanish library and invite MOOC participants from Rhinelander to make a virtual appearance there. Through technology, we can help bring Wisconsin into the global village, showcasing what our state has to offer the world.
An Updated "Wisconsin Idea"
The notion of extending UW–Madison's educational mission beyond campus borders is nothing new. For over a hundred years, we've called it the Wisconsin Idea: connecting the work done at the university to people all around the state.9 The phase-two MOOCs are simply the latest iteration of the Wisconsin Idea, appealing to resident hunters, theater fans, and foodies, among other lifelong learners. Along with engaging a global audience, the MOOCs will ideally inform decision making at the local level and give people around the state a sense of ownership in the university. The message is that the university is here to engage with communities, facilitate a discussion of their concerns, and serve as an economic engine for Wisconsin.
As for the MOOCs' value to the university, it all comes back to Educational Innovation. In the 2013 article "Sustaining Strategic Transitions in Higher Education,"10 UW–Madison's interim chancellor, David Ward, predicted that only about a third of all students will complete a continuously enrolled, four-year residential college experience over the next decade. For the rest, such an experience will be "inconvenient, inaccessible, or ineffective for their learning capacities."
David Ward discussing Educational Innovation
The solution, Ward argued, is to offer a broad menu of learning options, with an emphasis on customization. In other words, to respond to irreversible changes in higher education, we need to know our learners—to focus more on what they want out of a course than what faculty choose to provide for them. It's no longer enough for instructors to stand in front of a class, lecture, and dispense grades and credentials. Students have to be part of the process, helping to craft their own educational experience. UW–Madison's MOOCs will offer that opportunity.
If MOOC participants find value in this experience and follow up by enrolling in our certificate programs, credit programs, seminars, or webinars, so much the better for sustaining our efforts at innovation. MOOCs will allow people to "try before they buy," serving as a gateway to our campus. Other higher-education institutions have experimented with this approach, such as the Berklee College of Music11 and the University of Cincinnati.12 Like them, we feel that such outreach is well worth the time and resources we've put into it.
New Approaches to Assessment
To concretely demonstrate the MOOCs' value, we're again emphasizing evaluation in phase two. Our research questions include:
Did we attract more Wisconsin residents this time?
Did we change the profile of a typical MOOC user from phase one?
Did people who signed up for MOOCs attend events, and vice versa?
To answer the questions, we will take these new approaches to assessment:
Because we are doing more MOOCs in phase two, we've switched from surveying participants three times to a longer survey at the end of a course.
Many of the questions about motivation will remain the same, but we will include more demographic questions to determine if we attracted the intended audience for each course.
We will collect short information cards and surveys at events to see who is attending, and to see if the events are working separately from, or in conjunction with, the MOOCs.
We will collect analytic information from the new centralized website.
These assessments will lead us—where else?—into phase three, perhaps involving new communities around the themes of health and wellness. It's likely that the MOOCs of phase three will shift even farther from a course-based approach to apply the lessons we've learned about designing learner-centered, community focused, and globally engaged learning experiences, blending the best of physical and virtual environments.
Will our current round of MOOCs point the way forward? We'll know a lot more after we evaluate that meet-up of hunters and chefs in Baraboo.
Acknowledgments
University of Wisconsin–Madison MOOCs are a campus-wide effort. The authors wish to thank the MOOC faculty and course design team members, consisting of instructional designers, librarians, data custodians, evaluators, and communication experts. We also want to thank our campus Educational Innovation co-leads, advisory board, and point people, who offered wise advice along the way. And special thanks to Lika Balenovich, Ron Cramer, Michael Fay, Greg Konop, Dean Robbins, and Mary Thompson for their assistance with this article.
Notes
John Allen, "The ABCs of MOOCs," OnWisconsin Magazine, summer 2013
Jonathan Rees, "The MOOC Racket," Slate, July 25, 2013.
Wisconsin Historical Society web page, "The Modern Environmental Movement."
Gayle Christensen, Andrew Steinmetz, Brandon Alcorn, Amy Bennett, Deirdre Woods, and Ezekiel J. Emanuel, "The MOOC Phenomenon: Who Takes Massive Open Online Courses and Why?," Social Science Research Network, November 6, 2013.
Carl Straumsheim, "All Things in Modulation," Inside Higher Ed, August 7, 2014.
Lika Balenovich, "New MOOCs to Focus on Environmental and Community Themes," University of Wisconsin-Madison news release, July 1, 2014.
Kristina A. Bicher, "The Web Poet's Society," The Atlantic, January 7, 2015.
Howard Rheingold, The Virtual Community: Homesteading on the Electronic Frontier, The MIT Press, Cambridge, Mass., 2000.
Jack Stark, "The Wisconsin Idea: The University's Service to the State," Wisconsin Blue Book, 1995-96.
David Ward, "Sustaining Strategic Transitions in Higher Education," Educause Review, August 5, 2013.
Debbie Cavalier, "Exploring the Advantages of the MOOC Model," The Evolllution.
David Blake, "University of Cincinnati MOOC Students to Get Free Master's Credits," MOOCS.com, October 8, 2014 [http://moocs.com/index.php/university-of-cincinnati-mooc-students-to-get-free-masters-credits].