Key Takeaways
FLEXspace is a large-scale community solution to capture detailed information, images, and video of learning environment exemplars.
The ELI Seeking Evidence of Impact principles encouraged further development of FLEXspace.
Discussions are underway on how to leverage and combine the Learning Space Rating System and FLEXspace.
Lisa Stephens, Senior Strategist, SUNY Academic Innovation, University at Buffalo–SUNY
Organizing your thinking when beginning a major classroom project, whether renovating or building from scratch, can be a daunting task. Like most construction projects, a wealth of considerations and details need to be taken into account, disagreements settled, and coordination established. Typically these are high-stakes projects, with substantial resources in play and much visibility. Beyond the construction project lurks the challenge of managing the institution's classroom "fleet," ensuring that they contribute to academic strategic directions and aspirations.
Over the past year, a pair of resources have become available for classroom management: the Learning Space Rating System and the FLEXspace project. In two closely related articles you'll learn about these resources, appreciate their complementary fit, and understand how they might assist you in working with classrooms on your campus.
Importance of Learning Environments
Learning environments carve out "space and place" to inspire learning and creativity. They provide opportunities to grow, connect, and exchange ideas — increasingly through digital "face time" and captured content in support of hybrid and blended learning. Learning environments also garner attention from parents, students, faculty, and alumni as signature elements that showcase and extend a campus's identity.
Classrooms are growing both in technical and functional complexity. Even as budgets to meet a range of pedagogical practices get squeezed and lose flexibility, something as simple as furniture on wheels influences student group sizes (which in turn has impact on how registrars seat classes); mobile devices connect students with content and classmates around the globe (challenging network capacity and device interoperability); and faculty are rapidly adapting curricula to include more problem-based active learning (which influences the teaching and learning center's professional development planning).
Facilities that contain wet labs or other specialized features might be constrained by plumbing and electrical layouts, but significant amounts of technology can be integrated to support access to digital learning resources. It would be unnecessary and cost-prohibitive to renovate every classroom on campus on a regular cycle, so how do campus administrators, faculty, and staff "right-size" and balance opportunity cost with a minimum of stakeholder friction when planning classroom renovations and building new spaces?1
Serving on capital facilities planning projects can be challenging. It's difficult to balance, reconcile, and find compromise when stakeholders view what's important through the lens of their own experience. For example, meeting building codes, selecting quality materials that will stand up to the rigors of student use, and including "cool" architectural elements is of keen interest to facilities planners and architects. Meanwhile, evaluating the benefits of standardized classroom technologies against emerging opportunities and their impact on a campus network is a technology integration challenge. And of course everyone wants to respond to complex faculty needs that vary depending on discipline and teaching style. So whether part of the pre-design, construction drawing, or pre-occupancy stage, problems arise when needs exceed budgets. Even worse is when a budget is reduced after the project has begun; in this case advance planning and stakeholder engagement can make the difference between sufficient compromise versus a disastrous project outcome that results in lingering bitterness.
Why a Collection of Learning Environments?
Gaining a common understanding of these stakeholder perspectives was the driving force behind a SUNY-led proof-of-concept project that evolved into the Flexible Learning Environments eXchange — FLEXspace. After exploring multiple solutions, it became clear that a centralized, media-rich database would be required to meet the needs of all the stakeholder groups engaged in the development effort.
The earliest consensus was that the collection must be archived on a robust, reliable resource insulated from institutional reorganization or alignment. ARTstor fit the requirements, and its history as a service founded in the noncommercial roots of the Carnegie Foundation was a bonus.
FLEXspace has evolved into a large-scale community solution to capture detailed information, images, and video of learning environment exemplars. Over time, as records and information are added to the system, this tool may become a game changer in saving time, money, and effort for each of the three main stakeholder groups FLEXspace was designed to support: architects and facilities planners, technology integrators and instructional support staff, and faculty. As each group contributes and responds through the lens of their collective wisdom, responsibility, and experience, the community value will increase.
Serendipitously, the seeds of FLEXspace were planted at the same time ELI was launching the Seeking Evidence of Impact initiative to facilitate campus conversations among all stakeholders (administrators, faculty, students, professional staff) about the value and return on investment in academic technologies. The advisory team leading the FLEXspace pilot exploration was seeking, in part, methods to quantify and benchmark success stories about innovative learning environments to assist senior leadership in budget planning and streamlining ways different stakeholder groups could monitor developments at peer and aspirant institutions. In addition to showcasing innovation, institutions could potentially find this resource useful during external review/accreditation cycles. The ELI Seeking Evidence of Impact principles discussed at the 2014 EDUCAUSE Annual Conference ultimately served to encourage further development of FLEXspace.
A "listening tour" at several national conferences provided important feedback to guide the growing effort, and the SUNY-led project was rewarded with enthusiastic support from a growing number of organizations, including CCUMC, MERLOT, SCUP, and ELI. ARTstor, the backbone on which the FLEXspace repository was built, continues developing and customizing Shared Shelf to meet the evolving needs of the user community as they are identified. The core team of supporters developed a business plan, and Herman Miller was the first to commit funds to sustain the effort in year one.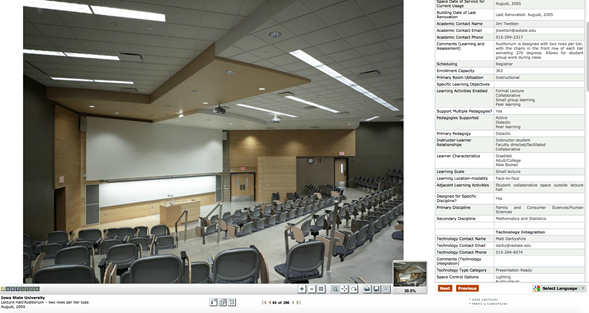 Courtesy Iowa State University
An example record with a high-resolution image that users can zoom to see details and scroll through
classroom attributes to the right
As the pilot project became more widely known, teams of volunteers formed to develop attributes specific to the three main stakeholder groups. They also wanted to determine how to request enough information to make the system highly searchable and useful, without requiring so much information that it became burdensome to community members to upload content.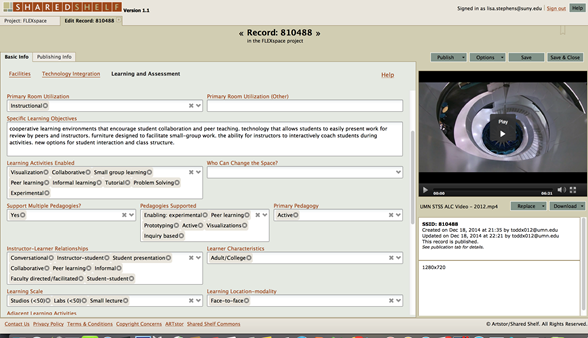 Classroom details described across three taxonomies, here learning and assessment attributes (most
descriptors are quickly selected from pull-down options)
FLEXspace is now entering an adolescent stage with all the attendant growing challenges. The early adopter community is patiently engaging in continuous quality improvement by uploading records and identifying how to make the system better. Institutions are being encouraged to continue populating the system with examples of innovative spaces, while efforts to more tightly integrate FLEXspace with the Learning Space Rating System are underway. The LSRS methodology lends itself to measuring active learning effectiveness, where FLEXspace seeks to align attributes with LSRS while building a comprehensive system to share all types of built learning environment exemplars, along with opportunities to share best practices and "what we should have done instead" stories.
The next phase of development includes how to introduce an element of peer review. As the system matures with additional user feedback, a system will be put in place to frame how spaces will be highlighted and showcased on landing pages. Criteria will likely begin with how complete and accurate a record is, with a crowdsourced element to draw attention to current exemplars in meeting different types of built environment needs.
How FLEXspace Works
FLEXspace.org is the landing site for all information related to the project, including a link to request an account or to login to an existing account. An account request is generally turned around within a day or less. Users receive an e-mail that includes a temporary password and links to brief tutorial videos on how to browse (search) and contribute (upload) content. The video tutorials and a "quick start" guide are also available on the project website.
FLEXspace is functionally divided into two sections: a searchable archive to browse the published collection by field attributes, and a separate section to contribute content by filling in content fields (including open comments) to maximize information about each space record. Many of the data fields have "hover text" that explains the information sought for the field. Once additional community input is received at ELI, a "data dictionary" will be posted on the project website to assist with creating a common understanding of what is sought in the attribute fields. In addition to search terms to identify spaces you might want to view, any term that matches within open-ended comments will also yield results.
Contributors report that it takes about a half-hour to an hour to upload the first complete record, with subsequent records requiring 10–20 minutes each. The primary description fields are automatically carried across the three taxonomy records, saving entry time if a single person is contributing a complete record. Records are currently "open," enabling multiple parties on a campus access to update a single record (as long as they each have a FLEXspace account). The time required to browse records depends on the filter terms and other variables applied in the record searches.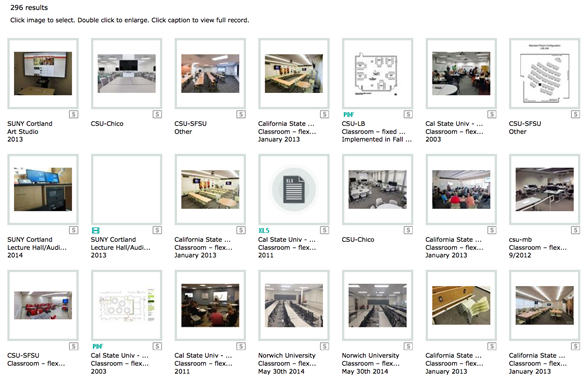 Thumbnail view of spaces with high-resolution photos/video listed by campus, title, and date of last renovation
A Use-Case Scenario
Consider the following: A vice-president calls you into her office and says, "A donor has just committed enough funds to renovate and transform one of our spaces into a state-of-the-art classroom. We have a meeting in two weeks with the donor to plan how to proceed, so I'll need some rough ideas on my desk by next week."
No worries! You log in to FLEXspace and enter "active learning," "conferencing," and "movable furniture" and begin browsing examples of classrooms, perhaps by peer or aspirant institutional type, or by how recently the classroom was constructed. You then decide to expand the search by adding desirable technology attributes and square footage. As portal identifies appropriate spaces, you begin marking and building a personalized collection, which you save and later export to PowerPoint, complete with a list of comments and attribute fields. The entire search is then e-mailed to the dean to foster further discussions — hopefully far ahead of schedule! After questions are raised during the initial meeting, you can return to the collection to pull out more information, or reach out to the person(s) who uploaded records to share more detailed, collegial discussions.2
Sustaining the Effort
The migration from beta testing FLEXspace to production-level servers took place about a year ago at ELI 2014. Since then, interest and growth have exceeded all projections.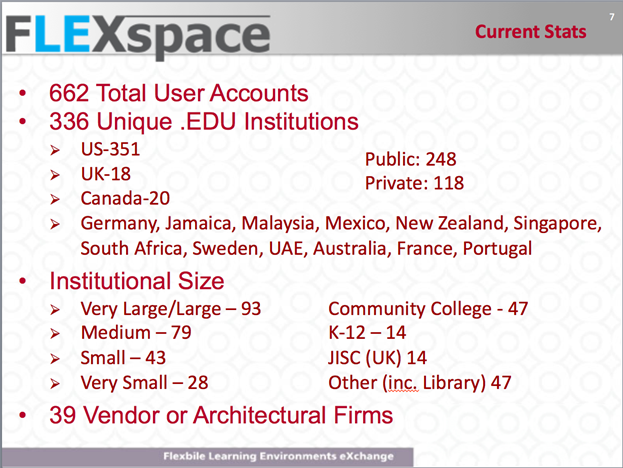 Information about FLEXspace adopters, large and small, public and private, U.S. and global
FLEXspace remains a volunteer effort. The core team of supporters from partner organizations continues to meet on a regular basis to review progress. The business concept was to entice corporate "founding" sponsorship from manufacturers who desire to be identified with the project for an exclusive period of time, with tiered sponsor levels later opening up as a subscription model.
Now that more detailed discussions are underway on how to leverage and combine both LSRS and FLEXspace, some fresh ideas are coming to the table on how to "staff up" and focus more effort on these high-value community solutions. The development teams have been working together to ensure the systems remain complementary and seek opportunities for mutual growth and support over time.3
A strong commitment from the growing number of supporters will ensure the FLEXspace collection and integration with LSRS remains viable well into the future. The FLEXspace team anticipates that the service will continue to evolve and meet growing user demand for mobile device flexibility and system refinements for years to come.
Notes
Terry Calhoun and Alexandria Roe, "How Much Campus Do You Need?" [http://www.acenet.edu/the-presidency/columns-and-features/Pages/How-Much-Campus-Do-You-Need.aspx], ACE Facilities, July 1, 2013.
EDUCAUSE Live webinar, "FLEXspace: the Flexible Learning Environments eXchange," October 28, 2014.
David Raths, "How Do Your Learning Spaces Measure Up?" Campus Technology, Learning Spaces Feature, March 5, 2014.