Higher education institutions can choose from a range of cloud computing approaches. As these three senior IT leaders explain, the "right" solution for a given institution depends on many factors such as size, existing investments, the availability of system-level services, and campus culture.  By being mindful of these issues and collaborating with campus constituencies, you can choose the approach that best suits your institution's specific needs.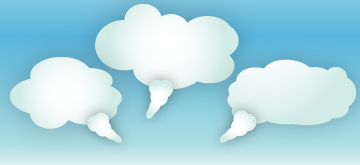 Kathy Gates is CIO at the University of Mississippi; Betsy Tippens was assistant vice chancellor for Information Technologies at the University of Washington Bothell and is now director of Administrative IT Programs at EDUCAUSE; and Joseph Vaughan is CIO at Harvey Mudd College.
In this article, we respond to questions about cloud computing from our particular viewpoints as IT leaders in three institutions with unique profiles and cultures (see table 1 and the boxed information at the end of the article). We chose the following three questions because they illustrate our different perspectives and also offer examples of our institutions' use of the cloud:
To what extent is your organization currently using cloud services?
To what extent will your organization's enterprise systems be in the cloud in five years?
How are you approaching campus conversations about the cloud?
Table 1. Profiles at a Glance
| | | | |
| --- | --- | --- | --- |
|   | University of Mississippi | University of Washington Bothell | Harvey Mudd College |
| Name/title | Kathy Gates, CIO | Betsy Tippens, Assistant Vice Chancellor for IT | Joseph Vaughan, CIO |
| Governance | Public comprehensive | Public comprehensive | Private undergraduate |
| Enrollment | 19,000 | 4,600 | 800 |
| Student:faculty ratio | 19:1 | 20:1 | 8:1 |
| Central:distributed IT staff | 4:1 | 10:1 | 5:1 |
| System | | | |
As our responses below show, although we share similar goals, we take very different approaches — from proceeding with caution to embracing the cloud fully and rapidly. We all want to promote good stewardship and sensible institutional decision making. We all want to give our campus constituencies convenient, fast, and secure software services to help them interact with us and do their work. We all aim to apply technology in smart ways to advance our institutional missions.
The local choices that we make regarding cloud computing are influenced by numerous factors, however, from existing IT infrastructure and investment to institution size and funding approaches. Institutional attitudes, related to issues such as comfort level with off-campus data hosting and the degree of control desired in particular areas, influence whether and in what manner we move to the cloud.
At the University of Mississippi (UM), for example, there is good support for moving student e-mail to the cloud but less so for mission-critical applications. UW Bothell, a regional campus of the University of Washington, has unique opportunities to take advantage of private cloud offerings at the system level. This helps mitigate a small but highly skilled local IT staff composed mostly of generalists. Clearly, the local IT footprint, including staffing levels and composition, can be a major factor in deciding whether to self-host or move to the cloud. Where others may see security risks, Harvey Mudd College (HMC) sees opportunities in moving to the cloud. These opportunities include cost avoidance, increased agility, and better focus on core mission.
In all cases, as our responses indicate, it's essential to identify your own institution's challenges and opportunities — and choose your cloud computing approach accordingly.
To what extent is your organization currently using cloud services?
Kathy Gates: UM's current technical landscape is best described as an on-premises/cloud hybrid, with 80 percent of our data onsite and 20 percent in the cloud (see figure 1). In 1998, the university began an extensive reengineering process that led to the implementation of SAP as our enterprise resource planning (ERP) system. SAP is hosted on-premises in the Oxford data center and managed by the Office of Information Technology. The Oxford campus serves as a private cloud provider to the UM Medical Center in Jackson by hosting its student and financial aid systems.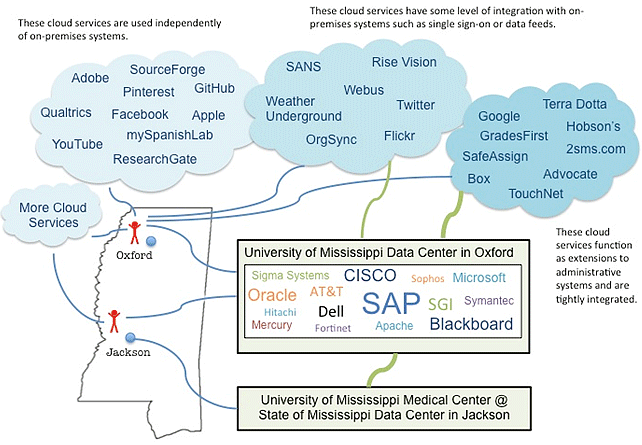 Figure 1. University of Mississippi's on-premises/cloud hybrid architecture
In planning for new software projects, we first consider whether it makes sense to implement them in SAP; if not, we evaluate alternatives. We are highly automated and enjoy the benefits of a real-time, integrated system in which modules coexist in the same database. Having as much data as possible in SAP simplifies our ongoing support and maintenance and helps keep our costs down. Given SAP's support for customer enhancements, we often add new functionality without having to procure a new dedicated system for a relatively narrow set of services. In many cases, we use SAP functionality out of the box, but sometimes — especially for student and faculty self-service — we build our own mobile and web-based user interfaces and use SAP functions in the back-end system to store and retrieve data and execute transactions. Occasionally, we implement new customer solutions within SAP, which essentially serves as a software development platform. SAP gives us tools and a framework in which any development that we do ourselves is lightweight and can be easily supported over time.
Because our SAP system works well for us, we do not see a compelling reason to rush to the cloud, despite the prevailing media hype. Rather, we are gradually adding cloud services where they make the most sense. Examples here include Google for student e-mail, Internet2 NET+ Box for file storage, 2SMS.com for text messaging, TouchNet for payment processing, and Terra Dotta for study abroad.
Betsy Tippens: UW Bothell already uses a hybrid approach to sourcing enterprise and administrative services. We're currently going through a period of rapid growth — enrollment has increased 76 percent since 2009 — which is a major determinant in our sourcing strategy, as it necessitates delivery of new or expanded services more quickly than our small IT unit can manage. Our long-term strategy is to use a hybrid sourcing approach, in which we find the best fit for each enterprise service based on a set of guiding principles for decision-making.
We are positioned to use the largest of the three campuses (UW Seattle) as a cloud services provider for many enterprise services. Some services are provided to all three UW campuses as part of general technology offerings, including finance, human resources, and student information. Other services provided by UW Seattle are negotiated separately. In addition, UW Bothell manages a local data center that currently hosts enterprise services ranging from e-mail and calendaring to directory services and virtual hosting. Finally, we use third-party cloud providers for facilities security systems, environmental controls, and disaster recovery.
As part of our hybrid sourcing environment, we also take advantage of third-party cloud contracts negotiated and maintained by UW Seattle. For example, students have been using Gmail for several years, and options are expanding for faculty and staff email as well.
Joseph Vaughan: At HMC, we use cloud services extensively. As HMC decision makers explore ways to achieve their goals, they often gravitate toward solutions that either are truly cloud (according to the US National Institute of Standards and Technology definition) or are hosted, with ambitions to be truly cloud.
Across the college, in each activity area, cloud solutions regularly emerge as the best choice for HMC. The school's central IT organization, Computer and Information Services (CIS), supports and encourages this approach as a way to better serve HMC. CIS also understands that, to make cloud services work, CIS team members will have to develop strong skill sets in several areas, including contracts (negotiation and monitoring), data integration, and application management.
As software-as-a-service (SaaS) providers come knocking on our decision makers' doors, we ask them to complete a suite of questions about their services. This helps with contract negotiation. Typically, the IT organization is expected to find ways to integrate between systems, which is perhaps our most serious challenge at the moment. As the suite of cloud services grows, we will also need to hone the skill sets of application managers — the people who acquire deep knowledge of several cloud services and can serve as a local liaison for the service.
Following are examples that represent the range and variety of solutions we currently use:
To what extent will your organization's enterprise systems be in the cloud in five years?
Gates: Our current focus is not on the cloud but rather on moving from a relational to an in-memory database; our hope is to take advantage of the next-generation of hardware enhancements for faster response times in our user interfaces, further simplify our technical landscape, and someday decommission our separate data warehouse environment. We are currently planning an upgrade to the High Performance Analytical Appliance (HANA), SAP's in-memory appliance, and intend to self-host into the foreseeable future.
We see many advantages to self-hosting, including having more control and flexibility, owning all aspects of our data management, and developing in-house expertise (by using HANA in research settings, for example). We constantly repurpose hardware downwards so that nothing is wasted. We'll also continue to add cloud services that perform niche functions, especially those that cannot be easily handled in SAP. Accordingly, we expect that our transition to the cloud will be evolutionary, not revolutionary.
Several of our sister institutions are using a platform-as-a-service (PaaS) model to run SAP in the cloud. This can be a good choice depending on the institutional profile and preferences. My best guess is that we will maintain an on-premises/cloud hybrid approach for many years.
Tippens: At UW Bothell, we are actively working to move most of our enterprise networked services out of our local data center using decision criteria — established through campus engagement — regarding how to source each service. In our model, the right sourcing will:
Conform to applicable regulations and policies
Achieve critical business outcomes
Manage institutional risk and security
Provide for recovery and retention of data
Be provided at lowest reasonable cost
We will still manage some services, but they will be located in a leased data center facility on the Seattle campus. Other services will be provided by UW Seattle or a third-party vendor as either SAAS or infrastructure as a service (IAAS). Eventually, our local data center will be used primarily as an instruction and research space, with almost all of our enterprise services in the cloud. Figures 2 and 3 show UW Bothell's current and planned service provisions.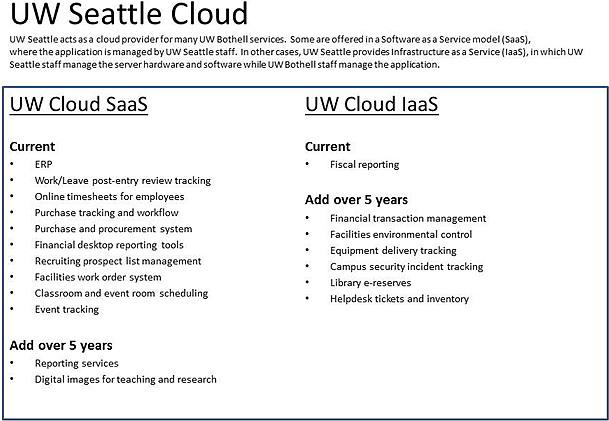 Figure 2. UW Bothell's cloud services provided by UW Seattle
Figure 3. UW Bothell's cloud services provided by third-party vendors
Vaughan: I believe that, in five years' time, the distinction between cloud and on-premises storage will be much less significant than it appears to be today. And, also within five years, nearly 100 percent of HMC enterprise systems will be in the cloud.
These beliefs are predicated on the fact that enormous incentives exist for vendors to provide SaaS rather than support the traditional on-premises model. Having every single client using exactly the same software is a very attractive idea (although there are browser support issues). A stroll through start-up alley at the 2013 EDUCAUSE Annual Conference in Anaheim revealed that few (if any) vendors were offering an on-premises solution; most were building their infrastructures on Amazon or Microsoft clouds.
Institutions also have incentives: the more they can focus on their core mission and leave non-core IT to others, the better off they will be. Cost savings — courtesy of economies of scale and vendor competition — will also be compelling.
How are you approaching campus conversations about the cloud?
Gates: In my environment, every dollar matters. The State of Mississippi delegates spending authority for university technology projects to the CIO position when cost falls below certain thresholds. But it is not just about cost; we have a legacy of using technology in smart, strategic ways to make the university run well. These factors lead to an organizational culture that is favorable toward a strong CIO position and strong policies.
From where I sit, vendors seem more aggressive than ever in marketing their software solutions, sometimes preying on the naïveté of nontechnical university administrators. For example, a department might enthusiastically adopt new software, put effort into configuring it, and engage with IT to develop interfaces, only to drop the software within a few years. Similarly, a department might hear about a software solution that really will transform the way it does business but not be aware of state procurement laws, accessibility requirements, security policies, how to accomplish single sign-on, and so on. Sometimes, a single person advocates strongly for a particular kind of technology and then leaves the university. I imagine that every university struggles with these issues.
Several years ago, to help raise awareness about technology procurement issues, we developed a Technology Purchases Policy. We recently added an electronic form that must be completed to purchase new software or hosted solutions (such as cloud) that exceed $5,000 for the project's lifecycle. The aim is to help departments think through all of these issues before jumping in, both to clearly identify the person who will "own" the project to ensure its success and, more generally, to promote good stewardship at all university levels.
Tippens: Because of UW Bothell's steady growth, we have exceeded our on-site data center's capabilities. And, because UW Seattle already manages our ERP services, we can be a little more flexible in our approach than might be possible at other institutions. Through a series of discussions with the Chancellor's Executive Committee, IT staff articulated the problems with our data center and reached a decision to seek alternative sourcing options rather than devote financial resources to upgrading that facility or building a new one. Using IT Information Library (ITIL) service management techniques, we articulated every service that our data center provided and researched general options for each. The resulting information was presented at meetings of UW Bothell's governing bodies, and each body approved both the decision to move most services offsite and the accompanying decision criteria for sourcing options. We're currently in the implementation phase, and IT staff members are working alongside campus constituents to develop sourcing and migration plans for each service. We've discovered that having early buy-in from constituents tends to lead to smoother transitions, so these partnerships are an important aspect of our implementation strategy.
Vaughan: In most organizations, IT decisions get made at many different places and on many different scales, which is as it should be. Whether the IT decision maker is the CIO or someone else, roughly the same set of institutional questions must be addressed. If the CIO is not the decision maker, then he or she should play a decision-support role to ensure that the institutional questions are addressed.
HMC is small enough that we can approach campus discussions about the cloud, or IT governance in general, one conversation at a time. By having those conversations and emphasizing that many more people than the CIO make IT decisions, we have begun to develop a coherent institutional approach to cloud computing.
The End User's Perspective
Ultimately, students don't choose an institution based on a particular flavor of administrative system or whether or not services are hosted in the cloud. Most of our constituencies could not care less about the details of how our information services are provisioned. Rather, it is about performance, convenience, security, and our ability to advance the university's mission through technology.
Are our students, faculty, and staff more productive because of the services that we provide? Are our systems providing the data our institutions need for strategic decision-making? Are we mindful of total cost of ownership so as not to drag down the university with exorbitant IT expenses?
As we've demonstrated here, there are numerous "right" approaches to cloud-sourcing depending on institutional profile and culture. What is critical is that we work closely with our campus constituents to provide our institutions with the most effective and appropriate technology services possible.
The University of Mississippi
Founded in 1848, the University of Mississippi — also known as "Ole Miss" — is a public, comprehensive research institution. In fall 2013, the total enrollment (not including the Medical Center campus in Jackson, Mississippi) was about 19,000, with slightly more than 40 percent of undergraduate students coming from out-of-state and a minority population of 25 percent, of which 17 percent were African American. UM has a tradition of conservative financial management and is frequently recognized as a good value in terms of academic quality and cost of attendance.
The University of Washington Bothell
The University of Washington Bothell is one of three UW campuses. Founded in 1990 to expand access to higher education in Washington's growing Puget Sound region, UW Bothell is a fast-growing public institution with approximately 4,600 students. In 2013, 91 percent of students were from Washington state, 42 percent were students of color, and 46 percent of first-year students were the first in their families to attend college. UW Bothell offers an internationally and nationally ranked university experience, with small classes and an interdisciplinary focus that encourage critical thinking and promote faculty-student relationships.
Harvey Mudd College
Founded in 1955, Harvey Mudd College is a national leader in undergraduate engineering, science, and mathematics education and is widely recognized for its programmatic innovation, excellence, and rigor. HMC is a private institution with 800 students. Its mission is to produce leaders in science, technology, engineering, and mathematics (STEM) who understand the impact of their work on society. Exceptionally talented students learn to problem-solve in a hands-on, collaborative, leadership-oriented environment and do research alongside outstanding faculty, who combine depth in mathematics, science, and engineering with strong social sciences and humanities components. Located in Claremont, California, HMC is a member of The Claremont Colleges Consortium.