Key Takeaways
Ivy Tech Community College and Indiana University leveraged an existing partnership to support Ivy Tech's help desk, with the goal of providing technical support, reducing costs, and eliminating redundancies.
Lessons learned include the importance of planning in advance, getting "on the floor" early, communicating transparently, and taking cultural differences into account.
Both Ivy Tech and IU benefit from more efficient support operations, better service metrics, and the partnership's potential for growth.
In early 2012, Ivy Tech Community College reviewed its internal IT support structure to find ways to cost-effectively improve services. Ivy Tech, which consists of 31 degree-granting locations organized into 14 regions throughout the state of Indiana, at the time had limited resources invested in its help desk support. Often only two staff members were dedicated to handling a multitude of campus support issues. During busier seasons, the college hired temporary agency staff, incurring agency-based overhead charges and limited depth of service. As Ivy Tech looked to centralize its support across the 14 regions, administrators sought a solution to better serve their united institutional community of faculty, staff, and students.
An Existing Partnership
During the exploration of third-party support providers in the private sector, Ivy Tech CIO, Anne Brinson and Indiana University Associate Vice President for Client Services and Support, Sue Workman began to discuss the possibility of a new support partnership. In fact, Indiana University (IU) and Ivy Tech were already partnering. Since 2011 IU had been providing data center infrastructure to house critical applications for Ivy Tech. Given this relationship, the question arose as to whether IU could provide IT help desk support to Ivy Tech constituents from the IU Support Center, that currently supported IU Bloomington (IUB) and Indiana University-Purdue University Indianapolis (IUPUI). This center served the 110,000 students, faculty, and staff of IUB and IUPUI with an award-winning knowledge base and experienced staff handling 24/7 support via phone, chat, e-mail, and walk-in. With a robust support operation in place, an understanding of IT support needs in higher education, and an existing relationship with Ivy Tech, IU explored the possibility of expanding technical support to meet Ivy Tech's needs.1
This collaboration aims to provide the best possible technical support services to Ivy Tech at the lowest possible cost to students and as a result to the taxpayers of Indiana. Given their prior successful relationship, an agreement between Ivy Tech and Indiana University seemed a natural move for both institutions. Clearly, a partnership could eliminate duplication of space, staffing, telecom infrastructure, support systems, and equipment.
In June 2012, IU staff began working closely with Ivy Tech personnel to learn about their support needs and processes. Together, Ivy Tech and IU staff carefully — and quickly — planned the transition of Ivy Tech support to the IU Support Center. IU staff collected as much data as possible from the Ivy Tech support staff. Few metrics existed, but IU staff shadowed Ivy Tech support staff as they answered phone calls and handled e-mail requests. A baseline was established by outlining the current support practices and escalation procedures. This information was used to create new support documentation. Eventually, IU staff that went on-site to observe began to take calls as part of the planning experience at Ivy Tech and documented the detailed steps in the processes, enabling the transition to IU staff support. Once procedural planning was complete in July 2012, IU began taking calls from the Ivy Tech community after hours and on weekends with the assistance of Ivy Tech staff who came to the IUPUI campus to aid in the transition. For the next few months, IU fine-tuned the documentation and support in collaboration with Ivy Tech support staff and progressed to handling all Ivy Tech phone and e-mail support requests around-the-clock in mid-October 2012.
This partnersourcing of support services has been a win-win situation for both schools. Overall, support operations are more efficient, the quantity and quality of service metrics has much improved, and review of quality assurance processes is evolving, with both institutions actively engaged in the process (see table 1). IU continues to hone improvements and plan proactively with Ivy Tech for further efficiencies and process refinement.
Table 1. Telephone Statistics for Fiscal Year 2013
| Calls Answered | Calls Abandoned | Percentage Answered | Average Talk Time | Average Time Ticket Completed | Maximum Wait | Average Wait |
| --- | --- | --- | --- | --- | --- | --- |
| 51,935 | 3,816 | 93% | 0:05:17 | 0:02:14 | 0:30:20 | 0:01:04 |
Challenges and Lessons Learned
Throughout this extension of the existing partnership to include help desk support, the team uncovered a number of challenges and learned corresponding lessons. First, the timeline from when the agreement was signed to when the combined operation was to go live was very tight. In retrospect, IU should have done more planning up front. Though IU staff couldn't go on-site until Ivy Tech staff were notified of the changes, more planning and research could have been done beforehand off-site. Despite having little quantitative data on existing Ivy Tech contact volumes, IU could have spent more time querying the anecdotal data that was available. By practice IU is very metric-driven, and IU staff would have benefited from taking the time to assess the information that was available and making the best assumptions possible under uncertainty.
Second, if at all possible planning staff should "get on the floor" early. Having IU staff shadow and talk with Ivy Tech staff provided a quick and clear understanding of the existing operation. The more often face-to-face interactions took place, the more IU staff collected detailed data to support the turnover planning.
Third, IU needed to take a step back and try to be more aware of cultural differences between organizations and to communicate clearly not only what information was needed but also why it was needed. Without establishing a clear understanding between parties, each draws its own conclusions and often misinterprets the other's intentions.
Finally, before the transition could be completed, a number of other IT units at each school had to be engaged for a successful implementation, which included addressing network security issues, outlining and updating escalation procedures, establishing network access to Ivy Tech systems from IU locations, and updating the telephone systems and menus. All of these changes needed to be tested and verified within a very short time frame.
Both institutions felt the impacts of the new arrangement. Staff at Ivy Tech lost their jobs, while positions opened at IU. Although Ivy Tech staff had been told of the changes months in advance and had the opportunity to apply for the new positions, most had either acquired new positions elsewhere or opted not to apply. IU staff had to learn completely new support practices and prepare for a much larger volume of calls and e-mails. Staff changed their greeting from "Thank you for calling the UITS Support Center" to a more generic "Thank you for calling IT Support" using a cheat sheet for reference and had to develop the mindset that all the students, faculty, and staff from both communities were now "our customers," not just the IU-affiliated members. Cultural changes needed to happen systemically and as rapidly as possible. IU staff became "universal agents" for both communities. Documenting processes in the Knowledge base aided training new staff added to support the increased load, as did more formal training.
Since the merger of support operations, detailed metrics are captured and analyzed regularly (see figure 1). Phone and e-mail contacts are tracked in a robust ticketing system (BMC FootPrints), and telephone statistics (from Customer Interaction Center) such as number of calls per half hour, percent answered, and length of ticket processing time are measured (see table 1). Phone calls are recorded and reviewed for quality assurance, and surveys related to tickets are sent to customers for feedback and review. In addition, Ivy Tech and IU IT staff meet weekly to discuss ongoing tickets, case reviews, system changes, and process improvement.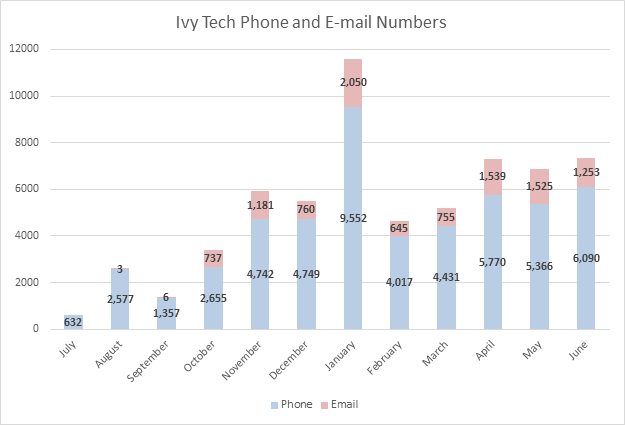 Figure 1. Ivy Tech phone and e-mail support volume, 2012–13
If we were to extrapolate from IU surveys, in table 2 anything that is a 4 or 5 is above average, 3 is normal, and anything below 3 is bad. For individual surveys, if anyone returns a 1 or 2 in the survey, we follow up with the individual; sometimes the issue is related to the consultant who handled the call (in which case we address that immediately), and sometimes it relates to the Tier 2 group to which the call was transferred (in which case we contact that group). We also look for comments that customers leave to get feedback to improve our service.
Table 2. Customer Satisfaction, 2012–13
Statements Scored*

Oct.

Nov.

Dec.

Jan.

Feb.

Mar.

Apr.

Total

The consultant's advice led me to a solution

3.4 (n=7)

3.7 (n=45)

3.5 (n=30)

3.8 (n=73)

4.0 (n=36)

3.7 (n=26)

3.5 (n=51)

3.7 (n=268)

The consultant(s) I worked with was courteous and respectful

4.5 (n=8)

4.5 (n=46)

4.5 (n=28)

4.6 (n=75)

4.7 (n=41)

4.3 (n=29)

4.6 (n=49)

4.6 (n=276)

I was helped in a timely manner

4.2 (n=10)

4.2 (n=45)

3.9 (n=31)

4.1 (n=77)

4.2 (n=40)

4.1 (n=29)

4.0 (n=55)

4.1 (n=287)

Overall, I am satisfied with the service I received from the IT Support for Ivy Tech

4.2 (n=10)

3.8 (n=45)

3.8 (n=32)

3.9 (n=78)

4.1 (n=41)

3.9 (n=29)

3.8 (n=55)

3.9 (290)

*On a scale of 1 to 5, where 1 is "strongly disagree" and 5 is "strongly agree"
Room for Growth
As IU and Ivy Tech transform and adapt together to the challenges and pressures facing higher education IT, expansion of services could involve IT notifications for system outages, chat support, and knowledge management opportunities. The institutions might be able to combine efforts to leverage the co-licensing of software and create additional self-help support tools to reduce the total Ivy Tech call volume. Though this partnersourcing opportunity is still in its infancy, the possibilities for growth seem endless.
Note
Sue B. Workman, Cathy O'Bryan, and Sarah Engel, "Partnersourcing Your IT Service Blueprint," EDUCAUSE Review Online (November 1, 2012).