Higher education institutions and other organizations interested in supporting learning are experimenting with digital badges to guide, motivate, document, and validate formal and informal learning.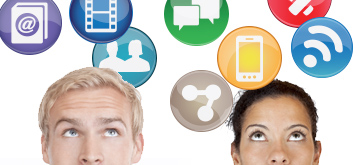 Across the United States, higher education institutions and other organizations are experimenting with the use of digital badges to guide, motivate, document, and validate formal and informal learning. Badges are currently in use or in development at institutions such as MIT, Carnegie Mellon, the University of California–Davis, Purdue University, Seton Hall, and Yale University. Organizations outside of higher education interested in supporting learning are issuing badges too, including NASA, the National Oceanic and Atmospheric Administration, the U.S. departments of Veterans Affairs and Education, the Young Adult Library Services Association, the Corporation for Public Broadcasting, the Smithsonian, EDUCAUSE, and the movie studio Disney-Pixar.
T-Shaped Graduates
A recent article points out that both students and postsecondary institutions are increasingly embracing the ideal of the "T-shaped" graduate: the combination of deep "vertical" knowledge in a particular domain with a broad set of "horizontal" skills such as teamwork, communications, facility with data and technology, an appreciation of diverse cultures, and advanced literacy skills. These horizontal skills are gained from a burgeoning set of internships, co-op programs, community service learning programs, study-abroad programs, undergraduate research programs to supplement coursework, and professional development seminars for graduate students to build skills for work beyond the lab. But as the article points out, the challenge is to recognize and validate the skills and abilities that emerge from these diverse learning experiences. Enter digital badges.1
In a higher education setting, digital badges are symbols that represent discrete academic achievements or valued skills not represented by course outcomes or a degree. These smaller achievements can represent incremental learning and progress toward more significant goals. They can also recognize learning and skill building that is not part of, but enhances or complements, a formal degree program. As such, badges are becoming an increasingly popular way for universities to more fully document the breadth of student learning.
Badges as Motivation
One instructor at the Naval Academy Preparatory School created a Calculus Badge program to motivate calculus students to learn key concepts in preparation for the U.S. Naval Academy Calculus I validation exam. In addition to the normal work on the syllabus (homework, quizzes, and tests), the project he developed required students to earn five badges, at three levels of accomplishment — knowledge, proficiency, or mastery — corresponding to the different items on the validation exam.2
Another example of badges in higher education is Purdue's Passport program. A professor in the Department of Curriculum and Instruction notes that typically courses contain a number of very broad learning goals, and grades are given out on student assignments tied to those broad goals. But grades tend to lack a focus on incremental student learning and attainment of desired learning outcomes, whereas badges allow faculty to focus on competencies, skills, and learner performance.3
Badges for Life Experiences
As noted, while attending college students learn in many ways that are beyond the classroom. Besides attending class and completing assignments, they also learn in laboratory settings, in the field, while doing service projects or internships, and through their involvement in student organizations, to name a few. This is also the case for professionals. Badges that demonstrate continued learning could begin to blur the distinction between the structured higher education learning experience and the life experiences that follow. Today's rapidly changing economy necessitates a workforce that is continuously seeking educational opportunities, and completing a formal educational program, like a degree, is just the beginning of a lifelong learning process. Badging can document what is accomplished through professional development opportunities and professional relationships we may cultivate throughout our careers.
Members of a professional association may participate in their community in a variety of ways. For instance, they might conduct presentations on the work they're doing, attend immersive institutes on specific subject areas to develop a competency relevant to their growth, or serve on advisory boards or committees. Until now, an effective mechanism has not existed to recognize and/or certify those behaviors in a way that is public (signals to an external community) and progressive (builds on itself).
Digital badges enable professional communities to establish and identify new competency areas — areas not yet supported through formal education programs. Badging provides the means to recognize the behaviors described above. A progressive process of badging can also be developed to include a certification process with assessment and verification that is documented and goes beyond simple attendance at events. Some of the outcomes that could be verified include active participation and learning through events, and the development of knowledge, skills, and abilities. The assessment and verification process could involve an employer, peers, or members of the professional association — the very community in which the professional resides. Digital badging may support a model where skills and experiences are validated — but that validation might involve a diversity of expert groups, institutions, and communities, mirroring the kind of diverse learning environment students are embracing. And because the model is inherently digital, it holds the promise of a rich, multilayered record of results and achievements, with links to video, audio, and text resources.4
Badges for Connections
Today, many professionals are involved in social and professional networks and use various tools, such as LinkedIn, to support and cultivate those connections. Digital badging is uniquely positioned to make those connections and accomplishments more visible. They serve as a sort of digital transcript or learning narrative that highlights interest and development in particular subject areas and also communicates to a broader audience their participation and membership in professional communities. The digital, networked environment in which they reside expands their value in many ways. They allow us to track professional activity within a community and to document that activity to a peer and professional network. They support our ability to engage others in those professional activities that are significant to us, thereby expanding participation and the community itself. They allow us to demonstrate incremental growth along a curriculum or learning path that can have a significant impact on our careers.
Badges offer the opportunity to recognize behavior, but they also encourage and motivate deeper learning and progression in a particular topic. For instance, an individual might begin a path of study by participating in various conference or webinar sessions, then move on to an extended seminar where they perform tasks and apply knowledge that's been shared with them. Perhaps they embark on an institutional project in the subject area. Eventually, they may become a leader in that area, instructing others and publishing the results of their work. Through digital badging, an association can recognize those steps taken, identify the community and the participant the learning pathway, and allow them to share those accomplishments, thereby encouraging further participation and networking.
For badges earned through professional association events to be valuable, a community's organizations and leaders must recognize them. They must provide documentation to represent a professional's growth and achievement. Careers situated in such a dynamic area as higher education benefit from maintaining employees' existing areas of expertise, but especially from developing new areas of expertise. Associations are in a unique position to expose and develop individuals to emerging areas for which there is no formal training in higher education or other traditional education providers. Association professional development via badging can support career growth through the often vast member community and their shared practices.
Acknowledgments
Many thanks to EDUCAUSE staff Susan Henderson, Director of Online Strategies and Programs, and Tracy Petrillo, Chief Learning Officer, for their contributions to this article.
Notes
Brent Herbert-Copley, "Ditch the resume and pick up a badge, they're not just for Boy Scouts," Globe and Mail, May 1, 2013.
Matthew Peeples, "Earning Badges for Learning Calculus," Mathematical Association of America.
Steve Talley, "Digital badges show students' skills along with degree," Purdue News, September 11, 2012.
Herbert-Copley, "Ditch the resume."