Portugal stands out among nations that have embraced open access to scholarly communication because of its early adoption of institutional policies, creation of a network of repositories, and effective system of governance. And, nonprofit international publishing initiatives play an important role in opening up entire runs of Portuguese academic journals.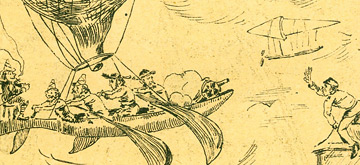 As open access (OA) continues to gain momentum worldwide, perhaps a dozen countries have more ardently embraced the globe-spanning revolution in scholarly communication. Outside the United States, the countries of Australia, Brazil, Finland, France, Germany, Japan, Norway, South Africa, Spain, Sweden, the Netherlands, and the United Kingdom are in the vanguard. Portugal, however, stands out because of its early adoption of institutional policies, creation of a vast network of repositories, and robust system of governance. Shortly after the historical signing of the Budapest Open Access Initiative (BOAI) in February 2002, the Portuguese academic community began to persuade university administrators of the merits of providing barrier-free access to the works produced by scholars at their home institutions. As in most countries throughout the world, universities in Portugal had simply run up against the proverbial wall and could no longer afford the spiraling journal subscription prices that conventional for-profit publishers were demanding. Informed by interviews with three individuals at the forefront of the open access movement in Portugal, this article chronicles its trajectory over the past decade, providing an inspiring account of how local engagement through effective policies and infrastructure development is facilitating an unprecedented open and free exchange of knowledge.
To appreciate the significance of Portugal's accomplishments in the domain of open access, glance stateside at some of the most established institutional repositories in the United States. According to ROARMAP, or the Registry of Open Access Repositories Mandatory Archiving Policies, Portugal has just three fewer "full" institutional mandates in place than the United States — a country with 30 times the number of people and with thousands more postsecondary institutions.2 While the United States may have more repositories, most faculty have not experienced the benefits of archiving their publications in institutional repositories, the path known as green OA. DASH (Digital Access to Scholarship at Harvard) is the name of the central repository for Harvard where the first OA policy was voted in by Arts & Sciences faculty in 2008. While more than 30 institutions worldwide, including Stanford's School of Education and Iceland's Bifröst University, have adopted the Harvard model for providing open access to their research today, DASH contains fewer than 9,000 documents.3 DSpace at MIT, where the first faculty-driven, university-wide institutional policy of its kind in the United States was unanimously approved and implemented in 2009, contains roughly the same number of documents as Harvard, if you exclude the historical thesis collection of 30,000 that has been digitized back to the mid-19th century.4
Probably the closest analog in student and faculty populations to the Portuguese system of public universities and research institutes is the University of California. The 10 campuses of the UC system include more than 220,000 students and employ more than 170,000 faculty and staff.5 In academic year 2009–10, enrollment at Portugal's 14 public universities, 15 polytechnic institutes, and 16 nonintegrated polytechnic schools, which comprise the Portuguese public system of higher education, was 281,000 with about 39,869 faculty and staff.6 The UC system's central digital repository, eScholarship, which has existed since 2002, hosts at present more than 51,251 documents, ranging from postprints, books, working papers, conference proceedings, and dissertations. Compare that with the 101,499 in RCAAP, or the Repositório Científico de Acesso Aberto de Portugal (Scientific Open Access Repository of Portugal), and it would seem that the UC system is falling behind in open access archiving, particularly since many UC faculty are nonteaching researchers. With the exception of the institutional policy that was passed unanimously by the faculty senate of UC San Francisco in May 2012, none of the other nine campuses require their faculty to archive their publications in eScholarship or any other OA repository.7 This is not to say that there have not been attempts — campus leaders have just fallen short in reaching consensus on how and if there should be a system-wide policy.
Rich Schneider, UCSF professor of orthopaedic surgery and open access champion, was instrumental in rallying UCSF faculty to pass an open access policy in May 2012 (2:08 minutes):
Measuring the success of open access should not be limited to the quantity of documents held in repositories or by the number of institutional policies any one nation might have, but these are, nevertheless, valid indicators of progress. The work of those in the United States who have labored to advance OA policies and directives is far too great to enumerate, but the Coalition for Networked Information, Creative Commons, the Digital Library Federation, SPARC (the Scholarly Publishing and Academic Resources Coalition), and the Public Knowledge Project all deserve mention for the international scope of their work. ArXiv.org, Open Humanities Press, Public Library of Science (PLOS), and PubMed Central are all highly successful U.S.-based OA publishers that operate somewhat, if not completely, independent of academic institutions. The Open Society Institute in New York, funded by billionaire George Soros, organized the Budapest OA Initiative and maintains essential resources like the Directory of Open Access Journals (DOAJ) that raises the visibility of OA journals, facilitating easy integration with library discovery systems. The National Institutes of Health Public Access Policy passed in 2008 ensures that the public has access to the published results of all NIH-funded research. And then there is the Federal Research Public Access Act (FRP), a bill first written in 2006 and reintroduced to Congress in in February of this year as the The Fair Access to Science and Technology Research Act (FASTR). Among other things, the bill would require that each taxpayer-funded manuscript be made available to the public online and without cost, no later than six months after the article has been published in a peer-reviewed journal, and that each federal agency with extramural research expenditures of over $100 million develop a specified federal research public access policy.
Off the ISI Grid
Prior to the advent of the Internet, the landscape of scholarly publishing in Portugal was characterized as not very rigorous. In Open Access in Portugal: A State of the Art Report, Ricardo Saraiva, who manages the University of Minho's institutional repository, describes his country as lacking a strong scientific, or scholarly, tradition and infrastructure until the end of the last millennium: "Despite the fact that several hundred scientific related publications were published in Portugal in the last decades…[m]ost of the publications are connected with scientific societies, many of them have no periodicity, or have severe problems complying with announced periodicity, and some have no real peer-review process."8 Library collections, especially journal collections, have historically been print-based and insufficient. Until 2003, the average number of journal subscriptions in most academic libraries was no more than 1,000. Prior to 1990, Portuguese authors contributed fewer than 1,000 articles per year that were referenced in Thompson Reuters (formerly ISI) Web of Knowledge citation database. Only after 2003 did the figure surpass 5,000 per year, coincidentally at the same time OA began taking off in Portugal.9 This is not to say that Portuguese scholars were not publishing internationally; they were just not publishing in venues where they would have the most impact, until recently.
RepositóriUM
Every country has its firsts, and it was the University of Minho in the northwestern district of Braga that paved the way for Portugal when it founded the country's first institutional repository in 2002. The visionary Director of Documentation Services Eloy Rodrigues is credited for this bold step. Rodrigues also drafted his university's world pioneering institutional self-archiving policy two years later and has devoted much of his life's work to the development of digital libraries, education, and training. Since its inception, he has been the technical and scientific coordinator of the aforementioned RCAAP. Inspired by new developments in OAI/PHP protocols, he launched RepositóriUM in 2002, which was publicly unveiled less than a year later in November 2003. In an interview in May 2012, he explained that the real success of RepositóriUM (a play on words that can denote three different meanings — "repository one," "University of Minho repository," and the Latin-rooted "repositorium," or place where valuables are stored) is that it provided a tangible model for other research institutions across Portugal. One year later, the dean of the University of Minho signed not only the institutional policy but also the Berlin Declaration — one of the milestones of the OA movement — as a symbolic act to celebrate the repository's first birthday.10 This was when other research libraries across Portugal really began to take notice of this emerging publishing trend that was swiftly expanding the circulation of their research.
Eloy Rodrigues, University of Minho, delivers the keynote for Repository Fringe 2011 (1:10:54 hours):
SciELO and LusOpenEdition
At the time RepositóriUM was taking root, the only OA publishing initiative operating within Portugal was the Portuguese section of the international Scientific Electronic Library Online project. SciELO, launched in the late 1990s in Brazil, is an electronic virtual library covering selected scientific journal collections from Latin America, Spain, and Portugal. Today, the Portuguese section of the project, started in 2005, comprises 40 journals and thousands of articles from Portuguese scholars and institutions. The most successful of these is Análise Social, a peer-reviewed journal (the oldest in Portugal for the social sciences) published by the Instituto de Ciências Sociais da Universidade de Lisboa (ICS) that celebrates its 50th anniversary this year. According to Marie Pellen, chief editor of LusOpenEdition, who has worked to introduce and foster alternative publishing models, the migration from print to open access facilitated initially by SciELO has helped reduce apprehension across the social sciences about electronic publishing and the OA movement in general in Portugal. "By making every single one of its 200 or more issues published since 1963 freely available online, Análise Social has provided proof that open access journals can be free to the reader, sustainable for the publisher, and have impact all at the same time," Pellen said.11
Pellen explained that LusOpenEdition fulfills the need for a collaborative and scholarly space that doesn't quite exist in the Portuguese realm of scholarly communication. "Thanks to the groundbreaking work of RCAAP, the practice of self-archiving of individual articles, documents, and data has been introduced, but much is left to be done in the arena of dissemination and cross-pollination of research," she said. LusOpenEdition, based in the publicly funded Instituto Universitário de Lisboa (ISCTE), aspires to replicate the successful model already established with French open access journals through OpenEdition's Revues.org and expand it to the Portuguese-speaking world. Marking itself as the Lusophone humanities and social sciences portal, the website is maintained by Cléo (Centre for Open Electronic Publishing), based in Marseille and Paris, in close collaboration with CRIA (Centro em Rede de Investigação em Antropologia−Lisbon) and also receives financial support from the charitable Calouste Gulbenkian Foundation in Lisbon. At present, LusOpenEdition hosts six Portuguese scholarly journals — Cadernos de Estudos Africanos, Configurações, Etnográfica, Forum Socioló gico, RCCS Annual Review, and Revista Crítica de Cîencias Sociais — with several more in the queue for inclusion this year.12 OA monographs will soon be added, and two other author contributive and interactive sections called Hypotheses.org (academic blogs) and Calenda.org (events calendar) facilitate knowledge sharing. "Even though many may still ascribe more prestige to print, the future of scholarly communication lies not only in open access publications but also in innovative tools like these," said Pellen.
CRUP's Open Access Declaration
If the launch of RepositóriUM in 2003 was a breakthrough, then the Conference of Rectors of the Portuguese Universities (CRUP) in November 2006 was a defining moment for OA in Portugal. With the exception of the independent creation of the country's second repository by ISCTE, or the Higher Institute of Labor Sciences and Enterprise, in October 2006, this formal declaration endorsing open access in every public university in Portugal, including those in Madeira and the Azores, set the stage for a series of fortuitous developments. Key to this sequence of events was the recommendation by CRUP to establish institutional repositories similar to RepositóriUM across Portugal as well as a national working group to govern them. Reaching agreement among all university and research institute leaders and securing public funding to realize the initiatives is what João Mendes Moreira, project manager for RCAAP, called a "political boost" for OA in Portugal. A computer science engineer by training, he has worked on several successful initiatives of the National Foundation for Scientific Computing (FCCN) over the past decade including b-on, or the Biblioteca do Conhecimento Online (Online Knowledge Library). "Inertia, more than anything else," Moreira said, "is one of the biggest impediments to the positive transformations that OA offers."
Shortly after CRUP's declaration, several other Portuguese universities established their own open access repositories. Among these were the New University of Lisbon, University Fernando Pessoa, University of Trás-os-Montes and Alto Douro, University of Évora, Universidade de Lisboa, Universidade da Madeira, and the Instituto Politécnico de Bragança.13 In March 2008, UMIC (Knowledge Society Agency) developed some contacts with FCCN and the University of Minho and laid the foundation to build a national aggregator for Portuguese repositories. This project, known as RCAAP, was conceived in July 2008 as an initiative promoted by UMIC in collaboration with the FCCN. The University of Minho assumed responsibility for the scientific and technical work on this project that fostered the establishment and infrastructural support for new institutional repositories.14 The early objectives were to (1) increase the visibility, accessibility, and diffusion of academic activities and Portuguese scientific research, (2) facilitate access to information about national scholarly production, and (3) integrate Portugal into the mix of international initiatives.15 This objective was principally achieved by helping universities and researchers develop their own institutional repositories and one large national metadepository or portal. By December 2008, when the RCAAP portal was publicly showcased, it was already aggregating publications from 12 institutional repositories, 5 that were centrally hosted and referred to as SARIs (hosting services for institutional repositories), with a total of 13,900 documents.16 By the end of 2009, RCAAP was aggregating 25 institutional repositories, 14 of which were SARIs, nearly tripling its document count to 36,000.17 The proliferation of OA repositories during this brief period is captured in figure 1.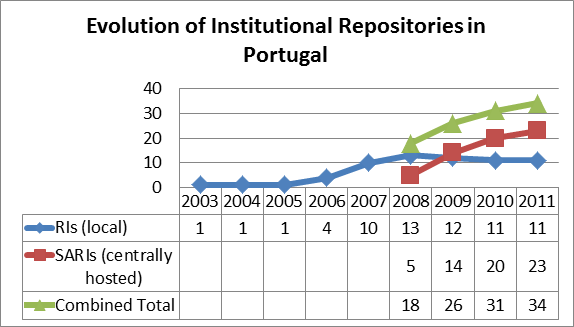 Figure 1. Number of institutional repositories in Portugal per year, by type
The number of repositories aggregated through the RCAAP portal soared from 10 in 2007 to 34 by the end of 2011. Moreira attributes this growth to the efforts of RCAAP in promoting, training, and creating infrastructures that are compatible during a period when Portuguese scientific production has increased immensely.
"Academics are beginning to recognize that print, while still prominent in many disciplines, is no longer the most effective means of dissemination. They are also beginning to realize that the for-profit publishers, through unsustainable price increases, are operating against the interests of the scholarly community," Moreira said. Another factor that has led universities to adopt OA policies that require faculty to archive their publications in institutional repositories is that it provides a basic competitive edge — they are beginning to understand that it's a good thing to open up their research and data to others in the scientific community.18 Portugal, with 13 registered institutional OA mandates in ROARMAP, is fourth in the world only to Finland (28), the United Kingdom (24), and the United States (16).19 With 70 OA journals in the Directory of Open Access Journals (DOAJ), Portugal is also ranked 28 out of 121 countries. Eloy Rodrigues's estimate of Portugal being in the top third for adopting a national OA infrastructure is in line with this data.
Scholarly Publishing during the Global Financial Crisis
It seems improbable that OA can flourish at the same time that the global financial crisis continues to destabilize the economies of not only Europe but also the entire world, yet the data seem to show this is occurring. However, both Moreira and Rodrigues caution that if government funding is withdrawn from RCAAP, the program will have great difficulty sustaining itself. Moreira explained that in 2011, budget cuts limited development, outreach, and training. The main effort is simply to keep afloat the various initiatives of the program that have already been put in place, including SARC (Servico de Alojamento de Revistas Cientificas), which provides a means of hosting entire journals using the Open Journal Systems (OJS) platform developed by the Public Knowledge Project based in North America.20 While many researchers have expressed an interest in journal hosting of current content, one of the paths of gold OA, uptake has been slow and fewer than a dozen journals are publishing through SARC. "Since this program began in 2011, it really is too early to gauge the impact," Eloy Rodrigues stated.
"It is important to not overlook the progress that Portugal has made in such a short period of time," he explained. This early success is owed to a mix of dedicated university librarians, institutional leaders, and faculty who share the conviction that OA will continue to benefit Portuguese educational and research institutions in both the long- and short-term.21 Figure 2 provides compelling evidence of this unprecedented rate of growth from December 2008 through October 2012.22 Between October 2008 and October 2010 alone, the number of documents that had been aggregated through the RCAAP portal tripled. By October 2012, the number increased by 53,617, or double from two years prior.23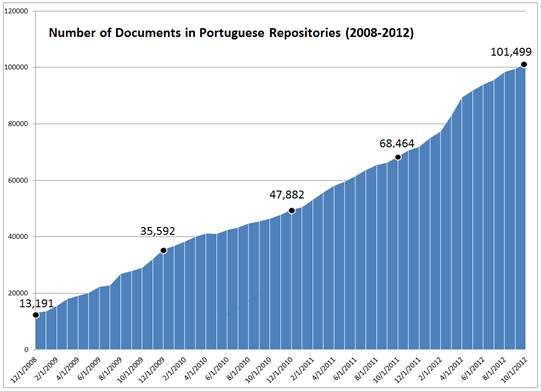 Figure 2. Growth in number of documents in Portuguese institutional repositories
Conclusion
While the unparalleled growth that open access has made in Portugal over the past decade might seem as full of magical promise as the first navigable balloons or airships of the nineteenth century, it is far from it. Magical thinking alone will not allow openness to prevail and replace unsustainable closed or toll access models of conventional scholarly publishing. A continued investment in technological, financial, and human support of open access publishing models is needed. Portugal, like other global innovators, is demonstrating that alternatives to traditional means of disseminating scientific and scholarly communication can succeed. Removing price and permission barriers to the knowledge that scholars have always produced free of charge — what Peter Suber, director of Harvard's Open Access Project, aptly calls the "access revolution" — is, in fact, a return to a centuries-old custom of sharing intellectual work without economic gain.24 Though they did employ this exact term, Marie Pellen, João Mendes Moreira, and Eloy Rodrigues were all referencing the same inevitable, perhaps paradigmatic, shift taking place in how scholars communicate and bring new knowledge into the world — through open access publishing.
Notes
Manuel Gustavo Bordalo Pinheiro, "Balões dirigiveis," Pontos nos ii (September 27, 1888), p. 714.
To obtain this number, I counted only the institutions with full "institutional mandates" for Portugal and the United States listed on the ROARMAP website.
Browsing the DASH: Digital Access to Scholarship at Harvard website shows the collections available for different academic communities.
Richard Poydner, "The OA Interviews: Harvard's Stuart Shieber," December 3, 2012.
University of California website, About UC.
See INDEZ 2010: Pessoal existene em Instituições de Ensino Superior Público [http://www.dges.mctes.pt/NR/rdonlyres/99CEE606-990E-4CB4-A8AC-ACFAF7AAD58B/5817/EstudoINDEZ2010V13.pdf] and Guy Neave and Alberto Amaral, eds., Higher Education in Portugal 1974–2009: A Nation, a Generation (Dordrecht: Springer, 2012).
Kristen Boyle, "UCSF Implements Policy to Make Research Papers Freely Accessible to Public," UC San Francisco News Center, May 23, 2012.
Ricardo Saraiva, Open Access in Portugal: A State of the Art Report (RCAAP, June 2009), 7. Note: In Portuguese and other Romance languages, the adjective "científica/o" can specifically refer to the sciences, but in this context more often denotes "scholarly" or "academic."
Ibid., p. 6.
Ibid., p. 8.
Marie Pellen, in discussion with author, May 10, 2012.
See LusOpenEdition's Revistas e Cadernos (Journals and Notebooks) page.
Saraiva, Open Access in Portugal, p. 9.
Ibid., p. 10.
João Mendes Moreira, Iniciativa Nacional de Acesso Aberto: Origem, evolução e desafios do RCAAP, (Lisboa: Fundação para a Computação Cientifica, 2012), pp. 2–3.
Ibid., p. 3.
Ibid., p. 4.
João Mendes Moreira, in discussion with author, May 10, 2012.
See the ROARMAP website and note 2.
OJS operates through a partnership among the Simon Fraser University Library, the School of Education at Stanford University, the Canadian Centre for Studies in Publishing at Simon Fraser University, the University of Pittsburgh, and the California Digital Library.
Eloy Rodrigues, in discussion with author, May 18, 2012.
Moreira, Iniciativa Nacional de Acesso Aberto, 11.
Ibid.
Peter Suber, Open Access (Cambridge, MA: MIT Press, 2012), p. 2.