Panelists on the front lines of higher education information technology share their thoughts on BYOD and what it could mean for colleges and universities.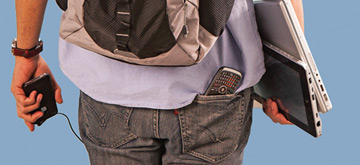 By R. F. "Chip" German
Looking at the Bring Your Own Device (BYOD)—or, more accurately, the BYO* (substitute nearly anything for the asterisk)—phenomenon in the higher education computing and information environment is a disorienting exercise. First, it is impossible to read or listen to any higher education discussion for long these days without hearing the subject mentioned. Second, definitions are vague, and the scope that BYO* represents is of sufficient proportions that two people in a conversation on the subject may not be touching on the same conceptual part. So let's find a definition broad enough to include most of whatever it is that people are thinking about when they discuss BYOD/BYO*. Wikipedia is as good a place as any to start: "Bring your own device (BYOD)—also called bring your own technology (BYOT), bring your own phone (BYOP), and bring your own PC (BYOPC)—means the policy of permitting employees to bring personally owned mobile devices (laptops, tablets, and smart phones) to their workplace and use those devices to access privileged company information and applications. The term is also used to describe the same practice applied to students using personally owned devices in education settings."1
A recent report from the EDUCAUSE Center for Analysis and Research (ECAR) refers to an even broader concept: "We are living in the era where affordable, easy-to-use, and readily accessible technologies facilitate a bring-your-own everything (BYOE) standard. This 'consumerization of technology' is setting a new standard in which students, faculty, and staff bring their own devices, software, apps, and cloud-based technology to create a personal computing environment."2
A Google search on "BYOD" returns more than 8.5 million results and highlights another point: the BYO* phenomenon is not lost on higher education's corporate partners. Many have developed safeguards, architectural strategies (and related products), and consulting expertise that they are happy to offer (for a price) to those of us in colleges and universities as we grapple with the implications of our diminishing control over how the populations we serve interact with our systems. For many IT professionals who have built admiration-worthy careers on closely managing the choices available to users as a means of ensuring reliability, scalability of support, and security, the growth of BYO* can lead to paralyzing FUD (fear, uncertainty, and doubt). Clearly, that can't be our response, but how should we react?
EDUCAUSE Review decided to ask some of those on the front lines of higher education information technology what BYOD/BYO* looks like to them:
Gardner Campbell, Director, Professional Development and Innovative Initiatives, Division of Learning Technologies, Virginia Polytechnic Institute and State University
Megan Fitch, Chief Information Officer, Beloit College
R. F. "Chip" German, Project Director, New Internal Financial Model, University of Virginia
Dale B. Hulvey, Assistant Vice President for Information Technology, James Madison University
Keith "Mac" McIntosh, Vice Chancellor for Information Technology and Chief Information Officer, Pima County Community College District
Michael R. McPherson, Associate Vice President and Deputy Chief Information Officer, University of Virginia
John O'Keefe, Associate Vice President and Chief Information Officer, Lafayette College
Each panelist approaches the phenomenon from a different perspective, of course. Thus the conclusions drawn vary somewhat, as might be expected when the endpoint of a technology trend is not apparent. Perhaps we should take a measured approach, or perhaps we should not just tolerate but, instead, lead the charge toward BYOD/BYO*. It all depends on your point of view.

How strategically important to higher education is the BYOD phenomenon? Is it simply a passing fad?
Let's try a thought experiment. What if the question were not about Bring Your Own Device but about Bring Your Own Ideas Expressed in Your Own Words? If we want our students and colleagues to be technology agents instead of technology parrots, at some point we must rely on the agency, customization, and improvisation inherent in people creating and using their own technology-enhanced learning environments instead of being confined within the computing equivalent of phrase books supplied by the Central Department of Managed Phraseologies. As computing devices become smaller, more ubiquitous, and more thoroughly woven into all aspects of our lives (in the case of wearable computing, literally woven), they become more like extensions of ourselves. And because their primary richness lies in their power as communication and expression devices, these computers will become more like words we speak than like devices we carry. They may even become more like extensions of our very brains as we move from portable computing to wearable computing to neurological implants. (See Michael Chorost, World Wide Mind, for a moving and hopeful vision of such a future.) So no, this is not a passing fad, and yes, it is of great strategic importance to higher education—unless we really want parrots after all. Now is the time to allow our device ecosystem to be diverse enough to permit the full flourishing of our learners' potential.
Should higher education institutions and their IT organizations resist or embrace BYOD?
For best results in any long-term relationship, an embrace should be thoughtful as well as wholehearted. A thoughtful, wholehearted embrace of BYOD would indicate the commitment to the meaningful learner individuation that we profess to desire in our democratic society. The industrial model of scaling up higher education led to standardization and a heartless commodification. Now we can do better. Now we have the chance to use complex tools to empower and nurture complex computing ecosystems. We have the chance to foster meaningful personal learning networks on these devices, and within the "personal cyberinfrastructures," that students bring to their work. We can use this opportunity as a teachable moment for all of us, one that has increasing significance in a globally and diversely connected world.
Hasn't the pressure to deal with BYOD always been an issue for IT leaders? What makes this time different?
In one way, yes, the BYOD pressure has always been an issue, but several factors make this time different. Networked computing increasingly takes place in mobile, cloud-based, and multifunction contexts that are evolving very quickly past the "office desktop" paradigm of the initial experience of personal computing in higher education. Mobile computing means connectivity has to be delivered wirelessly, of course, but it also places demands on everything from the electrical grid (power availability to recharge batteries) to geolocation to privacy. Cloud-based means that computers will access, compute, and store data both locally and remotely in an increasingly seamless and synchronized set of interfaces. Multifunction means that smartphones in particular—but also, in the end, our clothing, our eyeglasses, and possibly even our brains—will be computing devices or linked to computing devices, and that we will use these computers in every aspect of our lives. When the "D" in BYOD becomes that various and that complex, the "B" of "Bring" and the "YO" of "Your Own" become hypercomplex. We'll look back nostalgically to the days of trying to manage laptops (remember the carts for the special "laptop classes"?) as a time that seemed complex—because it was before we knew what true complexity meant!
What worries you most about enabling BYOD on your campus?
My chief worry has little to do with infrastructure, or security, or management of devices, though these concerns are undeniably important. My chief worry has to do with culture. Very few faculty or administrators are curious enough about the Internet, or eager enough to learn about the participatory culture it empowers, to even begin to imagine how to use or empower personal, interactive, networked computing in meaningful, effective ways in teaching and learning. In The Children's Machine, Seymour Papert wrote: "Before the computer could change School, School changed the computer." Sadly, I agree—and I believe the circumstances have worsened since the early 1990s when Papert wrote those words. Our anxieties about a computing ecosystem of BYOD mirror our anxieties about a school that engages and celebrates individual learners. We try to manage learning the same way that we try to manage devices. The analogy is eerily exact. And although I think stubborn human diversity means that both management efforts are ultimately doomed to failure, I regret the expense of spirit and the wasted years as we continue to do damage to learners and to colleges and universities in such ongoing and misguided management quests. I hope a move toward BYOD, in expectations and empowerment, can engage with the idea of "spreadability" that Henry Jenkins and his co-authors explore in Spreadable Media: Creating Value and Meaning in a Networked Culture. If we consider learning as a medium, not simply as a transfer of information, BYOD should be an important part of creating "spreadable learning," value, and meaning in school considered as a networked culture, not simply a credit-hour ATM.
If BYOD becomes established within higher education, what will change because of it?
It is never clear what will change, but if BYOD does not become established within higher education, immediate and necessary changes will certainly be blocked. We will create yet another "digital divide." Learners' experiences of a sophisticated, agile, and personally responsive computing ecosystem reflecting their own growing powers of judgment and creativity, powers linked to their own developing identities, will be destructively absent from their experience of school. Our institutions of higher learning will thus deny learners their best opportunity not only to participate in their society but to reshape that society into a more just, effective, and democratic home for themselves and their fellow citizens. These extraordinary intellect-augmenters that we so casually call "computers" will be one-size-fits-all commodities designed for administrative convenience, thus depriving both learners and teachers of the experiences they need in order to thrive in a truly complex world. Adrian Cockcroft, cloud architect at Netflix and millicomputing expert, predicts a day when we will carry web servers in our pockets, connecting wirelessly to the cloud and to all the peripherals—keyboards, mice, gesture-based controllers, printers, etc.—in our workspaces. We will bring our own devices, our own workspace configurations, indeed our own networks into each learning environment. If we have the imagination and curiosity to answer these opportunities, we can transform the experience of education. If we do not, we will be caught in an increasingly grim downward spiral right up until the day that the last proud insignia on the Good Ship Higher Ed slips beneath the waves of history.
In "Inventing the Medium," her introduction to The New Media Reader, Janet H. Murray writes: "The task is the same now as it ever has been, familiar, thrilling, unavoidable: we work with all our myriad talents to expand our media of expression to the full measure of our humanity." Education should be devoted to that task, those talents, and that expansion. In this way, the "full measure of our humanity" will continue to grow, like a redwood reaching toward the sky, rather than like a plastic jug that is filled only once. Asking if we should embrace "BYOD" is like asking if we should embrace the task Murray describes. If we don't, what exactly do we believe it means to be educators? What, in the end, is our task, if it is not what Murray says it is?

How strategically important to higher education is the BYOD phenomenon? Is it simply a passing fad?
I do not think BYOD is a passing fad. Students at residential colleges have been bringing their own devices for years, though the number of devices and the expectations around how they can be used are changing, both for work and for personal uses.
Between wireless and cellular network ubiquity, not only students but also faculty and staff are increasingly accustomed to being able to use their devices anywhere; indeed, they are expecting it. Many use the same device for work and for personal matters. The move to browser-based access to tools and information creates much more flexibility: users are no longer bound to a client or software that must be installed on an institutionally owned machine. Requiring local installation used to be a powerful gatekeeper.
Is it strategically important? I'm not sure yet. Does the BYOD movement have the potential to significantly alter how we spend institutional resources? Is it simply another connection method, or does it have the promise of replacing something we spend time and/or money on? Does BYOD significantly alter institutional risk vectors? For a small college like mine, BYOD to the classroom seems to have the most promise.
Should higher education institutions and their IT organizations resist or embrace BYOD?
Institutions have more to gain by thoughtfully embracing BYOD than by resisting it. I would rather channel the effort that users put into workarounds, the "energy" that is expended when users encounter "no," and the effort that IT staff invest in keeping "YODs" off of the network into working together to make sure devices are connected in the right ways to the right things and to create mutual understandings of what the appropriate use of YOD is when working with institutional information. Doing so is more time-consuming, especially up-front, but I think it yields better benefits. In this age of portable computing and Internet-based access, we need to be having these conversations regardless of device ownership.
Hasn't the pressure to deal with BYOD always been an issue for IT leaders? What makes this time different?
Yes, the pressure has been there, especially since laptops became affordable. The extreme portability and relatively ubiquitous access off-campus are changing demands and expectations. People are used to being able to plug in with their phones (in particular) anywhere and anytime.
What worries you most about enabling BYOD on your campus?
BYOD does increase the ways in which sensitive information can go astray, but that risk is present whether or not BYOD is enabled on campus. I would argue that the barn-door opened pretty wide when institutions started issuing laptops to employees and when USB keys came on the scene. Students have been bringing their own devices to campus for years and connecting them to the network, particularly at small residential colleges. I do worry about adequate bandwidth to handle multiple simultaneous device connections per person.
Finally, I worry about support expectations if colleges and universities go beyond allowing BYOD use and move to depending on BYOD use, particularly in the classroom. Students at many institutions are on their own when it comes to substantive hardware and software support. If we expect students to use their own equipment in place of institutionally provided hardware, for example, does that create an obligation to support that hardware, and is that obligation feasible? On the other hand, it seems increasingly hard to justify replicating a hardware environment, in particular, that students are already bringing to campus. What are the costs associated with BYOD when the devices are the primary work tools for staff or faculty?
If BYOD becomes established within higher education, what will change because of it?
If higher education institutions move beyond simply allowing BYOD to incorporating those devices into the educational experience, institutional software licensing is going to have to change. Current difficulties in licensing some software for virtual lab environments suggest there is a long way to go in this area, especially if local installations on personally owned student or employee machines are required. Support models may need to change significantly.
Institutions may be required to rethink where their "access gatekeepers" are and where they need to change. However, in light of the move away from client-based access to web-based access and with the rise of cheap personal cloud-based storage, the issue of where data should be stored goes well beyond BYOD. I argue that this issue may be exacerbated by BYOD but that BYOD is far from the main culprit forcing institutions to think carefully about data access. BYOD is just the latest/another access vector.

How strategically important to higher education is the BYOD phenomenon? Is it simply a passing fad?
This isn't a passing fad, but even if higher education IT leaders regularly recognize its persistence, I don't think we're doing an adequate job of connecting the phenomenon to the fundamental changes that the higher education economy is experiencing and will experience in more obvious ways in coming months and years. As others have noted, some IT aspects that higher education institutions previously supplied to their constituencies at low cost and high quality are now often available cheaper and better from other sources. Back when we in higher ed were very good at supplying those things to our populations, what we provided was deeply valued—but now, not so much. For a culture that is particularly sensitive to the unique value of each of its activities, this is a big shift. If we don't do what we do better than anyone else, our faculty, staff, and students will increasingly look quizzically at us and ask why we're doing it at all.
Should higher education institutions and their IT organizations resist or embrace BYOD?
I'm in favor not only of closely hugging BYOD but of getting hitched to it. Some folks believe we should do so to save money. Although that's a worthy consideration, my view is a little more subtle. In the past, just about the only way our campus populations would experience information technologies was when we provided them. Now our students, faculty, and staff are carrying technologies on their belts, in their pockets, or in their handbags—technologies that are nearly as capable as the technologies we provide for them. So whereas we used to make them pay (in tuition and fees) for technologies that they could not get any other way, now we're using a portion of their tuition and fees to pay for technological capabilities that are roughly comparable to what they already own. We do so because we want them to use those technologies in a particular way—which is usually not the way they prefer to use the technologies. We thus should not be surprised that sometimes (maybe even "often"), that philosophy irritates the people we say we're here to serve. We need to embrace BYOD not to save money but to be able to spend money instead on specific technical capabilities that our community members really need from us and that they find unquestionably valuable as they pursue their goals at our institutions.
Hasn't the pressure to deal with BYOD always been an issue for IT leaders? What makes this time different?
Perhaps the BYOD pressure has always been an issue—it certainly has been around as long as IT tools and devices have been widely available and relatively affordable. For me, what makes this time different is the maturation of virtualization. All of my arguments in favor of BYOD make no sense unless the hardware and software that our users already own and personalize can also be used to access the environments they need in order to advance both their learning and their professional activity, as well as the missions of our colleges and universities. Every day, we're getting closer to being able to provide those environments in platform-agnostic ways using virtualization. When access must be bounded, we can offer what may be appropriately described as container applications, in which institutions can exercise the level of control they need to have in order to enhance security and privacy while delivering the applications to the users' own devices. I'm still trying to learn how close to reality this vision of firm control within an environment of flexibility and variability actually is (beyond vendor hype), but I'm optimistic. Much of what we've seen in recent years seems to be headed this way.
What worries you most about enabling BYOD on your campus?
Let me start with what doesn't worry me: user support with BYOD. If our post-secondary users can't be self-sufficient (or, more properly, self-actualizing) with respect to their use of the basic technologies of living and learning, this model is useless. If, alternatively, we can focus on designing container applications when we need to and providing free-flowing access to information resources at all other times, and if we leave it to the users to provide the device-based capabilities on their end to make effective use of those resources, then I think we'll be fine. The ubiquity of these devices in the general conduct of life means that the users should be comfortable with their part of that bargain. Clearly, we have much still to do to enable an infrastructure that is scaled sufficiently and flexible enough for BYOD, but that is just another example of the things on which we in higher education information technology should spend our dollars.
If BYOD becomes established within higher education, what will change because of it?
A big piece of the fundamental economy underlying higher education will change. Let me give an example. I believe that in a few years, faculty and staff will be given stipends to acquire and use their own devices rather than the institution buying devices and providing support and service. At the same time, students will (continue to) be expected to provide their own devices for accessing campus information environments. For the majority of uses on campus (with the exception of the most routine business tasks), the users of the technologies provided by the institution will creatively weave those technologies into their personalized lifelong learning and information-management systems. To say that another way, if we don't expect all of our constituencies to make continuous investments in their means of managing the rich, ubiquitous, and complex information context in which they live, learn, and work, we're selling them—and our enterprise—short. This isn't about meeting our audiences/constituencies/users where they are; it is about focusing our efforts where we can truly add the most value.

How strategically important to higher education is the BYOD phenomenon? Is it simply a passing fad?
In some aspects, BYOD has been important for a number of years, if we think in terms of students bringing their own computers and devices to campus. Whereas higher education institutions have provided faculty and staff with computers, we have also allowed folks with active accounts and credentials to connect their own devices to our networks and to access most services. For faculty, this included smartphones and connecting to institutional e-mail systems. Tablets are not far behind. We are continuing to see a large increase in both smartphones and tablets on campus, and I expect that to continue. I'm not sure of the strategic importance of this phenomenon other than that connectivity to college and university services is now expected. Our challenge is to figure out a way to maintain security and privacy of institutional data while allowing access via personal devices. Again, I believe we have been seeing this with students for a long time; it is the faculty and staff aspect that is relatively new.
Should higher education institutions and their IT organizations resist or embrace BYOD?
BYOD will be difficult to resist. As products become cheaper, with more capabilities, saying no to BYOD by members of the campus community is going to be extremely hard. On the other hand, embracing it and allowing access is one thing; demanding BYOD to reduce cost is a different issue. Given the current economic climate, I don't see how we can expect or require faculty and staff to provide their own equipment.
Hasn't the pressure to deal with BYOD always been an issue for IT leaders? What makes this time different?
Yes, I do believe this has always been an issue. The difference this time is that since the cost of devices can be rather inexpensive, the sheer volume will increase, making support more difficult. Also, the threats of compromise with these devices continue to increase, complicating our ability to protect our data when accessed by a machine over which we have little to no control.
What worries you most about enabling BYOD on your campus?
Understanding how to secure the data and systems being accessed by these devices and understanding the support expectations of the owners/users are both worrisome to me. Just because someone owns a device does not mean he or she knows how to administer, maintain, secure, and use it appropriately. The other worry I have centers on standardization. If faculty have varying devices and software, will that put extra burden on students to use whatever applications are required by the faculty? However, considering that our future students will probably have much knowledge of and a high level of comfort with technology, this may not be an issue.
If BYOD becomes established within higher education, what will change because of it?
Together with mobility requirements, the ability to access everything from anywhere at any time will be the standard way that folks want to work. The challenge for the central IT organization will be to figure out how to allow this in a secure and efficient manner.

How strategically important to higher education is the BYOD phenomenon? Is it simply a passing fad?
BYOD is definitely not a passing fad, but I can't say that it is of strategic importance to higher education at this time. It is something we should recognize as part of the way we do business. This means that we, particularly those of us in higher education information technology, should embrace the fact that BYOD is here to stay. The consumerization of information technology has arrived, and we must be prepared to plan for and manage personally owned mobile devices. "Supporting the Trends toward IT Consumerization and Bring-Your-Own Device" was listed as #2 on the EDUCAUSE top-ten IT issues list for 2012. This indicates to me that it is more than a passing fad.
Should higher education institutions and their IT organizations resist or embrace BYOD?
Resistance is futile. . . . We should definitely embrace BYOD. The consumers have spoken, and they want choice. They want to be able to select their device and have it integrated into all the areas they need, whether at home or at work. In my experience, there has always been a strain or competition between the individualization, personalization, and choice that our consumers desire and the controls, policies, and structures that the IT organization has put in place. This has to change, if it is not changing already. The change requires IT leaders, as well as those front-line staff delivering services, to understand the consumers' needs and work to figure out a way to deliver those services to the consumers' devices of choice. Of course, this also requires consumers to understand the balance between the freedoms they desire and the protections the institution needs in order to ensure the safety of critical data. We in information technology must be ready to manage and support our faculty, staff, and students who arrive with their personal computing devices, and we must figure out ways for them to integrate into our ecosystem securely as well as conveniently.
Hasn't the pressure to deal with BYOD always been an issue for IT leaders? What makes this time different?
I'd have to say yes. With the advent of the laptop, there has been some pressure, for lack of a better word, for IT leaders and their departments to service and support the mobile user. I believe that as a community, we have improved how we're doing this, but I suspect the end user still thinks we're slow to adapt. Now, having said that, I'll add that I think the creation of the tablet (especially the iPad), coupled with WiFi and cloud storage, has put increased demands on the IT organization to move at a far more rapid pace. This time, the devices are more portable and more powerful. This time, the devices, whether tablets or smartphones, are capable of the delivery of information, entertainment, and productivity to users in a convenient and readily available way unlike any we've seen before. The way I know this time is different is that when I travel around the country, I see young and old pulling out their devices—iPhones, Android phones, iPads, Kindles, Windows tablets, and more. Even more important than the form factor or the device is the capability of the user to access information and the many applications that are available. Another sign that this time is different is the quantity of devices that faculty, staff, and students carry, with individuals increasingly carrying more than one device.
What worries you most about enabling BYOD on your campus?
I have more serious worries at my institution than enabling BYOD. But as CIO, I will always be concerned about maintaining security and protecting the institutional data/information. We'll need to review our policies to ensure they are in line with the technology changes anticipated with BYOD. Another concern is the division of labor required for the support of personally owned devices. How much support should the IT organization provide, and when should we direct users to their vendor or to the store where they purchased their device? Should we be working on personally owned devices at all? BYOD brings with it policy, technical, and legal challenges. As I noted earlier, one of the chief benefits of BYOD for users is the choice they have in selecting devices. This, in turn, is what causes concern for IT leaders. I believe our staffs must be able to assist users in accessing the institutional network and the institutional resources they need. Doing so of course becomes more complex with the variety of devices and operating systems. Again, faculty, students, and staff are increasingly carrying more than one device, leading to growing demand for wireless capability at our campuses and thus the need for more access points. For me, the key BYOD concern will be enabling our students, faculty and staff to use their personally owned devices while both minimizing the burden on my IT staff and maintaining institutional security.
If BYOD becomes established within higher education, what will change because of it?
One change I foresee would be a cultural change, not just for information technology but for higher education in general. As the demand for and popularity of mobile devices increase, we will need to figure out ways to use these devices to interact with students in class, to provide new learning opportunities, and to offer IT services and support for faculty, staff, and students. BYOD could also impact our policies. Additionally, we could see less demand for the IT organization to procure desktops and possibly even laptops in the future. Anticipating that BYOD is here to stay, I've asked my staff to review our policies as well as to identify changes we will need to make in how we do business and provide support.

How strategically important to higher education is the BYOD phenomenon? Is it simply a passing fad?
Smartphones and tablets already dominate sales of new network-connected devices, and most analysts predict that they will constitute the majority of devices using our networks and services in just the next couple of years. This is no fad; it is the future staring us right in the eye and challenging us to adapt to both the challenges and the opportunities.
Should higher education institutions and their IT organizations resist or embrace BYOD?
BYOD—really BYOE ("E" for everything), since it includes devices, networks, storage, and software—is both an inevitability and a huge opportunity for our institutions. Several factors have converged to afford this opportunity: the dramatic lowering of price and the increase in availability of computing devices resulting from commodity mass production; the convenience of acquisition, growing capabilities, ease of use, and simplicity of management of fully consumerized devices such as smartphones and tablets/pads; and the emerging role of these personal computing devices as tools for personal business and entertainment. This is a unique moment in technology, a fundamental shift in the expectations, needs, and technology self-determination of our users. Institutions that fail to embrace BYOD will find themselves falling behind powerful technology and social changes and will be under siege by disgruntled users.
Hasn't the pressure to deal with BYOD always been an issue for IT leaders? What makes this time different?
As soon as our users were able to acquire computing resources without having to come through the central IT organization, we were living in BYOD. For most of our institutions, BYOD started when the second computer arrived on campus, with the first being the mainframe (the second may have looked something like this). What is different this time is ubiquity—the fact we can assume that virtually all of the members of our communities have access to some sort of computing device. This ubiquity challenges us to reassess the services that our users need and want from our institutions.
What worries you most about enabling BYOD on your campus?
We now operate in a world in which none of our users need us to provide basic productivity computing capability, which means that we can no longer rely on controlling access to the technology as the primary mechanism for implementing institutional policy and protecting institutional data. We have lost ownership and management control of the majority of the devices that are used to access the data and services we provide, and we are not going to get that control back. This means that we must redirect policy and procedure away from the traditional focus on devices and networks. Instead, the focus must be on data classification, data security, and data loss prevention.
We must also rethink the way that we architect our institutional infrastructure. Many of our systems and services assume that we have end-to-end control of the computing environment: servers and storage tuned for applications; campus networks with excellent capacity and quality-of-service characteristics; end devices with minimum specifications for resources such as display size, RAM, disk; and end devices with predictable software configurations such as specific versions of browsers, drivers, and middleware stacks. Most of these assumptions break down in BYOD. We must design our systems and services to project themselves successfully into this unknown environment.
If BYOD becomes established within higher education, what will change because of it?
Two fundamental changes, or opportunities, will result from the successful support of BYOD. First, our users will finally be able to achieve what we have been trying to provide them with for many, many years: individual personal computing environments that are customized specifically for their needs, their work habits, and their preferences. This is possible now because our users are able to acquire, use, and maintain their own hardware, software, and services to meet their personal productivity needs. Most important, because we all use our devices primarily for entertainment and personal business, we are willing to take responsibility for creating and maintaining our personal computing environments—a responsibility that was not generally accepted for institutionally owned devices.
Second, both central and departmental IT organizations will be able to let go of an activity that has dominated our organizations since IBM introduced the PC: the direct support of individual computing environments. Many of us believe that the era of steadily expanding IT budgets is over, that we are in an era of level or declining IT budgets. If we are to respond to growing demands for new services for online education, data-intensive research and scholarship, and security and compliance, we must find areas that we can stop funding in order to free those resources for reallocation elsewhere. BYOD is a golden opportunity to take advantage of a fundamental shift in user behavior to re-create our service portfolios to meet the future.

How strategically important to higher education is the BYOD phenomenon? Is it simply a passing fad?
I think the "BYO" part of the phenomenon is largely a new label for something we've been dealing with in higher education for some time. What's more interesting to me is how the existence of BYOD could transform how we manage information technology in higher education. The mobility aspect, as well as the complexity and array of device types, encourages us to focus less on the device and more on the constellation of applications that members of our community want to use for teaching, learning and research. The key is to develop standards-based applications coupled with an infrastructure that is mobile, highly flexible, and available everywhere. To me, that is the real challenge and change that BYOD is creating.
Should higher education institutions and their IT organizations resist or embrace BYOD?
Now is a great time to embrace BYOD, since there are more tools and strategies than ever before to leverage BYOD to our advantage. However, I think we should be focusing not on how to manage a device but, rather, on how to build an integrated, web-based mobile infrastructure of applications so that the device is irrelevant. Whether one uses an institutionally owned device or uses a device brought to the institution, we should be building extensible, device-independent applications and connections between them. Standards like REST and SOAP, as well as authentication schemas like federated identity and CAS, can play a big part in this integration.
Hasn't the pressure to deal with BYOD always been an issue for IT leaders? What makes this time different?
I think the pressure has always been there. What's different now is the low cost and the consumerization of the hardware market. This hardware evolution, coupled with the ubiquitous availability of robust wireless Ethernet and cellular networks, has led to an exponential increase in the number of devices being brought to campus. It used to be that students were eager to arrive on campus to get an e-mail account and access to high-speed networks provided by the college or university. But those days are long gone. Similarly, students are becoming less reliant on institutionally provided hardware.
What worries you most about enabling BYOD on your campus?
In my view, the most troubling aspect of BYOD is the ease with which sensitive data can be leaked through a poorly managed personally owned device. Another challenge is the alarming rate of change in the device market. Both of these concerns are why we at Lafayette College are focusing on the application components, as I mentioned above. Trying to keep up with the device side is a losing battle. Creating the right application infrastructure is an area in which we can succeed.
If BYOD becomes established within higher education, what will change because of it?
As BYOD becomes more pervasive, I hope that IT organizations will become concerned less with device purchase and management and involved more with application development and integration. This would lead to continued improvements in the tools available for teaching, learning, and research. A standards-based constellation web of applications will enable the integration of third-party cloud services with institutionally run applications. This will create a blended and seamless environment, allowing colleges and universities to have highly flexible and tailored choices. In the end, I think this is where our resources should be aligned to create the most strategic impact at our institutions. Done right, BYOD can help us build this alignment in the years ahead.
Notes
"Bring Your Own Device," Wikipedia, February 20, 2013.
Eden Dahlstrom and Stephen diFilipo, "IT Infrastructure in the Bring-Your-Own Everything (BYOE) Era," EDUCAUSE Center for Analysis and Research (ECAR) Research Report, January 29, 2013.
EDUCAUSE Review, vol. 48, no. 2 (March/April 2013)