Education in the United States is entering a very exciting moment. For the first time, all of the digital stars are aligning n such a way that the technology is available to design truly transformational learning experiences. The ubiquity of inexpensive and powerful mobile devices is creating the potential for all students to learn at any time and in any location. Increased wired and wireless broadband is creating the potential for learners to engage and interact with peers and experts around the world. A proliferation of data from digital learning activities is creating the potential to leverage "big data" and learning analytics for personalizing learning. All of these elements are combining to create the potential for this to become education's Internet moment.
To take advantage of the energizing technological promise to improve learning, we need to determine how to accelerate the rate at which new learning tools and techniques are developed and implemented. By accelerating the pace of innovation in educational technology, we will have the opportunity to close the achievement gap, improve national competitiveness, and drive economic growth.
The National Education Technology Plan (NETP), developed by the Office of Educational Technology at the U.S. Department of Education, sets the national agenda for using technology for learning. According to the NETP, the Department of Education has a role in "encouraging, promoting, and actively supporting innovation" and in "nurturing collaborations" so that "the best ideas can be scaled up."1
Perhaps it's worth taking a minute to define innovation. According to Jim Shelton's blog post in Education Week, innovations are ideas and approaches that "shatter the performance expectations of today's status quo; to make a meaningful impact, these new solutions must also 'scale,' that is grow large enough, to serve millions of students and teachers or large portions of specific under-served populations. True educational innovations are those products, processes, strategies and approaches that improve significantly upon the status quo and reach scale."2 (See Figure 1.)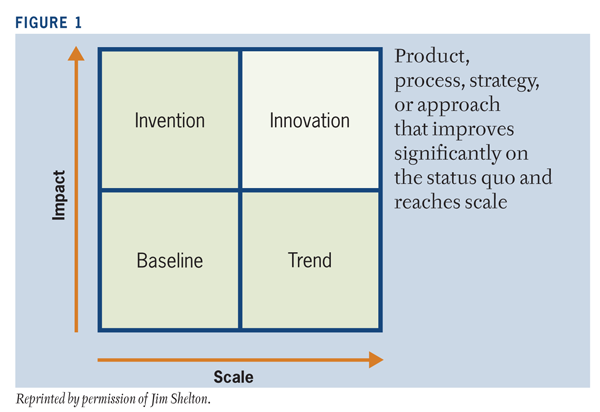 One strategy to encourage, promote, and actively support innovation is to identify approaches that have worked to accelerate innovation in other industries and apply them to education. Although the domain may be very different, the underlying approaches often can still be very effective. Two such examples are innovation clusters, from the bioscience field, and open data initiatives, from the health care industry.
Innovation Clusters: Learning from Bioscience
The St. Louis region has a long history as the home to world-class scientists in medical and plant biosciences. However, the region was not always as successful at translating that research into practical application. The expertise that already existed in the region mostly comprised independent services, isolated research efforts, and siloed commercial ventures. Regional leaders recognized the opportunity to accelerate the commercialization of bioscience innovation and to capture the economic benefit of the region's research base. They realized that if they could treat these independent projects as a coordinated effort, they could accelerate the pace of innovation. In 2001, the St. Louis Coalition for Plant and Life Sciences, now known as BioSTL, was formed to create an innovation cluster, bringing together all of the elements to foster a burgeoning innovation ecosystem around medical and plant biosciences. For over a decade, BioSTL has played a leadership role in stimulating and facilitating necessary elements of this entrepreneurial infrastructure—including facilitating new company creation, growing local venture capital, establishing science districts with lab facilities, and promoting public policies to support science, entrepreneurship, and the growth of the bioscience industry. This work has spawned a range of new research initiatives and 183 startup companies in the bioscience industry and, along the way, has brought nearly $1 billion in biosciences venture capital to St. Louis.
As BioSTL has shown us, innovation can be accelerated by taking a regionally coordinated approach to research and development and the infrastructure that supports it. The idea of innovation clusters comes from the work of Michael Porter, of the Harvard Business School, who observes that even though in theory location should no longer be a source of competitive advantage (thanks to high-speed communication and global markets), in practice geographic location remains central to competition. According to Porter, innovation clusters are regional concentrations of interconnected companies, service providers, and associated institutions that enjoy unusual competitive success in a particular field.3
Some have suggested that learning how to strengthen innovation clusters may be the key to rebuilding a damaged economy.4 In May 2010, the Economic Development Administration (EDA) created the i6 Challenge, and in May 2011, the Regional Innovation Cluster Initiative announced the Jobs and Innovation Accelerator Challenge, both intended specifically to fund the creation of innovation clusters to accelerate technology commercialization, new venture formation, job creation, and economic growth across the United States. The challenges have now funded more than thirty regional projects ranging from aerospace to food processing and, soon, education.
Innovation Clusters in Education
There are many opportunities to leverage the concept of innovation clusters to advance research and development in education. Today, basic research in learning science is often disconnected from the practical implementation of products and services. Acquisition processes can make it difficult for new tools and approaches to be deployed in educational institutions, and limited infrastructure can stifle broad adoption. Yet developing cross-disciplinary partnerships to create an intentionally integrated innovation ecosystem could help remove the barriers that slow innovation in learning technologies. Figure 2 shows the key players of an education innovation cluster and the unique expertise each could bring to the partnership.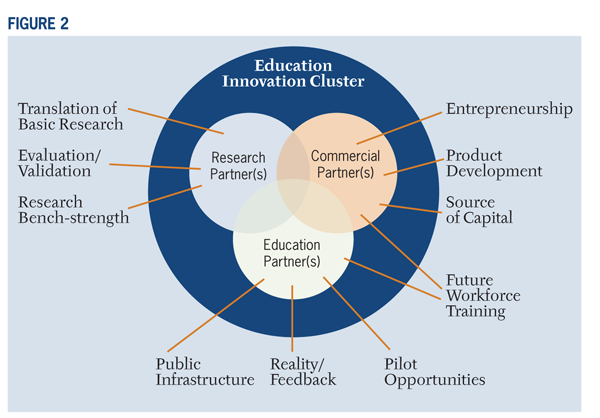 Education Partners could provide an environment where emerging learning technologies can be tested and new solutions can be developed with input from students and instructors. Education partners could also serve as a reality check for ideas that appear promising in theory but may be impractical to implement.
Research Partners could conduct basic and applied research related to advancing the field of learning science. They would be integrally connected to the entrepreneurial Commercial Partners to ensure effective design of learning technologies. They would also have deep relationships with the Education Partners to streamline the collection of data and outcomes to conduct ongoing evaluations of the products and approaches developed in the cluster.
Commercial Partners could exploit new technologies to scale and bring to market applied research that addresses Education Partners' needs. They could also provide investment capital to accelerate the commercialization of intellectual property and increase the probability of success of new enterprises built on the knowledge and solutions generated in the cluster. The quality and relevance of products would greatly improve with consistent access to the Education and Research Partners in the cluster.
In combination with a supportive regulatory and funding context, education innovation clusters have the potential to lead the nation in the creation of new knowledge, tools, and approaches.
Elements of an Education Innovation Cluster
Although the focus and structure of education innovation clusters could vary from region to region, the following are some elements that will likely be a part of an effective cluster:
Innovative Schools and Learning Environments. Are there schools with the flexibility and infrastructure to implement new technologies? Are there schools that are instrumented to capture process and performance data?
Research Centers. Is there capacity to conduct and synthesize basic and applied research and ongoing evaluation of solutions as they are developed and scaled? Will researchers have access to developers to help transfer and scale solutions?
Entrepreneur Supports. Are there start-up supports to help entrepreneurs launch and scale? Will new entrepreneurs and developers have access to researchers and test-bed sites, with students and educators for feedback?
Design Centers. Is there a design center to support researchers and entrepreneurs with the best-known practices in human-centered design?
Knowledge-Sharing Platforms and Practices. Are there processes and tools in place to share knowledge and resources among regional partners and with others?
Common Metrics and Ongoing Evaluation. Is there capacity to perform ongoing evaluation of the effectiveness of the cluster based on data captured from the learning environment? Are there common performance metrics across the cluster?
Financial Support and Interest. Is philanthropic or government funding available to support the cluster? Is investment capital available to support innovations?
Next-Generation Schools of Education. Are there schools of education within the region that are preparing educators and scholars to implement and contribute to the new knowledge and solutions emerging from the cluster?
Innovation Clusters in Action
Education innovation clusters are not just a theoretical hope for the future. A number of forward-leaning regions across the country are already beginning to form clusters, modeled after the same principles that led to BioSTL. For example, Pittsburgh has created an innovation cluster—initiated by the Grable Foundation and supported by the Sprout Fund, with partnerships between local foundations and Carnegie Mellon University—to support the local entrepreneurial community through business incubators, catalytic grants, and knowledge sharing. [Editors' Note: For more on this innovation cluster, see the EDUCAUSE Review Online article "Pittsburgh: Forging a 21st-Century Learning Community."] Los Angeles is advancing science, technology, engineering, and mathematics (STEM) education. This cluster includes partnerships between six research centers at the University of Southern California and the L.A. Unified School District, with a focus on implementing and evaluating new ideas in public, urban school systems. Phoenix boasts Arizona State University's SkySong innovation center—collocating commercial office space, incubator space, the Venture Catalyst program, and ASU staff. SkySong accelerates innovation by facilitating partnerships between ASU's Learning Sciences Institute, the Mary Lou Fulton Teachers College, and local entrepreneurs.
In July 2012, the University of Pennsylvania Graduate School of Education hosted a convening of leaders from thirteen regions from across the country, all of whom were at various stages of implementing an education innovation cluster. The goal of the convening was to share best practices and to help create not only regional partnerships but also a national network of innovation clusters, so that different regions can begin leveraging each other's strengths.5 By coordinating their innovation efforts at both a regional and a national level, clusters can accelerate the development of the new tools and technologies needed to educate the next generation of tech-savvy and highly connected learners.
Open Data: Learning from Health Care
Another approach to accelerating innovation comes through "opening up" new types of data. After twenty years as an emergency room physician, Dr. Pete Hudson began to notice a troublesome pattern: patients didn't have the right information about their health care at the right time to make informed decisions. This led to increased costs and inefficiencies and in some cases even cost the patients their lives. Hudson and a partner ER doctor, Wayne Guerra, decided to create a smartphone app to help patients connect to the right medical provider at the right time. They were able to build a tool that aligns patient needs with the right provider by leveraging open-source data from the U.S. Department of Health and Human Services. These open data sets—including clinical information and data on providers, federally qualified health centers, and mental health/substance abuse—fueled the creation in 2008 of the app iTriage, which helps millions of people reach the right provider. As Hudson puts it, in twenty years he and Gurerra took care of 50,000 patients as ER doctors, but in only three years they served 7 million patients through their app. The flow of open data that led to the creation of Hudson's app became the fuel that propelled the creation of an entire new industry of tools and services for helping people make better decisions about their health.
Open Data in Education
Educational choices have a lifelong impact. In addition, education is one of the most significant investments many families ever make—and therefore deserves all of the tools and supports possible to ensure informed decisions. Following the model of health care, "opening up" educational data could accelerate the innovation of tools and services to help students, their families, faculty, and institutions. Recently the U.S. Department of Education launched education.data.gov—a website hosting more than 200 educational data sets ranging from school performance data to the actual costs of college to the amount of Pell Grant money institutions receive. Additional data sets are being added to education.data.gov on a regular basis, and an invitation to help prioritize which data sets should be opened has been posted on the department's website.6
Open educational data sets are not limited to federal government data. The folks at Noodle have been compiling nearly 150 advanced programming interfaces (APIs) for connecting to sets of educational data created by the private sector and nonprofit organizations. Examples include data from a comprehensive chemical database, museum mapping data, and multilingual dictionary definitions. Open data sets, whether from the federal government or private-sector organizations, can fuel the creation of tools that help learners make the right educational decisions and prepare them for the next learning endeavor.
MyData and Personal Learning Profiles
Opening up data about student enrollment, matriculation rates, and school achievement is essential to monitoring school performance and visualizing trends. However, in order for innovation in education to accelerate, the future of open educational data must go beyond highly-sanitized aggregated data sets to also include data about educational resources (where digital content is located and how it is being used) and individual students' competencies (securely provided to the learners themselves) in standard formats.
One of the most significant elements of open educational data is the ability to empower students with their own information. Currently, data about learners is spread across a variety of systems at various institutions. Students can often see their data online but may have no option to take it with them, out of the system. The MyData initiative—a collaborative effort between the U.S. Department of Education and software developers—allows students to export all of their personal data in open machine-readable formats from any system. By clicking a MyData button, students can securely download copies of their transcripts, course grades, and/or demonstrated competencies. This approach is similar to the Department of Veteran Affairs Blue Button initiative, which gave more than one million veterans access to their own health care records. The federal student financial aid systems (the Free Application for Federal Student Aid and the National Student Loan Data System) will soon have MyData buttons, allowing students to securely export their financial aid information as well. Students can use the data to create a personal learning profile—an educational portfolio for their own records. They can then choose to share pieces of their learning profile with an ever-growing network of applications being built by the private sector to help students make better choices about which classes to take, which colleges to attend, and how to pay for tuition.7
Opening New Doors with Open Badges
Another type of open data involves tracking individual learners' competencies in a variety of skill areas. Until now, it has been difficult to track students' experience or employees' on-the-job work skills or military veterans' years of practical experience in the field in a common way. Sharing information about learner/worker competencies could help job-seekers find the right job and could potentially lower college costs by reducing time to completion.
The Open Badge Infrastructure (OBI) addresses this problem by creating a common format for storing data about a learner's competencies as a series of badges. Industry organizations, such as the Manufacturing Institute, have already begun working with colleges to award badges to students who demonstrate proficiency in specific competencies.8 A student can earn a badge for a particular competency by demonstrating prior experience or can sign up for courses in order to reach mastery in that skill.
Because the technology behind describing the badges is open, a learner can collect badges from any number of different organizations and showcase them in one place. Eventually, employers may be able to use open badges to find new employees based on specific competencies, leveling the playing field for job-seekers while doing a better job of matching the right skill sets to the right positions.
Data about the Best Learning Resources
Educational materials are not one-size-fits-all, and new innovations in both the types of educational resources that are available and the ways that instructors can find this content are helping to empower more effective learning experiences. Finding commercially licensed and open educational resources (materials that reside in the public domain or have been released under a license that permits sharing or repurposing) aligned to specific curricular standards can be challenging. The Learning Registry is a directory that collects information about the location, ratings, and curricular alignment of digital learning content. Publishers can add information about their content to the registry, and as with all other types of open data, developers can create tools and services based on the data. Although the registry is still in its infancy, it currently has tools for users to post resources via a Chrome Browser plugin and/or to explore the available resources with a visual browser. Because the Learning Registry infrastructure is open source, anyone can push new content, display its content, and/or build additional tools on top of it, resulting in an entire ecosystem of applications focused on creating and surfacing the very best in educational resources for every learner.
Datapalooza
Opening up educational data becomes meaningful for students, parents, and faculty only when talented developers use the data to create practical tools and services. To encourage the creation of these new products, the U.S. Department of Education and the White House Office of Science and Technology Policy hosted an "Education Datapalooza" in the fall of 2012. The event brought together educational technology experts and entrepreneurs, policymakers, companies, and community advocates with a focus on showcasing and developing new web-based and mobile services leveraging open data. It highlighted many of the innovations that are being developed using open educational data and encouraged new entrepreneurs and developers to add their talents to the effort of accelerating educational innovation through technology.
Final Thoughts
In 2010, President Barack Obama challenged the nation to once again lead the world in college graduation rates by 2020. Strengthening education in the United States helps ensure the country's future economic stability, worldwide competitiveness, and national security. However, meeting that goal depends on our ability to accelerate innovation in education and develop the technologies that support learning. Other industries that have successfully accelerated the pace of innovation can serve as a guide. Innovation clusters and open data initiatives are two approaches that hold great potential for education. By implementing these approaches while simultaneously leveraging exponential advances in technology and improved infrastructure, we can create truly transformative, innovative learning environments.
Notes
Jim Shelton, "Education Innovation: What It Is and Why We Need More of It," Education Week, September 28, 2011.
Michael E. Porter, "Clusters and the New Economics of Competition," Harvard Business Review, November/December 1998.
Bruce Katz and Mark Muro, "The New 'Cluster Moment': How Regional Innovation Clusters Can Foster the Next Economy," paper, Brookings Institution, September 21, 1010.
Richard Culatta, "Education Innovation Clusters: Accelerating Innovation through Regional Partnerships," Homeroom (U.S. Department of Education blog), July 16, 2012.
Jill James, "Your Feedback Wanted: More Open ED Data," Homeroom (U.S. Department of Education blog), August 14, 2012.
See Nick DeSantis, "Colleges Are Pressured to Open Up Student Data," Chronicle of Higher Education, April 15, 2012.
See "National Manufacturing Badges" on the Manufacturing Institute website.
EDUCAUSE Review, vol. 47, no. 6 (November/December 2012)