Key Takeaways
Students increasingly turn to social networks to enable coursework discussions outside of class, a factor that promotes their academic engagement and success.
A new web and mobile application at Purdue called Mixable lets students build and share their personalized learning environments using already familiar social tools such as Facebook, Twitter, and Dropbox.
Typically, students and faculty use the system to contribute short-form content such as bookmarks, questions, or status messages, although they can share various media (including podcasts of lectures) while retaining ownership of their files.
Faculty have access to reporting data coded so that it can be combined with other student information, such as grade book data, to measure application use in relationship to specific assignments, overall course performance, or learning outcomes.
Engagement promotes a student's academic success, and activities such as discussing coursework outside of class and working with other students on projects correlate with a student's academic performance.1 Increasingly, students turn to social networks as a tool for enabling this discussion. In a 2010 ECAR study, more than half of the students who use social networks indicated that they use them as a means to communicate with classmates about course-related topics.2 The same tools students use to manage their social life are the ones they choose to support their own learning.
In the fall of 2010, Purdue University released Mixable. This new web and mobile application enables students to build and share their personal learning environments using the social tools they already  know — Facebook, Twitter, and Dropbox. The system is presented as Facebook, web, and mobile applications, with features designed to facilitate common tasks such as status updates, microblogging, document sharing, and bookmarking. Mixable also offers Facebook friend suggestions by blending the students' own enrollment and learning community information with their already existing networks of friends within Facebook (Figure 1).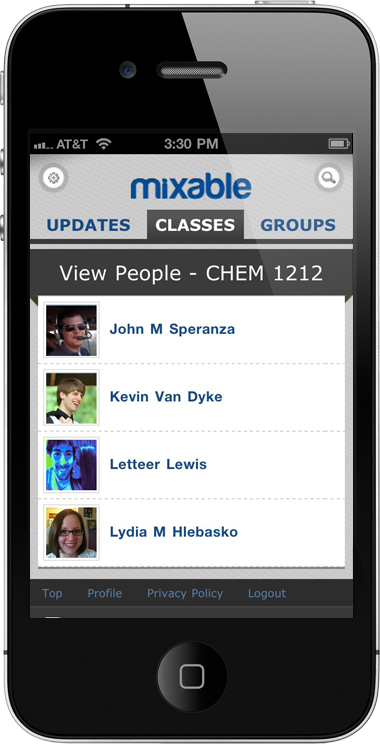 Figure 1. Mixable Mobile Showing Student Connections
How Does Mixable Work?
After signing into Mixable, students can choose to join any classes in their current course schedule. By opting into a course, the student is linked to a network of other students who have also joined. Once connected with their class, students can share virtual assets and engage in discussion using a variety of tools (Figure 2).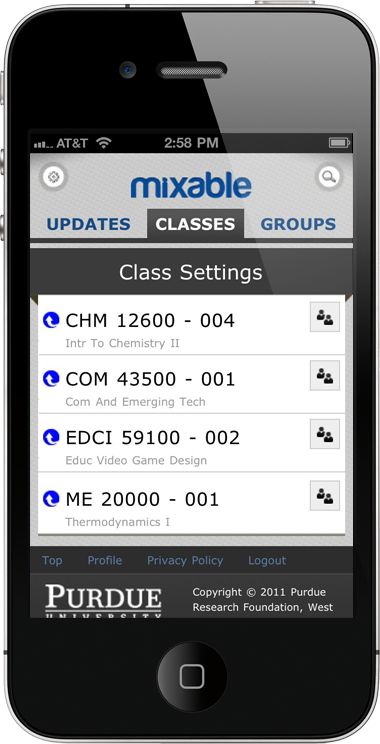 Figure 2. Mixable Course Options
To the user, Mixable appears as a constantly updating stream of posts and media shared by students within the same networks. Rather than presenting a series of tools with independent interfaces, the Mixable application uses one input box for all posts (Figure 3). The system sorts out the type of media shared — a simplified contribution model that makes it possible to share media from a wide range of devices.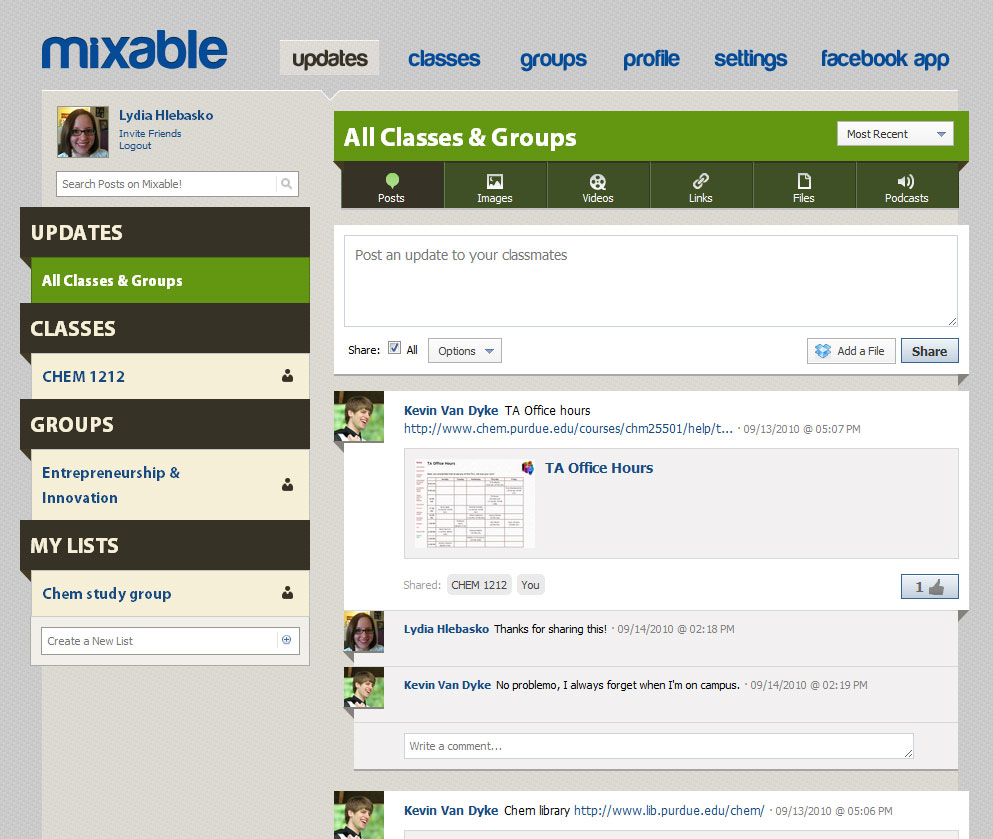 Figure 3. Mixable Interface
Typically, students and faculty use the system to contribute short-form content such as bookmarks, questions, or status messages. There is also an option, on a post-by-post basis, to syndicate this content as status updates to the user's Facebook or Twitter accounts. As posts are made, Mixable examines them for references to external media or websites. Media, such as images or video, are automatically embedded as thumbnails within the system, and links to websites are screen-captured and compiled into a list of bookmarks (Figure 4).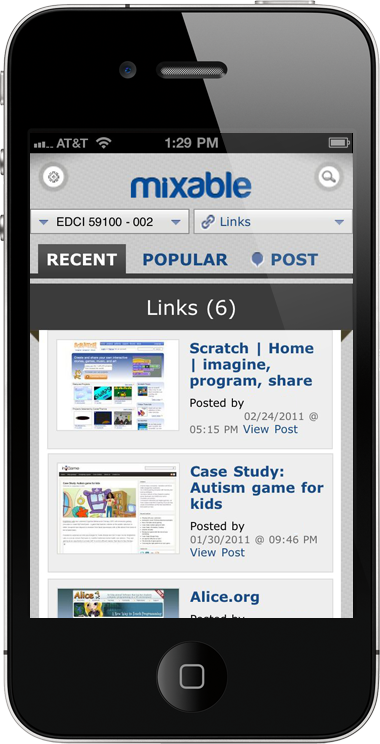 Figure 4. Mixable Bookmarks
A unique aspect of Mixable is that it does not store media locally, but pulls from common media-sharing sites such as YouTube. The application also integrates with Dropbox, a personal cloud computing service that offers free storage, as a way to share and save files. By taking advantage of external storage options, students can retain ownership of their own files from course to course and after graduation. Dropbox also provides a collection of mobile applications for iPhone, iPad, Android, and BlackBerry devices. When files are shared within Mixable, they are automatically stored within the student's Dropbox account (Figure 5) and are accessible from virtually anywhere, offering an alternative to USB flash drives or e-mail attachments.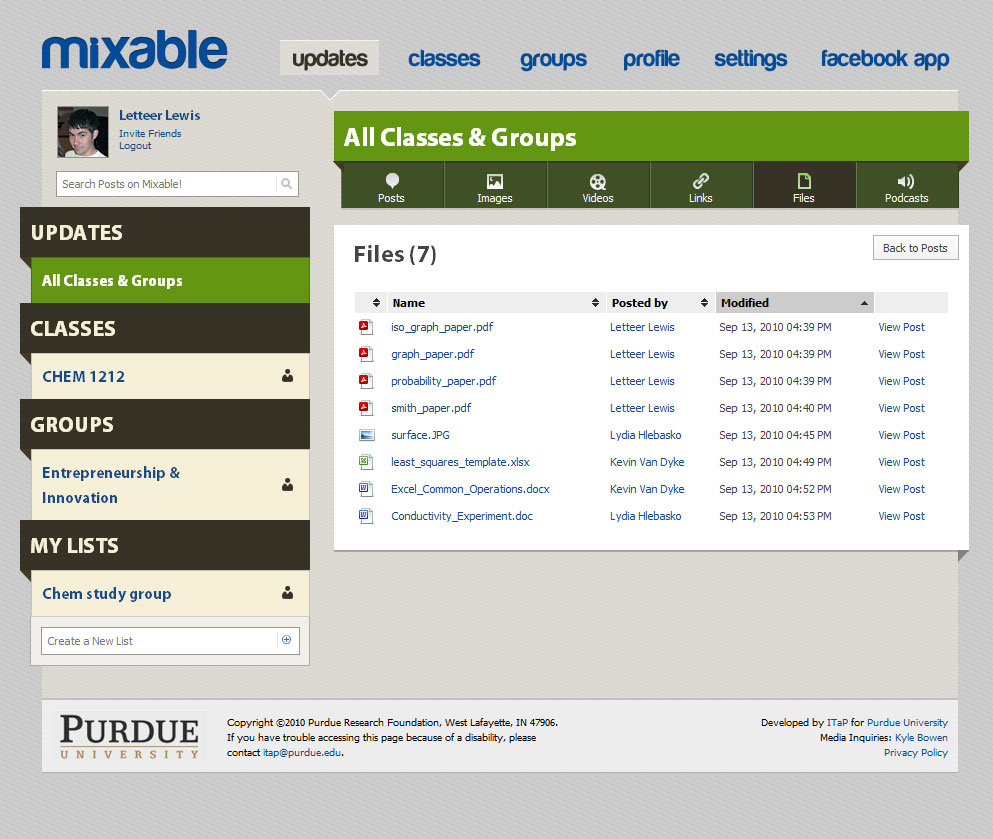 Figure 5. Files Shared on Mixable via Dropbox
In addition to media-sharing functionality, Mixable also provides access to podcasts of lecture material. These recordings, captured by Echo360, are automatically published within Mixable (Figure 6). Students can use an embedded media player to listen to or download the recordings through their browsers or mobile devices.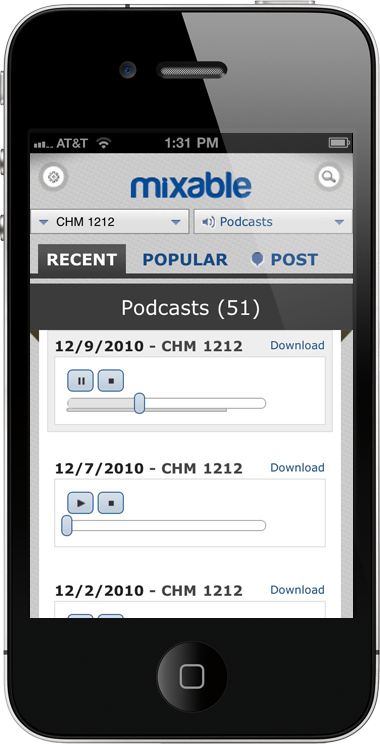 Figure 6. Lecture Podcasts Available within Mixable
Currently a range of different courses use Mixable, including engineering, education, chemistry, and communication. Each instructor has taken a different approach to including the application. For example:
In a communications course on emerging technologies, faculty and students use Mixable to share help resources as they work on their projects. Mixable automatically gathers these resources into libraries of bookmarks and videos.
In one mechanical engineering course, homework assignments that include media are posted and discussed on Mixable.
For an education course on developing educational games, Mixable is used as a small group collaboration tool where group members can share project documentation, help information, and exchange ideas.
Because conversation ownership is shared between the instructor and the students, it is common for these exchanges to include student posts related to career opportunities within the discipline, along with recruitment for student organizations.
Evidence of Mixable's Impact
Mixable is designed to provide an underlying infrastructure for assessment. The system automatically collects and stores analytics for each user. The key to this technology is that the application binds a student's social accounts with their university credentials such that the same analytics can be captured no matter how the student chooses to access the application (through the web, a mobile device, or Facebook). This makes it possible to gather usage information even with open tools, where access to analytic data might be limited and not easily identifiable.
Faculty have access to reporting data, allowing them to review students' usage and contributions. This data is coded so that it can be combined with other student information, such as grade book data, to measure application use in relationship to specific assignments, overall course performance, or learning outcomes.
Mixable is currently operating as a pilot in 21 courses with a combined enrollment of 1,300 students. Data collected from Mixable this semester, in addition to student surveys, will be used to evaluate the technology.
Conclusion
Mixable attempts to provide a simple way to connect students in the same class or learning community by moving the conversation to places where students already live virtually — mobile devices and Facebook or Twitter. In addition, the technology begins to provide a framework where faculty can develop new pedagogical approaches that take advantage of mobile and open technologies, while still gathering analytics and preserving student privacy.
For more information about Mixable and some of Purdue's other mobile projects, please visit http://www.purdue.edu/studio.
Endnotes
Robert M. Carini, George D. Kuh, and Stephen P. Klein, "Student Engagement and Student Learning: Testing the Linkages," Research in Higher Education, vol. 41, no. 7 (February 2006).
Shannon D. Smith and Judith Borreson Caruso, Key Findings: The ECAR Study of Undergraduate Students and Information Technology, 2010 (Boulder, CO: EDUCAUSE, October 2010).