Key Takeaways
Colleges and universities can choose a centralized or a dispersed management model for handling content on their websites.
Utah Valley University chose a dispersed web content management system for its website, leaving control in the hands of individual content owners.
Somewhat customizable templates and a centralized but inclusive governance structure facilitate dispersed web content management at UVU.
Higher education institutions often have large, complex websites, necessitated by the many services, divisions, and areas involved in campus operations. The fall 2008 enrollment at Utah Valley University, for example, was 26,696 students in over 50 different degree areas. UVU also has 1,455 full-time staff and another 3,285 part-time staff. The university has identified over 200 different areas as having distinct web presences, totaling 38,000-plus web pages within the UVU public-facing website. Managing content on the site has been challenging, but UVU has implemented an effective solution.
Choosing a Dispersed Web Content Management System
There are two primary options for web content management:
First is a centralized model where a specific department or departments manage and maintain all web-related content. IT and/or marketing departments are often the gatekeepers in these situations.
Second is a dispersed management model where the editorial responsibility is spread throughout staff and campus. The authority for publishing on the web may range from direct access to create and publish pages to access to edit pages and submit them for approval.
UVU handles its website using a dispersed content management system. A governing body known as the Web Advisory Council manages the system, along with an action-oriented team known as the Strategic Web Action Team, the Web Development Services arm of Information Technology, the Web Resource Services arm of Marketing and Communications, and approximately 200 web content contributors throughout campus who enable the website's success and impact. The individual editors control the content for which they have expertise.
Although a variety of distributed web content management systems are available (see the sidebar), UVU opted to use OmniUpdate because we needed a Web Content Management Optionsflexible template-based system with dispersed management of content by various editors. The users needed to be able to make some modifications to the template, such as to navigation or the title text, while not making other changes, such as the format of the navigation or the title text. OmniUpdate can scale either upward or downward in number of editors or number of pages. It also offers flexibility in assigning publishing rights, incorporates technologies like PHP or XML (which permits adding databases, for example, like the UVU policy database), and provides immediacy of publishing changes.
UVU Pages within the Content Management System
All websites and other Internet sites used to conduct UVU activities must contribute to the overall mission of the university and be consistent with standards of academic and professional conduct. This also means all official UVU web pages must be in the university's web content management system. Since colleges, departments, and other units are a subset of the university, they are expected to reflect this association. Requirements and exceptions can be found in the UVU Domain Names policy.
The template used to submit content to the web has a somewhat controlled design and appearance. Web editors, however, can add virtually any content they desire within the body area of their pages, including images. They can also control the content and structure of their navigation as long as it follows template restrictions as to the design and layout of navigation.
Acceptable modification of their body area content includes the use of XHTML (graphics, tables, text, or other content), style sheets, or even JavaScript within the body area, with the latter two options managed by external cascading style sheet and JavaScript files they may edit. Although a majority of editors do not actively use all the capabilities available to them, applicable training is offered on a per-request basis.  If issues arise with the content, such as potential copyright violation, Web Resource Services removes the content until the issue can be resolved. In such cases, both the area manager and the web editor are notified of the removal and then the resolution. The department contributors can then make additional modifications and post them live, but Marketing and Communications continues to have the authority to override any changes made. In extreme cases, a specific user's access could be removed, although this action has never been necessary in UVU's eight years of content management. The university also has a policy for procedures involving notification of copyright infringement.
Full details on the template and its restrictions are available online in the UVU Web Style Guide.
Individual Web Roles
When any new area of the web is created, an area manager, site manager, and content contributor are identified to ensure the content will remain timely, accurate, and relevant. These individuals have responsibility for maintaining their segment of the site. Or, the Web Advisory Council may remove content at their discretion. If the responsible individuals do not want to edit their own web page content, they can submit the information to either Web Development Services or Web Resource Services, and the content will be added for them, albeit with a slight delay.
Two areas of campus have employees with web-related job duties:
Web Development Services consists of six full-time and five part-time staff. They manage the OmniUpdate system and all public-facing server-side programming.
Web Resource Services consists of two full-time and three part-time staff. They work with design, multimedia, and usability on the public-facing website.
In total, therefore, eight full-time and eight part-time individuals have specific web duties as part of their job descriptions.
The approximately 200 individuals throughout campus who manage the dispersed content fulfill all other duties. This system works well because the website's primary need is for accurate, timely, and relevant content — items that each area individually has the greatest command over.
The web content contributors are broken into two groups:
Site managers who create and delete pages, alter navigation, and modify headers and footers within their area
Content contributors who edit body content on pages within their area
All web editors can publish content to the live website. At one time UVU had identified content approvers in some areas, but has moved to the position that individuals who alter and update web content should also retain responsibility and authority over that content. Only in the case of policy violations would the Web Advisory Council step in and take control of publicly available content.
An area manager is also identified for each segment of the web, but these individuals are not necessarily active editors. Instead, they serve in an authority role if questions or concerns regarding posted content arise. Often these individuals are at the vice presidential level.
Web editors, whether contributors or site managers, do not need formal web-editing experience. Instead, potential editors must complete a one-hour, hands-on, lab-based training before receiving access rights. After that, optional monthly trainings are available, as is a users group that meets monthly. If web contributors encounter problems or need help, an identified individual in Web Development Services can answer their technical questions. If they need help with content or design, Web Resource Services can provide assistance.
Web Advisory Council
At times, issues arise that must be addressed from a larger or more holistic web perspective. At these times the Web Advisory Council comes into play. The council consists of 14 representatives from throughout campus:
Student government (1)
Administrative services (1)
Academics (4)
Student affairs (1)
Institutional advancement (2)
President's office (1)
Information technology (2)
Athletics (1)
Community (1)
The group's role is to:
Establish web management policies, procedures, and project priorities
Approve the application of college-level established branding and design models
Coordinate web-related communication throughout the institution
Analyze effective and pioneering uses of the web
Resolve web-related routine and urgent concerns that arise on campus
The Web Advisory Council, which reports directly to the President's Council, determines the mission, goals, objectives, and yearly strategic directions of the university's web presence. This gives all areas of campus direct input in the management and direction of the web, which is seen as critical to the entire campus. Equally, the web has a direct or indirect impact on virtually all areas of campus, thus any new technologies, policy changes, or other web-management issues are addressed by either the Web Advisory Council or by subcommittees reporting to that council. Figure 1 shows the governance structure. The Executive Group includes the chairs of the Web Advisory Council and the chair of the Academic subcommittee, and representatives from IT, Marketing, Web Resource Services, and Web Development Services.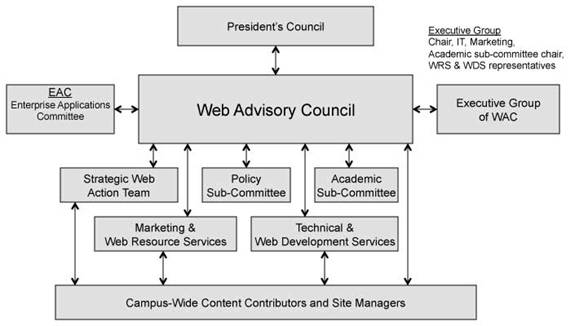 Figure 1. Governance for UVU's Web Content Management
Subcommittees of the Web Advisory Council
Five subcommittees report to the Web Advisory Council as recommending bodies:
Strategic Web Action Team (SWAT): Seen as the "action" arm, the SWAT often addresses areas with immediate needs as assigned and prioritized by the Web Advisory Council, ensuring that issues can be handled in a short timeframe if necessary. In some cases, the SWAT will address issues and then bring them back to the larger body for review or approval.
This standing subcommittee addresses all web-related concerns. Membership changes depending on what areas of the web are being worked on, although there are permanent members from Marketing, IT, Web Development Services, Web Resource Services, Academics, and Student Services.
Academic Subcommittee: A standing group that acts as a recommending body, the Academic Subcommittee consists of faculty and others with interests in academic issues related to the web. They address web-related academic concerns as assigned by the Web Advisory Council and raise web-related needs and proposals related to academic areas such as departmental websites, academic programs, curriculum/catalog, research, course resources, faculty needs, learning management systems, student work, and so forth.
Marketing Subcommittee: A recommending group of marketing and design specialists across the UVU campus that works with the marketing, design, and usability of the UVU web system, their responsibility is to maintain positive and effective audience experiences for users, along with assurance of accurate, timely, and relevant content.
Technology Subcommittee: A recommending group of web technology specialists across campus, they work with the technology and programming languages behind the UVU web system. Their responsibility is to oversee all the web server technology, system applications, course management system solutions, server-side scripting efforts, and any database-driven issues regarding the web systems.
Policy Subcommittee: This group acts at the direction of the Web Advisory Committee to develop, review, and write web policies and policies that affect UVU's web presence and governance. Policies and recommendations developed by the subcommittee are reviewed by Web Advisory Council and its subcommittees and voted on by the Web Advisory Council. Approved policies are sent to the President's Council for review and then sent through the policy process.
The subcommittees often include individuals from throughout campus in addition to Web Advisory Council members. The most active and influential subcommittee is the SWAT, which meets twice monthly. The other subcommittees meet once a month on average. The marketing and technical subcommittees have regularly scheduled monthly meetings and call special meetings as necessary.
At each meeting SWAT members focus on a specific segment of the web that is perceived to have the greatest need or the most impact on end-user experiences. These areas of the site are then reviewed and enhanced as appropriate. For each SWAT meeting, various constituents from throughout campus are invited based on the topic at hand. For example, if the web presence of advising is being discussed, then individuals from each area of campus involved either directly or indirectly with advising will be invited to the meeting.
If an individual or area of campus has questions, concerns, or ideas for the website, they first approach the Web Advisory Council. The council determines if the request should be handled by a particular subcommittee, Web Development Services, Web Resource Services, or the larger group. If an individual or area has an issue they feel is not being addressed adequately by the Web Advisory Council, they may take their concern directly to the President's Council.
The Benefits of Dispersed Web Editing
Perhaps the greatest benefit of dispersed web editing is that it puts the authority for and ownership of content with the people who have the greatest knowledge. Over 200 areas, or segments, of the web have been identified at UVU, ranging from admissions to the writing center. Each area has its own identified web editors who are empowered to maintain and manage their own content. These editors can modify their content via their web browser using a simple graphical user interface.
The overall design of the website is maintained through the use of a template system. Some segments of each page, such as the primary header, are standard on all pages. Next, default styles are incorporated on the body area, although users can change a number of these settings using a departmental style sheet file. This offers a balance between maintaining website consistency and giving departments and areas the ability to develop personalized styles. Additionally, a web graphic designer available through Web Resource Services offers design support to all areas interested in receiving assistance or input.
Server-side programming, such as online forms and database-driven sites, are managed almost exclusively by Web Development Services. However, individuals from throughout campus may submit requests for assistance, modifications, or development. If Web Development Services has questions regarding the priorities of incoming requests, they defer to the Web Advisory Council.
The Drawbacks of Dispersed Web Editing
Perhaps the greatest drawback of dispersed web editing occurs when areas do not take full ownership of their sites. In these cases the content can end up being stale or, worse, inaccurate. However, the area most affected by such problems has the ability to fix it. Once in a while a person identified as the web editor will either not realize they have the responsibility or may not want it. In these cases either Web Development Services or Web Resource Services will step in and assist them with the management of their sites.
Other issues include:
Lack of editorial review of content for grammatical or other writing errors
Weaknesses in page layout and design
Problems with image use and optimization
In some cases, issues with faulty coding
In each of these cases, Web Development Services or Web Resource Services offers support or assistance through online resources, training, or assistance with coding and design.
Lessons Learned
UVU has offered dispersed content management for over eight years. Every year the systems and processes used become a bit more refined. In the early years, UVU did not have a governing body overseeing the larger and more holistic web issues that arose. Implementation of the Web Advisory Council dramatically improved the university's ability to handle institutional issues such as policies, procedures, and processes affecting the web. It has also given areas throughout campus a means for voicing their concerns, ideas, or questions. The Web Advisory Council, in turn, will bring issues of a political nature to the President's Council for final approval or modification.
Another lesson learned relates to the sense of empowerment and control that areas throughout campus have developed. Initially, areas had little flexibility in regard to design or content structure. In some cases these limitations were perceptions only, but they still had a limiting effect. The implementation of the Web Advisory Council and its related subcommittees has addressed many of these issues and concerns. Web editors from throughout campus, for example, can manage their own style sheet and/or JavaScript file as needed. They now also have multiple means of participating in web decisions.
Conclusion
Dispersed content management is not the panacea for all web editing issues that might arise within a higher education institution. It does offer many benefits that cannot be obtained from a more controlled, centralized solution. However, the flexibility and empowerment it offers to areas of campus do not come without a cost. Higher education institutions need to evaluate where dispersed content management approaches might be beneficial and worthwhile for their specific circumstances. UVU has found dispersed web content management to be beneficial in virtually all cases.