© 2008 Anne P. Massey and Mitzi Montoya
EDUCAUSE Review, vol. 43, no. 5 (September/October 2008)
Managing the Services Lifecycle
In the spring of 2008, students from the Kelley School of Business at Indiana University (IU) and the Jenkins Graduate School of Management at North Carolina State University (NCSU) "virtually" came together, using a variety of Web 2.0 tools and the virtual world Second Life, to learn about managing the services lifecycle and to apply what they learned to two corporate-sponsored projects.
The two of us, longtime research collaborators, designed the course: "Managing the Services Lifecycle" The course was motivated by transformations occurring in the global service economy. Specifically, growth in the service economy is occurring as businesses convert products into services and enhance traditional products with information services components. For such purposes, new collaborative tools (including wikis, blogs, and multiuser 3D virtual worlds) can support the service innovation efforts of the enterprise; they often involve multidisciplinary or cross-functional coordination of expertise and knowledge sharing. The integration of business and technology is essential, with collaboration viewed as a prerequisite for service innovation.
Global companies are quickly adopting several technology-related aspects of Web 2.0. At the same time, 3D virtual worlds (e.g., Qwaq, Second Life) are also gaining corporate attention as collaboration platforms. As companies increase their reliance on these technologies, employment opportunities are increasing for college and university graduates who can leverage them effectively. Educational programs must immerse students and faculty in current and emerging technologies and provide opportunities to explore their potential and understand their challenges. Students must experience firsthand the same technology environments as those used by leading-edge firms.
Given these realities and opportunities for graduates, we had three key learning objectives for our course:
Develop students' skills and knowledge necessary to understand and manage the services lifecycle
Develop students' ability to use and effectively leverage Web 2.0 technologies (e.g., wikis, blogs) and virtual worlds such as Linden Lab's Second Life
Promote innovative thinking regarding how to leverage virtual worlds as a vehicle for organizational service innovation
The course centered on a seminar that included a problem-based learning component and associated industry-sponsored case competition. Cross-university teams consisting of Kelley's Master of Science in Information Systems (MSIS) students and Jenkin's MBA students worked on projects to develop and recommend potential service offerings in Second Life, a virtual world that has attracted recent attention in the business world. Specifically, each team developed a business case for a service innovation to be delivered by its corporate sponsor in Second Life. The course culminated in two industry-sponsored case competitions, in which each team made its case for its proposed service innovation.
In the Spring 2008 term, 42 students enrolled in the experimental course. From these, 11 teams of students were formed, with 6 teams working on a project for Target Corporation and 5 teams on a project for a Fortune 500 financial services firm.
Teaching and Learning Environment
With the growing popularity of Web 2.0 technologies and virtual worlds, students and faculty can now interact and be engaged in ways not previously possible. Figure 1 illustrates the teaching and learning environment that enabled engagement between faculty and students at IU and NCSU, as well as interaction within each student team. IU's Oncourse Collaboration and Learning (Oncourse CL) platform, based on Sakai open-source software, provided supporting Web 1.0 and 2.0 collaboration tools for both faculty-to-class and student-to-student (team) interactions. A class portal was used to share course-related presentations, URLs of interest, and announcements. Individual team portals, with similar tools and capabilities, enabled project-related work. Teams could use whatever communication and collaborative tools they desired as they carried out their project work. Formal class meetings were delivered and recorded using Adobe Connect.
Figure 1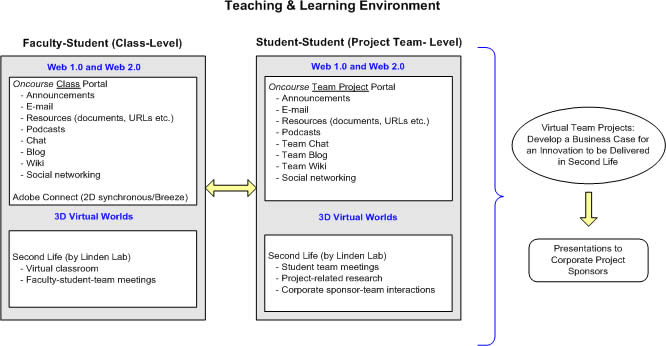 In addition, Second Life provided meeting spaces for team-based project work and for faculty to meet with student teams. Collaboration spaces were provided via NCSU's Delta campus in Second Life (http://slurl.com/secondlife/NC%20State%20Wolflands/130/120/22). Figure 2 shows a team meeting.
Figure 2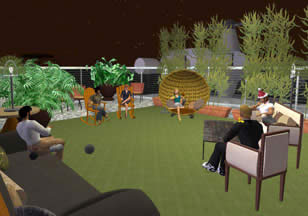 Virtual work has always been considered to be missing some important aspect of human interaction, but this perspective may change as virtual worlds grow more sophisticated and realistic. From our perspective, Second Life played a key role in enabling collaboration and developing relationships between team members who were geographically dispersed. We have both delivered distance courses before, with our students working 'virtually' on projects, but before Second Life, we never had a way to truly enable rich real-time communication. Second Life also made team project work more interesting and motivated students to develop a deeper understanding of the course subject matter. For example, through Second Life, teams visited different locations to learn about what other companies were doing, particularly from a services perspective. In some instances, students had the opportunity to engage in ad hoc real-time communication with company representatives at these locations. In fact, one of the corporate sponsors, the Fortune 500 financial services firm, already had a presence in Second Life. Members of teams working on this sponsor's project were given access to the sponsor's island and invited to visit so that they could learn more about the company and talk with company representatives. In traditional courses, these interaction opportunities are not possible, since company representatives typically have to take time out of their busy schedules and must travel to campus to meet with students. In addition, students rarely have the opportunity to visit the corporate location. Second Life clearly helped overcome these limitations.
Not surprisingly, as with any new technology, technical challenges emerged. For example, the personal laptops of a few students did not have the graphics capabilities necessary to run Second Life effectively. This was overcome by providing alternative access to these students. Students were also observed helping each other overcome technical problems. In addition, many of the MBA students from NCSU worked fulltime, with travel taking them away from their home corporate locations. Similarly, the IU students were in the midst of recruiting, with off-campus interviews. Travel heightened the students' perceptions of working virtually, with its associated challenges. Yet they found that Second Life and the other collaborative technologies allowed them to continue to work even when on the road.
In the end, students came away from the course with a new appreciation for Web 2.0 and virtual worlds technologies. Riley Gaddy, one of the Jenkins Graduate School of Management students, said: "I can definitely see possibilities for use of this new technology [Second Life] in education and by my company. It's more interactive and engages us in a different way." Similarly, IU's Linda Rasmussen observed: "I have discovered a lot about what kinds of technologies provide value. I have already shared my team's business case with my current employer's training department to get them thinking about the advantages."
From the sponsors' perspective, the team projects provided a wealth of ideas regarding the potential services that the sponsors could deliver via Second Life. Some of the proposals focused on external services (business-to-consumer), while others were internally focused (e.g., employee training). A representative from Target Corporation noted: "We've brainstormed internally about virtual worlds, but these teams really opened our eyes to opportunities. The service innovations that the student teams offered will definitely fuel our efforts going forward."
Early analysis of student feedback from a post-course assessment survey confirms that Second Life played a key role in the collaborative work of the student teams. While each team worked independently and could use whatever technologies it preferred, the feedback indicates that students relied heavily on Second Life for developing and building team relationships—known to be essential to team project success—and for holding decision-making discussions. Other tools, such as wikis and document repositories, complemented the capabilities of Second Life—for example, providing the means to write, edit, share, and store project-related documents. Results also show that the use of Second Life directly influenced project performance and teamwork satisfaction.
The Managing the Services Lifecycle course was an outgrowth of research projects that we have under way, with the support of Xerox and IBM, through NCSU's College of Management. Overall, the feedback from everyone involved in the class—the students, the sponsoring companies, and the professors—was so positive that we plan to offer the class again in the spring of 2009.