Implementing Wireless PDA Technology in the IT Curriculum
Requiring students in an introductory course to use PDAs taught the IT department how to implement them in the curriculum
Colleges and public universities must stay abreast of rapid changes in the application of information technology, typically on very limited budgets. Additionally, students increasingly expect faculty to apply bleeding-edge technology in the classroom and integrate it into the curriculum. This article briefly notes prevailing literature related to wireless technology use in the classroom (see the sidebar) and examines the processes and methods used to successfully integrate wireless personal digital assistant (PDA) networked technology into the IT curriculum at a public university.
PDAs in the Classroom
Information technology has rapidly changed how business and educational institutions create, store, and manipulate data, especially since the rapid adoption of personal computers in the 1980s. The field of education has benefited heavily from the integration of computer technologies into classroom and curricula. As a result, laptops and PDAs are commonly used to access network resources wirelessly.
Although originally designed as personal information managers, PDAs have the ability to access network resources anytime, anywhere. PDAs can be used for note taking, data collection, and digital imaging. Additionally, they can facilitate file and data sharing.1 Limitations to the use of PDAs in the classroom do exist, however.
The small size of the screen, shorter battery life (compared to laptop computers), and lack of large amounts of nonvolatile storage limit the use of PDAs in certain scenarios. Effective use of the small screen as an input device requires fine-motor skills and visual abilities that some students, particularly those with disabilities, do not possess. Shorter battery life affects the service time before recharging the battery becomes necessary. Built-in storage is typically limited on a PDA, although additional storage capability is available (for an additional charge) using memory modules.
Wireless PDA Technology in an IT Course: A Case Study
How was wireless handheld computer technology integrated into the IT curriculum at a publicly funded university curriculum? How effectively? The remainder of this article examines the methods applied to implement student study and use of wireless PDAs in the Department of Information Technology and Administrative Management (ITAM) curriculum at Central Washington University. We explain some pertinent issues encountered and how they were successfully resolved.
Departmental Support
The first step in implementing wireless technology in the curriculum was gaining departmental faculty support for the project. After studying the proposal and receiving satisfactory answers to important questions, the ITAM faculty voted unanimously to require student purchase and application of wireless PDAs in its Introduction to Information Technology course.
All instructional and support staff in the ITAM department, including the administrative assistant, were provided with a PDA identical to the model required for student use. Periodic learning workshops for staff encouraged them to apply their PDAs as instructional tools. Broader PDA use by faculty made them important role models for students and gave students a real-world perspective instead of one limited to applications for a single course.
PDA Purchase Specifications
Before selecting a specific PDA, faculty created a list of performance objectives for integrating them in the curriculum, followed by a list of required technical specifications.2 Finally, the specifications were matched to a particular make and model of PDA that could accomplish the established performance objectives—the Dell Axim 30 (312 MHz) PDA.
A major concern among faculty was the cost to students, recognizing that most students have limited budgets. After much discussion, ITAM faculty set a cost limit of $300 per PDA. Several attempts to negotiate a discounted purchase agreement with Dell failed, however. The most cost-effective method for students to purchase the required PDA was directly from Dell through its online purchasing program. To keep student costs down, the Introduction to Information Technology course instructor agreed not to require a textbook, instead providing learning materials and units.
Technical Support
Another challenge encountered was technical support. At the time of implementation, the director of the Information Technology Services (ITS) department at CWU, which provides university-wide technical support, was not prepared to offer staff or technical resources. Thus, two ITAM faculty—Rawlinson and Bartel—took responsibility for determining procedures to access the CWU system and providing ongoing support. An instruction sheet was developed and used for the Introduction to Information Technology course.3
Student Learning Opportunities
The PDA technology provided abundant academic and personal learning opportunities for students. Initially, students were required to configure, initialize, and customize their systems. These tasks varied from setting time and date options to choosing screen preferences. Furthermore, students had to configure custom wireless settings that would allow Internet access via the CWU backbone and open wireless access points.
The wireless PDA software and integrated hardware that students used proved to be unstable and inconsistent. Whether the responsibility belongs with the hardware manufacturer, the software manufacturer, or the CWU wireless infrastructure remains unclear. Regardless, the wireless systems worked sporadically at best and required repeated resetting and reconfiguring. Student reaction to this was negative. One student commented that the CWU wireless infrastructure should be "more PDA friendly." Another stated, "I don't think wireless network cards should be necessary. However, I can now surf the Web while waiting for a class to start."
Understandably, some students became hesitant to use the system because they considered it unreliable. "I currently only use my PDA for games," said one student. However, savvy students with prior technology experience enjoyed the challenges of working with technology still in its infancy. Students commented about PDA use that "It was worth purchasing them b/c [sic] now I have it for personal & school related activities" and "Learning about wireless became more clear because I had a PDA and could experience it."
The Windows CE operating system uses a file and data management structure that differs from that of its Windows XP counterpart. Students had to study the manual and other materials to understand how the new system worked. Once they understood the differences between the two operating systems, they became quite comfortable with file and data management.
Adapting to the PDA form factor required the least effort from students. In fact, they enjoyed learning several new technologies that are currently available on PDAs but not yet on the CWU desktop systems, such as the input options of transcribing and graffiti.
One unanticipated shift in attitude occurred: students realized that a PDA is not a productivity tool but an assistive tool, meant to be used in a mobile environment. Initial expectations were that the PDAs would replace desktop or notebook computers, but the size and technology limitations preclude this. For example, the keyboard on a PDA does not lend itself to the same effective, efficient use as a desktop or notebook keyboard. Some students purchased external keyboards for their PDAs. These students reported significantly increased levels of satisfaction and use of their PDAs, including in other classes as note-taking tools.
Student Attitudes and Responses
Students who completed the introductory course and were required, as part of the course, to purchase and use a PDA provided insight from their perspective about this project. A survey instrument gathered data about student attitudes toward the PDAs, current applications, and expected future applications.
Students completed the survey during the last week of the course. One important note is the small sample size. The PDA program began in fall quarter 2004, and only two classes of students have participated as of the writing of this article. The fall class (37 students) completed a short survey that covered only the Opinion Items section, while the winter quarter class completed a more extensive survey. Results of the surveys follow (74 students for the two classes combined).
Figures 1 and 2 illustrate demographic data results for the 37 students who responded to the initial survey, 19 (51 percent) of whom were male and 18 (49 percent) female. Table 1 details the students' prior access to technology including wireless (n = 37), and Table 2 shows students' opinions regarding the use of PDAs in the introductory class (n = 74). Students' general uses of PDAs at the time they were enrolled in the IT course encompassed school (89 percent, or 33 of the 37 respondents), work (38 percent, or 14 students), and personal (89 percent). Table 3 indicates the PDA applications students learned in the course (n = 37). Table 4 lists the applications students expect to use on their PDAs in the future. Of the 37 student respondents, 26 planned to keep their PDAs following completion of the course, while 10 did not and 1 was undecided.
Students commented,
"If there are language programs so that I can download Japanese or Korean, I think I will use [the] PDA much more."
"I really liked using the PDA. It was a little too high in cost."
"While a little costly—I think students will get much more use out of a PDA than a used textbook."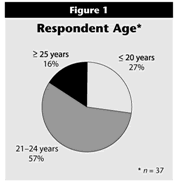 Click image for larger view.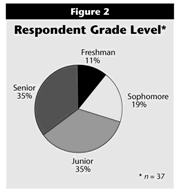 Click image for larger view.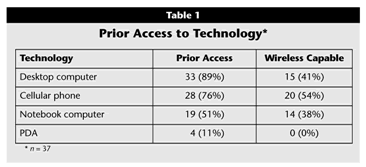 Click image for larger view.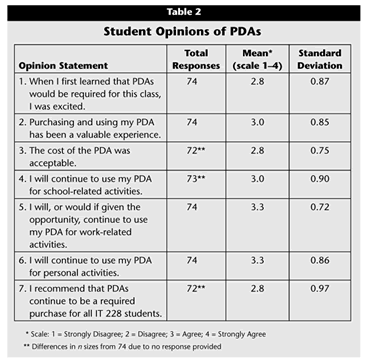 Click image for larger view.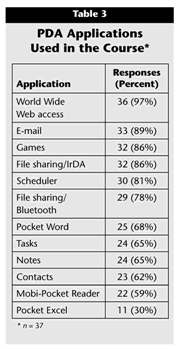 Click image for larger view.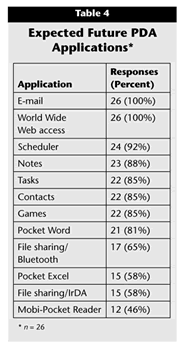 Click image for larger view.
Using the PDA to improve learning provided students with a rewarding experience. The ability to conduct World Wide Web research and communicate electronically while in a remote environment, such as a non-wired classroom, proved invaluable for students. Several students commented that they had used their PDAs in classes other than the Introduction to Information Technology course to conduct online research during class time that would otherwise have required outside time. When questions arose during class discussions, for example, IT students could conduct online research immediately to answer the questions or provide further information. Traditionally, either the students or the instructor would have to delay answers or responses until a later class.
Students also used their PDAs for personal applications. After classroom lessons in scheduling and file sharing, students used both the IrDA and Bluetooth technologies to share files. In addition, they learned to use ActivSync software to synchronize their PDA data with their desktop computer files.
The two most popular personal applications proved to be playing games and downloading music. Several gaming sites exist for students to download and play electronic games, and students often competed with each other using the same games on their PDAs. Students also enjoyed downloading and listening to music using their PDAs. Game and music downloads were students' primary motivation for purchasing additional memory for their systems.
Challenges
Several challenges and obstacles arose during the PDA implementation process. First, although every effort was made to offset the expense, the purchase price was prohibitive for some students. Suggestions to remedy this obstacle include
encouraging students to share the purchase and use of a PDA and
providing an opportunity for students to sell the equipment to new students following completion of the course.
Neither of these options is ideal, but the few students (5 or 6 per quarter) who employ one of these methods typically are not IT majors and do not see a future need for a PDA.
Another challenge was accommodating students who do not have personal desktop computers on which to use the ActiveSync software. A desktop system located in the ITAM department was provided for students to learn and use the ActiveSync application in those cases.
Scheduling PDA instruction during the course was a consideration. Students needed time to order and receive their PDAs. Additionally, students who relied on a financial aid subsidy could not purchase PDAs until they received their funds for the quarter, which occurred during the second week of the 10-week course. To remedy this problem, the first few weeks of the quarter were spent covering other topics pertinent to an introductory IT course.
Delivery time from the factory to the student also factored into the timing problem. If a student ordered a PDA that included custom upgrades, the manufacturer had to build a custom system, adding considerably to the delivery schedule. A course deadline was set for receiving PDAs, after which class time and assignments were dedicated to learning PDA use and applications. Students without PDAs were required to work with students who already had their systems.
Emerging Effects for the IT Classroom
The ITAM department plans to implement PDAs in all its classes. As more and more students complete the Introduction to Information Technology course, they are equipped with, and trained to use, PDAs. Integrating PDA use throughout the curriculum is an integral component of helping students gain as much real-world IT experience and application possible prior to graduation.
Several classroom applications for the PDA have been developed and, to varying degrees, will be applied in IT classes. First, instructors and students will be able to share files. For example, a student who missed class could receive materials distributed during that time from the instructor wirelessly during the next class session, eliminating the need for the instructor to carry past materials to classes. Students could also get the information by e-mail or download it from a class Web site if the course instructor provided those capabilities. Instructors can also distribute and/or collect quizzes, exams, and assignments wirelessly. If an impromptu quiz becomes necessary, the instructor could distribute and receive it wirelessly using PDAs instead of creating a hard copy.
Instructors will also use PDAs for scheduling, including personal appointments with students, assignment due dates, and examination dates. Lists of tasks related to courses can be organized using the PDA. Finally, electronic materials and e-books may be made available to students, saving unnecessary paper and copy expenses. Screens on PDAs are increasingly larger, brighter, and clearer than earlier models, and text size is adjustable. With the proper software, readers can annotate and bookmark text and take notes.
Recommendations
Because the process of integrating wireless PDAs into the IT curriculum has just begun, we believe addressing the following considerations would strengthen the program.
Support from ITS. Completing the CWU Information Technology Services registration and configuration process can be confusing for students. Also, wireless PDA technology does not yet work consistently. Many students could not get their systems to work wirelessly without one-on-one technical support. Because the ITS department was not prepared to provide that service, all technical support fell on us as the two instructors involved with the program. This created a significant workload burden for us. The IT support department at a university should commit to offering technical support prior to any department's beginning a new classroom technology program.
Ongoing Faculty Training and Applications. To make this program meaningful for students requires that they use PDAs following the completion of the introductory course. The best method for ensuring continued use is to train faculty and provide meaningful classroom activities in which PDA use would be appropriate. Faculty also must be encouraged to use their PDAs as part of their daily work.
Funding to Offset Student Costs. Integrated wireless PDAs remain cost-prohibitive for some students and a burden for others. Funding in the form of grants, subsidies, or manufacturer discounts should be pursued as a means of decreasing the financial burden for students.
Enhanced Learning Opportunities. More class time and assignments in the Introduction to Information Technology course should be dedicated to understanding and applying PDAs. Several students mentioned in the course evaluations that they would have liked to spend even more time thoroughly learning how to use and become confident with PDA technology.
Development of Wireless PDA Technology. As integrated wireless technology evolves for PDA applications, it should become user-friendly as well as more consistent and dependable. Such natural advances in the technology will eliminate many of the problems encountered in the initial stages of our PDA program.
Continued Research. The program to integrate PDAs in the classroom is in the early stages. Additionally, integrated wireless PDA technology has only recently become available. Continued research is necessary to assess, and reassess, the viability of such a program. Issues such as securing wireless PDAs from viruses and providing accessibility to all students regardless of physical abilities need to be addressed immediately. Until these problems are resolved, they will continue to challenge our efforts to further integrate wireless technology in the classroom. Finally, this study should be replicated within the next few years to determine whether PDAs continue to be used on campus and, if so, for what specific purposes and benefits, both academic and personal.
Acknowledgments
We thank undergraduate research assistants Michael P. Insalaco and Michael Buckmaster for their work with this project. Both have since graduated from Department of Information Technology and Administrative Management, Central Washington University.
Endnotes
1. H. U. Hoppe et al., "Wireless and Mobile Technologies in Education," guest editorial,
Journal of Computer Assisted Learning
, Vol. 19, Issue 3, 2003, pp. 255–259, <
http://www.blackwell-synergy.com/toc/jca/19/3
> (accessed October 26, 2005; subscription required).