Campus Security Awareness Campaign 2016
This post is part of a larger campaign designed to support security professionals and IT communicators as they develop or enhance their security awareness plans. View the other monthly blog posts with ready-made content, as well as a printable calendar with the 12 topics. Learn more.
It is essential to physically secure your mobile devices from theft to safeguard your digital world. Teach your faculty, students, and staff these effective theft-prevention techniques and proactive measures to protect their devices and personal data. Below are some ready-made messages that you can customize for your community.
Get the Word Out
Newsletter Content
With an increasing amount of sensitive data being stored on personal devices, the value and mobility of smartphones, tablets, and laptops make them appealing and easy targets. These simple tips will help you be prepared in case your laptop is stolen or your smartphone is misplaced.
Don't leave your device alone, even for a minute! If you're not using it, lock your device in a cabinet or drawer, use a security cable, or take it with you. It's not enough to simply ask the stranger next to you in a library or coffee shop to watch your laptop for a few minutes.
Differentiate your device. It's less likely that someone will steal your device and say they thought it belonged to them if your device looks unique. Sometimes these markings make the laptop harder to resell, so they're less likely to be stolen. Use a permanent marking, engraving, or tamper-resistant commercial asset tracking tag.
Delete sensitive information. Don't keep any restricted data on your laptop. We recommend searching your computer for restricted data and deleting it. Restricted data includes your Social Security number, credit card numbers, network IDs, passwords, and other personally identifiable information. You'd be surprised how easy it is to forget that this information is on your computer!
Back it up. Set a reminder to backup your data on a regular basis! Keep an external copy of important files stored on your laptop in a safe location in case it is lost or stolen. Your photos, papers, research, and other files are irreplaceable, and losing them may be worse than losing your device.
Encrypt information. Protect your personal data with the built-in disc encryption feature included with your computer's operating system (e.g., BitLocker or FileVault).
Record the serial number. Jot down the serial number of your device and store it in a safe place. This information can be useful for verifying your device if it's found.
Install software. Install and use tracking and recovery software included with most devices (e.g., the "Find iDevice" feature in iOS) or invest in commercial products like LoJack or Prey. Some software includes remote-wipe capabilities. This feature allows you to log on to an online account and delete all of the information on your laptop. There are both paid and free versions of this type of software, and each provides different levels of features. Search online to find the best combination of cost and functions to meet your needs.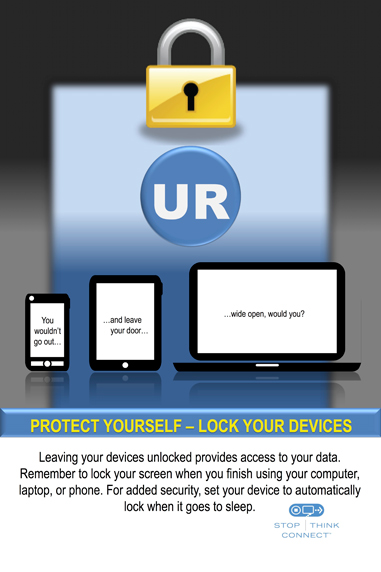 Social Posts
Don't leave your mobile device alone, even for a minute! Lock it up or use a security cable to protect your device and data. #PhysicalSecurity
Password-protect your devices and configure your devices to lock after a short period of time. #PhysicalSecurity
Install a security app with remote lock and wipe capability that can protect against malware, viruses, and spam. #PhysicalSecurity
Back up important data. If you need to remote wipe a lost or stolen device, you'll want to have redundancy. #PhysicalSecurity
Make your phone, tablet, or laptop look unique. Customized devices are harder to resell and less likely to be stolen. #PhysicalSecurity
Protect your personal data with #encryption (e.g., use BitLocker for Windows devices or FileVault for Macs). #PhysicalSecurity
Write down the serial numbers for mobile devices and save them in a safe place in case you need to verify a lost/stolen device. #PhysicalSecurity
E-Mail Signature
Ask staff to add a tip to their e-mail signature block and link to your institution's physical security or mobile device guidelines.
Example:
John Doe
Chief Information Security Officer
University of XYZ

Use passwords to protect your mobile devices. Also install tracking and recovery software. Learn more. [Link "Learn more." to your institution's mobile device guidelines or link to one of these mobile device physical security tips.]
Embed or Share Videos
Resources
Share these resources with end users or use them to inform your awareness strategy.
---
Brought to you by the Awareness and Training Working Group of the EDUCAUSE Higher Education Information Security Council (HEISC).