When given the opportunity to develop innovative solutions to the most pressing problems facing higher education today, the sky's the limit. Four sample models illustrate solutions that can radically change the higher ed landscape.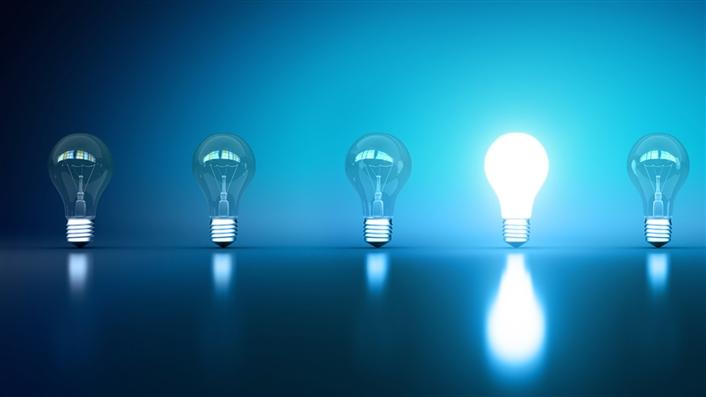 "How can I transform higher education?" The answers to this question are more critical than ever, given the need to address such vital issues as student success and degree completion. "The stakes are extremely high," stated John O'Brien, EDUCAUSE president and CEO. "The context is change, and the challenge is that higher education is an organization known for its timeless values, not its turning radius. We need change-open and change-driven leaders to reimagine and reinvent our institutions and the role they play in our communities for all stakeholders. Our leaders have to be courageous risk-takers who ALSO understand how change is experienced emotionally across our organizations."1
Many, like Kelvin Bentley, vice president for academic affairs at Tarrant County College, look for opportunities to heed O'Brien's call for higher education change. "I had enjoyed attending EDUCAUSE events in the past, but felt I needed a more in-depth learning experience other than just listening to a conference presentation," he commented. "I wanted to be challenged to think more deeply on a topic that interested me with the hope that I could then use this experience to adopt and adapt my ideas at my institution."
Bentley found his opportunity at the 2014 Breakthrough Models Academy, an EDUCAUSE Institute program. BMA, which received funding through the Next Generation Learning Challenges (NGLC) grant program, "offered an intense team-based experience for higher educational professionals who are interested in exploring innovation in higher education," explained Holly Morris, director of Postsecondary Model Development and Adoption, NGLC. "It gave participants an opportunity to think creatively and meet other innovation-focused individuals to share ideas and work on solutions that can radically change the higher education landscape."
Change-Making Solutions
Through BMA, academic leaders looking for similar experiences worked in small teams to create and develop new approaches to ongoing problems in higher education. The participants were free to explore and imagine beyond their institutions' parameters, and their "blue sky thinking" showed up in breakthrough model projects developed by BMA teams. Teams tackled important issues like college readiness, degree completion, nontraditional education, and competency-based education, creating innovative yet practical solutions that rely on technology as well as partnership or community to advance their models. This article features four projects. In addition, we encourage you to explore all breakthrough model team projects on the BMA website by year: 2013, 2014, and 2015 (to be posted in January 2016).
---
Breakthrough Model 1: SucceedYou
The Team
Scott Hamm, Director of Online Education, Hardin-Simmons University
James Lipnickey, Regional Director of Technology Services, Miami University
Christine Pharr, Vice President for Academic Affairs, College of Saint Mary
Jean Runyon, Associate Vice President, Learning Advancement and the Virtual Campus, Anne Arundel Community College
The Issue: College Readiness
Today half of all undergraduates and 70 percent of community college students take at least one remedial course.2 Only about a quarter of community college students who take a remedial course graduates within eight years. In fact, most students who are referred to remedial education do not even complete the remedial sequence. One study found that less than half (46 percent) of students completed the sequence in reading, and only a third (33 percent) completed it in math.3
The Solution: A Free College Prep Mobile App
The team developed the idea for a low-cost, mobile-friendly tool to help high school students prepare academically for college. SucceedYou offers a low-cost and accessible way for high school students to avoid remedial education altogether.4 Students create free customized study programs in math, reading, writing, and college skills using open educational resources (OER), delivered on their mobile devices. Volunteer success coaches and mobile applications provide student guidance and feedback on academic process. Finally, students earn badges as they demonstrate learning, which in turn can indicate proficiency to potential colleges.
The Impact
"More high school graduates will have the requisite skills to enroll and graduate from college as well as to achieve their academic, professional, and personal enrichment goals," according to the project plan.5 After BMA, the SucceedYou team received two years of funding from Avenue Scholars, a foundation that works with potentially successful high school juniors and seniors who have less than a 2.5 GPA, to develop a mobile app and a maker lab to teach developmental math.6 The team identified partners Credera and Enterprise Hive to assist with a plan to move forward, and SucceedYou is currently seeking new funders who might wish to implement their model.
---
Breakthrough Model 2: MyCompletionPath
The Team
Tammi Cooper, Vice President for Innovation and Associate Provost, University of Mary Hardin-Baylor
Shelly Dixon, Acting Assistant Vice President, Office of Academic Affairs, SUNY Empire State College
Andi Koritari, Director of Online Operations, National Louis University
Thomas Riebe, Executive Director of Statewide IT Operations, Ivy Tech Community College of Indiana
The Issue: Degree Completion
All too often, students stop out of their college education; indeed, over 37 million Americans have some college credit but no degree.7 The majority of these students want to complete their degree to earn more money and advance in their careers, but restarting their education can be so difficult that they never return to school.8 They find it overwhelming to evaluate all their degree options when they shop around. Or they might settle on the first available option, even if it doesn't entirely meet their needs.
The Solution: A College Match.com-Like Service
The team conceived of a Match.com-like portal to create optimal degree paths for former students. MyCompletionPath.org puts students in the driver's seat, helping them determine the shortest, most economic path to degree completion.9 Students enter their background, interests, and credentials in the portal. MyCompletionPath requests their transcripts and uses analytics to determine the best match with subscribing institutions. Students receive a list of matching institutions, contact information, and official awards of credit within 48 business hours. Advisors can guide students through the process.
The Impact
Former students have a quicker, easier way to determine the best degree completion option.
---
Breakthrough Model 3: ClassMob
The Team
Amy Collier, Associate Provost for Digital Learning, Middlebury College
Jean Derco, Executive Director, Office of Information Technology Support Organization, The University of Tennessee
Brad Hinson, Assistant Dean, Information and Academic Technology, CU-Denver School of Education and Human Development
Brian McNurlen, Assistant Director, Academic Technology, Division of Information Technology, University of Wisconsin–Madison
The Issue: Nontraditional Students
The traditional college degree doesn't meet all learner and employer needs. Some — career changers, discharged military, unemployed or semiretired workers, and others — require just a tune-up to develop or update their skills or credentials. Employers feel a similar need — 70 percent say today's employees need continuous education and training to keep up with their jobs10 — and they often require employees to have specialized skills that college graduates or new hires may lack.
The Solution: A Crowdsourced Marketplace for Learning
The ClassMob project envisions a crowdsourced, nontraditional education marketplace that aggregates learning demand. Students complete an assessment online,11 and ClassMob provides feedback and matches learning needs and strengths to employer needs. Students join an existing mob or create a new mob based on desired learning outcomes. Employers create a mob based on their employment needs, which learners can choose to join. Academic and commercial providers, as well as individual experts, craft proposals and "bid" to develop educational events for mobs. The mob decides which learning solution they will accept and pursue. The result is tailored, relevant learning experiences for each student.
The Impact
ClassMob empowers the entire marketplace community. Learners design proposals and vote on their desired curriculum and instruction options. Employers can define skills they most want to see in new hires. Providers package educational options accordingly to fulfill market requirements.
---
Breakthrough Model 4: Masterly
The Team
Kelvin Bentley, Vice President for Academic Affairs, Tarrant County College
Ann Buchele, Vice President, Academic Affairs and Workforce Education, Linn-Benton Community College
Chad A. Maxson, Associate Dean of Online Strategy, Olivet Nazarene University
Monica Orozco, Vice Provost of Extended Learning, University of New Mexico
The Issue: Building Competencies
Competency-based education (CBE) continues to gain popularity, creating both opportunity and challenges. The time and financial resources needed to build competencies can tax institutional capacity, arguing for new approaches to create relevant CBE programs efficiently. A Lumina Foundation's environmental scan reveals institutions were developing CBE academic and business models in isolation, yet were eager for opportunities to learn from one another.12 Furthermore, college presidents see CBE as way to better connect higher education to the workforce by involving employers in developing needed competencies,13 an endeavor that takes significant effort to do well.
The Solution: An Employer-Rated Competency Repository
Masterly bridges institutional and employer needs.14 Institutions design competencies for different careers and post them on the Masterly website (demo) for reuse by other institutions. Employers join Masterly to identify competencies they need employees to possess by voting posted competencies "up" or "down." Other institutions developing a CBE degree program can use this crowdsourced information to select competencies that match their academic program and are validated by relevant employers.
The Impact
This crowdsourced competency repository supports more efficient and effective CBE program development. Institutions reduce time and resource investment, while employers' ratings validate efforts. The real winners are the students, who learn more relevant skills that prepare them better for the job market.
---
From Ideas to Solutions: The BMA Process
Over the course of a six-month program that involved in-person and online group activities, BMA helped participants dream big and then develop transformative solutions to today's pressing problems in higher education (like the four models presented). Participants represented a global cross-section of the higher education community: academic and IT leaders from public, private, two-, and four-year colleges and universities from the United States and as far away as Australia. For example, the Masterly team was a mix of academic professionals from private and public community colleges, a private liberal arts college, and a public state university, with FTEs ranging from approximately 2,000 to 25,000 students.
On acceptance to BMA, participants attended a multiday residential program that set the stage for change with sessions, coaching, and activities about new educational models and policy, leadership and business skills, and emerging technologies.15 The information exchange and conversation encouraged individual team members to explore broader issues and possibilities. "It allowed me in-depth conversations with colleagues outside of my smaller world of community colleges, along with helping me engage with experts in the field of competency-based education," explained Masterly team member Ann Buchele of Linn-Benton Community College.
Armed with knowledge and skills, each team worked on its own designs. The Masterly team brainstormed on CBE, eventually coalescing around the need to help institutions efficiently build competency-based degree programs. "The idea began with a need," noted Chad Maxson of Olivet Nazarene University. "From that point, the conversation was about how to most efficiently fulfill the need while creating as much value as possible for all stakeholders." And so the Masterly team's breakthrough model considered employers as well as institutions and students.
Next the teams worked out the nuts and bolts of their breakthrough model projects collaboratively: why it's important, how it works, and what's required from technology, financial investments, and partnerships. "Institutions may not have access to competencies vetted by the workforce that they can use to build their CBE certificates and degrees," stated Tarrant County College's Bentley. "Our approach was to develop the Masterly website, where employers can review and rank competencies for different careers. Such a site would help institutions adapt industry-vetted competencies instead of taking on the laborious task of developing them themselves."
A vital BMA resource was the team coach, who guided the participants throughout their breakthrough model development. The coach's encouragement and — more importantly — their knowledge and experience helped each team transform its idea into an actionable solution. "As a coach, in addition to helping them keep on track, my role was to gently push teams to think critically about their projects from multiple angles," explained Thomas Cavanagh, associate vice president, distributed learning at the University of Central Florida and BMA coach. "For example, how would this project serve multiple stakeholders? Who needs to be engaged as partners? What sort of business model could be employed to make it sustainable?"
Finally, BMA teams shared their breakthrough models at the EDUCAUSE Learning Initiative (ELI) Annual Meeting. BMA participants and a panel of education innovators evaluated all the breakthrough models. Exemplary plans received special recognition at the conference as well as on the NGLC and EDUCAUSE websites.
Mobilized for Change
So what's the impact of all of this blue-sky thinking? Individually, past participants in BMA are starting to spur institutional change. Many graduates echo the experience of Tammi Cooper of the University of Mary Hardin-Baylor and MyCompletionPath team member: "The BMA uniquely allowed me to think about big ideas and go way beyond the box while tapping into expertise that may not be available within my institution. That environment influenced the way I now approach ideas at my university."
Collectively, these change-driven leaders are mobilizing broader change in higher education. As the Japanese writer Ryunosuke Satoro said, "Individually, we are one drop. Together, we are an ocean." It is the same with BMA, which created an infusion of new tech-enabled solutions and a cohort of higher education change makers who understand innovation leadership and transformation planning. Together, they are answering the question, How can I transform higher education?
Organizationally, as the grant funding period draws to a close, BMA is driving new programming for EDUCAUSE members. In 2016, ELI will apply BMA's successful mix of brainstorming, mentoring, and planning to the forthcoming Leading Academic Transformation community of practice for senior administrative, academic, and technology campus leaders.16 Like BMA, this community's members will exchange ideas, examine questions, co-create resources, and apply their energies to developing innovative solutions for their institutions.
Notes
John O'Brien, "Breakthrough Models Academy 2015 in Context," presentation at the Breakthrough Models Academy 2015, Chicago, Illinois, July 13, 2015.
Charles A. Dana Center, Complete College America, Education Commission of the States, and Jobs for the Future, Core Principles for Transforming Remedial Education: A Joint Statement, December 2012, 3.
Ibid., 3.
For more information, see the SucceedYou BMA plan.
Ibid., 1–2.
Christine Parr, "SucceedYou and Avenue Scholars Partnership: A Breakthrough Models Academy Design Meets the Real World," Next Gen Learning Blog, January 24, 2014.
Lumina Foundation, "Lumina Foundation's Adult Degree Completion Commitment Gives Millions of Recession-Battered Americans a 'Second Chance' at Earning a Degree," September 20, 2010.
Eduventures, "Closing the Degree Completion Gap: Challenges and Opportunities" (Boston: Eduventures, May 2014), 10.
For more information, see the MyCompletionPath BMA plan.
John DeLalla, "Learning to Earn: Communicating the ROI of Continuing Education," The EvoLLLution, March 25, 2015.
For more information, see the BMA ClassMob plan.
Competency-Based Education Network, First Year Discoveries and Findings.
Jeffrey J. Selingo, A New Measure for Collegiate Learning: What Presidents Think About the Promises and Pitfalls of Competency-Based Education (Washington, DC: The Chronicle of Higher Education, 2015), 21; available for download here.
For more information, see the BMA Masterly plan.
Kristi DePaul, "The 2015 Breakthrough Models Academy: Fresh Thinking for Higher Ed," Next Gen Learning Blog, July 15, 2015.
Etienne and Beverly Wenger-Trayner define communities of practice (CoP) on their website as "groups of people who share a concern or a passion for something they do and learn how to do it better as they interact regularly."
---
Judith A. Pirani is an EDUCAUSE consultant and principal of Sheep Pond Associates. Her expertise focuses on educational technology issues. At ECAR, Ms. Pirani authors numerous case studies and research bulletins as well as chronicling EDUCAUSE's IT Issue Panel discussions. At NGLC, she synthesizes grant program findings and grantee experiences into blog series, case studies, and other NGLC content. At Sheep Pond Associates, Ms. Pirani works one-on-one or as part of a consulting team on strategic technology planning projects.