Key Takeaways
Providing dedicated space to engage faculty and students with emerging educational technologies while encouraging their exploration of the possibilities brings about new opportunities in teaching and learning.
Being intentional and innovative in the design of informal learning spaces captures attention and promotes awareness of new ideas, empowering faculty and students.
Tracking and exploring new technologies while monitoring trends in teaching practices helps a campus respond to faculty needs in teaching and students' desires for the optimal learning experience.
Eric Kunnen, Associate Director of eLearning and Emerging Technologies, Information Technology, Grand Valley State University
What will the classroom of the future look like? What technologies will a student's backpack include in the next five years? Will students need a backpack? How will faculty and students interact, collaborate, and leverage technology in the next generation of education? These questions, among many others, often permeate campus conversations, conferences, and discussions around the faculty "water cooler." Through collaboration and the intentional infusing of technology into informal learning spaces, we can invent the future of teaching and learning.
Importance of Informal Learning Spaces
Never underestimate the importance of informal learning spaces and the time students have between classes. While classroom time is highly valued, equally important is the environment that faculty and students use while they reflect, study, and actively engage with content and collaborate with others outside of the "formal" classroom and scheduled class time.
Perhaps too often, more energy and thought go into designing classrooms where students spend limited time, whereas the rest of the spaces across campus where students and faculty spend the most time are not as carefully thought through. Without intentionally designing these informal learning spaces, campuses lose opportunities for encouraging students to collaborate, study, and personalize their learning. The between-class informal learning spaces are crucial in students' overall educational experience. Diana Oblinger underscores the importance of informal learning spaces: "Good learning space design can support each institution's mission of enabling student learning. In fact, the convergence of technology, pedagogy, and space can lead to exciting new models of campus interaction."1 This notion is where the new library at Grand Valley State University and the Atomic Object Technology Showcase is squarely focused.
One of the newest buildings on the Grand Valley State University (GVSU) campus, the Mary Idema Pew Library Learning and Information Commons (figure 1), maximizes informal learning spaces. In the design of the new library, one of the goals was to inspire, energize, and engage students — and to draw them into a high-quality and dynamic informal learning space. Dean of University Libraries Lee Van Orsdel describes the new library at the university as a "radically student-centered" design and a new learning commons concept that supports serendipitous learning. The $65 million library and intellectual hub of campus opened in June 2013. The library proved instrumental in the creation of the Atomic Object Technology Showcase, which is one of its dedicated and deliberate spaces providing unexpected learning opportunities, encouraging student engagement, and generating awareness — specifically around educational technology. The showcase intentionally infuses technology into the new library and learning commons as an informal learning opportunity.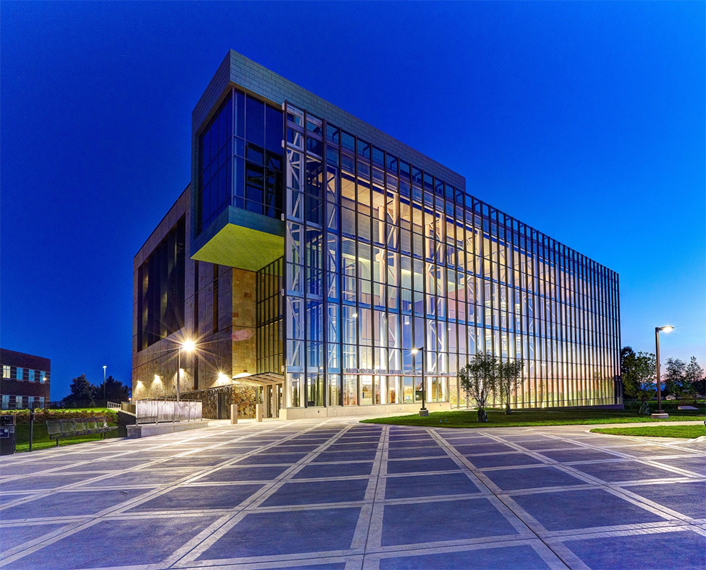 Engaging Students and Faculty in the Atomic Object Technology Showcase
The Atomic Object Technology Showcase at GVSU is a collaborative initiative of the information technology department and university libraries that embeds technology into a dedicated space. The showcase aims to deliver an immersive and engaging environment for faculty, staff, and students to interact, discover, learn, and share how innovative emerging technologies can enhance teaching and improve student learning. The underlying goal is to elevate and accelerate the conversation about instructional technologies at GVSU and how they can transform education: "To spark new ideas and inspire innovation."
The key experiences targeted for visitors of the showcase include the ability to:
Interact with innovative and emerging technologies
Discover new tools and techniques for teaching
Learn how to leverage and apply technology for learning
Share new ideas that promote student success
Essentially, the showcase is a drop-in space meant to increase student engagement and spark new ideas around using emerging technologies in and out of the classroom. It's a safe place to become aware, to experiment with technology through hands-on use, to tinker, and to try new things. See figure 2.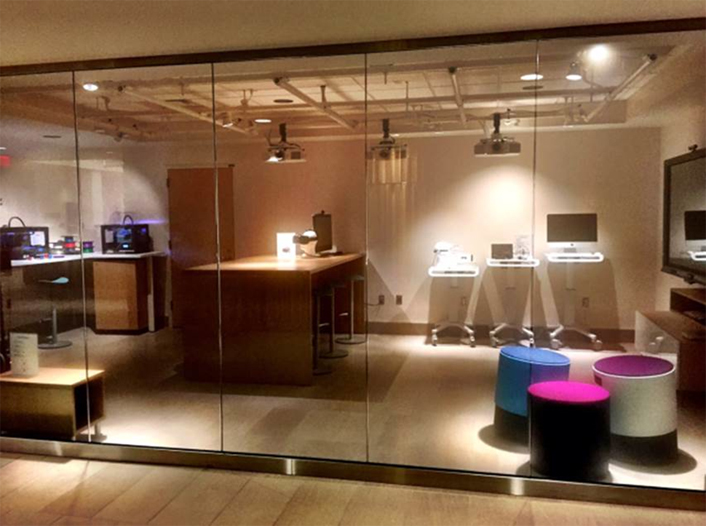 The showcase's objectives include the following:
Investigate, acquire, test, prototype, pilot, research, and evaluate cutting-edge emerging technologies that have the potential to transform education, enhance teaching, and improve student learning.
Leverage innovative technologies to improve course quality, enhance faculty effectiveness, and increase student success and retention.
Partner with leading faculty, staff, students, and vendors to showcase, advocate, and increase awareness of the application of innovative emerging technologies in education.
Accelerate the application and evaluation of technologies and dynamic learning environments by assisting, equipping, and empowering faculty and students.
Build institutional capacity to integrate and implement technologies into teaching and learning practice, and to scale their deployment across the institution.
By researching and monitoring trends, showcase staff focus on identifying emerging and innovative technologies that have potential application across campus. Where do we find our ideas? Some come from faculty, some from students, and we also watch closely what is happening in educational technology through resources such as the New Media Consortium Horizon Project and report, the EDUCAUSE Top 10 IT Issues list, and the Top 10 Strategic Technologies assembled by the EDUCAUSE Center for Analysis and Research.
Highlighting these emerging technologies produces opportunity and encouragement for faculty to think differently about technology and its role in teaching. Students are also challenged to investigate new options for learning. In addition, hands-on time allows faculty and students to explore and use new technology as they dream about ways it can help them solve instructional problems.
Transforming Teaching and Learning with Technology
The showcase is a frequent stop for campus tours ranging from new student orientations to K–12 parents, students, and teachers to a wide variety of higher ed visitors (figure 3). Further, with over two million library visitors in the past two years, the showcase has enabled a collaborative ed tech conversation and a shared experience across the university.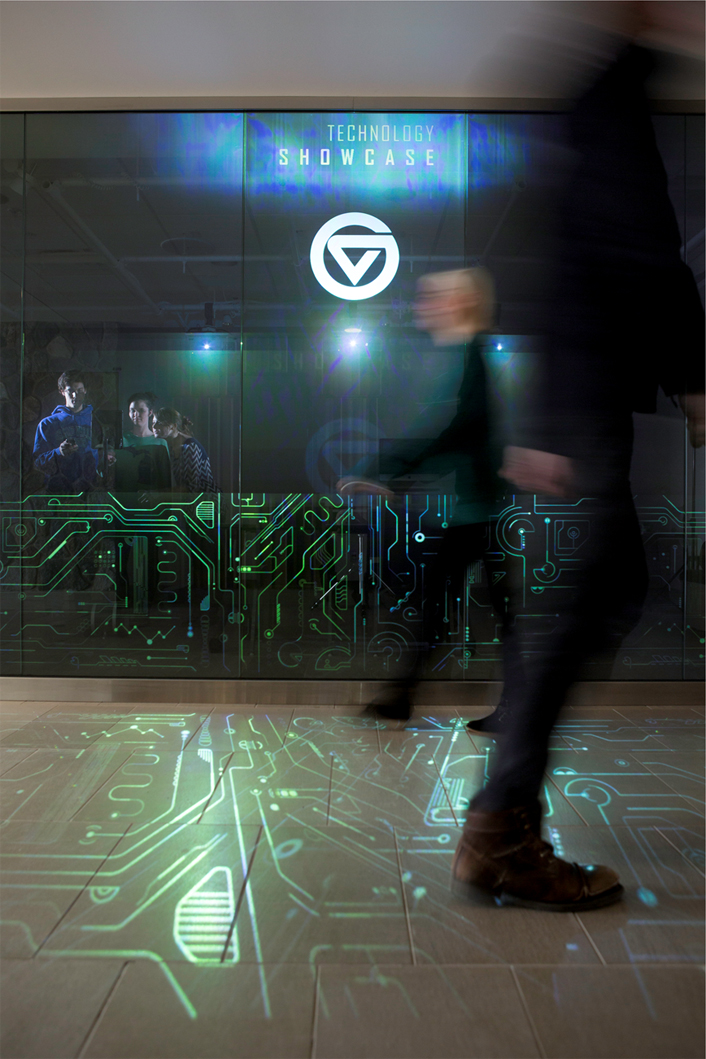 One of the most exciting aspects of the showcase has been the reception by students and faculty. Students frequently enter the showcase to try out a variety of technology as they explore the library, finish up a group study session, take a study break, or stop in on their way back from lunch. Faculty have also begun to hold classes in the showcase or create assignments around the technologies deployed there.
"The GVSU technology showcase offers faculty, students, and community members opportunities to learn about and 'play' with new and emerging technologies. This is an incredible resource, as it provides hands-on learning and experiences. I value sharing this resource with my students and using it to grow my own learning too!"
—Erica R. Hamilton, Assistant Professor, Literacy Studies, College of Education, Grand Valley State University
"Each semester GVSU students in the Introduction to Computing course have the opportunity to explore and interact with cutting-edge technology at the Atomic Object Technology Showcase. Instead of just talking about technology in the classroom, students have the opportunity to experience it; jump off a cliff in a hang glider using Oculus Rift virtual reality, gesture to dissect a skull with Leap Motion, create an object with the 3Doodler Pen, and use their brainwaves to operate a remote control helicopter are just a few examples. The hands-on experience is invaluable for learning about technology. Students have so much fun, they forget they're learning!"
— Cheryl Kautz, Affiliate Instructor, School of Computing and Information Systems, Grand Valley State University
"I enjoy learning about new technology and the showcase is a great place to go in the library to relax and relieve stress. In the showcase I can try out a variety innovative technologies and it's fun to explore. It is a really unique way of learning."
— Nicole Fizell, Student, Grand Valley State University
The ongoing effort to transform teaching and learning with technology attempts to identify an emerging technology for successful deployment in the classroom. This effort came to fruition recently when faculty discovered a technology called Swivl in the showcase, which they actively deployed and implemented as remote video capture solution for GVSU's Graduate Teacher Certification Program.
Showcase staff don't just wait for faculty and students to visit — we also actively reach out to the classroom. For example, showcase staff became involved in re-envisioning a chemistry classroom, working to research, pilot, evaluate, and implement 3D projection technology that provides a new way to visualize and understand highly complex molecules. It provides faculty with a new opportunity to create an immersive experience for their students and demonstrates moving forward and implementing technology to help improve student success.
Makerspaces and Exploring New Technology
The showcase aims to encourage "knowledge creation" as much as "knowledge consumption." Our exploration into making and makerspaces includes 3D printing (figure 4), allowing students to build, rapid prototype, and learn about this emerging field of technology.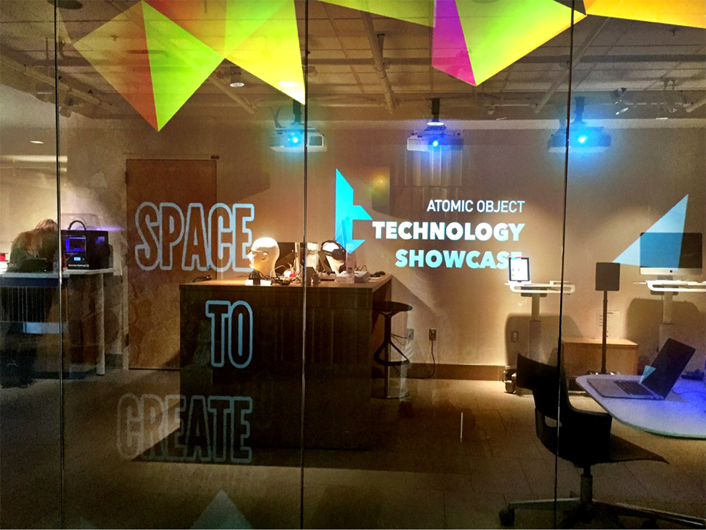 In addition to 3D printing, the showcase highlights over 20 different technologies throughout the year (see figures 5–7). Currently students, faculty, and staff can stop in to learn about, to try, and to experience virtual reality with Oculus Rift, wearable computing with Google Glass, a teleprescence-based robot from Double Robotics, gesture computing with Leap Motion, and mobile devices such as the Epic Laser Projection Keyboard and the Swivl personal video capture solution. In the future we also plan to bring in new technologies and to change the exhibits on display every quarter.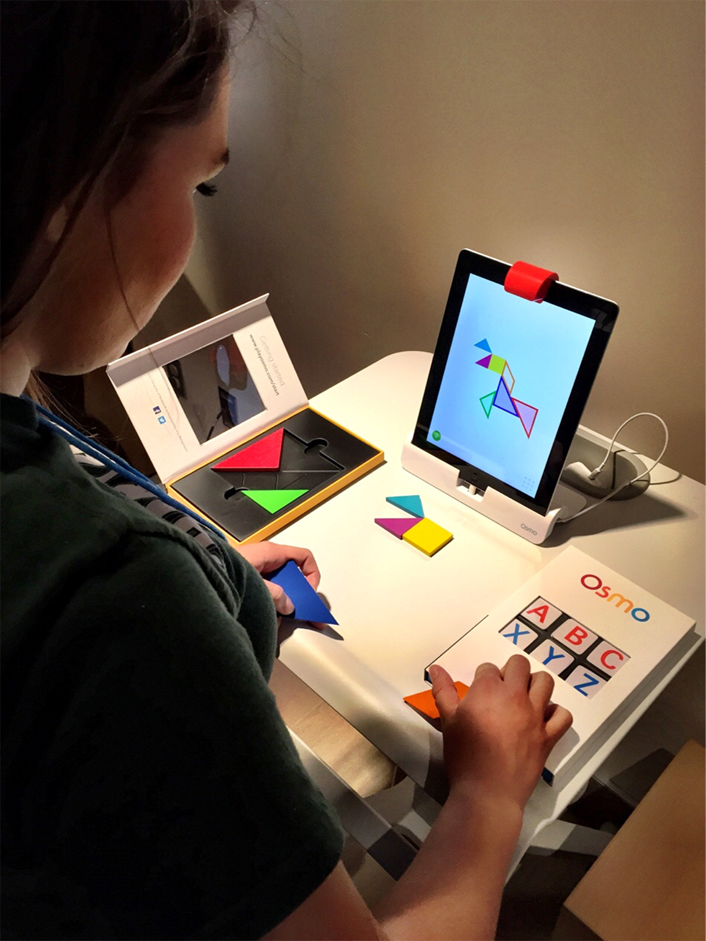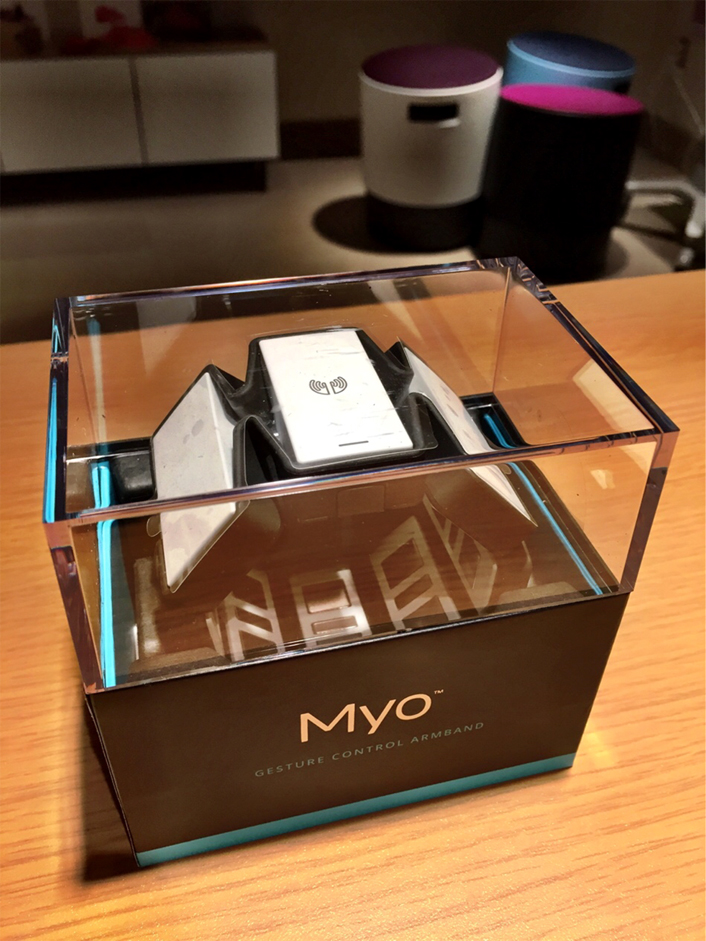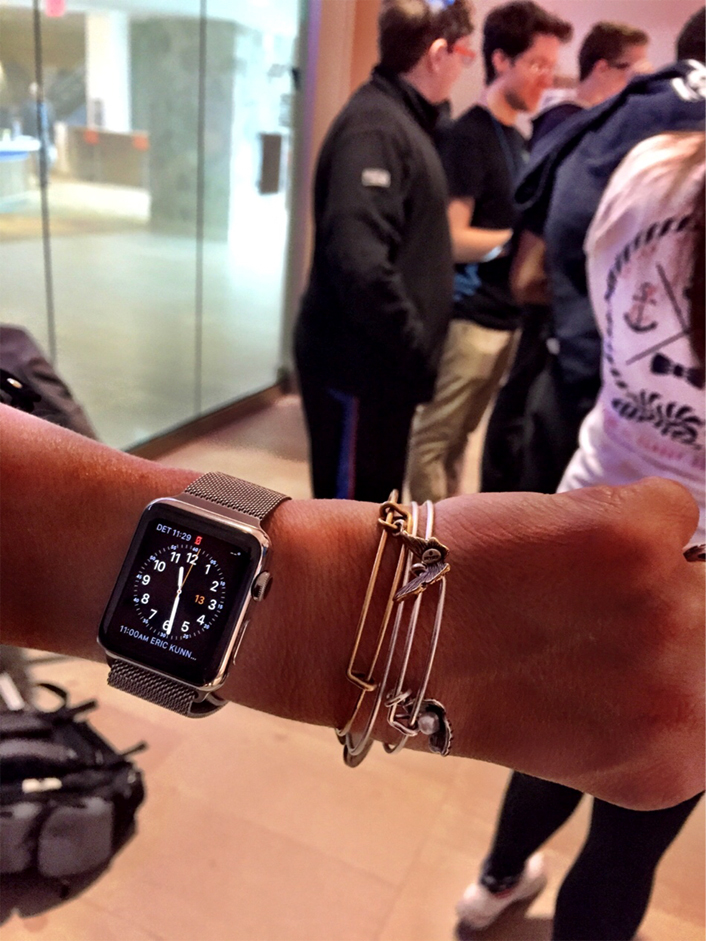 Lessons Learned
Over the past two years of taking the showcase from conception to reality, we learned the following lessons along the way.
It Takes a Village
While technology initiatives benefit from having an advocate and coordinator, good project management strategies rely heavily on collaboration. The showcase vision became reality through the collaborative work of the library and IT department. Showcase staff reaching out to the bookstore, Faculty Teaching and Learning Center, and a variety of academic departments has enabled the number of events and participation in the showcase to grow. Connecting to existing campus events such as super science Saturdays, science Olympiads (figure 8), or other technology-based activities has generated a lot of excitement as well.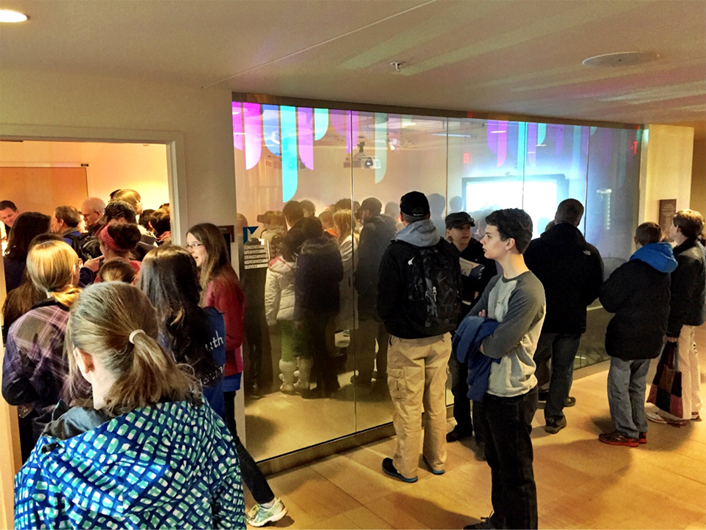 As part of the eLearning and Emerging Technologies group, instructional designers, instructional technology specialists, our Blackboard team, and our digital media developer help identify new technologies and work to integrate them into the classroom where possible to solve an instructional problem.
Through the showcase, we are reaching out beyond the walls and working with a wide variety of campus constituencies to envision the future of teaching and learning at Grand Valley State University.
If You Build It
Do not just create space and insert technology; engage with the campus community and students. For example, working with a variety of clubs and student organizations and reaching out to innovative professors helps us embed the showcase into the campus ecosystem.
The User Experience
Think about the user experience as faculty and students walk by or enter the space. Creating an inviting and exciting room includes open doors and visibility into the space. The more glass, the better. Positioning the space near other activities or a major thoroughfare is also helpful in creating exposure to the cool things happening in the space.
In the Future
Because learning is in large part social and informal, deliberately expand the time between classes and leverage it. The showcase aims to surprise and engage students in discovery and serendipitous learning. Engaged students are successful students, and the showcase encourages a unique experience, captures attention, and taps into the students' interests. Among faculty, the wealth of new technologies generates an overall awareness of educational technologies and their potential use in teaching as they work to envision the future of education.
As we work together to reimagine learning spaces and to press in on the future of the classroom, to discover new ways of teaching, or even to think through what the students' backpack of the future might look like, we do so by creating an environment for exploration. We are building the future together, one with tremendous opportunities to explore as we enhance teaching and learning at our institutions.
Note
Diana Oblinger, "Leading the Transition from Classrooms to Learning Spaces," EDUCAUSE Review, January 1, 2005.