When it comes to the delivery of IT services, the 31 institutions of the University System of Georgia work together as a system to ensure the delivery of more-effective technology solutions at costs that they can better afford.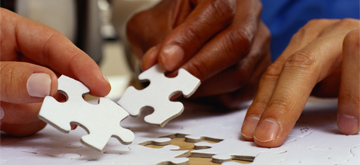 Timothy M. Chester is vice president for Information Technology, University of Georgia; and Curtis A. Carver, Jr., is vice chancellor and chief information officer, University System of Georgia.
The phrase "new normal" may be a bit overused, but we IT practitioners who work in higher education currently find ourselves in business and economic environments that differ dramatically from what we have previously encountered. These new conditions require that we stop doing things the way we did in the past, because those approaches are likely to be less effective moving forward. When it comes to the delivery of IT services, the 31 institutions of the University System of Georgia (USG) are doing just that, by working together as a system to ensure the delivery of more effective technology solutions at costs that we can better afford.
IT Context for Large Public Systems
The large public systems of higher education combine different types of institutions in a complex mix of different missions, student bodies, and approaches to delivering teaching, research, and instruction. Different types of institutions and programs require different types of IT services, and these differences, together with a variety of technical infrastructures and legacy technologies, have hampered many systems in coming together around common platforms and shared technology solutions. The "we're different, we have to go our own way" approach to doing business is culturally ingrained within public systems, particularly at large research-intensive flagship institutions.
The new normal requires a new approach when it comes to increasing the scalability of IT services across public systems of higher education. Where the old culture said "we're out when it comes to shared IT services with other institutions, until it's proven that we should be in," the new normal requires that we take a different approach —"we're in until it's proven that we should be out." This subtle change in vocabulary when it comes to planning for IT services requires a dramatic change in mindset. The gains of greater scalability, whether in the form of better services for students or lower costs (or both), make this change worth the effort.
The USG has experienced success with greater reliance on IT shared services. These initiatives include
a common foundation electronic library of indexes and full-text resources for the citizens of Georgia,
a shared learning management system for all USG institutions, and
next-generation administrative systems that will support greater decision making through the use of more authoritative data across all system institutions.
In delivering these services, the USG staff, together with staff at the institutional level, work together "as a system" with the sole purpose of delivering greater services to the 310,000-plus students attending the USG institutions.
GALILEO: A Shared Virtual Library
One of the most complex problems facing higher education is the rapidly escalating cost of electronic library resources, including both indexes and access to full-text online journals. Libraries also represent fast-changing environments, as the explosive growth in online content and the ways in which individuals consume such content make it difficult for libraries to keep up with shifting demands and expectations. The Georgia Library Learning Online (GALILEO) initiative was founded by USG to provide Georgia citizens with a common set of library resources that serve academic programs throughout the state, including higher education, the technical college system, K–12, public libraries, and a group of private institutions. Altogether, 2000-plus institutions are supported by GALILEO.
Participating GALILEO institutions have access to an online library portal that includes over 100 databases, in addition to over 10,000 full text journal titles. The technical infrastructure supporting the portal is run centrally through a collaborative effort between staff working within the USG and the University of Georgia Libraries; thus, duplicative infrastructure is not required at libraries that provide access to GALILEO. Licensing of the online materials is also supported centrally by the USG, and institutions remain free to license other specialty resources as required to support their unique institutional needs. This approach ensures that all public libraries across the state have access to a foundational package of library resources while also permitting institutions to build on the GALILEO foundation to serve their specific needs (see figure 1).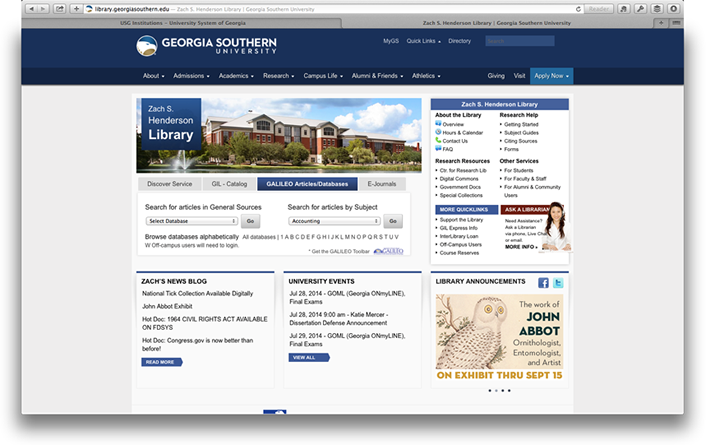 Figure 1. Georgia Southern University's personalized access to GALILEO
GALILEO's goal is to provide access to library resources for citizens of Georgia at any time and any place on the Internet. To facilitate access for those without regular access to the Internet, every public library in the state is charged to provide public access to computers, the Internet, and GALILEO for the public to use. Open access remains one of the most important missions of the online library service. No matter where they may live in the state, every citizen has access to a public library where they can take advantage of these library resources. These access points link to a common library management system, the GALILEO Interconnected Libraries, which provides access to more than 14 million holdings (see figure 2).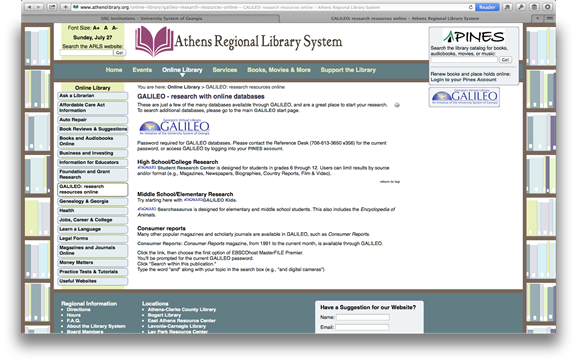 Figure 2. Public library access to GALILEO
All libraries supporting GALILEO access provide assessment-based feedback in order to continually improve the system. Since its inception in 1995, use of GALILEO has grown 1,600 percent and now totals over 1 billion user sessions. The virtual library portal is constantly updated to reflect technological changes, including advances in single-sign-on, access to social networking tools, and the latest approaches to linking search results to online library catalogs so that users can locate the physical materials closest to them. Next steps in the evolution of GALILEO include tighter integration with learning management systems and other applications supporting the creation of online learning materials, courseware, and other open-access content.
The payoff for the GALILEO shared services has been:
cost avoidance, as the virtual library materials can be licensed centrally at a lower cost;
a guaranteed foundation of basic library services for all citizens, no matter where they reside in the state; and
a continually evolving platform that grows and adapts as technology progresses and new ways evolve for creating and consuming library content.
Some 2013 metrics from GALILEO include:
To further advance the service, Governor Nathan Deal recently supported an increased annual investment of $2.5 million to facilitate greater access to e-books and other materials and thus reduce the cost of textbooks for students across the state.
GeorgiaVIEW: A Shared Learning Management System
To further support the development of common technology infrastructure, in 2011 the Board of Regents adopted a common learning management system for all USG institutions. Through a collaborative, shared governance approach to product selection, the USG adopted the suite of tools from Desire2Learn (D2L) for both technical and functional reasons. An expected outcome is that this leveraging of a common learning platform will make it easier for students to navigate the myriad course and program options across all USG institutions. For those students transferring coursework between institutions, a shared common platform eases the transition. On the technical side, D2L provides capabilities for multi-tenant, multi-campus configuration and functions, all within a shared system of hardware, software, and database services. Widespread and rapid third-party integrations (more than 70 right now) ensure each institution can tailor the system to their local needs while realizing substantial agility and economies of scale. Additionally, the economies of scale are leveraged across all USG institutions, so the total cost of ownership is lower than it would be if institutions adopted and implemented separate systems.
The D2L platform, commonly known as GeorgiaVIEW, is hosted by the IT staff working within the USG office. The system is fully redundant, with equipment and services provided from multiple physical data centers to ensure continuous system availability for students. Day-to-day support for faculty and students operates at the campus level, while IT staff working in the system office provide infrastructure support. By providing services in this manner, the USG has freed up staff at the campus level to focus more on faculty and student use of the technology and less on the operation and maintenance of the platform. Figure 3 shows a personalized D2L portal at Columbus State University, whose mascot is a cougar.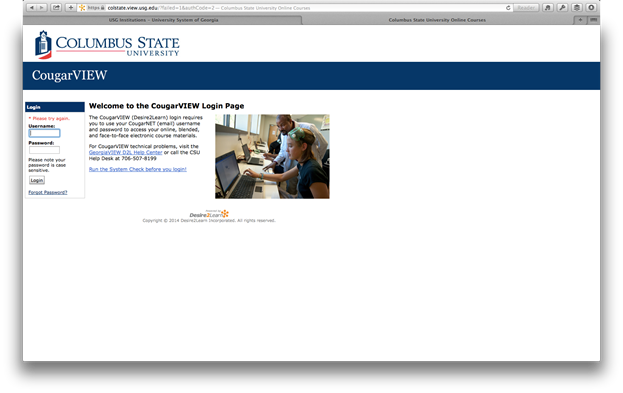 Figure 3. The personalized D2L implementation at Columbus State
The D2L system was rolled out across all USG institutions over two full years, with several waves of progressively larger institutions joining the platform, migrating courses from their legacy LMS platforms, integrating their administrative information systems for course creation and student enrollment, and providing training for their faculty and students. The large research-intensive institutions migrated to the platform in the last wave.
Feedback on the D2L training and rollout (3:44 minutes)
The University of Georgia began supporting limited faculty use of D2L in the fall of 2012 with a group of early adopters. For the following three terms, larger waves of faculty came on board, leading up to the start of the spring 2014 semester, when D2L was the platform for all students, all faculty, and all courses. This progressive ramp-up helped ensure that faculty and students were ready for the system, that the training and communications plans were sound, and that the system could scale to support 31,000-plus UGA students. Of course, faculty had individual reactions to the new system:
"We have 600 students a semester. I have to post things [to D2L], instead of handing out paper. Imagine handing out 600 pieces of paper to all of our students. Students have been really positive about D2L. We did everything with D2L [during several snow days during the past semester], including posting podcasts. Overall, it's not pleasant to switch systems, but they really showed us how this can benefit us and make things easier on how we manage our instructional resources."

—Peggy Brickman, Josiah Meigs Professor of Biological Sciences at the University of Georgia

"Once I learned how to navigate D2L, I found it to be a pretty powerful platform for online teaching. . . .I can tell you that I can do so many more administrative and pedagogical activities with this new platform. I am really looking forward to learning it more comprehensively and sharing what I learn with my colleagues. I think there is a lot more to it that I have simply not been exposed to yet."

—Audrey Haynes, Josiah Meigs Professor of Political Science at the University of Georgia
The return on this investment has been greater support for faculty and students and their use of technology in the instruction process. By relying on the shared USG-provided hosting of D2L, the University of Georgia was able to reallocate three personnel away from the support and operation of systems and into roles where they focus on the use of the LMS — a significant gain for UGA faculty and students. Other USG institutions that have leveraged the shared D2L platform have realized similar gains.
The metrics surrounding this system are worthy of consideration. The system
hosts 160,000 courses, of which 87,000 were active in fall 2013 — a 44 percent increase in active courses compared to fall 2012;
is accessed by an average of 250,000 students a day who generate 57,000,000 (and growing) hits a day; and
is the largest software-as-a-service offering of D2L in the world.
Next-Generation Administrative Systems: Authoritative Data Matters
The planning horizon of most institutions of higher learning now includes upgrading or replacing the myriad ERP solutions implemented over the past two decades. Previous implementation approaches matched the prevailing values and cultures of that time — that is, the unique diversity of an institution's size and mission necessitated a "going it alone" approach to major information systems. This approach resulted in fragmented data, siloed systems, and a general lack of authoritative data necessary for a thorough understanding of the operating environments across entire systems of institutions. Today, when applied to the area of major administrative systems, the new normal requires that these systems move toward development of common, shared information systems to support major administrative functions and business practices.
The USG proceeded down this path several years ago with the implementation of a common payroll and HR solution for most USG institutions. This implementation did not achieve the level of success desired for a couple of reasons: the solution was implemented with insufficient emphasis on business process reengineering, which resulted in separate configuration setups for each institution and significant modification of the baseline product, and the larger, research-intensive institutions did not participate because of the complexity of their business processes and their unique needs. Consequently, the final implementation lacks flexibility, requires substantial support, and has failed to deliver the desired outcomes for a shared solution.
Moving forward, the USG is developing plans to upgrade (or replace) the current shared payroll and HR solution so that it will deliver greater value to both the system and its member institutions. As these plans proceed, the research-intensive institutions have indicated their intention to participate, so the assumption is that they will adopt the common solution, absent the development of a compelling business case otherwise. Design choices will reflect the complexity of processes at a large research-intensive institution, but all institutions have committed to a business process reengineering effort to enable a single, system-wide approach for delivering payroll and managing HR information. Implementation will also occur in waves, similar to the implementation of the Desire2Learn system. The system will be adopted first by smaller institutions, with the larger institutions coming on board in successive waves.
Desired outcomes for this initiative include the adoption of a common setup and configuration to simplify implementation of a shared data warehouse holding authoritative system-wide information. This is key to delivering the expected analytical capabilities desired by all institutions.
"The University System of Georgia has made a significant and important commitment to the development of a Shared Services Center. Our current plan is to include all 31 institutions in our system. We have learned a great deal over the past 5 years and our current governance structure involves active participation across many campus leadership areas including IT, HR, Finance & Accounting, Payroll & Benefits, and Academic Affairs. We fully anticipate in years to come that Shared Services will explore other centralized opportunities to support system needs."

—Timothy Mescon, President of Columbus State University and Chair of the University System of Georgia Shared Services Council
Into the Future
As the USG and its member institutions move toward greater reliance on shared IT solutions, we do so having demonstrated significant benefits of the approach:
A digital library for all citizens of the state of Georgia, delivered at costs below what 31 institutions would have paid on their own to duplicate the service.
A common learning management system across all institutions, allowing on-campus staff to focus on supporting faculty and students in using the LMS while USG staff provide support for infrastructure, software hosting, and database services.
As we proceed with the requirements gathering for next-generation administrative systems, we will benefit from the main lesson learned thus far:
Despite a diversity of institution types, missions, and programs, shared IT services can thrive in a system environment given the right mix of leadership, executive commitment, participation by stakeholders, and acceptance of the need for change.
This shared services work provides substantial opportunity for IT leadership, whose experience in providing campus services gives them a strong holistic knowledge of the business practices, history of prior endeavors, and existing relationships across the campus. IT leaders can therefore position themselves as stewards and conveners of these critical conversations.
"With shared services, my role as CIO becomes focused on creating a new technology ecosystem that fully leverages shared services capabilities through fostering collaboration around adoption of best practices, adapting institutional procedures and policies, driving efficiency and measuring effectiveness, and developing analytical capabilities that provide fresh insights into the specific challenges faced by our faculty, students, and staff."

—Steven Burrell, Vice President for Information Technology, Georgia Southern University