Key Takeaways
When resources and budgets are tight, implementing low-cost, high-innovation solutions addresses multiple challenges effectively.
Higher education institutions can strategically reinvent IT initiatives by deploying cloud computing technologies that more closely align with users' emerging web-centric demands.
Taking a risk on a new technology has the strategic potential to move a campus forward much more quickly than traditional solutions, especially when the new technology is cloud-sourced.
When I was brought on as CIO of Westmont College in October 2008, the president, Board of Trustees, and campus environment made it clear that technology needed a major overhaul to meet the college's growing requirements. Also, these changes needed to happen without significantly increasing the IT budget or staff.
Marketing Charts projected that smartphones will surpass feature phones by the middle of 2011. An early indicator of a technology shift on campus was Westmont's significant yearly increase in mobile Internet usage among students and faculty. An influx of new clients and devices arrive every fall with the incoming freshmen, and new students expect to connect anytime, anywhere. Our students needed a technology service platform that would meet this expectation, but Westmont's limited wireless and antiquated online resources and IT offerings came up short. The college had expensive IT assets with high up-front costs that were complex and time-consuming to manage.
Utilizing cloud computing technologies enabled us to not only solve these problems but also to free up resources for other forward-looking initiatives. In 12 months, Westmont deployed six cloud-centric service platforms designed to reduce the college's total cost of ownership, improve the management of IT solutions, and ensure that our solutions are as future-proof as possible.
Evaluating Westmont's IT Needs
Technology has moved from a tactical necessity to a strategic imperative, leaving many IT departments ill prepared to deal with the transition. The question facing not only Westmont's IT department but almost every IT shop in higher education is whether IT can meet the "always on" expectation of most users, especially when the purchase of more tools and services further burdens an already overtaxed IT staff. IT departments need a new strategy — something that disrupts the normal pattern of meeting the growing demand for technology services. From the start, IT needs to align with the institution's goals. At Westmont, we needed to pursue innovative ways to address the 24 × 7 requirements of our user base while finding ways to deploy new services that better aligned IT with the various strategies emerging at the college.
To understand what our work at the college should entail, we needed to take into account:
Outdated technology. The quality of the utility-oriented services (network, e-mail, storage, security, wireless, learning management system) was not keeping pace with progress in the academy and Westmont specifically.
Lack of funding. No new funding was available due to other college-wide priorities and IT budget reductions.
Regional cost of living. The cost of living in Santa Barbara effectively eliminates recruiting individuals outside driving distance of the college, even if funding were available. This dramatically reduces the available talent pool and limits hiring as a way to gain new skill sets within the IT team.
Committed but stressed IT staff. A highly skilled and hard-working IT staff was both tired and discouraged due to an unreliable and failing infrastructure, as well as an unhappy user base.
Natural disasters and emergency preparedness. On November 13, 2008, the Santa Barbara Tea Fire swept through the Westmont campus and neighboring faculty housing. More than 20 buildings were damaged or destroyed, including residence halls and 14 faculty homes. The fire burned over 34 percent of the campus. (See Figure 1.)
The global economic meltdown. The global recession led the college's executive team, on which I serve, to cut budgets in every area on campus. While necessary and responsible, this choice effectively ended any possibility of a more traditional method of addressing technology needs for the campus through hiring staff and purchasing more systems and applications.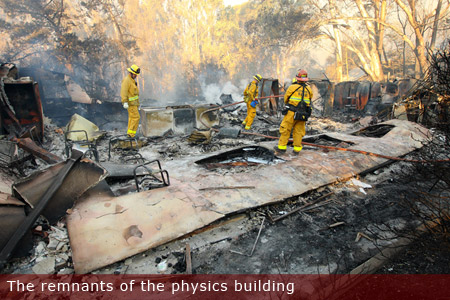 Figure 1. Westmont College Physics Building Destroyed by the
Santa Barbara Tea Fire
These realities forced IT to think creatively about innovative ways to fulfill our strategic imperative. In my work as a CIO, I have discovered that a sort of momentum often occurs when moving projects and solutions through an organization. I have witnessed innovation that transformed work teams into highly effective units, accomplishing tasks and goals well beyond their capability; I have also witnessed the opposite. For any sort of positive momentum to occur in IT at Westmont, it was critical to choose projects appropriately aligned with the college's needs.
During a series of meetings the IT team began to evaluate technology-related services to determine their relative health using two metrics: stability and usefulness. Stability was measured by reviewing monitoring logs to determine the number of issues that had occurred over the previous year, such as outages and performance problems. We determined the usefulness of the various services based on the number and type of trouble tickets in our help desk system. This internal process still seemed incomplete, so we began evaluating the various services in relation to peer higher education institutions. The IT department's director of Network and Servers visited seven different institutions to review how their IT departments functioned. We learned that the challenges at Westmont were remarkably similar to those at other schools. Issues such as funding, stability of core services, complex infrastructure, and time-intensive support requirements were consistent across all the institutions. In addition, all IT staff perceived a general lack of time to work on anything new or innovative.
At the same time I continued to reflect on how we could use innovation to ensure that the Westmont IT team could succeed in serving the college. Drawing on the ideas in Geoffrey Moore's book, Dealing with Darwin: How Great Companies Innovate at Every Phase of Their Evolution, helped me understand that all innovation isn't the same. While standards benefit the technology sector, providing exactly the same set of services with no differentiation does not. Moore wrote, "...when innovation is applied, offers become more and more differentiated from one another, leading to different ones becoming the preferred choice for different market segments."1
The question facing Westmont, and perhaps many other IT shops, is how to innovate without additional funding or significant personnel resources. Moore's ideas helped me begin to see tremendous innovation potential in two areas:
Knowing how far to take innovation within a project, and
Uniquely connecting various ideas and solutions to meet specific innovative targets.
Again, using Moore as the starting point, I created a framework that helped me better understand how to manage projects and technology goals up to their innovative potential, but not beyond. By categorizing our work in such a way, I discovered a powerful connection between the various stages shown in Figure 2.

Figure 2. Innovation Framework
I1 — Innovation to Limit a Disadvantage. At this stage, the only focus is "good enough" solutions. At Westmont, this meant keeping tools that were clearly disadvantaged compared with other schools, such as the lack of a centralized help desk and help desk software. Our research indicated that improving or replacing services in this area wasn't necessary because the current support process worked adequately. Slight adjustments (specifically, identifying a director within the support staff to lead the team) enabled us to strengthen support provided by the help desk while keeping the status quo.
I2 — Innovation to Catch Up. This area included Westmont's e-mail, calendar, network stability, network performance, PDA synchronization, and, to a certain degree, wireless infrastructure. Solutions in this category had been deployed for years. As we implemented various ''catch up'' solutions to achieve parity with our peers, stability began to emerge in the IT services on campus, also engendering steadily increasing trust in the IT department.
I3 — Innovation to Lead. Once we began to deliver solutions in the I1 and I2 categories, I encouraged the team to begin discussing how to push Westmont's IT efforts to the next level. The team began to see how using disruptive technologies to cut costs and streamline management in the I1 and I2 quadrants would give us time to discuss ideas and strategies to meet the growing technology needs of the college.
I4 — Innovation to Strategically Explore. In my 20-plus years in technology, both in enterprise business and higher education, I have never seen such a convergence in software applications, programming languages, computing power, information architectures, and low-cost distribution mechanisms. As a result, Westmont had the potential to explore new areas with minimal investments.
While I had clarity on what needed to happen in the IT department, we still faced the overriding problem: how to find time for the I3 and I4 innovations. Unlike the lower quadrants, which already had resources allocated to them, very little time or money was allocated to the upper quadrants. Clearly, something had to change.
Risking the Cloud
Westmont has over 270 unique systems running 24 × 7 with 19 IT staff responsible for maintaining them. Even this large number of services did not satisfy the college community's growing requests. Given the state of the economy and our limited budget, hiring additional staff for new IT initiatives was not an option. We needed to change the rules to deliver a high-quality technology service platform without further overextending the IT staff.
The IT department encompassed a range of services that needed updating or a complete overhaul:
E-mail. We used Postfix, a standard Linux e-mail application, with Oracle Calendar. The college did not have an officially supported contact management solution. E-mail problems began to occur in early 2007, with availability issues occurring as frequently as every seven days, including three times when e-mail went offline entirely. Oracle Calendar was a desktop client solution that Oracle had stopped actively supporting two years earlier, and it did not have a PDA or smartphone solution.
E-mail storage. For years the college stored multiple terabytes of e-mail and desktop files on a series of large disc arrays in a RAID 10 configuration that ran on an off-brand or white-box server. Due to read/write issues associated with e-mail mail-store directories, this solution proved unreliable. As a result, the college purchased a storage area network (SAN), which solved the reliability challenges. Unfortunately, e-mail nearly filled the new SAN in less than one year, which would have required significant new monies for purchasing additional licenses and storage arrays in order to address the issue.
Network infrastructure. Cisco provided the physical network, with Aruba Networks 802.11b/g for all campus wireless. The Cisco infrastructure had significantly aged and was well past best practices for equipment replacement as recommended by Cisco. Wireless complaints from the campus centered on availability, ease of use, and performance.
Educational software. Microsoft Office Suite licensing is competitively priced, but to extend it to all students would have required allocating a significant percentage of the technology fee. Additionally, the help desk spent significant time managing the yearly license fees for various other software packages used by faculty, staff, and students. As a result, the college did not provide Microsoft Office to students.
College advancement. The Office of College Advancement works in the areas of fundraising and college relations. Since the college's enterprise resource planning (ERP) provider had historically not offered a web-based customer relationship management (CRM) tool, a myriad of manual or home-grown solutions had emerged to help manage prospect and donor information. The process was not only inefficient but also affected the quality and accessibility of the data maintained in the ERP.
We evaluated a total of 23 solutions for the network, e-mail, calendar, mobile support, wireless, archiving, spam filtering, and bandwidth shaping. We quickly found that many of the traditional hardware- and software-based solutions would meet only a subset of our requirements.
During the evaluation process I kept notes on trends that emerged at Westmont or in my discussions with other CIOs in higher education (see Table 1). For each trend I included a corresponding solution. After a few months of meeting with different companies, my team had a significant breakthrough in how we understood our work at Westmont: Some of the solutions we were evaluating needed to remain traditional. For example, in upgrading our wired infrastructure, the college needed a level of stability and performance appropriate for a top-tier institution. Too much time was spent on managing this resource because of its age. Selecting a stable enterprise provider, in this case Cisco, was a conservative, appropriate choice for Westmont. The physical network needed to meet the best-practice guidelines established by the industry leader. Our innovation targets were to limit our disadvantages and reach industry parity (innovation stages I1 and I2).
Other areas, however, held potential for a more disruptive or nontraditional choice. The traditional solutions we reviewed for many of the areas often proved too expensive or added more resources for IT to manage, along with requiring extensive training and maintenance. The cloud, with its more affordable expense model and minimal training, looked appealing once we had weighed all our options. The key was to make sure we pursued the right type of innovation for the various service areas. Using the four innovation quadrants, I began to map emerging trends, traditional solutions, and disruptive solutions.
Table 1. Emerging Trends with Traditional and Disruptive Solutions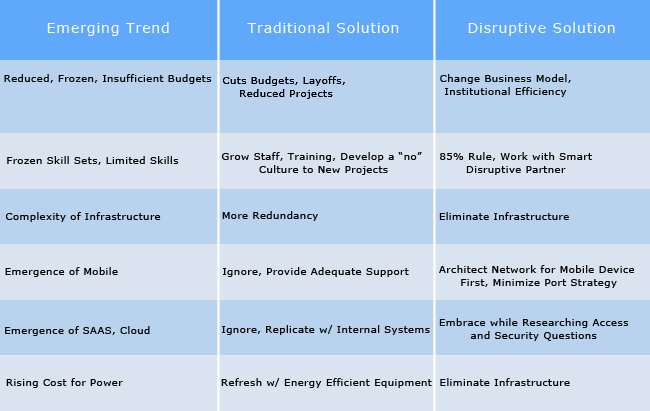 While cloud computing technologies have thrived in the mainstream, educational institutions have been reluctant to apply a cloud-based system to enterprise uses on campus. Nonetheless, students and faculty already use this space extensively through social networking, collaboration, and communication tools. So, I decided to move forward in evaluating how cloud computing could be used inside the college to solve the various problems facing the IT department.
Beginning with Low-Hanging Fruit: Google's Cloud System
We began the process by adding Google to the traditional platform options for a centralized e-mail and calendar system:
We reviewed each application and compared them using a feature checklist developed by IT, college staff, and faculty. Ultimately we reduced the choice to Zimbra or Google and scheduled two test periods of approximately 30 days each in which a group of volunteers agreed to test each service and participate in a survey and group discussion. We selected Google for a few key reasons: Google had a growing reputation in the software-as-a-service (SaaS) category and in higher education, and the company also had a maturing set of collaboration tools that were growing in popularity. While not an initial focus of the project, this criterion rose in importance due to comments from the test group and the IT staff. Lastly, as Westmont considered the various security and privacy questions of migrating to Google and to the cloud, we found Google helpful and transparent as we reviewed their security processes and procedures. Also, we discovered Google to be an SAS 70 Type 1 and Type II certified organization. While counterintuitive, we began to conclude that our data might be safer in Google's cloud than within our own physical network. Has Google solved all of our security-related challenges? No. Are we more secure as a result of using Google? Yes.
Westmont's move to Google also connected to our innovation model, in which we sought to innovate just enough to reach parity (I2) with other educational institutions. The goal was to have reliable e-mail, shared calendars that worked, and contact management. The move to Google met these criteria and also significantly improved the end-user experience. In addition, mailboxes increased in size from 200 megabytes on average to over 7 gigabytes.
The process was remarkably simple, requiring a phone call, signing on the dotted line, and getting set up with Google Apps. Using tools provided by Google, we ported all of our e-mail, calendar, and contact information to Google's system, which enabled us to remove a number of aging servers. Google Apps is currently licensed to over 5,000 Westmont users (faculty, students, staff, and alumni). By having both students and faculty using Google's SaaS solution, and in particular the Google Docs collaborative applications, IT delivered a new level of collaborative functionality. Unplanned, Google Apps began to replace Microsoft Office for many users across the campus.
We also began to use a new service called Google Sync, which enabled us to solve the longstanding problem of providing effective support for e-mail, contacts, and calendars on mobile devices. Google Sync allows for push, over-the-air syncing to Android, iPhone, iPod Touch, and Blackberry devices without adding another server or requiring physical syncing. Prior to Google Sync, the college's IT support staff had averaged over 40 hours a week supporting a variety of physical syncing solutions on nearly a dozen different mobile devices. The resulting cost savings of using Google Sync allowed Westmont to replace college-provided smartphones with iPhones and the various PDA devices with iPod Touches.
Our success with Google, which helped Westmont innovate and quickly reach functional parity with other higher education institutions, gave IT the confidence to further explore cloud computing in the higher innovation quadrants. Google's public API allowed us access to our information in Google's cloud using other applications, which proved critically important as we explored other innovative ideas. Our agreement with Google provides us with access to its services on a yearly renewing contract at zero cost to Westmont. The contract outlined service level agreements (SLAs) and other usage terms and conditions. Google also provided basic support for migrating our e-mail to Google.
Deploying Cloud Computing Services Campus-wide
The next three cloud computing projects we selected — Meraki wireless networking, Postini e-mail security, and Salesforce CRM — were planned, tested, and deployed in under six months. In early 2010 we added Cast Iron to integrate our cloud services and a new Westmont-specific and Westmont-developed iPhone application.
Cloud-Managed Wireless with Meraki
The largest project in the I3 quadrant was our deployment of a cloud-managed 802.11n wireless network with cloud-based networking company Meraki. Our contract is on a renewing three-year term and follows a failed deployment with an enterprise wireless vendor. With Meraki we were able to cover our entire campus with 802.11n for less than what the previous vendor was quoting for only one-third of the campus — without adding IT staff. Meraki's self-configuring access points automatically connect to its cloud-based controller, which offers significant procurement, deployment, and management benefits for a much lower total cost of ownership.
The Meraki deployment covers 111 acres with roughly 270 wireless access points (WAPs). Using mostly 802.11n dual-radio MR14s to provide coverage in buildings and triple-radio MR58s to extend wireless coverage to all outdoor areas, we provided nearly total coverage across campus. In addition, we now also manage the wireless network at our educational center in San Francisco and an off-campus student housing complex in Santa Barbara as if they were part of our campus network.
After deploying the Meraki cloud controller, we removed the three controller appliances previously used to manage the Aruba WAPs. This saved the network administrator time needed to support these controllers from a server perspective and eliminated all costs associated with licensing, powering, and maintaining these appliances. The monies saved now cover most of the licensing costs for the Meraki cloud controller. In addition, all software updates, patches, and new features are immediately updated over the cloud with no impact on the system administrators or the IT team.
The Meraki cloud controller is remarkably easy to use. A network visual shows buildings tagged in Google maps with small green callouts identifying the number of users currently connected to a WAP, along with alerts for WAPs that are offline (see Figure 3). The cloud controller also shows information about the types of clients connected to the Westmont wireless network. Through this feature the college has tracked the dramatic increase of handheld Wi-Fi clients. This feature simply appeared five months after deploying the wireless network as part of a regular upgrade provided by Meraki to all their cloud controller customers. Westmont benefits from this additional feature without any corresponding impact on support capacity within the engineering team.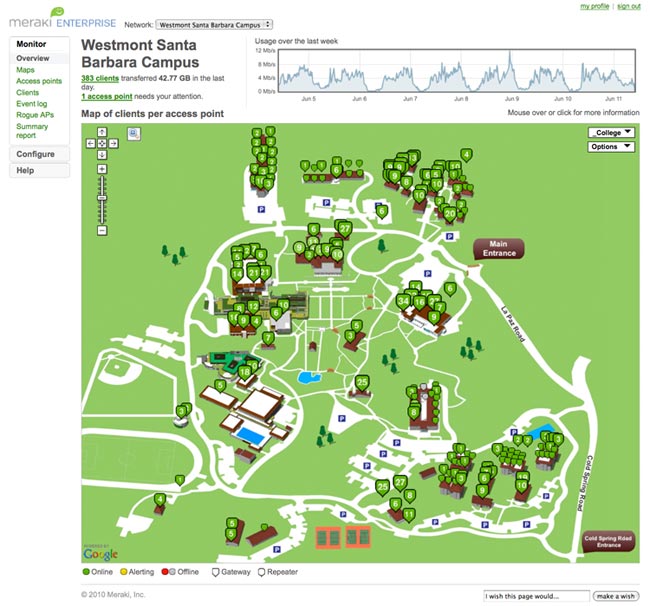 Figure 3. Meraki Map of Clients per Wireless Access Point
E-mail Management in the Cloud with Postini
Our research led us to select Postini, a cloud-hosted e-mail archiving, retrieval, and spam-filtering system recently acquired by Google, as a way to streamline IT department standards and further relieve IT staff from having to manage these systems in-house.
The impact of adding Postini to our set of cloud-based services was dramatic. By moving e-mail archiving, retrieval, and spam filtering to the cloud, we eliminated traditional in-house solutions and moved management of these services to the cloud. Postini's e-mail archiving service freed up over one terabyte of SAN storage, which solved the pressing issue of how to grow the storage capacity of the SAN without new funds. In addition, we removed two spam-filtering appliances that, despite significant cost and effort, never met the expectations of end users. With Postini, the college has not only improved up-time availability and filtering accuracy of e-mail but also has delivered new functionality that lets users search and retrieve archived e-mail without assistance from IT.
The cost of licensing Postini was covered by eliminating maintenance fees for our on-premises spam-filtering solution. Postini's yearly costs are approximately 30 percent of our previous maintenance license fees. In addition, the recovered storage space has a value to the college in excess of $100,000.
College Fundraising with Salesforce CRM
As college advancement and fundraising became an increasingly important driver for Westmont, it also became critical that IT elevate its support. Salesforce.com's web-based CRM system became the foundation of Westmont's fundraising and outreach efforts.
Westmont is in the midst of a multi-year capital campaign. The need for an effective CRM system became more critical as we sought to manage the various fundraising and outreach activities that occur through the Office of College Advancement. Managing these activities had become more difficult as the college increased its level of activity due to the capital campaign. Since this area is highly critical for the college's success, we spent significant time evaluating CRM solutions, following the same thought process we used in selecting Google, Meraki, and Postini. The team evaluated three different solutions:
The criteria list developed by the Office of College Advancement included off-campus access to contact information in the campus ERP, report capability, ease of use, and reliable access via web browsers and smartphones. While our ERP vendor, Datatel, offered tight integration between the database application and their advancement module, it fell dramatically short of usability requirements and off-campus access. Microsoft Dynamics CRM had significant potential, but to date is only configured for use in student recruitment.
With over 72,500 unique organizations currently using its CRM, Salesforce.com instilled confidence that its cloud-based solution would more than just meet minimum requirements — we anticipated that it would actually help the fundraising team function more effectively. Salesforce CRM is now used by the advancement office to manage over 19,000 contact reports and thousands of records for prospects and donors (see Figure 4).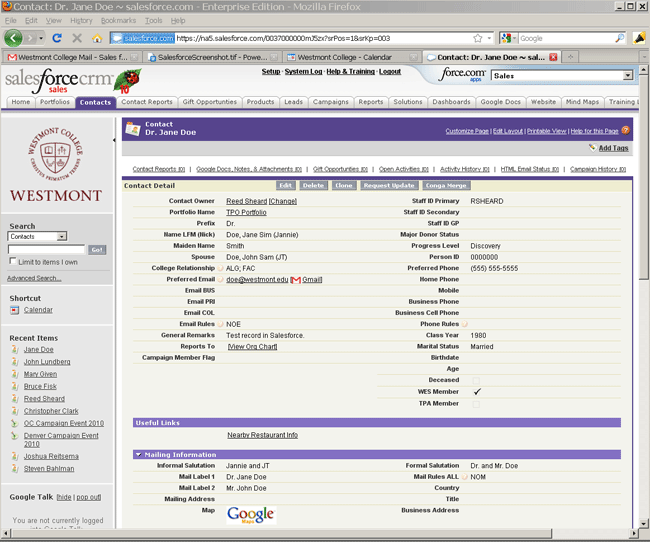 Figure 4. Salesforce.com CRM Interface
The browser-based Salesforce CRM application is delivered via the SaaS model, allowing advancement personnel access to all donor information while off campus. In addition, Salesforce.com's support for Google Apps enables us to easily integrate e-mail, documents, and calendaring with CRM. Salesforce.com's iPhone app allowed us to extend donor data to this new mobile platform with minimal effort (see Figure 5). Future plans include providing Apple iPads for the fundraising staff. The goal is to extend access to the browser-based Salesforce CRM and to encourage data entry while traveling, due to the iPad's larger screen and digital keyboard.

Figure 5. Salesforce iPhone App
Our contract with Salesforce.com is based on a yearly renewal term, with a cost approximately 10 percent that of a more traditional CRM solution. Owing to our storing critical college data in the Salesforce CRM system, we chose to create a Westmont-performed backup of all information to our internal SAN. This does require additional IT staff time, but at present easily fits within support timeframes for established backup processes.
Integrating Disparate Systems with Cast Iron
Successful cloud computing projects, by default, move data and access outside of the enterprise. Thanks to the success of our previous cloud deployments, which freed up time and monies to pursue innovation in the I4 quadrant, Innovation to Strategically Explore, my team and I brainstormed ways to integrate all of our cloud-based applications and data with our on-premises systems. The more traditional model of deploying a centralized set of desktop tools with large feature sets had met neither end-user requirements nor IT support metrics, so we began to explore different questions:
How might we embrace the end-user desire to have access to web-based tools they either chose or preferred?
How could these tools be tightly and reliably integrated with internal systems?
How could we prototype these integrations quickly to determine if they met the real business goals of the department?
These questions led us to evaluate a number of integration platforms before ultimately selecting Cast Iron Systems (recently purchased by IBM), which provides a set of configuration tools that enable integration between SaaS products and on-premises enterprise systems. Our three-year contract with Cast Iron allows us to add or subtract applications as necessary and includes a Quick Start program, in which Cast Iron worked with Westmont IT staff to integrate various SaaS solutions with our existing internal systems.
Cast Iron is quickly improving our ability to integrate cloud computing and enterprise applications while following business rules determined by end users and the IT staff. Using Cast Iron's configuration tools, Westmont established data connections between the Salesforce CRM and our internal Datatel ERP. Now, when information is entered into Salesforce CRM, it automatically populates the appropriate fields in the ERP, improving the timeliness and accuracy of data. Further, our success with Cast Iron began to change our view of data architectures: Instead of attempting to centralize all data in the ERP, and then accessing this data through specific modules (Admissions, Registration, Advancement, HR, Payroll), we found ourselves less concerned about where the data was located and more interested in exploring how to securely and reliably access it from a variety of SaaS applications. This shift allowed IT to move beyond seeing web-based applications as a further fragmentation of our data and support mechanisms.
Westmont is not a large institution, with only 320 employees and 1,200 students. Making decisions and implementing new solutions should, potentially, be easier than at larger, decentralized institutions. This was not the case. After readily determining a series of next steps, the college would get bogged down in deployment. Cast Iron enabled Westmont to quickly integrate cloud services by building prototype connections — what Cast Iron calls ''orchestrations'' — between our internal data and external cloud services. This significantly improved the value and timeliness of services IT delivered to the Westmont staff. Data can now move directionally using business processes determined by the college. The result is a nimbleness in IT that better fits the college's rapidly changing goals and objectives.
Making the Campus Mobile with an iPhone/iPod Touch App
We decided to use Apple's iPhone and iPod Touch platforms to enable access from mobile devices to Westmont's emerging cloud-computing applications. We developed an iPhone application that provided staff and students with a wealth of information over both the Meraki Wi-Fi and AT&T 3G networks, including emergency news and campus shuttle availability. A key driver behind this move into mobile was the Santa Barbara wildfires that took place in November 2008 and May 2009. We knew we needed to revamp communication channels for everyone on campus to ensure that when similar emergencies occurred, we had an easy way to distribute information and promote campus-wide safety (see Figure 6).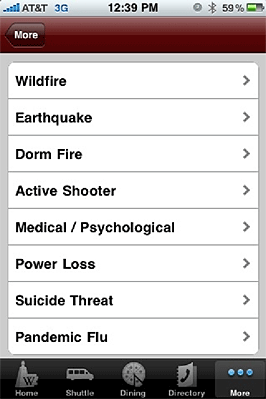 Figure 6. The Westmont iPhone
Application
In the Westmont iPhone application, all of our cloud computing projects converge in a powerful and useful way. The Westmont iPhone app aggregates information from the Westmont website, campus directory, campus calendars, dining menus, and GPS, as well as Google Mail, Personal Calendar, Contacts, and Google Docs. All of this information existed in various forms, most of it in the cloud, but is now accessible via a single intuitive interface on the iPhone (see Figures 7-9).
| | | |
| --- | --- | --- |
| Figure 7. Westmont iPhone App Campus News | Figure 8. Westmont iPhone App Campus Map | Figure 9. Westmont iPhone App Campus Calendars |
To aggregate these information sources, Westmont built a small Ruby on Rails application that runs inside Amazon's EC2 cloud rather than inside our network, on our servers. We set up and installed the application in a matter of hours without acquiring new server hardware or software. Our ability to focus and build innovative services in the upper quadrants (I3 and I4) allowed IT to establish a new service category at Westmont focused on mobile devices. In February 2009, 42 iPhones were connected to the Westmont network. One year later that number had risen to 720. Our ability to build ahead of a need yielded a clear advantage for the college, one directly attributable to resources (time and money) that became available because of our cloud computing initiatives.
Results and Benefits of Implementation
Westmont's cloud computing projects now serve upwards of 1,300 on-campus users with no new campus resources. All told, we integrated 11 distinct applications across campus, including Google Mail, Google Calendar, Google Contacts, Google Sync, Google Docs, Postini Archiving, Postini spam filtering, Salesforce CRM, Salesforce.com Mobile (an iPhone app), Westmont iPhone App, and Ruby on Rails in Amazon EC2, along with cloud-based bidirectional connections to our Datatel ERP via Cast Iron.
Significant Resource Consolidation
Among IT's 19 employees, we needed the following staff to deploy and manage the cloud computing projects:
Meraki: three full-time employees to deploy and approximately 15 hours per week to manage
Google Apps: two full-time employees to deploy and approximately 5 hours per week to manage
Postini: one full-time employee to deploy and approximately 3 hours per week to manage
Salesforce CRM: one full-time employee to deploy and approximately 15 hours per week to manage, configure, and train
Westmont iPhone App: one full-time employee to deploy and approximately 5 hours per week to manage, configure, and train
Cast Iron: two full-time employees to deploy and approximately 10 hours per week to manage, configure, and build new connectors/orchestrations
Currently, IT spends approximately 50 hours per week supporting all six deployments, which would not have been possible had these deployments not been cloud-based. Mobile device support was reduced from two full-time employees to less than 10 hours per week. The cloud-computing components of each of these deployments has reduced management and other up-time implications for the IT staff. The change has been significant, with the team moving from a model where IT delivered every service to one in which IT manages partners who deliver the various services. Despite all the new project work, we did not lose a single team member, and in the end we have a more productive staff with a more manageable workload.
Several reasons exist for this greater productivity within IT:
First, uptime (monitoring, maintenance, upgrades, and troubleshooting) is now the responsibility of our cloud partners. Westmont informally estimates that at least 80 percent of the time spent by the IT staff focuses on uptime-related work. Moving uptime support of several core services to partners gave time back to the software and engineering teams.
Second, the monitoring tools built into the cloud-based applications are easy to use. Traditionally, a limited number of our staff had the requisite training to manage our enterprise products because of the inherent complexity in the management tools. Our new web-based interfaces have made it incredibly easy for staff to ramp up on the various programs without special training to get to a baseline of technical proficiency.
Lastly, the cloud applications can be leveraged and integrated because they were built for the web. The interoperability that has allowed the Internet to thrive also drives innovation in the SaaS space. Westmont stands to benefit from the I3 and I4 innovation inherent in this space.
Cost Savings in Capital Expenditures
Cost was an important factor in Westmont's cloud-based solutions. Overall, we saw a 65 percent cost reduction up front over more traditional deployments, and a 55 percent cost savings over the useful lifetimes of the solutions. The monies saved by lowering our procurement and deployment costs by moving these services to the cloud provided enough funding to pay for the services for five years.
With Meraki, we were able to use the same number of WAPs to update our Wi-Fi network to 802.11n and cover the entire campus. We did not need to purchase expensive hardware controllers, which further reduced the physical cost of the network. While going through the evaluation process, we found that Meraki saved us up to 45 percent on capital costs compared to other WLAN services.
Postini allowed us to eliminate two spam-filtering appliances along with yearly licenses fees, a savings that exceeds the yearly Postini subscription costs. Recovering 1.3 terabytes of SAN storage by moving archiving to Postini saved the college over $100,000 in SAN investments to deal with growing storage demands. Google Mail, Google Calendar, and Google Docs also allowed us to eliminate multiple servers, saving the college approximately $19,000 dollars in yearly expenditures through the elimination of servers and various software licenses. Finally, we delivered mobile CRM access (for notebooks and iPhones) to college personnel at 10 percent of the cost quoted by a traditional ERP vendor, which saved the college approximately $225,000.
Beyond cost savings, Westmont also enjoyed a significant increase in user satisfaction, as well as a significant decrease in IT management time required. We conducted a survey in which faculty and staff reported an average satisfaction level of 4.8 out of 5.0 for Google Apps. User satisfaction for the iPhone and over-the-air syncing is even higher. A survey of the IT staff reported a 70 percent reduction in management time for these cloud-based services.
Future-Proof Assurance
One of the true advantages of cloud computing is that updates happen over the air, completely eliminating the need to procure complex software and hardware upgrades. With Meraki's WLAN system, for example, the cloud controller is cloud-based and deployed as a service over the web, which allows automatic download of all product updates through the controller's web dashboard as they are released. All of these benefits were paramount this past year in enabling us to successfully execute not only our planned projects but also our massive reconstruction effort following the November 2008 fire.
A number of cloud oriented next steps are planned at the college, including building a web app that will aggregate on-premises and cloud-based content for both the iPhone and Android mobile devices. A new cloud-based content area we plan to make available to mobile devices provides surf reports for the greater Santa Barbara area (due to popularity of surfing among the student population). We also plan to significantly extend our data architecture through Cast Iron by building dozens of new connections to enable secure access to college information for students and faculty as well as staff in other departments. For example, we plan to explore how to enable authenticated access and push notification for mobile devices of assignment due dates currently stored in the college LMS. In addition, we have begun work with Salesforce and Cast Iron on a cloud-based CRM focused on managing Admissions-related activities. This will include remote access of all prospective student contact information by Admissions personnel, ability to review previous communications from applicants, notification of up-to-date submission of application materials, and information on financial aid awards.
Conclusion
Moving specific portions of our IT infrastructure to the cloud provided Westmont with numerous benefits, most significantly in terms of cost. However, our decision to invest in cloud computing was ultimately about more than saving money. Rather, we wanted to align our resources effectively to navigate a fiercely competitive landscape and to create an environment that encouraged different types of innovative solutions. Beyond the cost savings, cloud computing allowed us to become more nimble in our campus-wide IT deployments and focused on providing the end-user experiences that Westmont students, faculty, and staff deserve.
Cloud computing is a positive step toward solving the problems educational institutions face with tight budgets and increasingly demanding students who want to bring their always-on mobile lifestyles to campus. In these times it is tempting to go with the safe, traditional solutions, but as we at Westmont have found, once you examine the seemingly riskier cloud alternatives, the rewards can sometimes far outweigh the risks.
Endnote
Geoffrey A. Moore, Dealing with Darwin: How Great Companies Innovate at Every Phase of Their Evolution (New York: Portfolio, 2005), p. 5.