An EDUCAUSE/Cisco study sheds light on the general trends that have taken shape as institutions planned and prepared for fall education.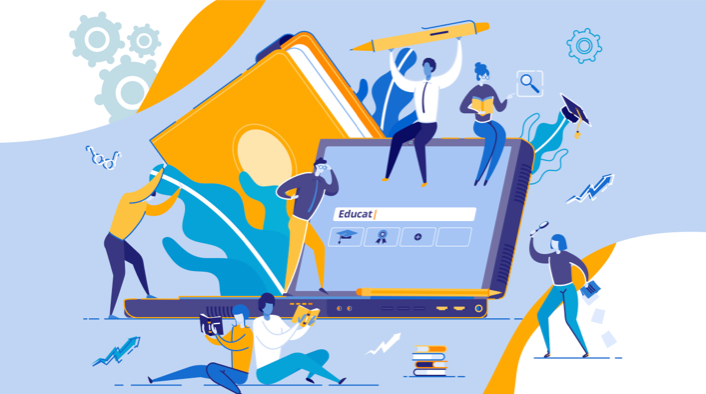 Fall Planning for the New Normal: Moving Higher Ed Online provides higher education leaders with insights and recommendations for addressing the recent dramatic shift to remote and hybrid learning, with the goals of enhancing the teaching and learning experience and maintaining the health and safety of students, faculty, and staff.1
Key Findings
EDUCAUSE and Cisco collaborated on this study, drawing on the results from two EDUCAUSE QuickPoll surveys conducted in June and August, as well as interviews with stakeholders at three higher education institutions. The report highlights important findings related to institutions' plans for remote learning and services during the coronavirus pandemic. Key areas of focus in the report include shifting course delivery methods, creating new student support models, and moving more institutional services online.
Shifting Delivery Methods
Plans for course delivery have been disrupted multiple times since the onset of COVID-19, and institutions have had to be flexible with changing realities.
In June, there was less clarity around how long and how impactful the pandemic was going to be, so leaders and staff were planning for a wider variety of fall scenarios. But as campuses saw the pandemic extend through the summer, most institutions focused on hybrid options for their students and faculty during the fall term (see figure 1).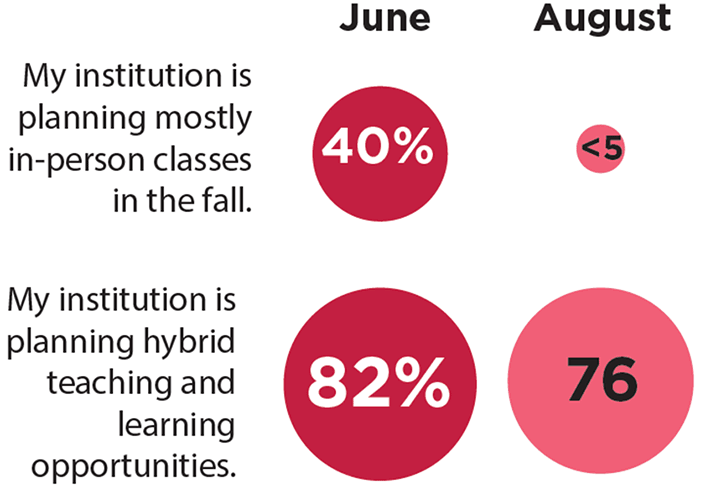 Creating New Models to Serve Students
Student safety is at the forefront of institutions' decisions to offer hybrid courses.
A host of motivations might be driving institutions' decisions to offer hybrid delivery of courses. Chief among those motivations are the health and safety of students, faculty, and staff, with student needs and preferences close behind (see figure 2).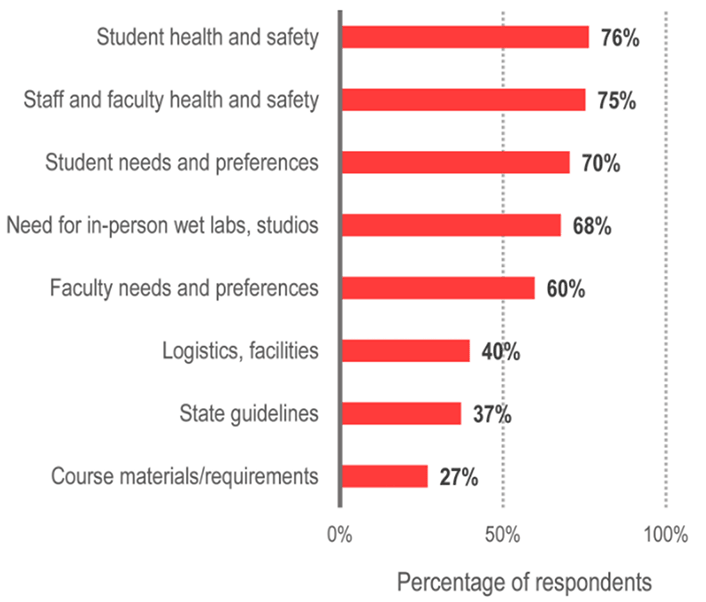 Moving Services Online
COVID-19 has catalyzed a migration of services online, but the work is not done.
Many of the essential services that institutions offer outside of the classroom are moving online. For the online migrations catalyzed by the pandemic, the question remains whether those migrations are complete or will require additional effort. The services most likely to require additional effort into the fall appear to be in areas that support the student experience (e.g., student food and housing support, co-curricular activities, student services) and academic or scholarly activities (e.g., labs, library, research) (see figure 3).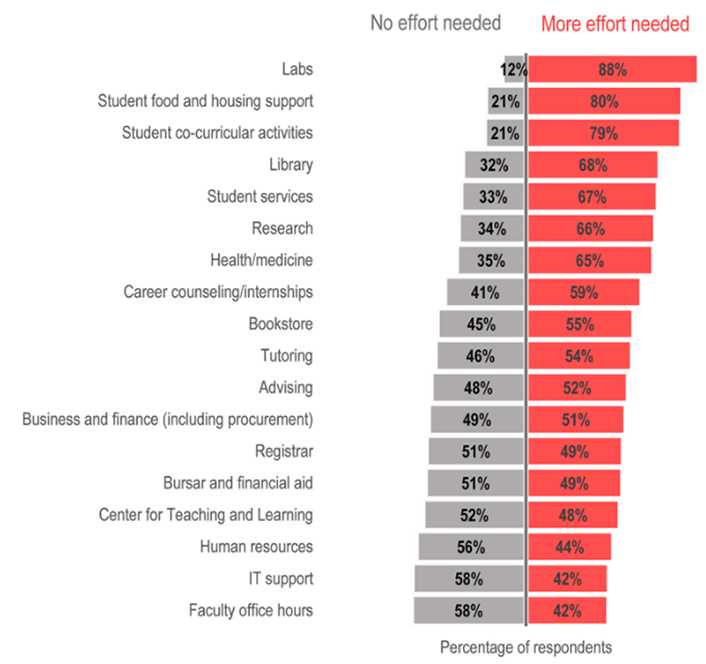 How Can My Institution Use This Information?
If higher education institutions understand which services need more resources and effort, as well as the factors driving those needs, institutions can better develop strategic plans for the rest of the academic year. Since needs and services are still in a state of flux across higher education, campus leaders can use this data to kick start additional internal research and conversations to continue identifying where resources are needed.
More information about these and other findings can be found in the Fall Planning infographic.
Note
Sean Burns and Mark McCormack, Fall Planning for the New Normal: Moving Higher Ed Online, research report (Louisville, CO: EDUCAUSE Research, September 2020). ↩
---
Sean Burns is a Corporate Researcher at EDUCAUSE.