A new initiative aims to provide the skills and expertise that instructional designers need to help higher education meet its growing demands for online education.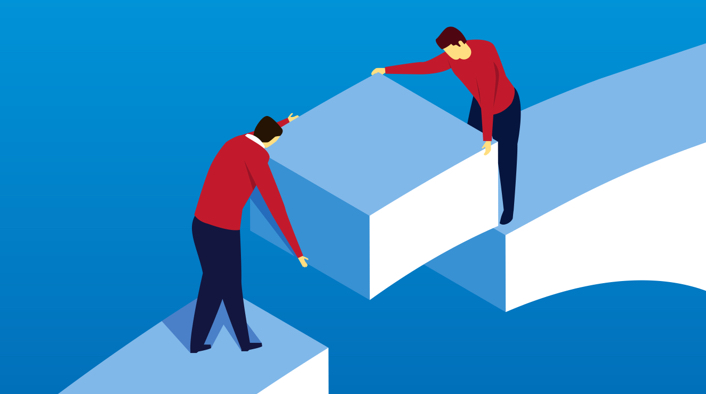 A decade ago, profound—and often existential—questions about online education and its place in postsecondary education were common topics of conversation. Over the past several years, colleges and universities have come to see the value of online learning, and it is booming in a big way, from fully online programs for working adults and online graduate degrees to the growing numbers of colleges and universities that offer online courses for traditional undergraduates. Fast forward to 2020, and everyone is online, to some extent, due to the novel coronavirus.
In this time of crisis, instructional designers have emerged as essential change agents within institutions—they are the force that is propelling this technology-enabled revolution in teaching and learning. According to an Inside Higher Ed article in April, the hottest job in higher education is instructional designer.1 These professionals are normally responsible for designing online and hybrid courses, evaluating and implementing new technologies, and addressing critical issues related to accessibility. But in the short term, they have been the individuals who have worked around the clock to support moving entire institutions online, in some cases overnight. Moreover, this sudden shift does not allow for the development of robust online learning experiences. As mentioned in the joint statement from the WICHE Cooperative for Educational Technologies (WCET,) University Professional and Continuing Education Association (UPCEA,) Quality Matters (QM,) and the Online Learning Consortium (OLC,) "Online learning requires intentional instructional design as well as an exploration of the learning modality and pedagogy that must be aligned to a larger institutional strategy with intentionality, and collaboratively operationalized by various stakeholder groups within and across organizations."2
So, what happens after the corona-crisis?
A Surprisingly Short Supply
Despite the importance of this profession to the future of higher education, instructional designers are in surprisingly short supply. When Inside Higher Ed asked Ron Legon from Quality Matters, "What would happen if colleges tried to hire instructional designers in large numbers to try to ramp up high-quality online offerings in a hurry for the fall?" he replied, "I don't think there's a pipeline that could respond. That's a real problem if you're trying to do this at scale."3
This challenge exists, in part, because only a few well-recognized programs provide the knowledge and skills required for instructional design work, and this scarcity of such specialized degree programs limits access to them. But at a time when three out of four workers feel the need to prepare for the future of work, higher education faces its own imperative to help educators upskill and retool for the industry's rapid pace of change.4
To unlock the full potential of online learning and address the need for high-quality blended and online learning experiences, higher education needs an instructional design workforce capable of scale. Aspiring instructional design and technology professionals need affordable learning pathways to become the next generation of this important role.
To tackle this challenge, iDesign recently announced its LX Pathways initiative, to help learning experience design professionals gain expertise through a new program developed to help close the skills shortage in qualified instructional design professionals. In response to the urgent needs of our community, we also launched an LX Pathway for the Online Instructor for faculty and staff who are new to the online learning space and need a fast, focused, and applied introduction to digital pedagogy in practice.
These new competency-based education pathways will provide continuing education for instructional technologists, learning architects, and online teachers. The certificate program will offer an accelerated and more direct path for education professionals looking to upskill for careers in the design, development, and delivery of quality online learning. We also worked to ensure alignment with the IBSTPI (International board of standards for training, performance and instruction) international standards for instructional design.5 This spring we announced a partnership with EDUCAUSE to offer the LX Pathways to their membership at a discounted rate.
The Way Forward: Instructional Design Democratized
This work is about democratizing and supporting the personalization of acquiring the essential skills and competencies that learner experience professionals need in the field. A "choose your own edventure" pathway is meant to support that and is designed for instructional design and technology professionals who have just-in-time job needs. LX Pathways is powered by Instructure's Canvas learning management platform and enables emerging professionals to access competency-based content that is self-paced and microcredentialed, with optional opportunities to share their work and collaborate with peers.
There's no denying that online learning has transformative potential for a generation of students in search of more flexible, affordable, and career-relevant options, but many institutions struggle to source and identify the talent to build those programs themselves. LX Pathways represents a new front in strengthening the instructional design workforce and infusing more colleges and universities with the talent needed to support their transformation and transition to online learning.
Notes
---
Whitney Kilgore is Cofounder and Chief Academic Officer at iDesign.
Veronica Diaz is Director of Professional Learning at EDUCAUSE.