As higher education institutions are getting set to welcome their communities back for the fall in-person, online, or both, leaders will need to be in "two places at once."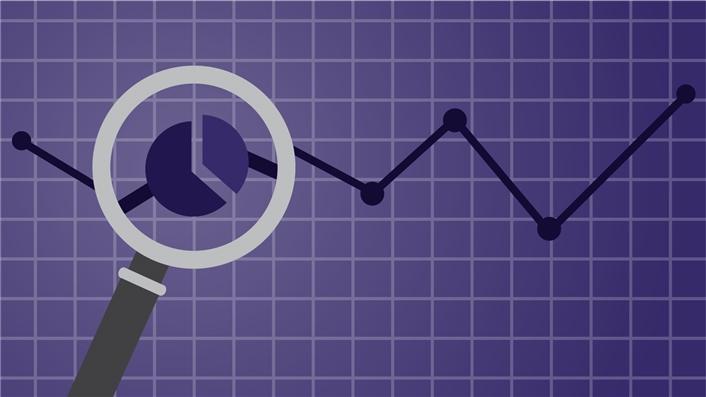 As the COVID-19 pandemic upends higher education in 2020, institutions are relying on digital alternatives to missions, activities, and operations. Challenges abound. EDUCAUSE is helping institutional leaders, IT professionals, and other staff address their pressing challenges by sharing existing data and gathering new data from the higher education community. This report is based on an EDUCAUSE QuickPoll. QuickPolls enable us to rapidly gather, analyze, and share input from our community about specific emerging topics.1
The Challenge
Months of speculation and preparation for a range of fall scenarios are giving way to a frenetic reality as higher education institutions are mere days or weeks away from welcoming students, faculty, and staff back to campus and/or online. Where are technology leaders focusing their efforts to help adapt courses, services, and spaces in these final moments of preparation, and what challenges and opportunities lie ahead?2
The Bottom Line
Institutions this fall will need to be in "two places at once" as they work to buttress both online and physical expressions of their operations. In some form or another, institutions will be moving substantial numbers of their courses and services online. These online modalities will still demand additional work into the fall, even as they hold promise for new and improved business and education models for the future. Despite, or in some ways because of, these sweeping online migrations, institutions are also faced with the need for daunting safety and equipment investments in their brick-and-mortar facilities at a time when staffing, funding, and solutions are hard to come by.
The Data: Moving Online
Online (or remote) learning is the reality of higher education in 2020. If we were to neatly summarize in one chart the seismic shifts that have occurred in higher education over the past few months, it might look something like figure 1, which displays the almost complete inversion in the availability of courses to students online since last year. While the vast majority of respondents estimated that very few of their institutions' courses were available to students online in the fall of 2019, the majority estimation heading into this fall is of widespread course availability online.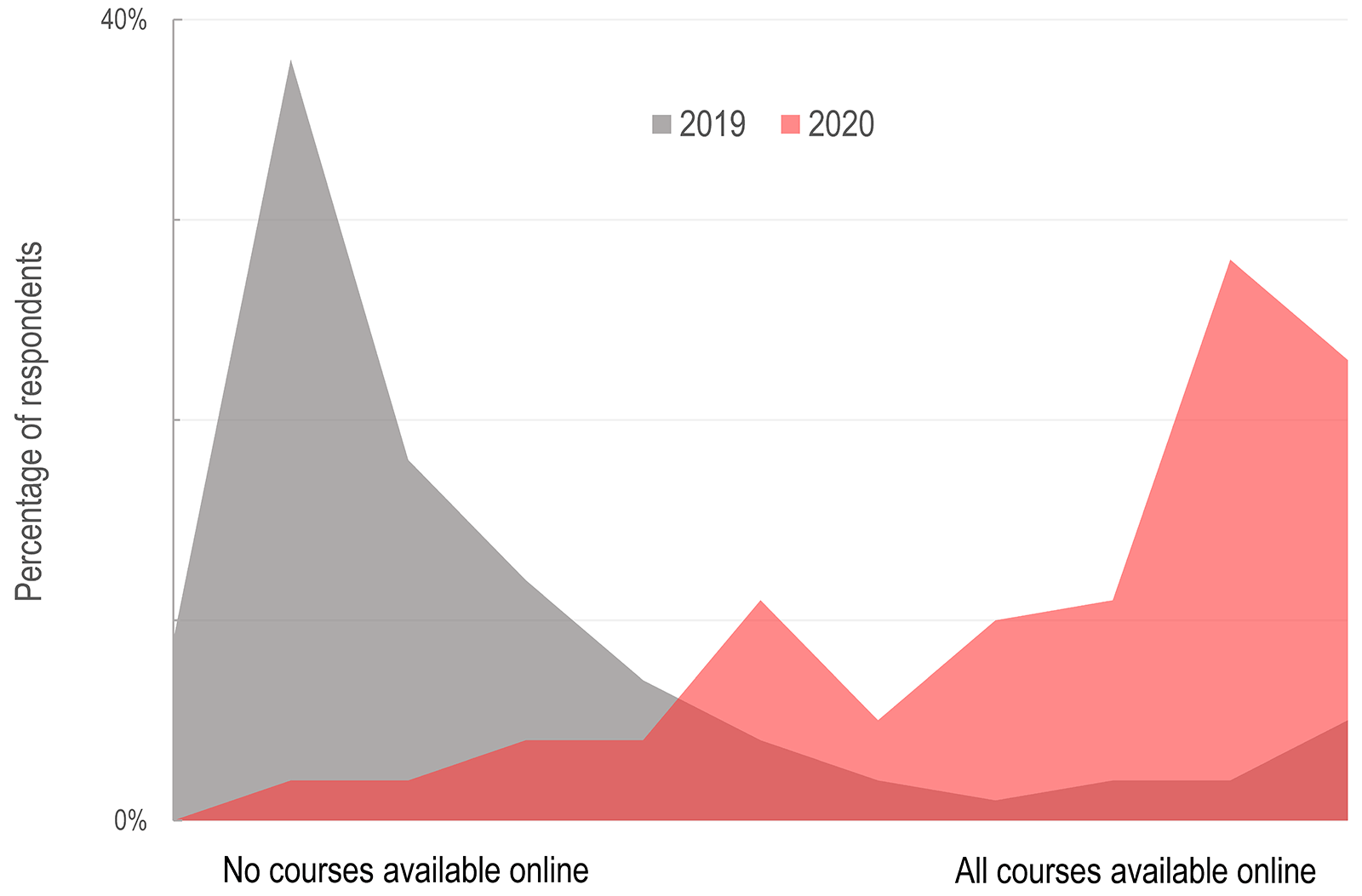 COVID-19 has catalyzed a migration of services online, but the work isn't done. Many of the essential services that institutions offer outside the classroom are moving online. In practice, of course, the shift for many of these services will be far more nuanced than a simple binary of "analog" versus "online" (and certainly more nuanced than we can cover in the space of a QuickPoll blog post). This migration is better understood as movement along a spectrum and a longer-term progression for institutions.
For the majority of our respondents, all of the services listed in our survey have been moved online in some form or another during the pandemic, with the exception of bookstores—the move online for bookstores was for a plurality of respondents, not a majority. For these online migrations catalyzed by the pandemic (see figure 2), the question remains whether those migrations are complete or will require additional effort. Those services most likely to still require additional effort into the fall appear to be in areas nearest to the student experience (e.g., student food and housing support, co-curricular activities, student services) and in areas supporting academic or scholarly activities (e.g., labs, library, research). Operational and administrative services moved online during the pandemic are less often in need of additional effort, though even for these services (e.g., bursar and financial aid, IT support, human resources) more than two in five survey respondents said that more work is needed.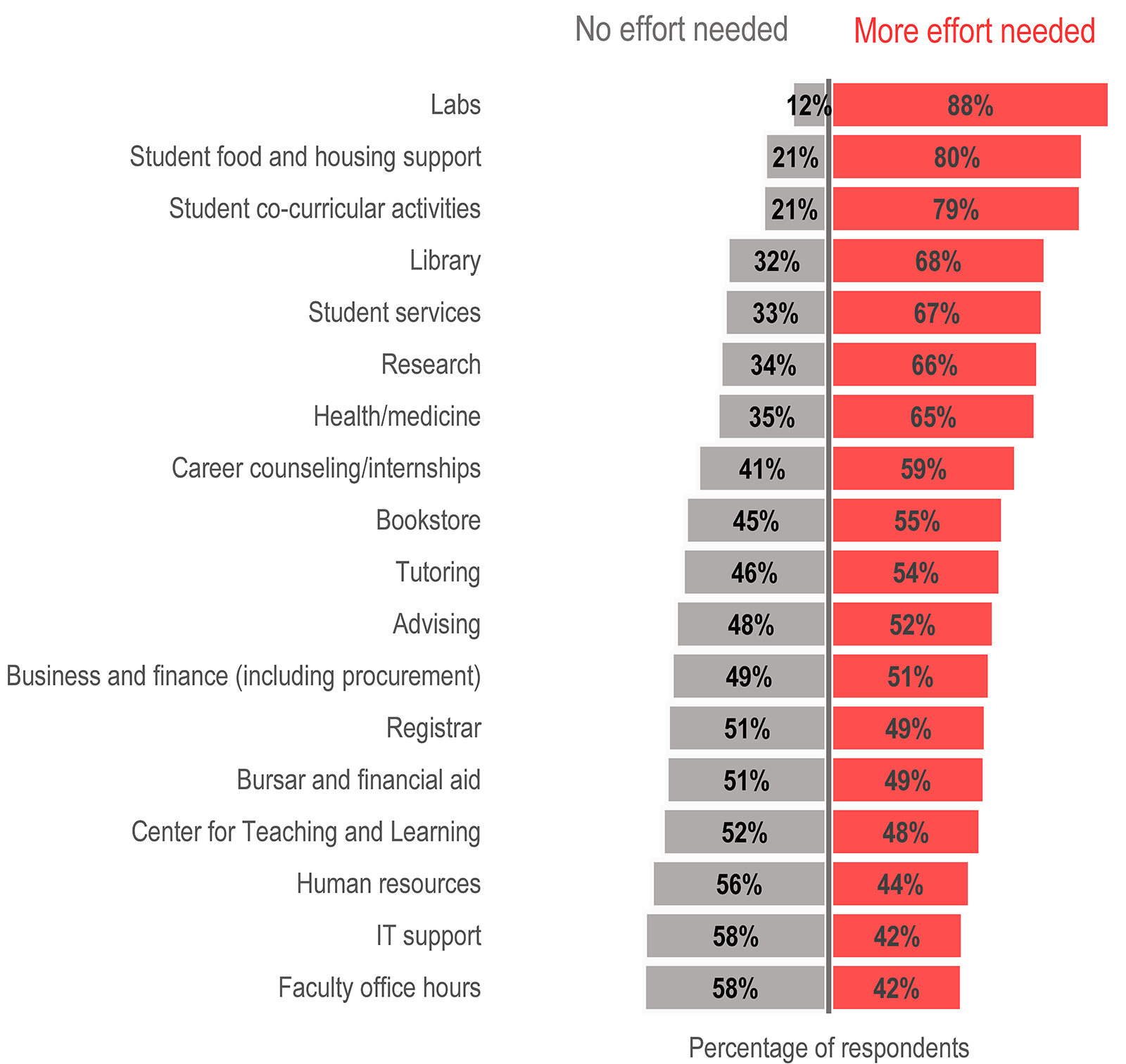 The Data: Hybrid Education
At many institutions this fall, students will have the flexibility of attending courses either in-person or remotely, providing some students and faculty with their first immersion in new hybrid modalities of teaching and learning.3 Indeed, a full three-quarters of our respondents indicated their institution is planning to offer hybrid courses this fall (see figure 3).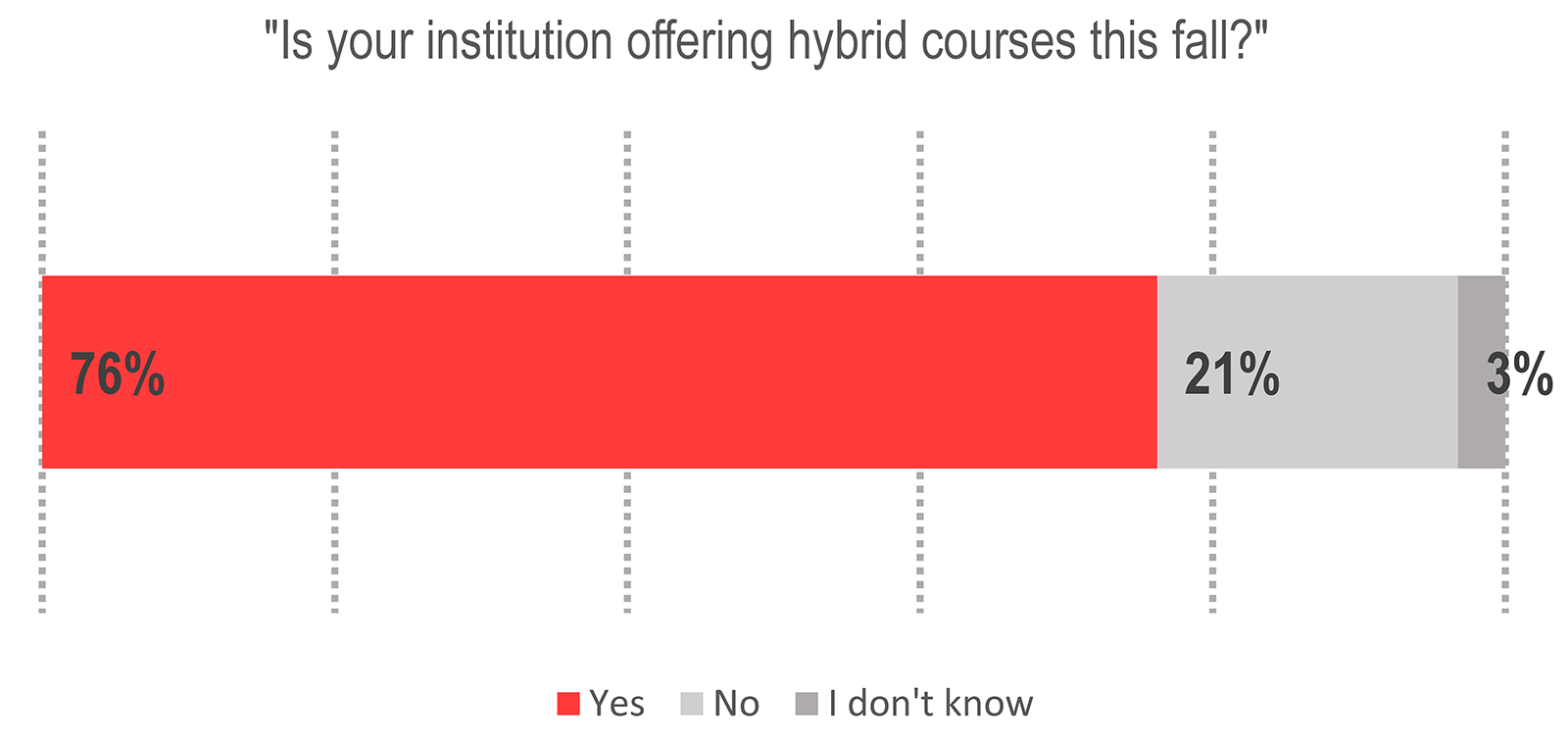 Students are at the center of institutions' course delivery decisions. For those respondents whose institutions are choosing to offer hybrid courses, it's clear that the health and safety of both their students and their faculty are chief motivators for those decisions, comfortably sitting atop our list of potential motivations (see figure 4). Interestingly, although student health and faculty health seem to be of roughly equal importance, student "needs and preferences" are notably more important for decision-making than faculty needs and preferences. This prioritization of student wellbeing and need, though encouraging, may seem at odds with the finding above that online services focused on the student are largely still in need of work. If nothing else, this may serve as a reminder to maintain a more holistic view of the student and the priorities of their success both within and outside the classroom.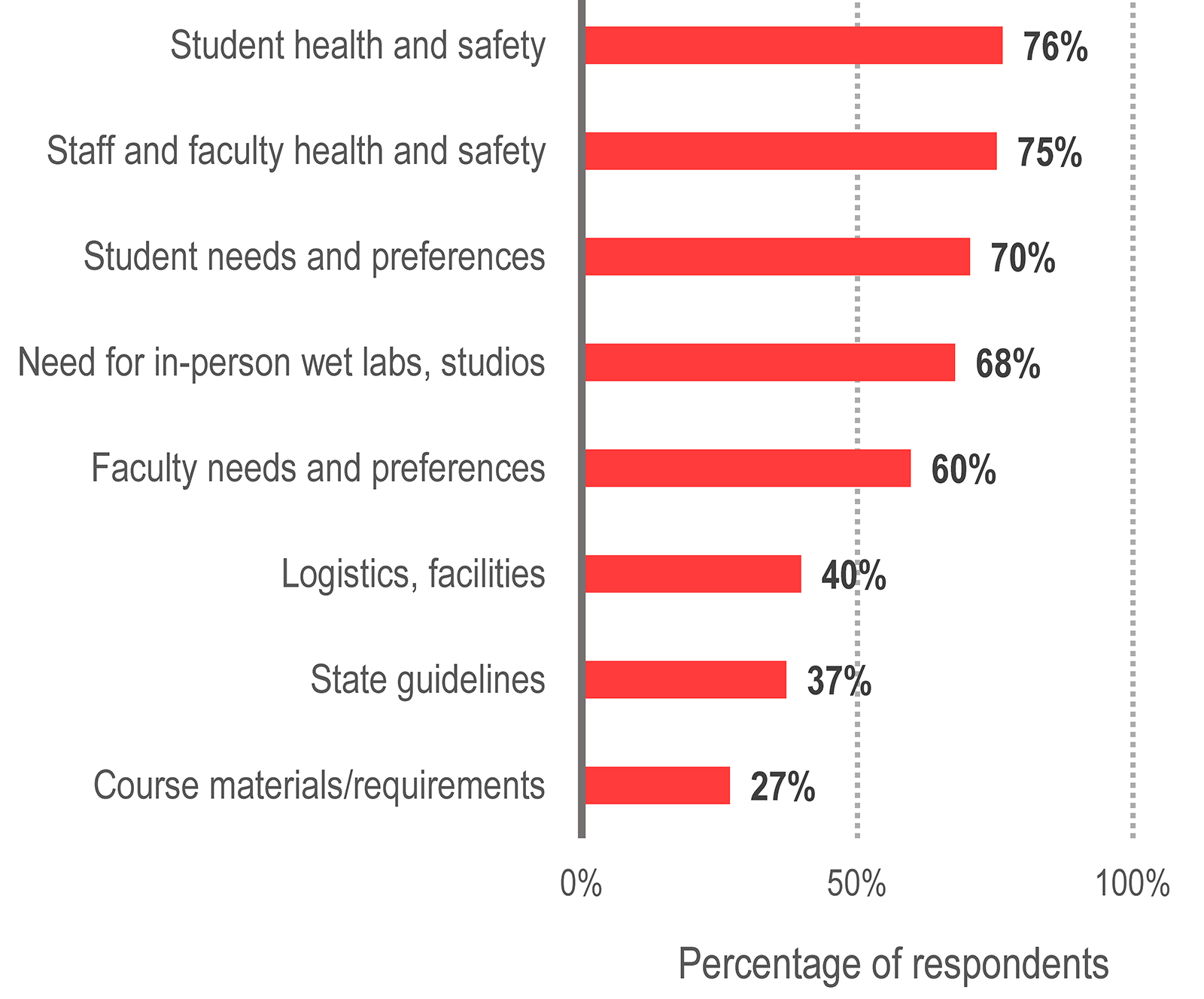 Institutions are deploying solutions in support of hybrid learning, though asynchronous solutions may be more widespread than synchronous solutions. Hybrid courses offer students and faculty a number of promising approaches for learning, many of which could be enriched through technological enhancements in the classroom.4 A full 70% of respondents indicated that most or all of their courses would offer remote students the ability to download or stream recorded classroom sessions, a solution particularly useful for asynchronous modes of engagement (see figure 5). For roughly half of respondents, most or all of their courses will be offering live streaming, video capture, and microphone and speaker integration. Roughly a third of respondents reported that most or all of their courses will include video screens for displaying remote students in classrooms, perhaps suggesting further exploration into the degree to which institutions are (or should be, given varied student needs and preferences) preparing for synchronous modes of engagement.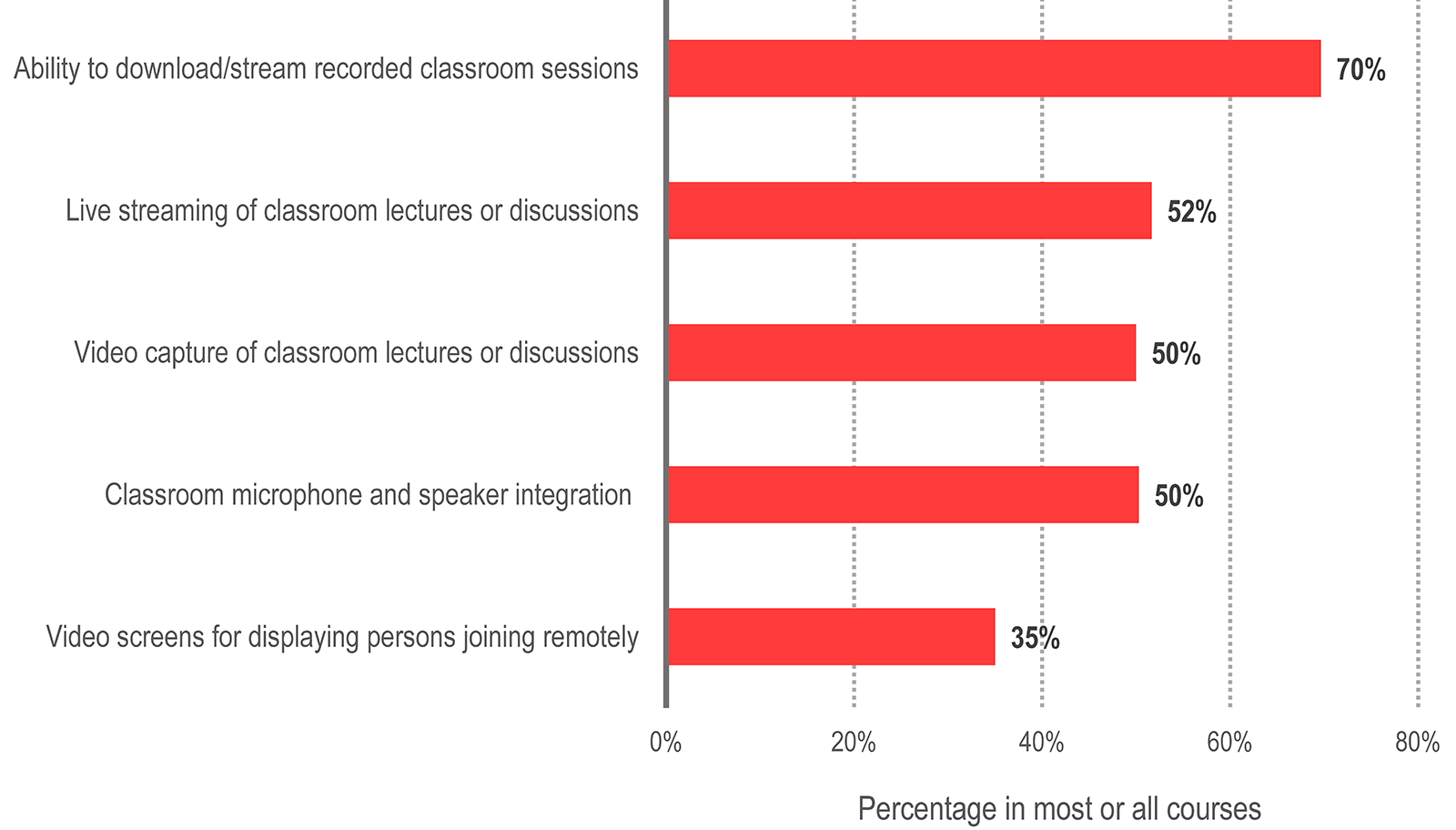 The Data: Physical Spaces
Video will be critical in physical space preparation; location tracking and automation will not. Many institutions plan to maintain some brick-and-mortar expressions of their operations this fall and will need to contend with new space needs and risks. When asked how they would be prioritizing their physical space planning for the fall, a strong majority of respondents indicated that room-based videoconferencing would be a priority, the only item on our list that received a majority response (see figure 6). "Tracking of space utilization, optimization" and "facilities management" were also selected as priorities by sizable proportions of respondents. Few respondents indicated they would be prioritizing initiatives in areas of surveillance, automation, or location tracking, validating IT leaders' expectations earlier this summer that location tracking in particular would be a low-priority measure for health and safety.5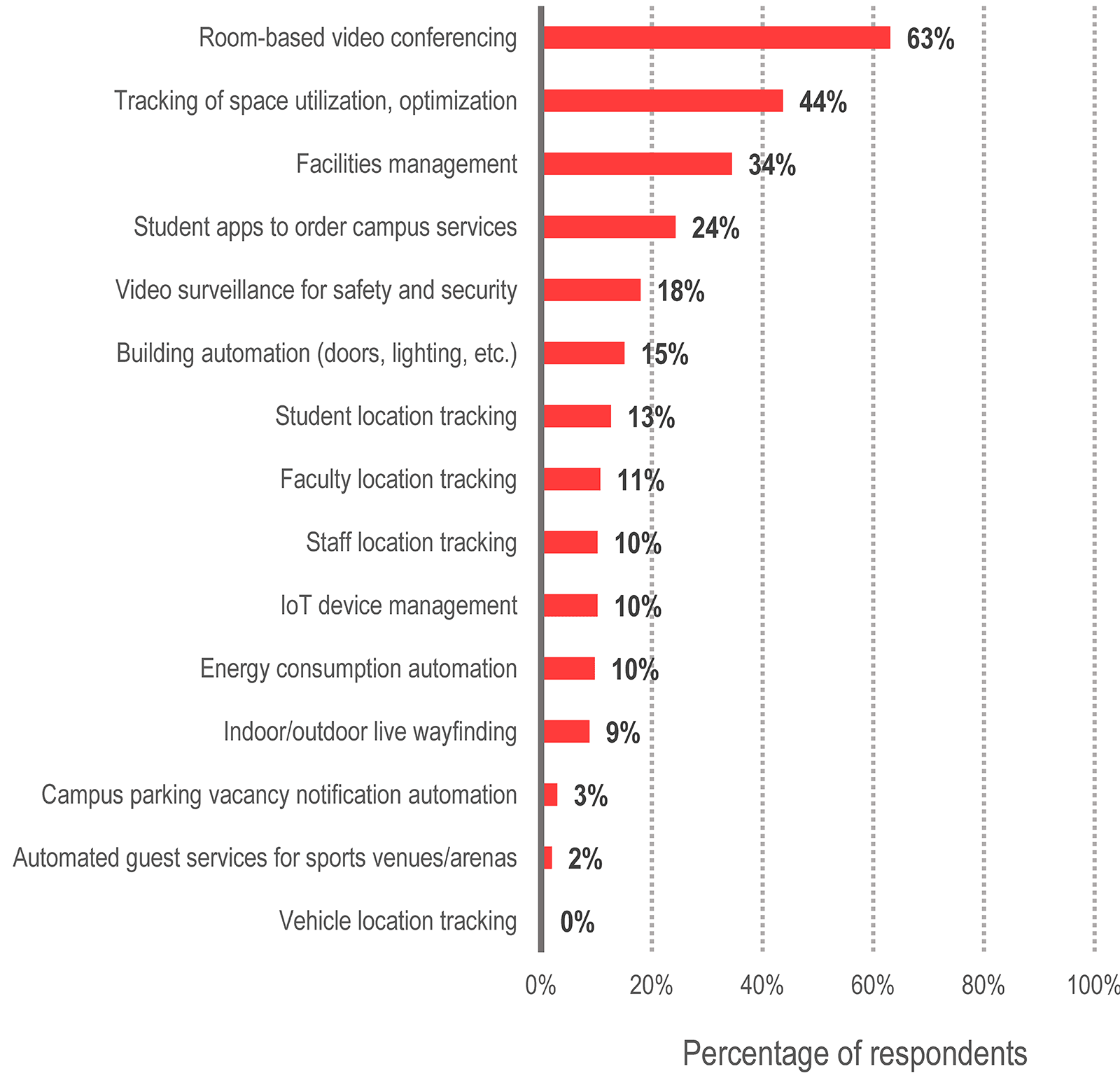 Promising Practices
Faculty, students, and staff are searching for new solutions, which may just lead to positive long-term change. When respondents were asked to comment on the opportunities for innovation in moving services online, many of their comments reflected an optimism that this crisis is prompting new, better practices that institutions can carry into the future, including:
Digitization, digitalization, and digital transformation: Respondents highlighted opportunities to move "paper" or manual systems and processes online, as well as to explore solutions such as automation as opportunities for long-term improvement.6

"Digitization of paper processes, streamlining bad business processes. Improving collaboration and sharing through better use of platforms."

Equipping and supporting hybrid environments: Institutions can make progress building up and advocating for the value of new hybrid modes of education and ensuring that the necessary tools are in place to support those efforts.7

"Expanded hybrid and online courses as faculty and students see that there is a possibility to design and deliver high-quality hybrid and online courses."

Faculty development: Some respondents discussed seizing the opportunity, and the affordances of recent good will, to educate faculty and train them to use solutions and supports that may have already been in place but underutilized at the institution.8

"Faculty development! We don't have a center for teaching and learning, so IT partnered with the library and stepped in to fill this gap. It has raised the profile and esteem of IT in the faculty's eyes tenfold."
Common Challenges
The task of preparation is monumental, and institutions may lack the resources to rise to it. When respondents were asked to comment on the challenges that still lie ahead this fall for physical space planning, their comments focused on the frustrations of having too much to do with too little, as well as on respondents' unreliable dependencies on others:
Strained staffing and finances: IT and facilities teams have been pandemic all-stars at their institutions, but many are feeling strained and insufficiently staffed and funded for the demands of reconfiguring and equipping spaces. Critically, strained resources may lead to incomplete or suboptimal "band-aid" solutions.

"Budget for room-based videoconferencing—both one-time and continuation funds … the video and audio quality of those solutions will be less than optimal."

Backlogged, rushed, or ineffective solutions: Supply chains for needed equipment and solutions are "choked." And if institutions can get their hands on new tools, making important purchasing decisions under frenetic conditions may lead to buyer's remorse and unanticipated areas of mismatch between the need and the solution.

"Backorder of equipment. Many technology solutions have been backordered for weeks."

The human element: Even with the necessary solutions and cleaning protocols in place to ensure safe and vibrant learning environments, respondents acknowledge they can't force students to care about their own wellbeing, nor can they will faculty to thoughtfully engage with their new tools. One respondent simply offered "mind control" as the challenge still ahead this fall.
The Path Ahead
The picture that begins to emerge from this survey is of higher education institutions that are still racing to catch up and discern a path forward, even with the fall semester just around the corner or having already begun. Most courses and services will have moved online in some form or another, but many will still require additional effort into the fall. Institutions' operational and technological readiness will be unevenly spread across different courses and spaces. Technologies and solutions are on backorder. Funds and staffing can't keep up with demands. And layered on top of all of it is a volatile pandemic much larger than and beyond the control of higher education.
Indeed, for many of the IT leaders responding to our survey, their responses to our questions may represent only their best guesses based on this week's assumptions of what the fall semester will look like. Next week could very well introduce changes to national or local circumstances and prompt even further adjustments to those assumptions and to institutions' plans. As one survey respondent put it, "Many of the plans and approaches adopted by institutions are positioned as conditional things that would be invoked based on certain events or developments occurring."
Perhaps just as important as their particular plans, then, institutional leaders would do well to focus on the ways in which those plans are developed, deployed, shelved, and then rebuilt again (as many of our plans likely will be). Recent articles and guides on digital transformation may prove instructive, especially as they promote institutional cultures that enable collaborative, innovative, flexible, and agile decision-making and action.9 The institution most prepared for the fall may not be the institution with the most and best solutions in place but, rather, the institution with the cultural processes and supports in place to know when and how to deploy the solutions it has and how best to adjust when those solutions no longer align with needs.
Drawing on a popular Maya Angelou verse, "Hoping for the best, prepared for the worst, and unsurprised by anything in between." In this spirit, may we all prepare for and have the technologies and solutions we need to effectively support our institutions through an uncertain fall, and may our successes be greater than our reliance on those very technologies and solutions.
Notes
---
Mark McCormack is Senior Director of Analytics & Research at EDUCAUSE.