Virtual and augmented reality field trips can help to optimize learning for students who are unable to attend in the real world.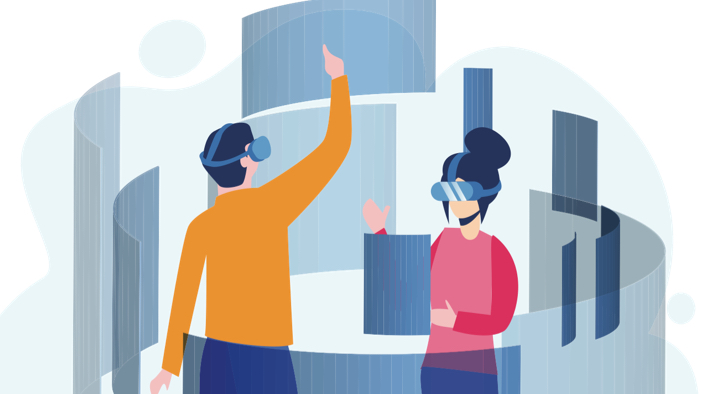 In March 2019, it became apparent that there was growing interest among faculty and staff on our campus in using virtual and augmented reality (VR/AR) to enhance teaching and learning. Consequently, last May, the VR/AR Community of Practice was born. One of the first potential projects the group discussed was in response to an accessibility concern. Typically, students who are enrolled in ENVS200, a second-year field ecology course, are required to attend a field trip that involves a 1.5 km hike over uneven terrain. We needed to provide alternatives for those who could not perform this physical activity. Could 360 Virtual Reality (VR) provide an effective and accessible learning alternative?
In response, the Spongy Bog 360 VR Field Trip project was launched. This project was a collaborative effort between the Faculty of the Environment, the Centre for Teaching Excellence, and the Centre for Extended Learning at the University of Waterloo. The primary aim of the project was to provide an accessible learning alternative, but additional goals included providing students who were absent with an opportunity to review key concepts, providing those who visited campus during the winter term with a way to see a springtime view of the bog, and providing students in the course with an opportunity to review key concepts after attending the field trip. Careful consideration was given to the design of the project in order to ensure effective learning. Specific attention was given to the following three factors:
Learning outcomes. When designing any technology-based learning experience, it is important to ensure that the learning outcomes are clearly defined beforehand and that the technology selected is the best option for fulfilling those outcomes. The University of Waterloo selected 360 VR to provide an authentic and true-to-life learning experience. The virtual tour was designed to meet the same learning outcomes as the real-life trip.
Alignment. To ensure an effective learning experience, it is important to align learning activities and assessments with the learning outcomes.1 In the Spongy Bog project, 360-degree photospheres, "hotspots" highlighting key components of the photospheres, and assessment questions were selected to align with learning outcomes. Ongoing learner feedback was used to ascertain whether learning outcomes were being met, and the learning experience was revised accordingly.
Pedagogical design. Adult learning principles and instructional design principles were both taken into consideration. By enabling authentic, experiential learning where it may not have previously been possible and facilitating self-paced and self-directed learning, 360 VR lends itself well to adult education.2
Generally speaking, cybersickness and cognitive overload are two barriers that have previously slowed the adoption of VR as a learning technology.3 We applied a number of strategies to minimize these barriers and optimize learning.
Student Response
Preliminary feedback from 102 students indicated that although a majority of students said the 360 VR experience was not a substitute for the real-life field trip (85 percent indicated a real-life trip was superior), students found it to be informative (99 percent) and a useful alternative for those who were unable to attend (71 percent). Almost all students (97 percent) also indicated that the 360 VR experience would be a valuable tool for reviewing concepts prior to the final exam. Students also suggested that the 360 VR experience be expanded to include photospheres from all four seasons, and that having physical specimens of the peat mat available in the lab would enhance the experience.
Future Directions
The Spongy Bog 360 VR Field Trip project has raised awareness on our campus of the potential for using VR in teaching and learning, especially in classes where field trips and fieldwork are important. Discussions of future applications are ongoing among faculty and staff at the University of Waterloo. One project that is currently under way investigates the use of VR to enhance learning throughout a multiyear program (first to fourth year), bridging the gap between the classroom and field experience with students viewing and creating VR tours. The Spongy Bog project has provided a framework for the development of future 360 VR projects, as well as the use of VR as a medium for teaching and learning in general.
Notes
---
Lynn Long is Senior Educational Developer, Inquiry and Communications, at the University of Waterloo.
Gillian Dabrowski is an Online Learning Consultant at the University of Waterloo.
Anne Grant is Manager of the Ecology Lab at the University of Waterloo.