As colleges and universities transition to online courses and remote work because of COVID-19, the author shares some lessons and tips for working virtually.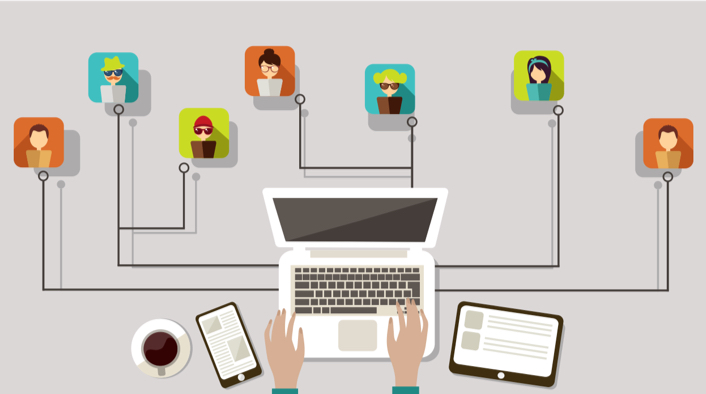 As COVID-19 (Coronavirus 19) has spread in the United States over the past weeks, many higher education institutions are suspending their face-to-face classes and sending their residential students home. Many are also encouraging faculty and staff to work from home, a big shift for an industry in which remote work was not really encouraged or, for the most part, allowed. Faculty, administrators, and support staff are all quickly shifting to support this new reality, which entails not only offering all curriculum online but also shifting to support remote workers.
I have been working remotely for several years, and I must say, it took me a while to get in the groove and start to like it. So I thought I would share some of the things I learned and some of the things I did that have helped me be successful as a remote worker.
Create "your" workspace. If you can find a room in your home or even just a private space that you can call "your office," do it! This is important to help you (1) get organized and (2) separate your work life from your home life. This allows you to "leave work" at the end of the day and set boundaries for others to know when you are working.
Add personal touches. You are going to spend a lot of time in your office space, so make it cozy and make it something that supports both your creativity and your productivity. For example, if music increases your productivity and happiness during the workday, add it to your new space. Also add organizational and motivational aids. I have a huge whiteboard beside my desk because I like to write notes that remind me and motivate me to do "x, y, or, z."
Set daily goals or write task lists. Setting goals is always a best practice, but especially so when you do not have work colleagues around you to suggest a meeting, or to start a discussion on getting things done or to check on your progress with a project. You will need other mechanisms to help you stay on track and feel accomplished at the end of the day.
Take breaks, and stand up. Walk away from your desk and office during the day. It is very easy to go through your workday without any breaks because you are alone and don't have others to talk or go out with. Many people working from home think they have to be 100 percent productive and 100 percent focused the entire day. The reality is that we all need a break. Taking breaks will actually improve your productivity.1 Plan to get a bite to eat or walk outside for a short stroll—block some time off on your calendar. The e-mails, texts, messages, and other things that may have happened will all still be there when you come back.
Try to maintain working hours. Because you are at home, it is easy to go back to the office after dinner and work to finish this or that. You are responsible for your own work-life balance. Having your "work space" together with your "home space" will make achieving this balance a little more difficult, so be intentional.
Communicate, communicate, communicate. Working remotely means you will not run into a colleague in the office kitchen or hallway and have that casual "chat" that will help you learn about something you did not even know was going on or uncover details about something you were trying to get an update on. Figuring out how you communicate best with others is super important. I use email, Slack, phone/video calls, and of course meetings to keep in touch. Each serves a different purpose. You will also find that your colleagues have their own preferences, so it's nice to ask what those are, especially for communicating with your supervisor. With my immediate team, I try to start our 1:1 and, many times, team meetings with some time for personal catch-up talk so that we stay connected and build community. Team chats also help everyone get on the same page. Finally, remember to celebrate others in this new virtual, remote world; you'll still want to get and give kudos.
Use your video camera. If you have the technology to join a meeting with video, I strongly recommend this as a best practice. With audio only, it is very easy to feel disconnected and even confused, especially in meetings with multiple attendees. It is also tempting to multitask, and you will lose the connection and the active participation that should be taking place. Seeing people's faces and reactions with video helps everyone stay engaged and focused.
Ask questions, and don't assume. Because all communication is now happening virtually and not face-to-face, you will often miss immediate reactions. In addition, your words, tone, and message may be read by others in different ways—ways you did not intend. Learning to ask clarifying questions is a must. If you are confused, ask for clarification soon and as often as needed. Don't assume that information was already shared and you simply forgot it. Finally, if the communication is via email and confusion remains after numerous back-and-forth emails (five is my threshold), get on a phone/video call to clarify.
These uncertain times will undoubtedly bring opportunities for all of us in higher education to grow as a community. I am hoping that in the long run, we will become even better at collaborating, working, and sharing with others in multiple ways.
EDUCAUSE will continue to monitor higher education and technology related issues during the course of the COVID-19 pandemic. For additional resources, please visit the EDUCAUSE COVID-19 web page.
For more information about enhancing your skills as a higher education IT manager and leader, please visit the EDUCAUSE Review Professional Development Commons blog as well as the EDUCAUSE Career Development web page.
The PD Commons blog encourages submissions. Please submit your ideas to [email protected]
Note
Derek Halpern, "Why You Need to Take More Breaks (and How to Do It)," Social Triggers, April 16 2018. ↩
---
Ana Borray is Senior Director for Professional Learning and Development at EDUCAUSE. She is the editor of the Professional Development Commons blog for EDUCAUSE Review.