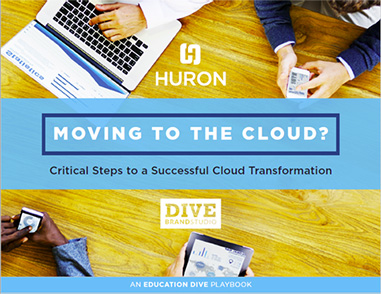 Next-generation cloud technologies can help universities streamline student engagement, trim costs, predict growth scenarios and unify their technology environments.
Across the higher education landscape, institutions are looking to unload legacy systems and embrace the latest, greatest example of processes, services and infrastructure hosted in the cloud. Cloud technologies broadly expand mobile capability, hitting students and staff where they live — in their smartphones. In addition, they meet a school's craving for predictive analytics in their back-end systems.
Cloud technologies can transform key business operations of a university, slicing costs, improving service delivery and making everything more efficient. That's what university leaders want when they invest millions of dollars and thousands of hours moving their technologies into the cloud.
"We've seen that deploying cloud technology can transform and modernize universities so that they are better able to meet the needs of their students and stakeholders and achieve their mission well into the future," Joy Walton, managing director and leader of Huron's Higher Education Technology team.
But some wake up to an unpleasant reality when the new system goes live.
"A university invests a tremendous amount of time and money doing these large-scale enterprise implementations and then in the end, they don't feel like they're much better off. That's incredibly frustrating." says Aubrey Fulmer, executive program director at the University of Washington (UW), where she is coordinating the transition to a cloud-based payroll and human resources management technology suite.
Like many institutions, the University of Washington had an old, nearly obsolete payroll/HR system that needed to be replaced. Acknowledging the scope and complexity of the challenge before them, UW leaders created a dedicated program to implement the project, and placed Fulmer at its helm.
Fulmer has managed similar projects at the University of Chicago and Carnegie Mellon University. One thing she has learned over the years is moving to the cloud must be tied directly to a school's core mission. "At the end of the day, if you're not really focused on the things that matter, you're going to end up implementing something that doesn't work for you," Fulmer says.
For universities, a successful implementation of next-generation cloud technologies has five crucial components:
PROGRAM MANAGEMENT
CHANGE MANAGEMENT
SERVICE DELIVERY ASSESSMENTS
TECHNOLOGY STRATEGY
PROCESS TRANSFORMATION
Read on for more insight on coordinating these components and avoiding key pitfalls in a transition to next-generation cloud technologies.
Attend Huron's EDUCAUSE presentations on practical tips for moving your institution's ERP to the cloud:
Wednesday, November 1 at 2:00 p.m.
Into the Cloud: How Student Interns Are Helping to Modernize Their University–A True Story
Lauren Casel, associate, Huron
Ryan Kocher, current student, University of Wyoming
Friday, November 3 at 9:10 a.m.
Reshaping the Future: A Guide for Preparing Your Cloud Migration
Joy Walton, managing director, Huron
Jennifer Chavez, director of Information Technology Application and Database Services, University of Wyoming