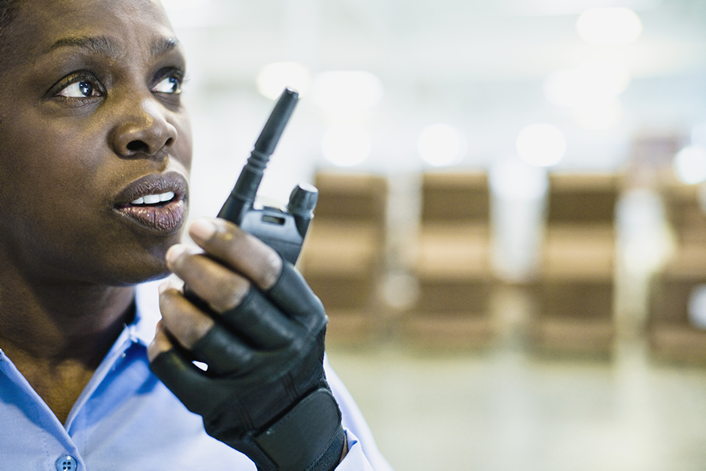 Colleges and universities have many employees who work outside an office environment, from course instructors to maintenance workers to campus security personnel. For these mobile professionals, two-way radio communication holds a number of advantages over communicating via cell phone, but it also can be expensive. Push-to-talk over cellular technology is a cost-effective alternative that combines the best of both options.
Push-to-talk over cellular technology utilizes cellular devices (smartphones, feature phones and tablets) together with a software client to provide the walkie-talkie service of a two-way radio over a 3G, 4G, or 4G LTE network. It enables instantaneous, hands-free communication for employees in the field, without requiring expensive two-way radios — which can cost upwards of $1,000 per unit. And AT&T's version of the technology, called Enhanced Push-to-Talk (EPTT), offers a number of benefits not found in other solutions.
With EPTT, you can make push-to-talk calls to individuals or predefined groups of up to 250 people at a time, creating a direct hotline to workers in a fraction of the time it takes to make a series of cellular calls.
Duke University was looking to replace the 800 MHz trunked radio system, also known as Land Mobile Radio, it installed nearly three decades ago. Bob Johnson, Senior Director of Communications Infrastructure for the university, said officials there were faced with the "daunting task" of having to replace this legacy radio system with another 800 MHz system — at a cost in the millions of dollars — or find a less expensive way to provide similar communications across campus.
AT&T Enhanced Push-to-Talk service "came in far and above the other offerings that we had looked at, both from a cost perspective as well as technology," Johnson said.
Here are three ways AT&T Enhanced Push-to-Talk service can help colleges and universities:
It's a Cost-Effective Alternative to a Trunked Radio System
Replacing a trunked radio system requires a large capital outlay. In contrast, EPTT is billed as a manageable monthly service that works on a wide range of 4G LTE devices your employees might already own, from smartphones such as the iPhone 7 and the Samsung S7 to rugged devices such as the Sonim XP7.
It Integrates with a School's Other Communications Systems
"We can take this push-to-talk environment and integrate it with other environments, (such as) our phone system (and) our state VIPER radio system for emergency first responders," Johnson said. "AT&T's team came in and helped us work on getting a bridge so that we would be able to take these different push-to-talk groups and interface them with other types of communication on our campus."
It Provides Highly Reliable Service
One of Johnson's major concerns was ensuring that callers' needs would be met in times of heavy usage. "AT&T, through [an EPTT feature] called Dynamic Traffic Management, was able to ease those concerns," he said. "It's a way of prioritizing our calls across the system to help us ensure that our emergency first responders and technicians are able to get their calls through."
What's more, AT&T Enhanced Push-to-Talk service also operates over Wi-Fi to provide improved in-building coverage.
"Our private Wi-Fi network now can act as the backup to the cell phone network," Johnson said. "Now, I am able to confidently leave work, knowing that the service in place will continue to work — and I do not have an antiquated system that might go down and put somebody at risk."

---
Dennis Pierce is a freelance writer specializing in education and technology.
© 2017 AT&T. This article was sponsored by AT&T and not written or edited by the EDUCAUSE editorial staff.