Progress on data and analytics has stalled. EDUCAUSE is working with NACUBO and AIR to produce an analytics statement advocating for these important efforts in higher education and modeling the collaborative spirit needed for success.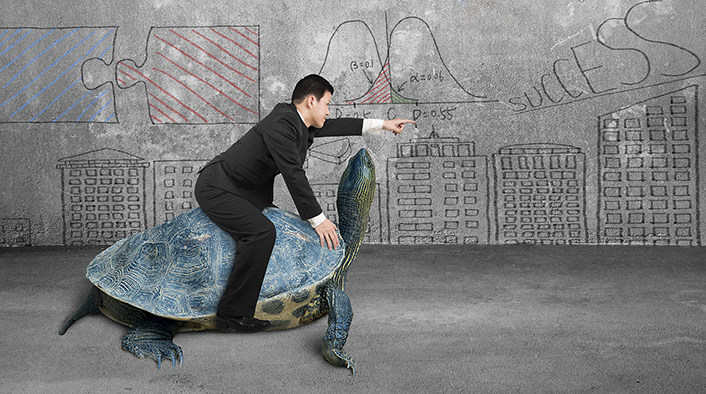 In March, I attended the American Council on Education (ACE) annual conference, with a primary audience of presidents, chancellors, provosts, deans, and other college and university leaders. It was impossible to miss the degree to which data and analytics had captured the attendees' imagination. Clearly, when it comes to comprehending and confronting the most challenging issues in higher education in 2019, the effective use of data and analytics is an important, though not the only, part of the solution.
I was not surprised when ACE President Ted Mitchell brought up the topic of data and analytics in a panel on "digital transformation." But I was surprised to see how often the thread appeared not only in sessions but also before and after sessions in discussions among colleagues about the wide-ranging role that data and analytics can play in areas from student success to race relations to food insecurity.
Anyone listening to these conversations of higher education leaders from around the world might walk away with the impression that there is a uniform sense of urgency about the need for increased use of data and analytics and might also be equally convinced that this work is moving forward briskly. However, EDUCAUSE research paints a different picture, suggesting that analytics progress is more stalled than striding forward. At our current deployment rate, we might even fall short of the EDUCAUSE prediction, made in 2016, that we will see mainstream adoption of business performance analytics and learning analytics by 2019–21.1 In fact, in the EDUCAUSE Review article "Moving the Red Queen Forward" (an apt reference to Alice in Wonderland and the Red Queen's reference to a world where running quickly leaves you staying in the same place), Eden Dahlstrom cited the EDUCAUSE capability index for analytics—a collection of 32 data points embedded into the Core Data Service survey—to gauge the degree to which the work has matured. In 2012, she noted, the composite maturity rating was 3.2 out of 5. In 2014, the composite rating "inched ahead" to 3.4, and it then remained flat for 2015.2 In 2016, the rating fell back to 3.3 before moving forward to 3.5 in 2018.3
Why the lack of forward momentum? In his EDUCAUSE Review article "Changing Demographics and Digital Transformation," Ted Mitchell pointed to ACE research: "In the 2017 ACE survey of US college and university presidents, only 12 percent regarded institutional research and information technology as important areas of strategic development going forward."4 This lack of buy-in from the top undoubtedly contributes to the lag we are experiencing. In this issue (Spring 2019) of EDUCAUSE Review, Vince Kellen convincingly tackles another possible reason for our hobbled progress: the need to rethink our fundamental models. There are certainly a range of explanations for the challenges involved. Even mainstream newspaper headlines about higher education funding problems and intense concerns about data privacy, data security, and data control point the way to issues that have become more concerning in the last few years.
The criticality of data and analytics features prominently in the 2019 EDUCAUSE Top 10 IT Issues report, with half of the Top 10 issues directly involving data.5 The work is tactical, technical, strategic, and sometimes political—and silos abound where real collaboration is needed. For example, "stakeholders must agree on data definitions and definitive, trusted sources. They must acknowledge the precedence of the institution over the department if the goal is to become a data-enabled institution." And of course, "the most difficult work is cultural." Talent development is also key to progress, and institutions that have already attracted or are committed to attracting employees with these collaborative skills will have the best chance of forward progress.
With the breadth and depth of the challenges to fully realizing the promise of using data and analytics, there is no simple answer to nudging the Red Queen forward. However, if one thing is clear, it's the fact that collaboration is key. With this fact in mind, three higher education associations have joined forces to advance the application of data and analytics and to model the kind of team approach that will help these projects succeed. The National Association of College and University Business Officers (NACUBO), the Association for Institutional Research (AIR), and EDUCAUSE are working together to produce a draft statement on analytics, with the hope of re-energizing data and analytics work across all of our communities and campuses.
This statement promises (1) to make the case for using data and analytics, (2) to create a sense of urgency and opportunity, and (3) to point the way with recommendations. Data and analytics have proven traction when it comes to student success.6 Examples abound, including a recent one reported at the 2019 SXSW EDU conference: "UT Austin had a goal of increasing its four-year graduation rate from 52% in 2012 to 70%. Last year, it nearly reached that goal with a rate of 69.8%. New approaches to analyzing student data, such as predictive analytics, [were] key to that improvement, according to the university."7
Our focus with this joint analytics statement comes at a time when EDUCAUSE is also working hard to advance digital transformation (Dx). The two efforts are mutually supportive and perhaps even inextricably interdependent. Digital transformation involves moving from ad hoc to systematic technology innovation—powered by data and analytics. At EDUCAUSE, we hope that by working together with NACUBO and AIR, we can invigorate the Dx conversation while also reinvigorating the data and analytics conversation, bringing in more campus leaders and coming together to move the Red Queen decidedly forward.
Notes
---
John O'Brien is President and CEO of EDUCAUSE.