Key Takeaways
As institutional leaders come to rely more and more on reliable data for decision making, it becomes increasingly important for data to flow across all enterprise applications.
This set of case studies describes efforts by three institutions as they adopt next-generation enterprise IT principles by integrating data and systems in support of institutional missions and goals.
Selection and use of an integration tool was an important part of an integration strategy, making vendor selection an important consideration in the initiative's success.
[This article is the second in a 2017 series that presents case studies related to the theme of integration and partnerships as reflected in enterprise IT.
Integrating Data and Systems to Support Next-Generation Enterprise IT
Supporting Analytics Through Data Integration and Governance
In this article, five IT leaders describe the challenges of integrating systems and data to position their institutions to take advantage of a next-generation enterprise IT environment.]
The next generation of enterprise IT brings with it a strong need for better integration of data and systems. Next-generation enterprise IT is characterized by a movement away from the prevalence of using one monolithic enterprise resource planning (ERP) system and toward the adoption of a larger suite of systems, usually from multiple vendors, each providing a different critical service to the institution. The resulting complexity of applications, architectures, and sourcing strategies leads to the challenge of making many disparate systems communicate with each other.
As institutional leaders come to rely more and more on reliable data for decision making, it becomes even more important for data to flow across all enterprise applications. The set of case studies presented in this article describes efforts by three institutions as they adopt next-generation enterprise IT principles by integrating data and systems in support of institutional mission and goals.
Siena College
Mark Berman, Associate Vice President and CIO
Founded in 1937, Siena College is a private, Catholic Franciscan, residential, liberal arts college with a student body of about 3,000, approximately 300 faculty, and perhaps 300 staff and administrators. Siena College offers 30 degree programs, 45 minors and certificate programs, and professional curricula in teacher preparation/education, pre-medical, pre-law, and social work. The college is organized into three schools: Liberal Arts, Business, and Science. Located in Loudonville, N.Y., the 174-acre, park-like campus is two miles from Albany, the capital of New York State.
Integrating Disparate Enterprise Systems
Siena College uses Banner as its ERP system. Banner was acquired and implemented in the late nineties, when the standard practice was to consolidate all management functions, as much as possible, into one monolithic system. Banner at the time was the system of choice for many schools.
Banner performs most of its core functions passably well, but over the years a number of ancillary systems have been added to meet needs that Banner by itself cannot. An example of this would be Adirondack Housing Director. Banner provides some housing management functionality, but it is too basic to meet our needs. Another type of system would be our learning management system (we use Blackboard), which is completely outside Banner's target function but needs to integrate with Banner. Banner's parent company, now Ellucian (but previous owners started this practice), has engaged as "partners" a number of businesses producing software to meet these unmet needs. A sample of those here at Siena would include: Adirondack Housing Director and Conduct Coordinator, Symplicity for Career Services, CampusLabs for Student Activities, and CBord for one-card management. We have many other applications, such as Slate for student recruiting and others serving Facilities Management, Campus Security, Dining Services, Health Services, etc. All of these must integrate with Banner to some extent or other, and together they make up the data systems that run the college.
It has become clear to us, and to many others whom I meet and talk with over lunch and at conferences, that a single monolithic system that does (almost) everything is just not realistic. Given that, a major and growing function of our enterprise systems team is to integrate these disparate systems into a cohesive whole. Many of these smaller systems, particularly those which formally partner with Banner, provide their own integration functionality; for the most part those work well, although they often have additional costs over the base product cost. However, they are all built differently and require the IT folk who manage everything to know and understand how all these integration modules work, and to tune them to our specific needs.
Over the past few years we have been looking at ways to centralize integration as much as possible into a single tool, or at least a minimal number of tools. We have looked at tools such as Nolij Transfer (now Perceptive Data Transfer), Constituo, Talend, etc. as well as writing our own SQL scripts to integrate systems. Ellucian itself is now promising an integration platform they call Ethos. Although it is still in development and not yet a complete system, it shows some promise for the future. None of these systems will do everything for us, but by choosing carefully we hope to minimize the number of integration methodologies we need to support.
Adding to the mix, and most definitely adding to the complexity, are the various software-as-a-service applications being added to our enterprise systems mix. SaaS solutions can offer some benefits over locally instantiated systems in that we no longer need to worry about managing upgrades and patching, but they also bring additional risk as vendors seem to come and go or acquire each other in a flash. Additional complexity is also typical in the integration of these SaaS systems into a (hopefully) seamless whole. Some of these SaaS applications offer a kind of API, often RESTful service that uses HTTP as a transfer mechanism. Others only offer exchange of CSV text files using SFTP or some similar file transfer utility. Flat file integration generally limits data synchronization to a daily exchange at best. APIs such as RESTful allow integration to occur more often, but usually do not offer the kind of real-time synchronization that can happen when systems share a database server, or at least a data center where updates can be triggered by a change in one of the other systems.
Ellucian's Ethos service falls into the category of integration platform-as-a-service (iPaaS), being a cloud-based service. There are other iPaaS providers out there — MuleSoft, SnapLogic, Jitterbit, etc. — whose products seem interesting, but again involve a level of risk. What happens if you base 90 percent of your integration on Acme Integration Services (owned by Wile E. Coyote Investment Partners) and they go out of business or, more likely, are acquired by another company that wants to use the service only to support their own product — what do you do then? Early iPaaS offerings from the large platform vendors such as Oracle, Microsoft, and IBM tend to be quite pricey and may not be affordable for small colleges such as Siena. We are looking at these offerings, but are a little skittish about cloud-based iPaaS. The Ethos platform is most interesting because it comes from our primary ERP vendor. BUT… What is the future of standalone ERP systems such as Banner? There is great upheaval going on right now in the large systems marketplace. Most of the legacy vendors such as Banner, Oracle (Peoplesoft), and Jenzabar are moving to a subscription-based SaaS model. It seems like the ability to run these major systems in-house will not be an option in the future. New entries such as Workday and Unit4 are only available running in the cloud with subscription licensing. Siena has been using Banner for 20 years, more or less successfully, but we have to consider periodically whether this is the right system for us, or even whether Ellucian is making the right moves to survive in the new world.
One choice, for us, might be to start thinking "best of breed" and begin to dismantle the monolithic core of our enterprise systems. We are already becoming experts at integration and have no choice but to become more expert as time goes on. As an example, it might make sense for us to dump Banner Advancement in favor of Raisers Edge or some other similar product. Is it really any more work to integrate Raisers Edge than to do what we're doing, particularly if we can find a good integration tool that eases the process?
Conclusion
These are the things we are thinking about at Siena College. We have not come up with a silver bullet; there may not be one. We are paying close attention to the marketplace and trying to decide on the right path for our institution. Given the precarious state of financing for small private colleges, these decisions could make or break the school. It is incumbent on all of us as IT leaders in higher education to carefully plan our path through this changing world of administrative systems. The choices we lead our institutions to make will have a major impact on their future.
Bucknell University
Param Bedi, Vice President, Library and Information Technology
Kevin Willey, Director of Enterprise Systems
Founded in 1846 and located along the banks of the Susquehanna River in Lewisburg, Pennsylvania, Bucknell University is a national university where liberal arts and professional programs complement each other. Students choose from more than 50 majors and 60 minors in the arts, engineering, humanities, management, and natural and social sciences, as well as extensive global study, service-learning, and research opportunities. Bucknell's 3,600 undergraduate and 100 graduate students enjoy a 9:1 student-faculty ratio and opportunities to collaborate with faculty mentors on scholarly and artistic projects. Bucknell co-curricular opportunities include more than 150 students' clubs and organizations plus 27 Division I athletic teams, offering students leadership and social opportunities.
Systems Integration at Bucknell University
At Bucknell University we are transitioning our enterprise information systems. The last time we undertook this was in the late 1990s, a time when we were still going to the bank to deposit our checks, going to the mall to do our holiday shopping, and calling a travel agent to book our vacations and airline tickets; the faculty and staff hired in the past few years were probably still in elementary school.
The systems we implemented nearly two decades ago have served us well, but they remain purely transactional; they have not evolved in a way that allows us to make data-informed decisions or that provides strategic value to Bucknell. One of our institutional goals is to become data driven and provide data to the individuals who need it to make decisions on a daily basis, not simply keep data in the hands of a few users. In addition, as staff who worked on these systems retire or leave, it is becoming increasingly difficult to hire new staff to support the aging systems. We must expect the same from these systems as we do from our banks and financial investment companies: anytime, anywhere access, on any device.
Over the past few years, we decided to implement "best-in-breed" systems for Admissions, Finance, Human Resources, Payroll, and Development and Alumni Relations. It is a change from having a single enterprise resource planning (ERP) system to ones that provide niche systems for individual offices.
The transformational solutions selected are:
Slate for Admissions (live since 2016)
Workday for Finance, Human Resources, and Payroll (spring 2018 expected implementation)
Blackbaud for Development and Alumni Relations (spring 2018 expected implementation)
Ellucian Banner has been retained for core Student functionality, including Financial Aid and Bursar functions, due to the relative immaturity of new and emerging players in this essential space. Evaluation and comparison of long-term options will continue as both Banner and competing products mature.
We adopted the following principles in evaluating multiple solutions:
Increase access to reliable and actionable data: Bucknell community members will have real-time information presented on intuitive, device-agnostic interfaces to answer their questions and allow informed decision making.
Align systems: To every extent possible, integrations between these systems will be seamless, including transfer of critical historical and current data to the data warehouse as part of the Bucknell University Intelligence (BUI) program.
Optimize business processes: Ensure that data enters the system as near to the point of origin as possible, enabling resources to be shifted from administrative/data entry tasks to enhanced and strategic support for faculty and staff.
The one question we get asked the most is how these systems will integrate. The chart in figure 1 answers that question. The key to this integration is the Enterprise Systems Bus (ESB — Mulesoft's Anypoint platform), which ties the systems together so that they can communicate and interact as a whole.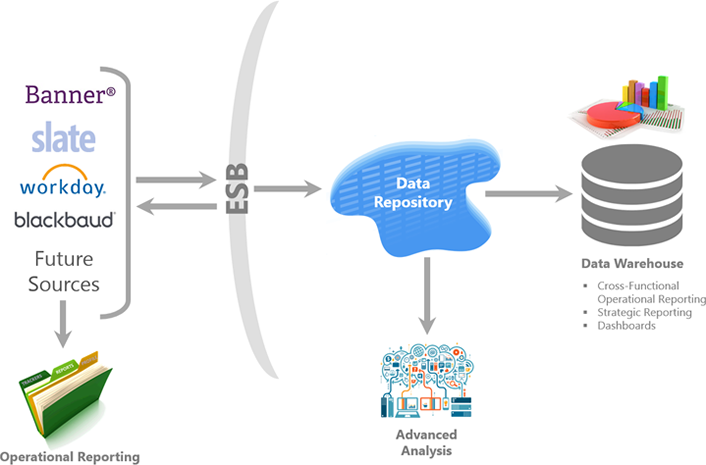 Figure 1. System integration at Bucknell
These best-in-breed solutions do create challenges for the IT organization that need careful management and planning. The legacy monolithic ERP solution by its nature stores and manages the institution's data in a centralized and holistic database. All system functionality leverages that single "source of truth" data repository, and that data is shared among all modules, including Admissions, Students, and Development. The product vendor has already done the vast majority of the design, development, and testing necessary to leverage the data across the system.
By contrast, the best-in-breed modular approach inherently separates the institution's data into isolated silos. This dispersed data presents multiple divorced sources of truth:
It's spread across multiple vendors,
in data centers around the world,
in proprietary formats,
within databases using different data structures, and
trapped behind the hosting provider's firewalls.
All this creates a challenging environment for the institution to navigate. It is important to address the following areas:
Data Governance. The splitting of the institution's data into multiple isolated silos, always a challenge, magnifies the need for solid data governance. "Source of truth," "system of record," and data ownership must be defined, understood, and codified via the Enterprise Service Bus as data is passed between systems.
Enterprise Service Bus. An integration framework built using an ESB tool adds several key capabilities to the environment, including: (a) the ability to fully leverage the vendor's APIs to move data into and out of the SaaS systems; (b) data transformation in flight to reconcile and convert between structures and formats; and (c) the opportunity to encapsulate applications in an integration wrapper that abstracts the applications from each other, allowing future plug and play with the next best-in-breed module.
Big Data and Business Intelligence. While many of the best-in-breed SaaS solutions offer robust reporting capabilities that satisfy the institutional needs within that silo, many analytical needs and use cases cross functional areas and application boundaries, requiring the dispersed data to be "reassembled" at the BI layer. The ESB plays an integral role in gathering the dispersed data and transforming and transporting it to a centralized repository.
Data Warehouse Automation. The use of data warehouse automation tools either instead of or in addition to traditional ETL (extract, transform, and load) offers the opportunity for a much more agile approach to data warehouse and BI development. Instead of months-long cycle times between the discovery of user requirements and the delivery of prototypes, the entire process can be compressed into weeks or even days.
SaaS and PaaS. The use of software- and platform-as-a-service as the delivery mechanisms for our new applications and technologies allows for much faster and more agile deployments with a much smaller on-premises technology footprint to support and maintain. This allows staff to focus on the more value-added, customer-facing elements of the effort and outsources the commoditized server and storage infrastructure to vendors who provide tremendous scaling capabilities and economies of scale.
Conclusion
Given all the challenges that need to be addressed with the best-in-breed ERP solutions, one might ask, "Is it worth it?" In our opinion, the answer is yes. The goal has always been to be a learning, dynamic organization that can continually evolve with new technology capabilities. We are continuing to do that to ensure that these solutions will help the university become efficient in its operations by making data-informed decisions.
The strategic needs of our institution have outgrown the value a traditional ERP system can provide, and we are doing something about it.
Oral Roberts University
Kathaleen Reid-Martinez, Provost and Chief Academic Officer
Michael L. Mathews, Vice President for Technology and Innovation
Oral Roberts University is a 4,200 FTE private university in Tulsa, OK with students from 92 countries. ORU has six colleges that offer 100 majors and minors. The University also has a Global Learning Center that reaches out to countries around the world with online and virtual education.
In 2014 Oral Roberts University set out on a mission to become a world-class university in the of use of new technology paradigms to reach global citizens with whole person education while increasing student success and retention.
At that time a new president, academic provost, CFO, and CIO were all asking for a better view into the operations of the university via the information systems. It was apparent that without integration across the SIS, LMS, CRM, accounting, dorms, auxiliary services, alumni, advancement, and student success applications this task would be a difficult feat. The 30+ IT systems each had a unique login for students, faculty, and staff. Integrating the systems under a single-sign-on method was an impossible task without a higher-level integration vision, theme, and design.
Systems Integration at Oral Roberts University
Integration at ORU took a four-pronged approach to ensure we could make fast progress in our effort to become a world-class IT organization capable of leading a global university toward unprecedented growth. Even though blockchain was not yet used in education in 2014, the pieces and outcomes of what we now know about blockchain were being applied. The following four prongs to the over-all plan of integration were undertaken in the summer of 2014 and completed in the fall of 2016:
The first prong was to get all IT employees and current IT vendors in front of our students so they could hear firsthand the vision and needs of the student body. The process helped us narrow down the vendors selected to begin the integration journey with ORU.
The second prong was to make sure all executives, IT employees, and vendors aligned with the vision of making education and technology fluid and seamless from both the student perspective and a global perspective. The fluidity of education and technology was the theme selected by co-author and Provost Kathaleen Reid-Martinez, and wholeheartedly supported by students.
The third prong was to make sure we focused our energies around vendors who agreed to let us re-label their products under one technology called "GEOVISION" technologies. This was critical for marketing ORU as a global provider of one global technology solution to access fluid education. The re-label was all under ORU GEOVISION™ technologies, which has since been trademarked.
The fourth and final prong was to align the project vision and strategy to a sustainable GEOVISION architecture. The GEOVISION concept started as a state-of-the-art single-sign-on (SSO) and central-authentication-services (CAS) methodology. The final design was a partnership with one vendor, N2N Integration Services, who could co-provide and eventually leverage our design for the betterment of education. The N2N services were critical to make sure the more than 300 variant scripts, APIs, and interface widgets could be accessed within an integration library.
ORU eventually patented GEOVISION, which became the vision invited by the United Nations to address global connectivity. GEOVISION merges technology applications into "precision applications" that impact the world both globally and individually. It replaces the notion of a global Internet-of-things with a mindset of Internet-of-personification — for dignity and freedom for all. As a result, the integration project became much bigger and more successful than we anticipated.
Figure 2, for example, shows how the 2015 graduation ceremony integrated a student from North Carolina. She "walked" the stage in Tulsa from North Carolina using a teleportation robot, which she used to participate in all events, including graduation.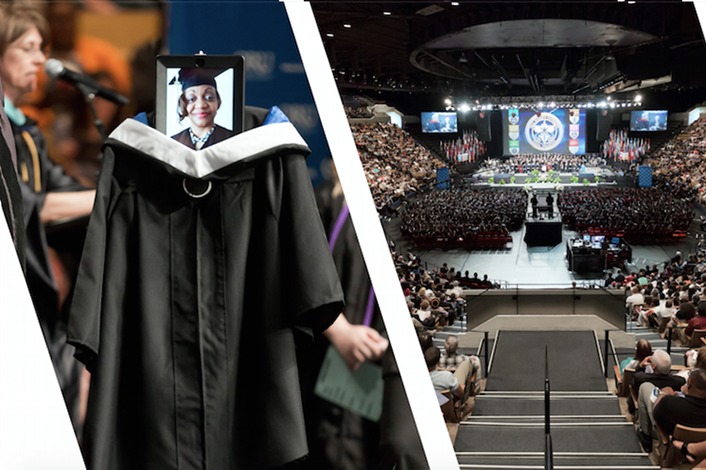 Figure 2. Integrating teleportation robots for on-campus engagement, including graduation
One of the greatest challenges with integration is the plethora of APIs, scripts, and LTI (Learning Tools Interoperability) compatible products available. On one hand, there is a great depth and breadth of individual pieces for integration; on the other hand, all the individual parts do not make a whole — which is what is needed for ease of enterprise integration. From ORU's perspective there was ultimately only one vendor that could leverage the best of all APIs and scripts and organize them to meet our long-term needs: N2N's cloud-based service, Illuminate.
It is important to note that we consciously listed the things we would not do in order to streamline the integration method across the campus and stay focused on the outcomes. We made it clear that we were not going to use SIS, LMS, and CRM vendors who have never been successful with integrating system components outside their own products. As important as LTI may be within a vendor's product, it is not a solution capable of providing campus-wide enterprise integration.
The talent and IT resources on most campuses are scarce and so spread across areas that the skills and resources available for integration are very limited. Keep in mind that even though vendors claim they know and own an enterprise concept, they really only have a piece of the enterprise. Therefore the campus technology talent over the past 20 years has been built around the systems that are truly not enterprise, by virtue of the fact that they only relate to part of the whole. For this reason, vendors with enterprise system and integration knowledge are critical. Unfortunately, only in the past two years has an integration vendor had the services to make a campus-wide integration partnership possible. Most integration projects need an integration vendor with 10+ years of experience across the major systems on campus. Without this experience, the tail will be wagging the dog. In our experience, N2N becomes the tail of the enterprise dog and works in alignment with the major systems. Due to the company's expertise and investment in an integration-as-a-service technology API library, they have met our enterprise needs going forward. We also benefited from a top-level enterprise strategist on campus who focused 50 percent of their time on integration across the enterprise.
Teamwork and collaboration are also necessary for enterprise integration. It is critical to garner a few wins on campus for faculty and students before deploying cross-campus integration planning. We set up two quick integration wins for students and faculty that would personally save each person 40 hours every semester. The integrations included Fitbit wearable watches, and integration of midterm and final grades between the LMS and SIS systems. After these two integration success stories, the entire campus started getting engaged in a proactive way. This initial success built trust as well as confidence that we knew what was important to faculty and students.
IT enterprise integration is a unique and often avoided endeavor that requires a persistence that is less about building consensus and more about behind the scenes decision making while respecting the ongoing needs and goals of all stakeholders. Traditional IT governance works well for most areas of campus technology, but it seldom works well in the area of system-wide integration. What the leadership team, faculty, and students focused on was data stewardship with flawless integration. The data stewardship level requires accountability and therefore trust in technology decision makers who can navigate the jungle of terminology, myths, and promises, yet appreciate the IT governance structure, faculty senate, and student associate viewpoints.
The cloud-based N2N service operates in an integration-as-a-service delivery model. The benefits include:
Sustainability due to the API library aspect of the service
Ability to replicate previously completed integration work
Ability to gain additional talent through the vendor relationship
Lessening of the risks of talent and employee attrition by having cooperative skills with the vendor
Conclusion
Our enterprise integration success has become the most widely celebrated and shared story in ORU history. In 2014–2015 we broke the 50-year history of media stories about ORU across magazines, TV shows, and newspapers. During that time more than 450 publications featured the outcomes of our campus-wide integration. In 2016, the integration effort allowed us to reach an 80 percent retention rate for online and freshman-to-sophomore students. In 2017 the integration assisted in our reaching an all-time high 95 percent retention rate for freshman students between fall and spring semester. ORU also won the 2016 EDUVENTURES Award, and on May 1, 2017 we won the 2017 United States Distance Learning Association Innovation of the Year Award for creative use of technology. This creative use would not be possible without integration across the enterprise using the N2N concept.
Figure 3 shows author Mike Mathews illustrating augmented reality to a class and importing the image into the D2L LMS system to make it accessible to everyone around the world. Figure 4 shows ORU's Reality on a smart phone. The images are integrated into the LMS.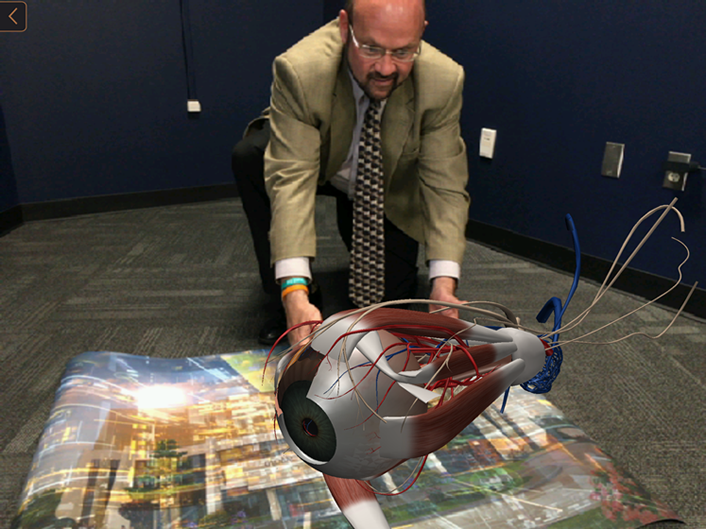 Figure 3. Integrating augmented reality learning environments into the LMS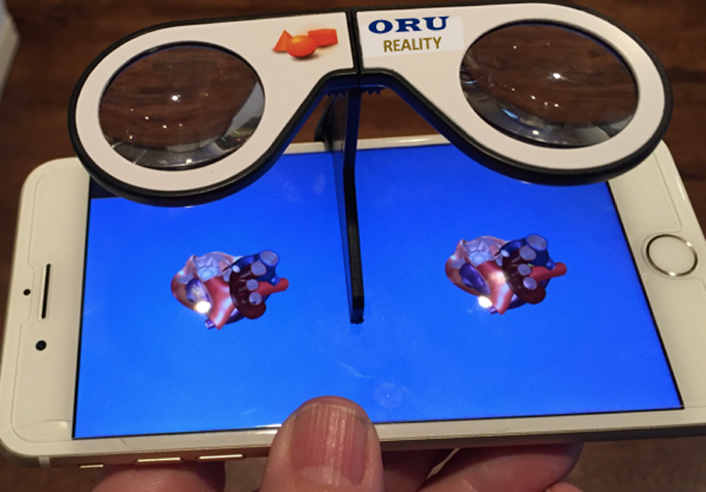 Figure 4. Integrating global virtual reality environments on a smart phone with the LMS
It has been an amazing journey from having no integration to trademarking a term called GEOVISION that represents a fully integrated campus technology on a global level. We also believe our partnership with N2N positions us to become future leaders in the educational version of blockchain. ORU's vision is to see tens of thousands of blockchain entries in a students' talent ledger as they experience augmented and virtual reality environments to increase their net value to employers. Integration of blockchain across the enterprise is a true "quest for personalized skills and talent." Who knows, it may even get labeled "TalentChain" — a framework by our partner TalentQuest. ORU is currently working with our partners on new blockchain nomenclature for education and training.
Meeting the Integration Challenge
As these case studies point out, effective data integration requires careful planning and a clear vision of how the work benefits the institution. Enterprise systems are a treasure trove of information, containing data about all aspects of college and university activities. However, the multiple systems typical of next-generation enterprise IT lead to data residing in many separate systems that may not communicate with each other. Without a data integration strategy, the institution cannot get a full picture of institutional status or progress toward goals.
The institutions represented by these case studies found that the selection and use of an integration tool was an important part of an integration strategy. Depending on the staff resources and talent at an institution, the integration work might be too complicated or labor-intensive to do in-house, making vendor selection an important consideration.
The case studies also addressed the need for data governance in these integration efforts, including work to define a single source of truth to instill trust in the data.
Finally, each case study makes clear that the ability to integrate data across systems has an important impact on the individual institution, from its financial health to helping it achieve its mission. Aligning the integration work to that institutional impact is key to the initiative's success.
---
Param Bedi is vice president, Library and Information Technology, at Bucknell University.
Mark Berman is associate vice president and CIO at Siena College.
Michael L. Mathews is associate vice president for Technology and Innovation at Oral Roberts University.
Kathaleen Reid-Martinez is provost and chief academic officer at Oral Roberts University.
Kevin Willey is director of Enterprise Systems at Bucknell University.
© 2017 Mark Berman, Param Bedi, Kevin Willey, Michael Mathews, and Kathaleen Reid-Martinez. The text of this article is licensed under Creative Commons BY-SA 4.0.