Key Takeaways
An informal team of motivated and enthusiastic people from the Communications and IT departments at Colgate University decided to explore the possible uses of drones in an educational setting, beginning with a quadcopter-mounted camera.
As the team gained experience in flying and building drones, others on campus began to show interest in using the devices for their academic and film projects in classes, research, and publicity.
Learning how to build a drone offers a huge benefit to students from a STEM perspective, but even more exciting are the possibilities for how this technology can transform research and teaching.
What does it mean when someone asks if "drones" can be used in higher education? Does academic deployment of drones have any merit, or should institutions prohibit their use? These and other questions came up as a few of us (a collaboration between the Communications and IT departments at Colgate University) began to explore using drones as ways to support academic goals. When people initially saw us working with drones, we got reactions ranging from "whoa, that's so cool!" to "boys and their toys" with a dismissive wave — that's so dangerous, and what could you possibly be doing with that on campus? We decided to jump in and find out exactly what drones can do in higher education. Or not do, perhaps.
Backstory
It all started with a single DJI Phantom drone, a basic quadcopter with a mount for a GoPro camera that went with one of our videographers on a few trips hosted by our Outdoor Education department (figure 1). Whenever possible we make short clips that highlight what different departments do around campus, or when we visit a place like Red Rock Canyon. Initially we were curious as to what kinds of shots these devices could get, and they have the potential to bring back some impressive footage, although the drone early on did its own thing on a couple of occasions (we have since corrected those configuration issues). Some people noticed that the video provided a nice perspective and could be incorporated into other productions being filmed around campus.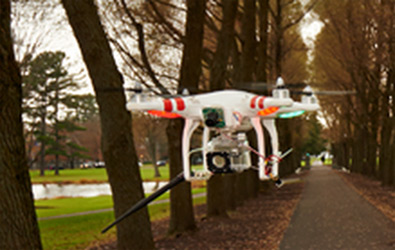 Then, since our newest IT member at the time, "Splash," had a bit more expertise in the radio control world, we started exploring scratch-built platforms alongside out-of-the-box options. We were looking at 3DR's pixhawk controller because it is so customizable and could do more advanced things like take pictures on distance intervals instead of timed ones, or let us set up autonomous missions and specify the device headings. This helped us become more comfortable repairing and building new units to carry better cameras, and we became better at identifying and building drones that were more nimble in less open environments.
With a few backups in stock we could lend out a drone and not feel so devastated if it didn't return. We didn't just go around saying "Hey, we got a drone, wanna play?" For example, when meeting a professor about ways to geotag assets, the conversation turned to how outdated some of Google Earth's imagery has become. We said, well, we could get you the photographs you need if we are allowed to fly this device over your site. That conversation raised the logistics of traveling with a small quadcopter, and when that was worked out, we trained a few students going on the research trip how to control the drone (figure 2).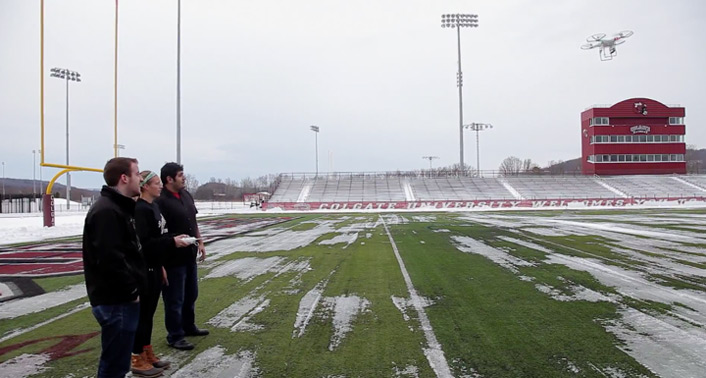 This trip went so well that the quad would later embark on another journey to survey trees in the Costa Rican rainforest for snakes, beehives, and other safety hazards before students climbed them. This success has increased professors' interest in using cameras and thermal imagers on the quadcopters or, later, fixed-wing planes to survey both fauna and flora species. We are currently exploring these options.
Growing Exposure and Use
Now that the quadcopter has visited a few other countries, on research or extended study trips, others have begun to ask about its capabilities: "Can we fly it into a volcano? Is it OK if it doesn't come back?" If the camera is streaming the footage, then yes! Luckily, not all volcanoes have a continuous flow of lava and explosions like the ones in movies. The drone camera is great for mapping old flows when climbing above 10,000 feet. The following video shows using a drone to explore a volcano in Ecuador.
This academic group was working on a volcano mapping exercise. When they split up, the quadcopter went aloft and sent a live feed back, letting the students gather the extra data needed to finish their map.
Other uses benefit from streaming data back, such as certain simulation-type events like the wargame simulation shown in the following video. In this case the quads and fixed wing provided aerial surveillance for the blue team.
These little trips and wins for the quad open up a new world of possibilities. With new portable sensors, increased flight times, and the ability to get live telemetry back to a computer, it becomes a matter of applying the technology to the new problem. The fact that these programs are mostly open source also makes it affordable for just about anyone if they can invest the time.
Exploring New Options
New technology we are exploring includes:
Photogrammetry, both open-source resources and paid solutions
Other cameras
What new on-campus partnerships

Film and media studies
Geography
Student groups
Getting Started on Your Campus
So how do you get started in this technology for academic purposes? We'd like to say it's easy, but as long as the technology is considered new and agencies plan to design policies around it, you'll face some hurdles.1 That said, a few sites helped us move forward with the technology. To date our costs have been small enough that we have been able to cover expenses out of our ITS operating budget.
For policies around use and safety we consult the Academy of Model Aeronautics.
In terms of building and learning to fly drones, we recommend:
Free downloadable blueprints
Cheap starter kits
Instructional videos on both how to fly and how to build these devices

Mission planning software for autonomous flights
Advance programing options for your platforms
Live flight data view and logging (3D view of your flight data in Google Earth)

Good supply/parts store
Quanum Nova, an inexpensive, fully featured quad we used; the gimbal was an additional $99. We bought a few of these to test and experiment with. Because they can link with the APM software, we could set up missions to do a 3D map of a site.

More advanced and full-featured quads

New models are constantly being released.

3DR DroneEDU
Benefits of Drone Use
We believe learning how to build a drone offers a huge benefit to students from a STEM perspective, but even more exciting are the possibilities for how this technology can transform research and teaching. An instructor can build a 3D model using pictures taken by the drone camera, for example, print the model on a 3D printer, and have the final product as a display for class and research use. When the resolution of a model falls to 3x3 cm, we have to wonder if anyone can run a simulation on the terrain and do further analysis, so resolution does matter — something to consider when choosing a camera. From an archeological perspective, the ability to model a site helps researchers preserve the site digitally (and even in a 3D printed model) and share it with students, colleagues, and the wider community. Collecting weather data live for a weather and climate class can put a remote control drone out in the environment, saving a person from trying to obtain the same data with less capable and flexible devices in sometimes dangerous conditions. We can imagine many other uses for drones, or course, and are excited to explore them with our academic colleagues and students.
So that's where we stand today on using drones at Colgate University. We would like to learn what other institutions are doing — please contact us to start the conversation.
Note
For information about drone sightings, reports, complaints, and policy recommendations, see the report "A Closer Look at the FAA's Drone Data," Academy of Model Aeronautics.
---
Ahmad "CannonBall" Khazaee (akhazaee@colgate.edu) is assistant director of End User Support at Colgate University. A tinkerer, inventor, problem solver, and "get it done" person, he understands faculty and staff learning objectives and helps them design and implement technologies. He is interested in emerging technologies, which he quickly masters and teaches others to use. This includes quadcopters, which he has constructed and programmed from scratch. He is primarily responsible for training student operators and creating the documentation and logistics to deploy UAS systems in the field. Khazaee is a member of the Village of Hamilton Volunteer Fire Department and the Hamilton Lions Club.
Kevin "Splash" Lynch (kplynch@colgate.edu) is vice president and CIO at Colgate University, where he is responsible for the overall IT mission, vision, and strategy in support of teaching, learning, research, and university operations. His efforts aim to increase the effectiveness of interpersonal interaction by providing relevant data and services to the campus community. He has been an active Radio Control aircraft pilot, designer, and builder for over 25 years. He has presented at regional and national conferences and received the Information and Communication Professional of the Year award from Air Mobility Command. Lynch holds a BS in Geology from SUNY Oneonta, earned an MA in Computer Resource Management from Webster University, and is a distinguished graduate of Air Force Basic Communication and Information Officer Training.