Key Takeaways
Faculty and instructional designers working together can create more effective online courses that leverage technology efficiently to reach the target audience.
The instructional support team was part of the initial conversations planning the webinar series at the UNC School of Government, which led to the formulation of a webinar theme that reflected the content as opposed to imposing a design theme afterwards.
Advanced planning and coordination among faculty and staff, and the thematic marketing plan provided at the outset, enabled the production of a uniform package of information in a high-quality format.
Back in 2006 Diana Oblinger and Brian Hawkins pointed out the importance of faculty and instructional designers working together to create online courses that are both more effective and better at meeting the needs of learners.1 At the University of North Carolina School of Government (SOG), a collaborative team approach was evidenced in the creation, development, and execution of the Public Records Law webinar series in 2011–2012. This series, which bundled five webinars into one, was the first project of its kind at the SOG, and its successful implementation required several months of carefully planned cross-divisional collaboration between faculty and staff. Additionally, this project demonstrated to faculty members the value in collaborating with the instructional support team and has led to subsequent projects.
The primary challenge for this initial webinar series was creating an interactive, engaging, and consistent curriculum that incorporated and integrated content from multiple faculty members. Since this was the first time the SOG attempted to do a webinar series, we had no established model to use or compare to. The effective and efficient leveraging of technology, however, enabled us to provide the content to the target audience, reaching an estimated 500 participants for each of the five webinars. This case study provides an overview of the project, its overall impact, and evaluations of its performance. It also demonstrates how collaboration among faculty members and between instructional designers and the faculty results in a high-quality online learning experience.
Institutional Context
Webinars are one of the core services supported by the SOG instructional support team within the Information Technology Division. This service is provided by an instructional designer, a multimedia developer, and help-desk support personnel, as follows:
Before the webinar:
Instructional designer and multimedia developer: Work with faculty on content creation, including selecting an appropriate theme and identifying engagement options, such as polling
During the webinar:
Multimedia developer: Provides audio support for the webinar to ensure that the content is being delivered in a professional manner and administers polling during the webinar
Instructional designer: Provides back-up support to multimedia developer
Help-desk support personnel: Provide phone support for webinar participants who need assistance troubleshooting issues such as lost audio or missing slides
In addition to IT support, a staff program manager is responsible for creating the course web page, setting up registration with NetSuite, the school's enterprise resource planning (ERP) system, and handling logistics for the event such as communicating login information to registrants.
SOG faculty have traditionally created individual, stand-alone webinars to provide timely information — for example, criminal law or legislative updates — as well as training in specific areas — ethics for elected officials, for example, or gun control regulations within the context of the Second Amendment. The production of webinars follows a formalized, written process that includes workflows of roles and responsibilities as well as timelines for managing each step of the process. Established through consultations with the stakeholders in the production of a webinar, these stages follow the initial idea through the selling of the archived, on-demand version, requiring the participation of multiple divisions within the SOG — from program management to the business office and marketing and communications division.
While SOG webinars follow a similar structure, such as length and delivery method, the content for the Public Records Law webinar series was created through collaboration with the presenters, who needed flexibility in displaying their varied content. Faculty members were asked to take a more connected approach to instruction so that their content not only satisfied the instructional needs of the individual webinars but also connected with the other webinars in the series. Here, the instructional support team was able to help through the creation of a webinar series template and consistent internal elements, such as introductions, closings, and the handling of questions. In addition, the instructional support team worked with the faculty members on determining the best way to display their content — whether with images or via text.
Beginning the Webinar Innovation
In November 2011, Frayda Bluestein and Chris McLaughlin, faculty leads for the webinar series, approached the instructional support team to create webinars around public records laws. They provided initial details about the anticipated scope and shape of the webinars, including approximate dates, presenters, and order of topics. These descriptions, which were posted on an informational web page, provided a holistic view of the series and were referenced by the marketing and communications division in its efforts to recruit participants. An introductory webinar providing an overview of the public records law and exceptions to it was followed by four webinars focusing on records retention.
The timeline for planning a standard webinar typically begins eight weeks in advance, but the schedule for the entire five-webinar series had to be set several months in advance. Work commenced in November 2011 and continued through August 22, 2012, the date that the final webinar in the series went live.
This particular project was unique in several important respects. For one, it was the first series to be conceived, produced, and marketed as a multi-session package: it could be purchased as a bundle or individually. Another unique aspect of this series was the collaboration of eight faculty members with three external presenters (figure 1). While the SOG has encouraged and fostered collaboration among faculty in other teaching formats, this was the first time that such an approach had been attempted for online learning, specifically with a webinar series. Ining Tracy Chao, Tami Saj, and Doug Hamilton pointed out that collaboration is critical for online learning because "designing a high-quality online course requires various sources of expertise not usually possessed by one person."2 This is particularly true for the content presented in the Public Records Law webinar series — many faculty members were needed because the topic is extremely broad, necessitating specific expertise on the five topics.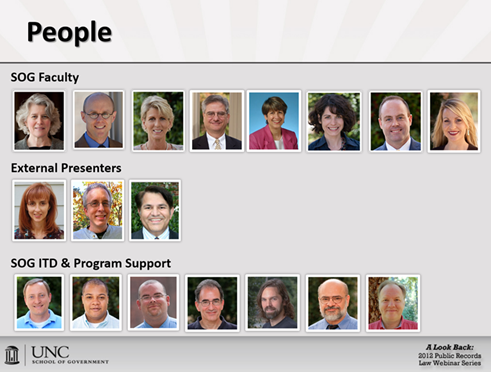 Figure 1. People in the Public Records Law webinar series. Frayda Bluestein and Chris McLaughlin are first and second from the left on the top row.
Since Bluestein and McLaughlin contacted the instructional support team early in their own process, the team became part of the initial conversations, which led to the formulation of a webinar theme that reflected the content as opposed to imposing a design theme after the content was created. Also, the use of multiple faculty presenters meant that it was important to ensure consistency across the individual webinars in the series. Toward that end, Bluestein and McLaughlin participated in each webinar, either as moderator or co-presenter, since both were experienced with webinars, whereas several faculty members recruited as co-presenters were not. This encouraged several faculty members who were not as comfortable or familiar with the technology to participate in the series and subsequently experience the educational impact of the technology.
Creating Engagement
We currently use Adobe Connect Pro for webinars, as it allows for the display of PowerPoint slides, polling, and archiving of the entire presentation, which can then be sold as an on-demand webinar. We try to make the webinar as interactive and engaging as possible.
Webinar participants can submit questions using a text chat (1:18 minutes).
Webinar presenters can poll attendees on different questions (1:35 minutes).
Creating a Theme
We use a standard webinar template unless a specific need requires a customized layout. Because the Public Records Law webinar series was to be distributed as a bundle, a major goal of the project was to interconnect the individual webinars without compromising the specific content of each topic. It was therefore necessary for us to create a series template with a consistent theme that would link the webinars. We created customized icons representing each topic in the series. Figure 2 shows the series title slide alongside the internal slide for the webinar on finance, tax, economic development, and contracting. The internal slide (at left) consists of the subject icon for the specific webinar (in this case a large dollar sign), headshots and e-mail addresses of the presenters, and smaller versions of the other topic icons running across the footer. In the series title slide (at right), smaller subject icons appear to the left of their respective webinar titles, which also include the date of the webinar. Once a particular webinar date passed, the "purchase on-demand" link was activated; if the webinar was yet to be held, the active link was to the registration page. Also, the individual subject icon was placed in the bottom right-hand corner of the slide and hyperlinked to a specific course page used by faculty presenters to disseminate content, such as PowerPoint slides and relevant blog posts.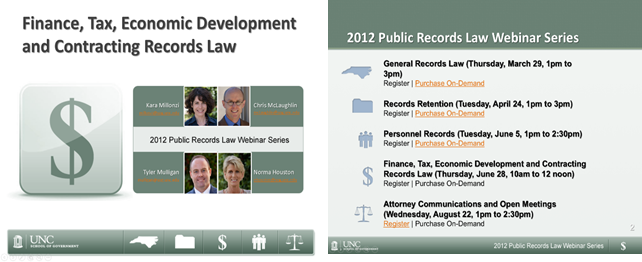 Figure 2. Series title slide (right) and internal slide (left) for the finance, tax, economic development, and contracting webinar.
At the beginning of each webinar, the moderator introduced participants to the series and gave an overview of topics for webinars that were still open for registration or for purchase on-demand.
Frayda Bluestein introduces the records retention webinar (3:18 minutes).
Chris McLaughlin concludes the webinar series with a request for feedback (1:32 minutes).
While the templates were structured identically, a different color scheme was used for each in order to distinguish each presentation from the others. The faculty appreciated the forward-looking approach to creating a theme for the series. Similarly, the participants found the theme helpful in keeping them oriented to which webinar they were participating in and which webinars they could register for or purchase on-demand. We knew participants would be attending and viewing these individual webinars out of sequence, so including links to the other webinars in the series was an important part of establishing the theme and introducing the content of each webinar.
Challenges and Resolutions
The two main challenges faced for this project were managing content and establishing a consistent theme for the webinars. The following discussion explains how these challenges were met.
Managing Content
Due to numerous commitments, SOG faculty members often have difficulty providing their content in a timely manner. Revising, updating, and converting webinar content to an appropriate format for online delivery can be a challenge. A number of strategies helped mitigate these challenges to the project. First, we created the PowerPoint template and shared it with the faculty presenters well in advance. We then established a timeline that outlined the deadlines for materials, the scheduled webinar dry run, and the final instructions for presentations. This workflow process helped us bring the materials together in a uniform way and expedite the editing and converting process by the instructional support team.
Another factor in managing the content was the months-early preparation of marketing materials before the first webinar went live. The marketing and communications division sent postcards announcing the webinar series in February 2012 and later sent targeted emails one month before each webinar date. In order to have this information ready to send out in February, the faculty leads had to prepare descriptions of all five webinars simultaneously. McLaughlin and Bluestein provided presenters with specific guidelines on what was needed and expected of them during their particular webinars. Early preparation of the marketing materials enabled them to streamline their focus on what they were to present.
Consistency among Webinars
Another challenge involved in coordinating this webinar series was finding the right balance between consistent delivery and allowing enough flexibility to make the content fit the delivery. For example, whereas some faculty members wanted the ability to poll the webinar participants, others did not think their content was compatible with this type of interaction. The PowerPoint theme helped create visual consistency, and the introduction to each webinar was scripted to provide a narrative link to each of the other webinars. As noted above, Bluestein or McLaughlin served as moderators for each of the webinars, which helped acquaint faculty presenters with the new medium. Finally, before each webinar, faculty and the instructional support team participated in a dry run, giving presenters an opportunity to familiarize themselves with the technology and the question-and-answer format before going live.
Impact, Known or Anticipated
Each webinar in the series was well attended, drawing participants from a large portion of the state (table 1). The marketing efforts resulted in 57 registrations for the series, exceeding expectations and indicating that the client group is receptive to receiving training in this format.
Table 1. Overall Registration Numbers for the SOG Public Records Law Webinar Series
Webinar Registration and Attendance
Counties
Webinar Attendance
Webinar Name
Registrations
#Tier 1
Total
Sites
Avg/Site
Projected
Webinar Bundle
57
6
40
-
-
-
General Topics & Overview
79
8
44
94
6.68
755
Records Retention
90
8
43
116
7.6
881
Personnel Records
105
13
51
104
4.68
487
Finance, Tax, Economic Development & Contracting
93
11
50
93
4.82
448
Attorney-Client Communications
81
8
43
64
3.42
219
Averages
89.6
9.6
46.2
94.2
5.44
558
When someone registers for a webinar, that registrant is considered a "site." Because the number of sites or seats is capped, typically one person registers as a site and then watches the live webinar with a group of people. As part of the introduction to the webinar, the moderator asks participants to report via a textbox how many people are watching from their site; these data are used to calculate the average number of viewers by site and the projected attendance. The average projected attendance for the four subject webinars was over 500, with the records retention webinar having the highest projected attendance and the personnel records webinar having the highest number of registrations. A total of 76 municipalities registered for at least one webinar and 29 registered for the full series; meanwhile, 49 of North Carolina's 100 counties registered for at least one webinar, with 21 registering for the entire series (table 2).
Table 2. Demographic Data on Registrants for the SOG Public Records Law Webinar Series
Participant Demographics
 
Municipalities
Counties
CDGs
Utilities
Higher Ed.
State
Total
General Topics & Overview
38
26
2
2
2
2
79
Records Retention
44
30
2
2
2
1
90
Personnel Records
53
34
2
2
2
2
105
Finance, Tax, Economic Development & Contracting
46
32
2
2
2
1
93
Attorney-Client Communications
35
28
2
2
2
1
81
Overall
76
49
2
2
2
2
 
A standard webinar evaluation form developed with Qualtrics was used for each webinar. A link to the form is included within the slides and automatically displays when the webinar has ended. The responses were combined and aggregated, and these results are presented in figure 3. Of the 354 respondents, 90 percent rated their overall satisfaction as "satisfied" or "very satisfied." In addition, a majority of the respondents reported that the webinar was a good medium for presenting these topics and that they would like more SOG training to be produced in this format (table 3).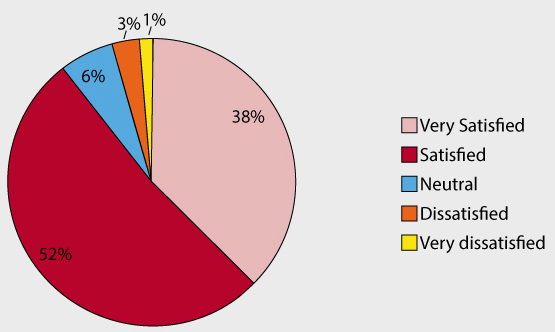 Figure 3. Aggregate evaluations from SOG Public Records Law webinar series (n = 354)
Table 3. Aggregate Evaluations from SOG Public Records Law Webinar Series (n = 354).
Please select your level of agreement with the following statements:
#
Question
Mean
Variance
Standard Deviation
1
This was a good format of conveying this information
4.23
0.57
0.75
2
The webinar interface was easy to control and navigate
4.18
0.58
0.76
3
The webinar technology working well on my computer
4.17
0.67
0.82
4
I would like The School of Government to provide more training in this manner
4.23
0.75
0.87
Conclusion
We consider the SOG Public Law Webinar series highly successful. It attracted a diverse group of participants and experienced few technical difficulties despite the wide range of geographical settings. The participant evaluations were positive, and several faculty members with little to no prior experience with webinars have since expressed a desire to participate in other webinars or even create their own. Plans have already begun on another webinar series, focusing on human resources management for local government managers, and there is interest in creating an open meeting law webinar series.
Although significantly more advance planning is required to produce and distribute a comprehensive webinar package than a single webinar, the success of this series shows that such packages have the important benefit of covering more topic areas in greater depth. This webinar series now serves as a model for cross-division collaboration in developing varied and innovative methods of reaching clients. The high level of reported satisfaction with the series is important feedback, indicating that our approach to presenting information on multiple topics in one subject area is a promising means of structuring and marketing future projects.
The series' success also showed that collaboration between instructional support and faculty can yield engaging and effective online instructional materials. As evidenced by the demographics of those registering for the series, the topics covered are relevant to virtually every county in North Carolina. Advanced planning and coordination among faculty and staff, and the thematic marketing plan provided at the outset, enabled the production of a uniform package of information in a high-quality format.
Faced with the ever-present possibility of state budget cuts, SOG client groups will likely increase demand for more cost-effective means of receiving the information they need to continue delivering constituent services. Reaching many people through a live event without requiring them to travel is a significant step toward meeting those needs. In particular, the webinar series reached clients from several Tier 1 counties, the poorest counties in the state. For these counties especially, having a cost-effective way of receiving important information in a format that allows an entire office to participate is a significant public benefit.
Notes
Diana Oblinger and Brian L. Hawkins, "The Myth about Online Course Development," EDUCAUSE Review, vol. 41, no. 1 (January/February 2006), pp. 14–15.
Ining Tracy Chao, Tami Saj, and Doug Hamilton, "Using Collaborative Course Development to Achieve Online Course Quality Standards," International Review of Research in Open and Distance Learning, vol. 11, no. 3 (October 2010), pp. 106–126, see p. 107.